In the winter of 2005 I was driving to work, when the heavens opened and dumped a tonne of snow on our roads. Admittedly, this is very rare in our corner of the world, and had obviously caught the council out as well, as the roads hadn't been gritted the previous night.
I slid down a hill and managed to pull over onto the grass verge, whilst other drivers skidded to a halt all over the road. It all happened in slow motion, and luckily no one was hurt.
After an hour or so, I got out of the car to stretch my legs and chat to some of the other drivers equally stranded. One lady was on her way home from work and had only got about a mile into her journey before getting stuck.
She was wearing jeans & a denim jacket with trainers. No gloves or hat and she was almost out of fuel, so couldn't use the cars heaters to warm up. She was shivering with cold and with no credit on her phone, she couldn't let anyone know where she was.
She came and sat in my car to warm up, and looked a little bemused at all the gear I had.
With all the supplies I carry in my boot, I was able to wait it out in warmth & comfort. I had over half a tank of fuel, full battery in my phone, food, water, sleeping bag and warm, waterproof clothes & boots. Yep, I did feel a little smug at this point. All my friends who'd laughed at me for 'being prepared' – if only they could see me hunkered down in a blizzard with a Sudoku book eating a box of Cherry Bakewells!
It took over 2 hours before the gritters came through and opened up the road again.
That same weekend, around 1000 motorists were stranded overnight on Bodmin Moor due to the extreme wintry conditions.
For a country that rarely gets a lot of snow, we just aren't geared up to cope with it like some places, but that shouldn't stop you carrying some lightweight gear, just in case.
So, this is what I carry in my boot all year round. I keep most of it in an old backpack so if I needed to leave the car for any reason I'd be able to carry it comfortably. None of this stuff is expensive or special to me so I wouldn't miss anything if my car got stolen. It all pretty lightweight too, as weight makes an impact on fuel economy.
I have relied on this bag of goodies a few times, although mostly after going out at night and ending up on a friends sofa!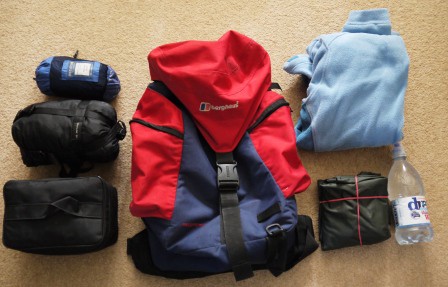 Warm fleece Jacket
Small showerproof jacket
lightweight sleeping bag
Bottle of water (be aware this may well split when frozen, and soak everything when it thaws.)
Waterproof poncho (which can also be used as a tarp if necessary)
The small black bag in the bottom left corner of the pic contains;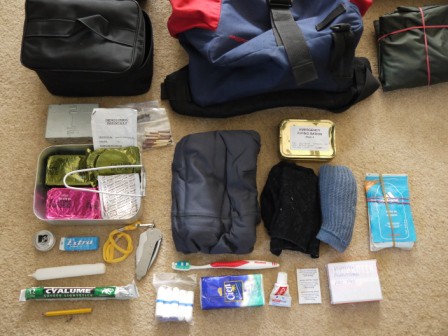 Spare trousers, socks and underwear
Paracetamol, ibuprofen and pro plus
Water sterilising tablets
Paper hankies, toothbrush & toothpaste
Feminine products
A 12 hour glow stick
Candle
Pencil
Gum
Lip balm
Sachets of shampoo and shower gel (the ones you get free in magazines)
Sharp pocket knife
Mess tin with some small packets of food out of an army rat pack
Hexi stove
Matches & strike
Also, rolling round in the boot of my car is a good first aid kit, a pair of wellies, a torch, jump leads and a folding shovel. If I'm going on a long journey in the colder months, I'll also add in a blanket or two and some more food and water.
So that's it! Do you think I'm mad or do you carry any winter gear in your car? Have you ever had to rely on it?
Oh, before I forget…
I must finish off my little story. You know how smug I was feeling, sat with all my comforts and treats?
Well, after the gritters had been and gone, all those other stranded folks drove off.
Yes even the lady in the denim jacket.
However, I was stuck on the grass verge with all my wheels a spinning. I had to use my fully charged phone to call out my parents in their 4×4 to rescue me, and went back 2 days later to collect my car.
Yet another lesson in humility :)
Oh, and I have since added 2 strips of old carpet to my boot. Just in case ;)
Janie x