When you have a little more time on your hands at the weekend, why not indulge yourself a little. Take an extra few minutes to make yourself an exceptional breakfast, rather than rushing to get through a bowl of cereal.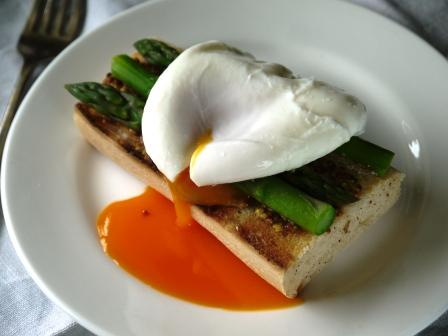 As far as I'm concerned, wholegrain mustard and poached egg are one of the best food combinations on this planet. If you've never tried it, please do, I don't think you'll be disappointed.
If you're not sure how to poach an egg, take a peep here. I warn you though, I am a bit of a bore on the subject ;)
And British asparagus will soon come into season. It's available in April, May and June, so this is the time of year to make the most of this wonderful vegetable. Whilst it appears pricey compared to other veggies, it's got to be worth splashing out once a year on the freshest bunch you can find. Love it.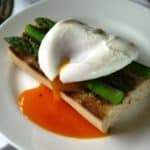 Weekend Breakfast ~ Poached Egg and Asparagus
Ingredients
Per person;

1

egg

3

spears of asparagus

1-3

teaspoons

of wholegrain mustard

what can I say, I'm addicted!
Instructions
I use a non stick frying pan to poach eggs. It makes clean up so much easier.

Fill the pan halfway with water adn bring to the boil.

Rinse the asparagus and trim the thick end, then pop in the boiling water for 2-3 minutes. Remove from the pan and keep warm, and poach the eggs in the same water.

Pile everything on the toast, make copious amounts of tea and enjoy your weekend.