This Watercress Salsa Verde with BBQ Mackerel is the perfect balance of flavours and textures and will brighten any BBQ!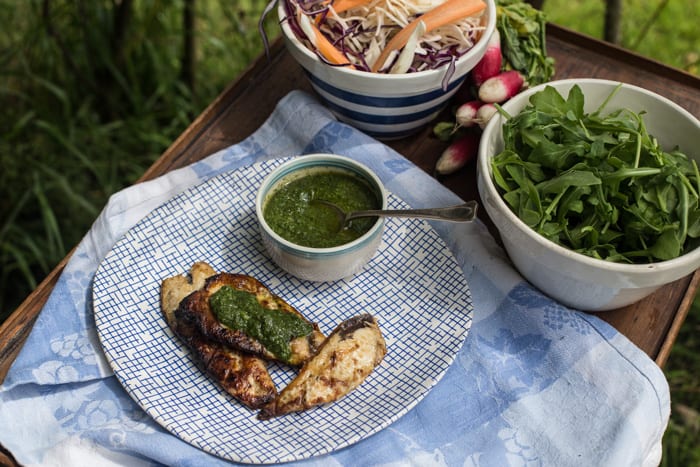 So I'm now on day 17 of the Whole30.
Nothing major to report, I haven't struggled or cheated or even felt the need to cheat.
My tummy has been better this past week, ever since cutting out coconut. Yep, looks like I'm intolerant to coconut as well as dairy :(
I don't seem to want to eat between meals and whilst I never thought three meals a day would be enough to keep me from eating my own arm, it strangely seems it is.
Reading up on the science of Whole30 it may be that those healthy whole grains we are told to fill up on aren't all that healthy after all.
And they may actually be the culprit in making me overeat for all those years.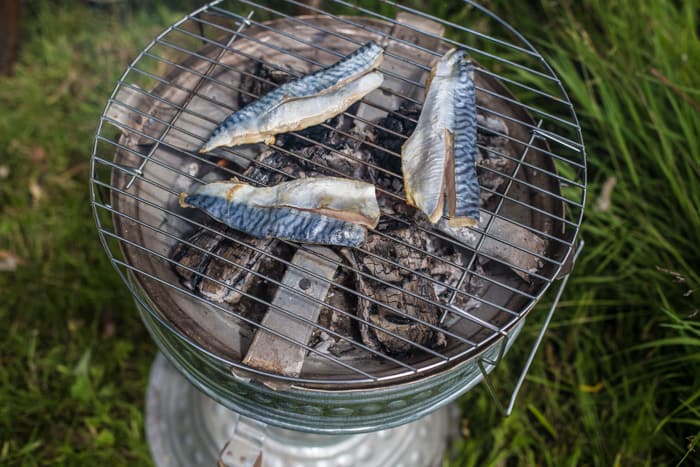 One thing I am having issues with is that I am sick to death of eating stir frys.
It doesn't matter how much I shake it up, and what groovy tastes I throw in that pan. Just the thought of them is making me retch.
Simone had this same problem, except her nemesis was eggs.
It seems whatever your fall back, no mind engaged meal is, it will end up revolting you when you've eaten it solidly for a certain amount of time.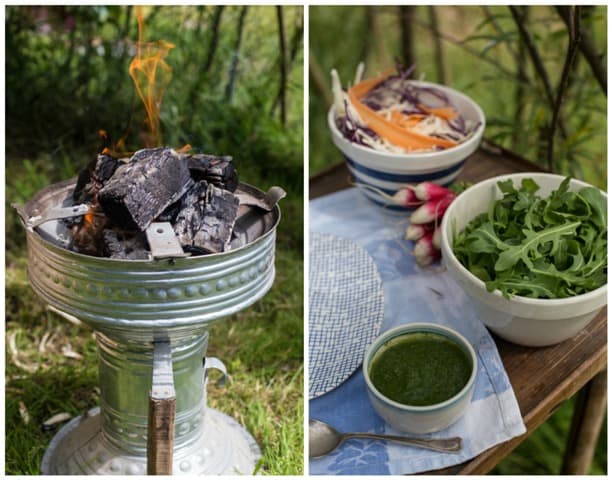 I decided I needed to inject some excitement and flavour into my meal times again and stop relying so heavily on the same old foods.
So, I dusted off the BBQ and sat in my garden (on my own I hasten to add, I don't think I've ever had a solo BBQ before!) and cooked myself the tastiest lunch going.
I used mackerel that we caught last autumn and had frozen, but you could of course use fresh.
They are so, so cheap at the fishmongers or supermarket and such a little power house of goodness.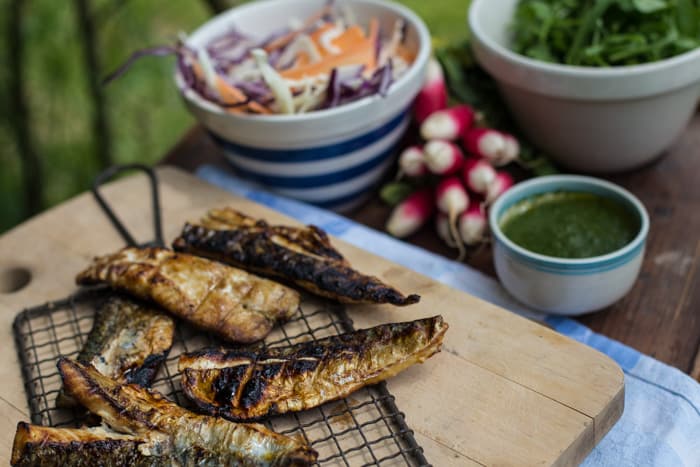 And to make them feel more decadent I made this delicious salsa verde with some of the masses of watercress we have growing in the poly tunnel right now.
It's light in flavour but cuts through the oiliness of the mackerel beautifully. It is a really good pairing no matter if you're whole30'ing it up or not :)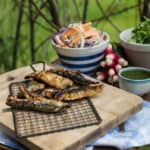 Watercress Salsa Verde
Ingredients
A big handful of watercress

thick stalks removed

3

or 4 anchovy fillets

1

teaspoon

capers

1

garlic clove

crushed

2

teaspoons

chives

chopped

3

tablespoons

olive oil

Juice of half a lime
Instructions
Pop the watercress into a food processor and wizz down into a paste.

Add the other ingredients and whizz again until all is combined. At this point you really need to taste it, if it is a little bland add salt & pepper & whizz again.

If it's still not singing add a little more lime juice, anchovies and/or garlic to pull out the flavour you particularly want. There is no right or wrong, just keep tasting until it makes your mouth a little bit excited to taste :)

Scrape all the salsa verde out into a small bowl and serve, or cover with cling film and pop in the fridge until needed.