I've come to the conclusion that people generally fall into one of two camps when it comes to following a recipe. There are those like my Jonny, that like to follow a recipe to the letter and find even minor substitutions (such as granulated sugar in lieu of caster) uncomfortable.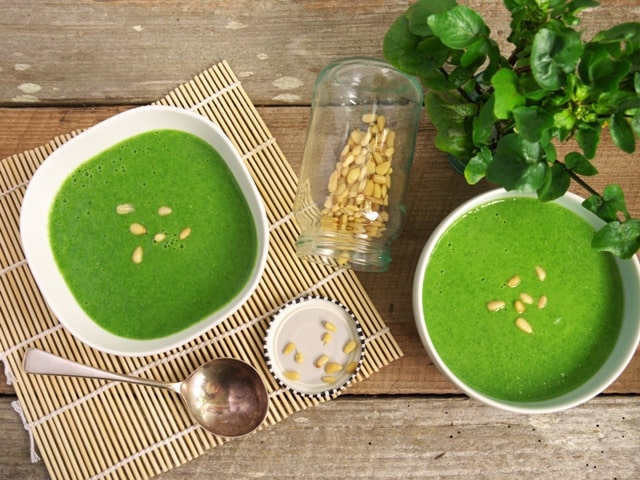 Then there are people like me (surely I can't be alone on this?) that find following a recipe to the letter nigh on impossible. Even if I happen to have all the ingredients in the cupboards, I just can't help myself from pimping or adapting as I go.
Perhaps it's my child like attention span that is to blame, or maybe my subconscious just thinks it can do it better (I promise my conscious isn't that arrogant. I often concoct a dish that is pretty gross, and sometimes even inedible. Just ask Jonny about the salad I made him last week. I mean who the hell gets a salad wrong??!)
The positive flip side of this that my brain constantly concocts new recipes or mixes of ingredients, which probably makes being a food blogger my most perfect job in the world.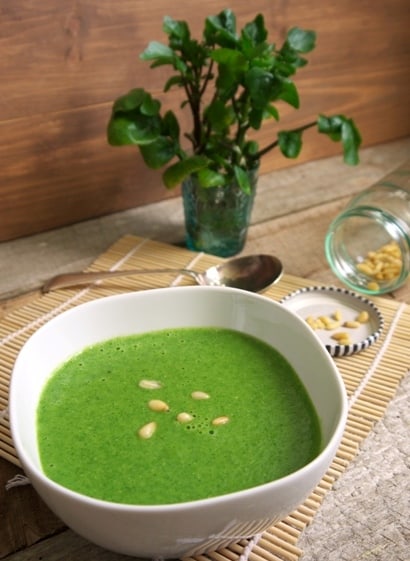 So, all this waffle is to pre-empt my apology of the lack of actual 'recipe' in this 'recipe' for Watercress and Pine Nut Soup.
I made it on Sunday morning, not long after Jonny had made me a Full English. The kitchen was a mess, my belly was full, but I wanted this soup made as Lizzy and Harrison were coming down, and we were off on a beach clean.
I was feeling rebellious, and even though I planned to blog this soup, I didn't measure one iota of what went in it. My bad.
So, for all you 'a type' recipe devourers, please go and google for a proper recipe. However, for all my brother and sisters with the attention spans of gnats, this one is for you. Pimp and preen, substitute and ignore. Live life dangerously, and enjoy every morsel.
I'm already wondering how good it would taste with cashew nuts instead of pine nuts…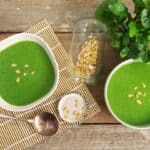 Watercress and Pine Nut Soup
Ingredients
Water or stock

start with maybe 1/2 a litre and add more when blending if needed.

1

potato

chopped. This is to thicken the soup naturally, so if you plan to feed more people, add more.

1

onion or small leek

chopped.

Garlic

as much as you want.

1

or 2 largish bunches of watercress

thick stems removed.

Pine nuts

maybe a man size handful. Toast first in dry frying pan to add more flavour.

Coconut milk or cream

perhaps 2 tablespoons, to make it extra yummy.

Salt & pepper.
Instructions
Cook the potato, onion and garlic in the water or stock until potato is cooked.

Add watercress, put on lid and turn off heat. after a minute or so, stir watercress.

When all has wilted, blitz with a blender.

Add pine nuts and cream, blitz again.

Season, taste, eat.