When I was younger, my Dad grew a gigantic portion of our fruit and veg. He was quite the insomniac so would go weeding and sowing at 5am rather than lay in bed pretending to sleep.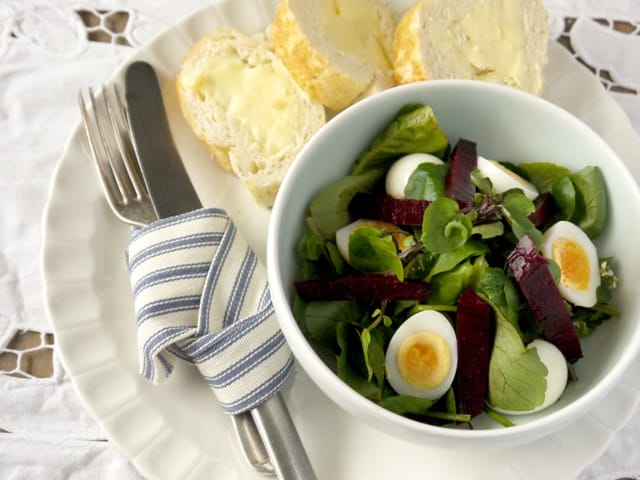 Summer time meals always had an added layer of frivolity as we'd mockingly say 'Mmmm, these beans are nice Dad, did you grow them?' or 'Yummm, these are the best tomatoes ever Dad, are they yours?'
Heaven forbid you forgot to drool over any homegrown component of a meal :)
Funnily enough, now I grow the veggies, I have a complete understanding of the pride he felt serving up the food he'd grown. It's a very satisfying feeling.
There is also something deeply soothing using his hand tools to turn over the same soil he did. In the past 6 months I've watered that soil with as many tears as I have anything else.
So, here's a salad grown by me. The lettuce, watercress and beetroot were all grown in the poly tunnel (who knew watercress would grow like a weed under plastic? This was one of my better experiments this year as I'd always assumed watercress needed to have its feet in water) and the eggs are from quail I hatched at the beginning of the year in my front room.
Altogether, this little salad left me feeling content, satisfied and wordlessly connected to Dad.
That's real soul food huh?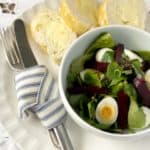 Watercress, Beetroot and Quails Egg Salad
Ingredients
Per person
A few lettuce leaves

A few sprigs of watercress

3

hard boiled quails eggs

3 minutes for an almost set yolk

A simple oil & vinegar dressing
Instructions
In a bowl pile up the leaves.

Top with the beetroot & eggs, drizzle with the dressing and serve with fresh baguette and a little too much butter ;)