These tasty little oat cakes have been a life saver for me during this wheat free week.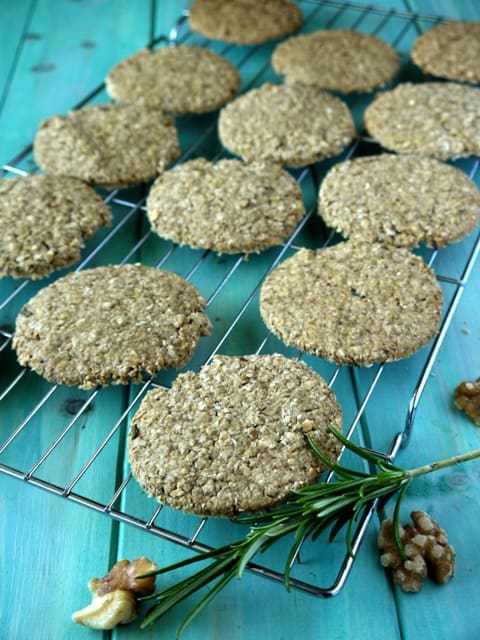 They are versatile enough to go with sweet or savoury, although I'm quite sure they utterly perfect with a thick scraping of fresh butter and big hunk of mature cheddar.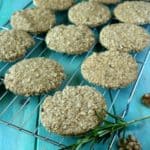 Walnut and Rosemary Oat Cakes
Ingredients
250

g

oats

50

g

walnuts

1/4

teaspoon

bicarbonate of soda

1/2

teaspoon

salt

1

tablespoon

chopped fresh rosemary leaves

1

tablespoon

butter or bacon grease

A mug of freshly boiled water
Instructions
Preheat oven to 190/375/Gas 5.

Grind the oats and walnuts in a food processor until they are as fine as you like. I prefer mine to have a little bite so leave them a little rough.

Mix all the dry ingredients and the rosemary leaves together in a bowl.

Add the fat and around 10 tablespoons of hot water. It'll start off really crumbly but keep adding a little bit of hot water at a time until it starts holding together. Bring everything together and mush well with your hands until you have a ball of dough. If it gets too sticky, add a few more ground oats.

Roll it out thinly and using a cookie cutter or the rim of a glass, cut out circles of the dough. Slide a flat knife underneath each disc and carefully place them on a lightly greased baking sheet.

Bake for 20-30 minutes until lightly golden. Let cool completely before popping in an airtight tub.