Oh boy, here's a little treat for you! This Vegetarian Wontons Recipe is delectable, and they are great fun to make. Pop the pan of spicy cabbage on the table, hand out the wrappers and get the whole family, or even your dinner guests, wrapping!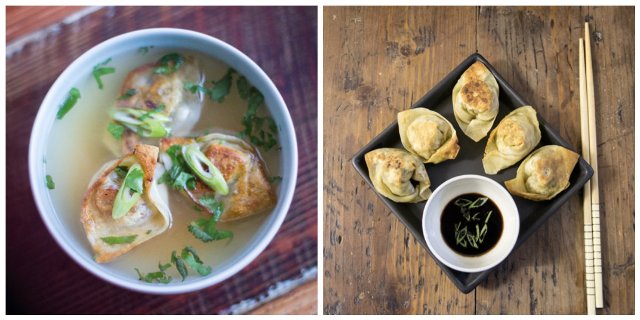 I've been on a mahoosive clear out recently, with car loads of stuff going to friends, charity and the dump.
Mid clear out, I came across all my travel journals from the years I spent backpacking.
There's the journal that covers the 3 months I worked as a hostess in a Japanese karaoke bar. My 6 months living in a cave in Thailand, and the books that cover life in a teepee in Byron Bay and a London double decker bus in Brisbane, Australia.
Then there's the houseboat in New Zealand, and finally a university dorm room in China.
I promise I will get to those vegetarian wontons very soon…please indulge me for a little while!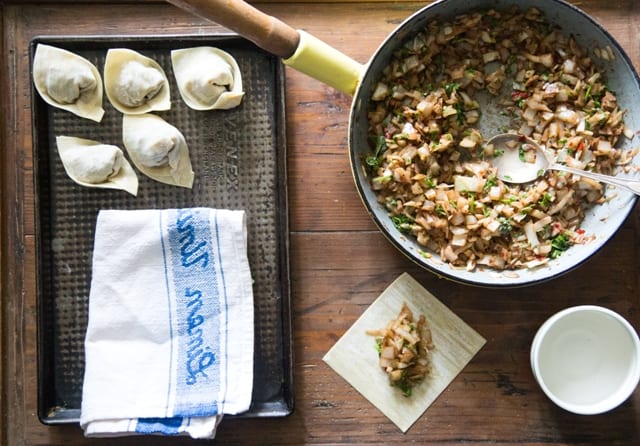 Making foodie discoveries
One of my favourite foodie discoveries on my backpacking adventures was my love (addiction?) for all things Asian flavoured.
Actually. that's not strictly true. I do draw the line at that platter of riverbed snails I was served in Shanghai.
They were utterly revolting.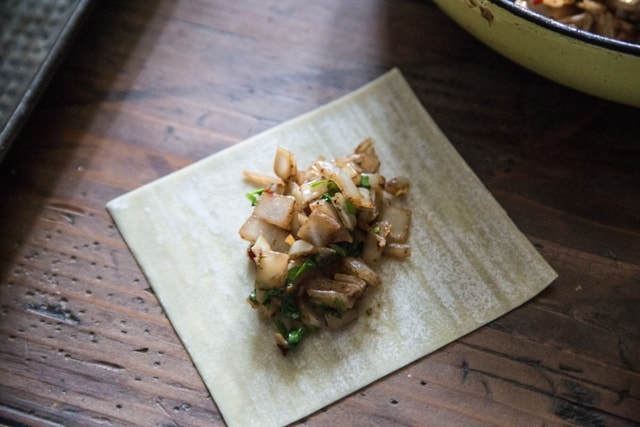 But one of the more pleasurable foods I discovered in China were wontons.
Cute little dough-wrapped parcels of spiced minced pork and shrimp that were steamed in large bamboo steamers, and served bobbing round in steaming bowls of soup.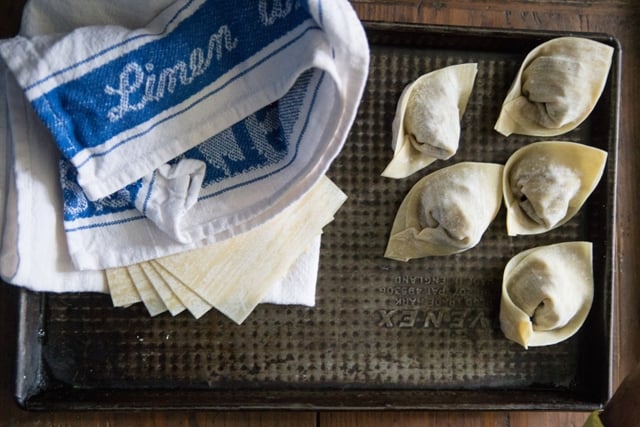 I decided to give it go making my own. Relatively quickly, I found the wonton wrappers in the freezer at a local Oriental supermarket. I can spend way too much time and money in those places!
But as I'd never actually made them before I had no clue how to wrap them.
A little research on YouTube, and in no time my kitchen turned into a wonton factory.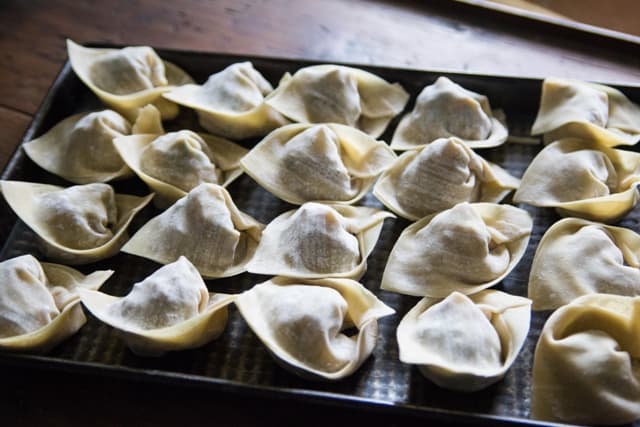 Now, the first batch I made were Spiced Cabbage and Shrimp, and they were divine.
But my Jonny, he doesn't do seafood. So I made a second batch of vegetarian spicy cabbage wontons just for him.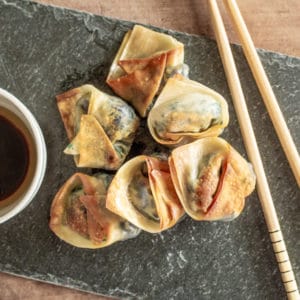 I was a little surprised that the veggie ones stood up just as well as the shrimp ones, hence me sharing those with you today.
However, if you would like to use dried shrimp in yours as an alternative, all you need to do is simply soak 3 tablespoons of dried shrimp in a mug of hot water for 10 minutes.
Drain and add them into the pan when the cabbage goes in to cook through.
Whichever flavour you opt for, serve with a bowl of soy sauce for dipping, or floating in a bowl of hot miso soup.
They are utterly delicious.
Vegetarian wontons recipe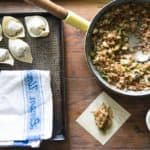 Vegetarian wontons recipe
Ingredients
Spicy Cabbage Filling
2

tablespoons

oil

1/2

white cabbage

very finely chopped

1

onion

finely chopped

6

garlic cloves

minced

1

inch

fresh ginger

grated

1/2

teaspoon

Chinese 5 spice

1

teaspoon

fish sauce or soy sauce

1

teaspoon

dried chilli flakes
Wontons
10

Wonton wrappers

defrosted

Oil for frying
Instructions
Sweat the cabbage and onion down in the oil over a gentle heat for around 15 minutes or so, until the cabbage is cooked through. If it starts catching at all splash a little water in to loosen it up again.

Add the rest of the ingredients, stir well and let cook for 5 more minutes.

Set up a little bowl of water and a damp tea towel over your wonton wrappers to prevent them from drying out as you work.

Taste your cabbage mixture, and make sure it works for you. If you want it hotter, add more chilli. If it's lacking in flavour add a dash more fish sauce or even soy sauce.

When you're ready, pop a heaped teaspoon of the filling into the centre of your wonton wrapper, wet your finger and wipe round the edge of the wonton wrapper then fold the opposite corners together, pressing well to seal and making sure there is no air trapped inside the wonton.

With the flat side of the triangle towards you, dab a spot of water on the left hand corner of wrapper and fold the right side round to meet it and press to stick tightly together.

Heat up some oil in a frying pan & pop a few in at a time. Cook for around 2 minutes until the underneath is golden brown, flip and repeat.
Nutrition Facts
Vegetarian wontons recipe
Amount Per Serving
Calories 67
Calories from Fat 27
% Daily Value*
Fat 3g5%
Cholesterol 0mg0%
Sodium 88mg4%
Potassium 110mg3%
Carbohydrates 8g3%
Protein 1g2%
Vitamin A 105IU2%
Vitamin C 18mg22%
Calcium 29mg3%
Iron 0.6mg3%
* Percent Daily Values are based on a 2000 calorie diet.