Clean living recipes Turkey and Lemongrass Burger a tasty and flavour full treat on my first Whole 30 journey.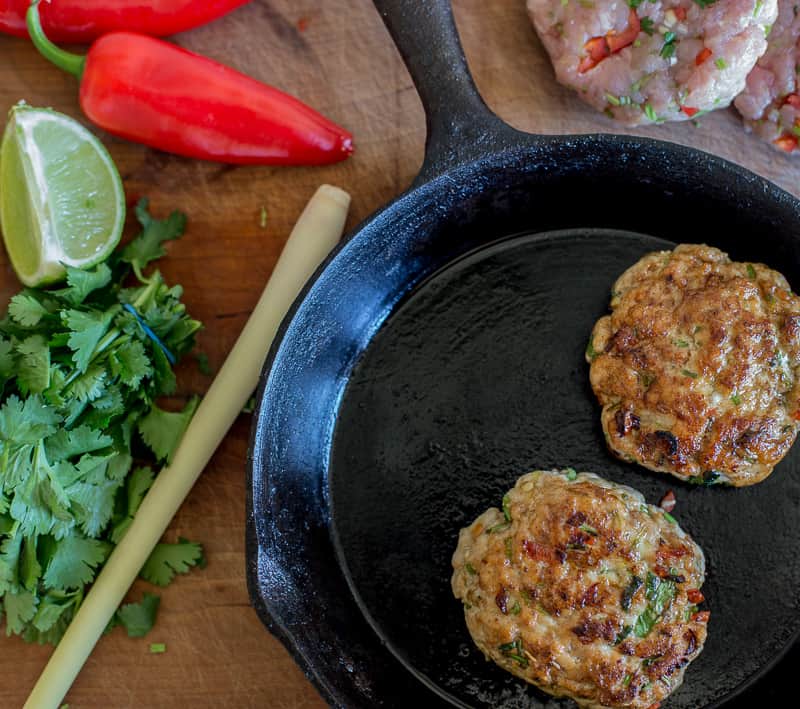 So today is day 10 of my first Whole30 journey. It's not been as gruesome as I was expecting and I've actually had a lot less cravings and unpleasant withdrawal symptoms than I assumed I would. That said I still haven't broken through into the realms of clean living ecstasy, but I am living in hope ;)
Strangely the only food I've really missed is soy sauce as I've eaten a lot of stirfrys, and normally I would be splashing the stuff around liberally. After each meal I eat a dried date which staves off any sweet cravings before they even get a chance to get going, and also because in Chinese Medicine (I used to be an acupuncturist) a small amount of sweet food after a meal strengthens the digestive system and that is my main goal from this whole adventure.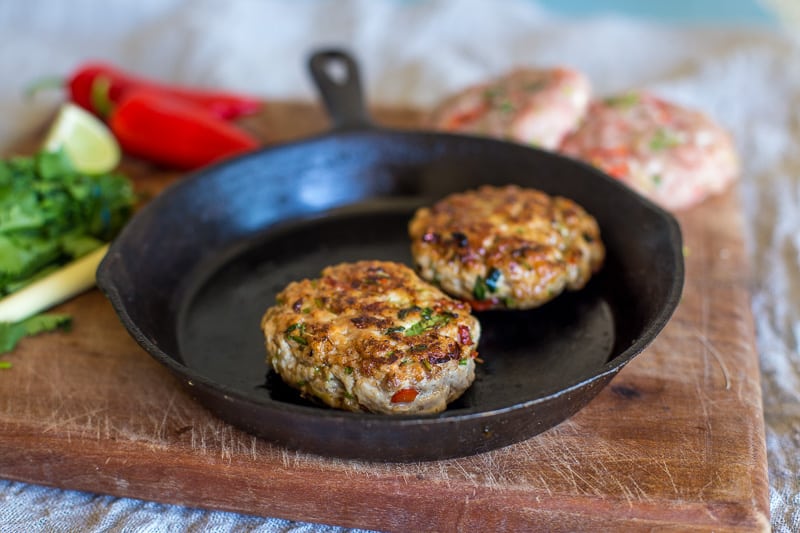 Those that have seen my instagram feed over the past couple of weeks have probably been horrified at some of the meals I've been sharing, squid as a breakfast food is clearly reserved for the foodie freaks and the most hardcore Whole30ers out there!
Lots of people have been asking me all about Whole30 and as I'm pretty new to it myself I just feel I'm regurgitating bits that I've recently read, so if you'd like more info on it check out Simone's post from last week which gives a great overview of the ideas behind it, and her seasoned experience of it.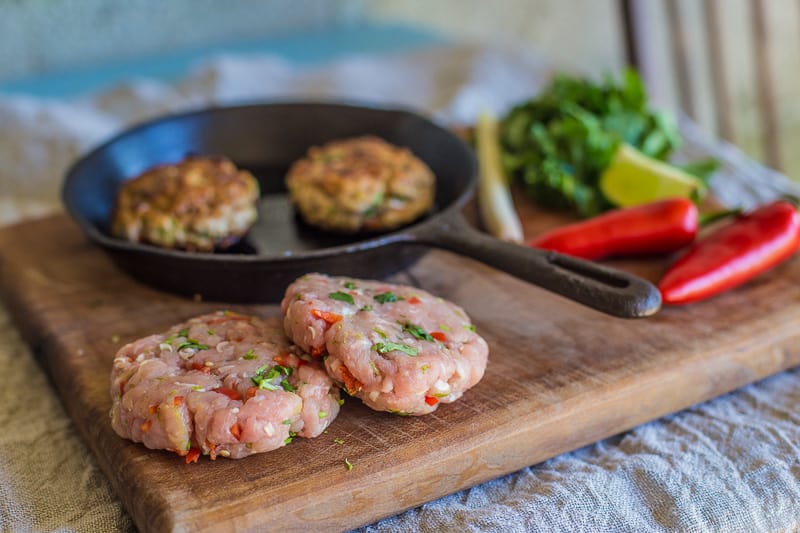 Turkey and Lemongrass Burgers
One of my real scores on the happy tastebud front were these Turkey and Lemongrass Burgers. Obviously I ate them sans bun, but that was no hardship as they were bursting with good flavour and smelt incredible as they were cooking.
The lemongrass is accompanied by some red chilli, ginger, lime zest and fresh coriander. I would have added a splash of Thai fish sauce had the one in my fridge not had sugar in (feel free to add a little if you aren't doing Whole30, or you have a sugar free version), otherwise add a pinch of salt.
I didn't season mine before forming into burgers as I wanted to store two in the fridge for a couple of days and the salt can draw moisture out and make meat chewy (barf) so instead I sprinkled a little sea salt on just before cooking. As fish sauce is very salty, please don't add both!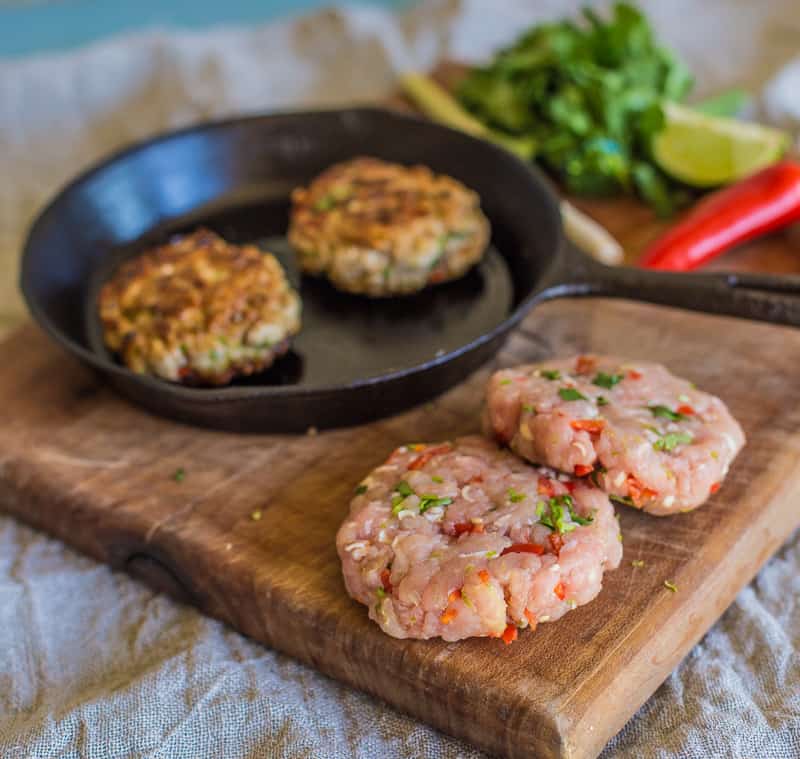 Turkey and Lemongrass Burger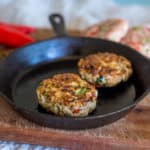 Turkey and Lemongrass Burger
Keyword:
turkeyand Lemongrass burger
Ingredients
1

stalk

fresh lemongrass

400

g

turkey mince

1

teaspoon

ginger

freshly grated

1/2 - 1

chilli depending on heat and your taste

finely chopped

3

tablespoons

fresh coriander

finely chopped

Fine zest of half a lime

1

clove

garlic

optional, crushed

A splash of fish sauce or a pinch of salt

optional
Instructions
Cut about an inch off the thickest end of the lemongrass stalk and peel off a couple of layers of the papery outer. You need to remove the top inch or two also, but how much to remove depends on how fresh your lemongrass is. It's best to take a little bit too much off if you're not sure as you don't want tough, woody bits in your burger. Then finely chop the rest before popping into a large mixing bowl along with the other ingredients.

Gently mix with your hands until all the ingredients are well incorporated and then separate into four portions.

Mould each quarter into a patty shape and pop on a plate in the fridge for 30 mins to firm up. If you don't have time for this, don't worry, just get on and cook them straight away.

Then fry or bbq over a medium high heat for 8-10 minutes, or until the centre of the burger is no longer pink.
Nutrition Facts
Turkey and Lemongrass Burger
Amount Per Serving
Calories 155
Calories from Fat 72
% Daily Value*
Fat 8g12%
Cholesterol 74mg25%
Sodium 69mg3%
Potassium 240mg7%
Carbohydrates 1g0%
Protein 18g36%
Vitamin A 95IU2%
Vitamin C 0.2mg0%
Calcium 21mg2%
Iron 1.5mg8%
* Percent Daily Values are based on a 2000 calorie diet.