I have a bit of a thing for old cookbooks. I love all the penny-pinching ones from the 1970s with their lurid pictures and heavy use of aspic, but my true love is anything older than 1950.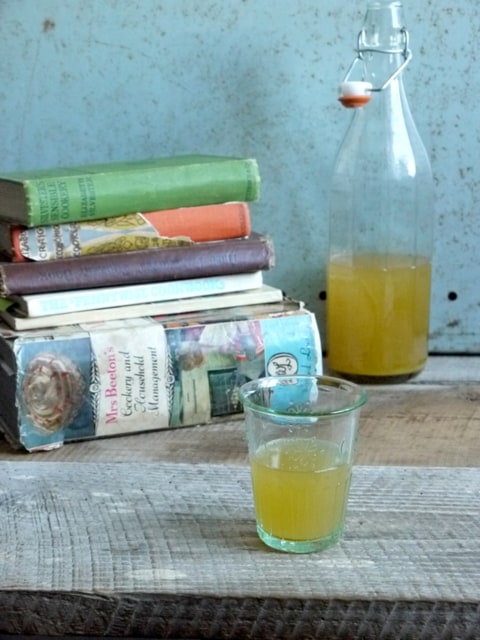 Whilst I wouldn't necessarily cook a three course meal directly from one (the English weren't renowned for their culinary skills in times of old) they are a fascinating insight into where many of our kitchen habits come from.
Of course, the true value for me of pre 1950 cookbooks is in growing my own animals for meat. I have found all kinds of odd recipes that use all kinds of odd cuts and bits of meat. Bits that are thrown away today or at best fed to the dogs.
Royal favourites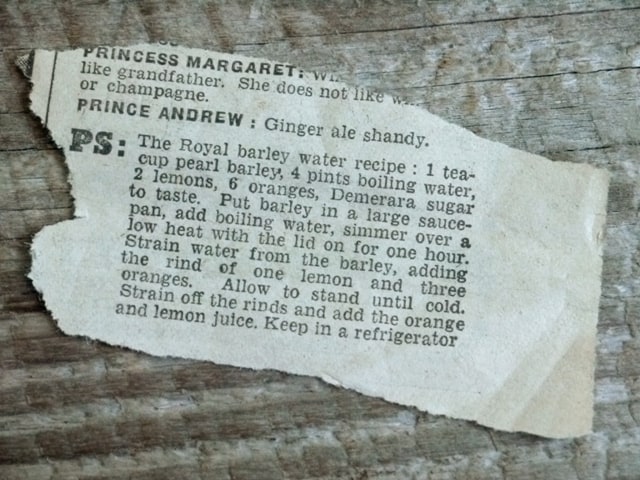 One day, one of these old cookbooks pages were opened and out fluttered this little scrap of newspaper boasting the recipe for Royal Barley Water as made in the Queen's kitchen.
Someone, somewhen had ripped it out and stuffed inside this cookbook for me to find. How could I refuse such an invite?
It has been many years since I tasted barley water made from concentrate, so it's hard to tell you how it tastes in comparison. It feels nourishing along with being tasty, and as you get to sweeten it to your taste, you can make it just how you like it.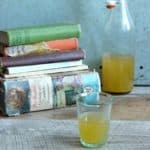 The Royal Barley Water Recipe
Ingredients
1

teacup

pearl barley

4

pints

boiling water

2

lemons

6

oranges

Demerara sugar

to taste
Instructions
Put barley in a large sauce pan, add boiling water, simmer over a low heat with the lid on for one hour.

Strain water from the barley, adding the rind of one lemon and three oranges.

Allow to stand until cold.

Strain off the rinds and add the orange and lemon juice.

Keep in a refridgerator.
Nutrition Facts
The Royal Barley Water Recipe
Amount Per Serving
Calories 54
% Daily Value*
Fat 0g0%
Cholesterol 0mg0%
Sodium 12mg1%
Potassium 215mg6%
Carbohydrates 14g5%
Protein 1g2%
Vitamin A 220IU4%
Vitamin C 66.6mg81%
Calcium 53mg5%
Iron 0.3mg2%
* Percent Daily Values are based on a 2000 calorie diet.
Shared with Inheritance Recipes at Pebble Soup and Coffee & Vanilla.