I am all about the slow cooker these days. Wading through mud in driving wind and rain is getting a little boring to be honest, and leaves me with zero energy or desire to spend hours in the kitchen. So the slow cooker gets loaded up mid morning and does all the hard work for me. A far better invention than sliced bread in my humble opinion.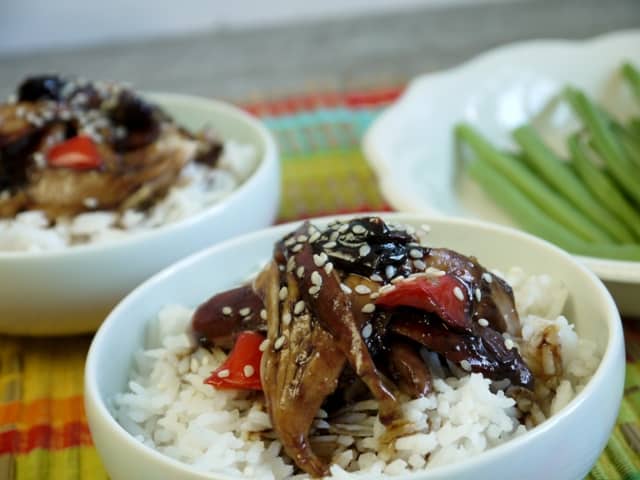 So, Teriyaki chicken. I remember eating this in Japan many years ago and loving it. I've seen the bottles of Teriyaki cooking sauce in the supermarket, but as always I do like to work out how to make something myself, and then see if I can be bothered to repeat in the future. For the record, anyone that buys a premade sauce for this dish is a bit nuts.
For my in depth Teriyaki education I consulted the holy grail of everything that is Wikipedia. They have the following to say "…is traditionally made by mixing and heating soy sauce, sake, or mirin; and sugar or honey."
Um, really? that's it?
Yep, I can categorically state that you only need soy sauce and sugar to achieve that divinely dark sticky and endearing sauce. Who'd have thought it. I was mildly concerned that with all that soy sauce it would be too salty, but strangely the salt seems to disappear. Mind you, it's probably a recipe to avoid if you tend towards high blood pressure all the same.
Try and keep some of the chicken for leftovers the following day if you can. Nestled inside a tortilla wrap with some little gem lettuce it is crazy good.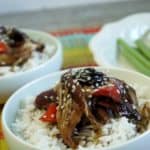 Slow Cooker Teriyaki Chicken
Ingredients
4

chicken legs

or 4 each of thighs & drumsticks, skin & excess fat removed

1

red pepper

1

onion

8

garlic cloves

remove the papery skin but leave whole

100

ml

soy sauce

3

tablespoons

brown sugar or honey
Instructions
Lay the chicken pieces out in the bottom of the slow cooker, if you have to pile them up, try and keep them as even in depth as possible.

Add the veggies, garlic, sugar and soy sauce and cook on high for 3-5 hours or low for 6-8 hours. Turn the meat halfway through the cooking time if you're home, but don't worry if not, it'll still taste fantastic.

When the meat is cooked through, remove from the slow cooker carefully and shred the meat from the bones, keeping it warm.

Pour all the juices into a small saucepan and boil until it is reduced by around half and has thickened into a delicious sticky black syrup. Add the chicken back to the sauce and stir well.

Sprinkle with sesame seeds and serve with rice and green beans.