This Sweet Chilli Popcorn is a real, grown up treat. Watch out though, it's utterly addictive!

Two nights every August, Plymouth hosts the British Firework Championships. Tens of thousands of people flock into the city to watch six of the best firework manufacturers compete and show off their latest whizz bangs & fancy rigs.
It's a crazy atmosphere, with the crowds going made for the most decadent firework displays you could ever imagine.
This year we're planning to watch it from the Cornish side of the river Tamar, at Mount Edgcumbe, which is a little more sedate. A large country estate with beautiful walks and free parking, people snuggle up on picnic blankets with picnics and bottles of wine.
If you're ever in the south west around this time of year it's well worth turning up for the event.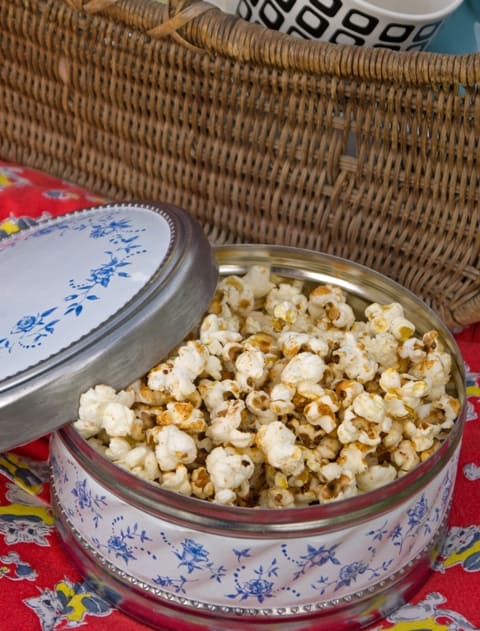 For our picnic this year we're taking hot chocolate and popcorn! A plain sugary sweet for the kids and this Sweet Chilli Popcorn is the adult version. It's utterly scrummy.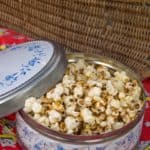 Sweet Chilli Popcorn
Ingredients
1

tablespoon

oil

Popping corn

1

teaspoon

butter

2

tablepoons sugar

1/2

teaspoon

salt

1/4 - 1/2

teaspoon

hot chilli powder
Instructions
Heat a tablespoon of oil in a heavy bottomed sauce pan with a tight fitting lid.

Pour in some popping corn, how much all depends on how big your saucepan is. You don't need many kernels to get a pan full so err on the side of caution. You can always cook a second batch if it's not enough.

Whilst the corn is popping, mix the sugar, salt and chilli together in a small bowl.

Keep shaking the pan from side to side (lid firmly still on!) until the popping noises become less frequent.

Take off the heat, add the knob of butter and mix round quickly to coat as much popcorn as possible. Next, sprinkle the sweet chilli mix over generously and it'll stick to the melted butter and popcorn. Let cool before storing in an air tight tub.