This sushi bowl is put together in just 10 minutes giving you all the flavour of a good sushi trip, with none of the hassle or expense.

I suggest all sushi purists leave right now.
I have done the blasphemous and deconstructed, simplified and cheated beyond belief to bring you this uber-tasty sushi bowl that is ready in a fraction of the time it'll take you to even cook your sushi rice, let alone roll it.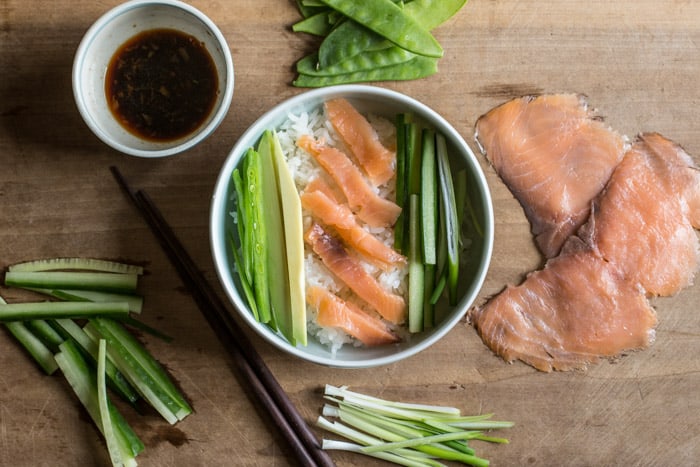 If you're still reading, then you obviously don't mind cutting corners a little when it comes to getting a healthy lunch on the table in under 10 minutes.
Atta girl :)
My secret ingredient is a packet of (shhh!) microwave sticky rice.
I pinged it, cooled it, fluffed it and simply piled it high with all the yummy components that make sushi such a joy.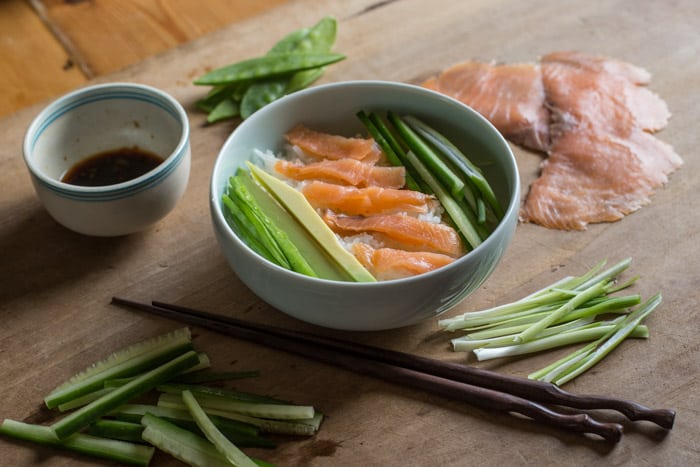 The other genius part of this dish (please excuse me whilst I toot my own horn here) is the dressing.
It's composed of all the tasty side elements you'd associate with sushi (soya sauce, wasabi and pickled ginger) they are just mixed together for your dunking or drizzling pleasure. It is deeeee-vine.
A quick dusting of sesame seeds and toasted nori and you have one seriously yummy Sushi bowl.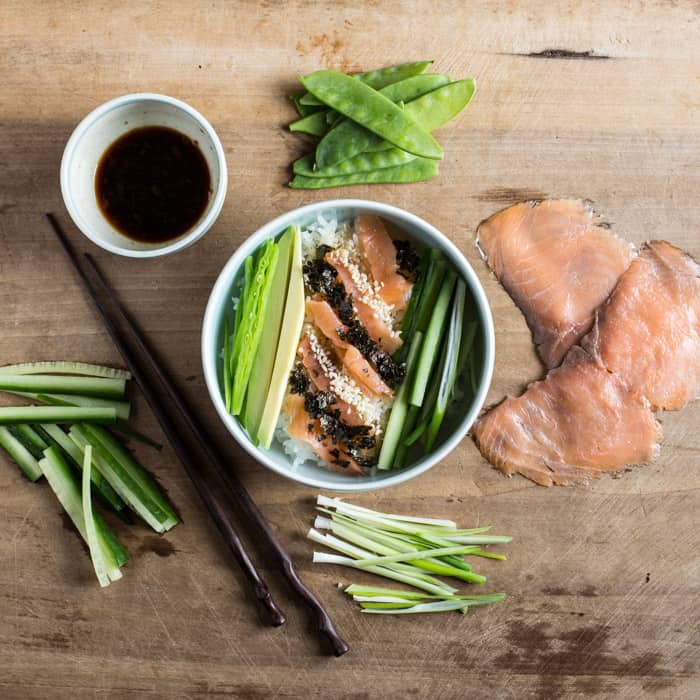 If you don't fancy smoked salmon, pop into your nearest (decent) fishmonger and ask what sushi grade options they have in for you.
They should only sell you the absolute freshest fish in if you say it's for sushi (in fact my fishmonger doesn't even take the sushi fish from the open air counter in the shop. He goes into the cold store to find me my order).
Unfortunately you won't get fish this fresh from a supermarket so if that's your only option, stick to smoked salmon, smoked trout or (cooked) king prawns.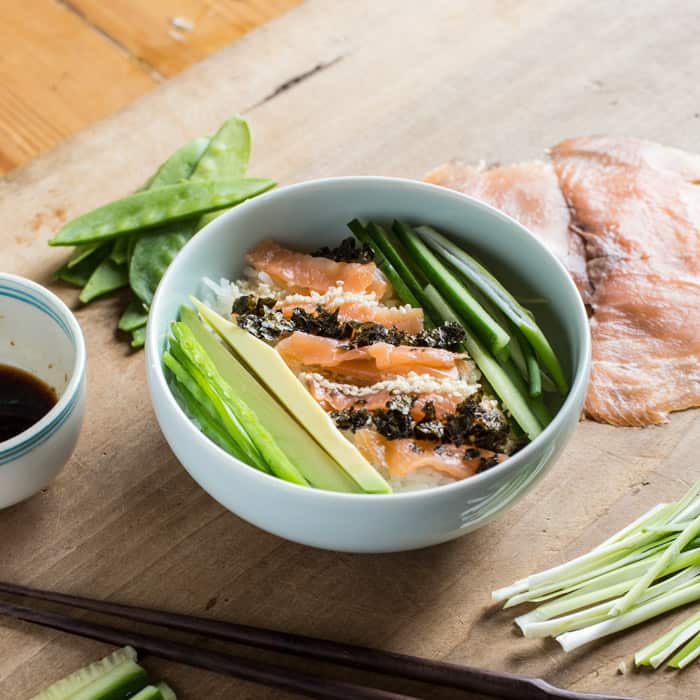 *Chopsticks not compulsory. Feel free to dig in with a fork, spoon or fingers.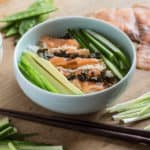 Sushi Bowl
Ingredients
Sushi Bowl
1

packet of microwave sticky rice

I used Veetee Thai Jasmine Rice

4

slices

of smoked salmon

A selection of vegetables such as cucumber

spring onion, avocado and mange tout, washed, dried and cut into julienne strips.

1

sheet of nori

dried seaweed

2

teaspoons

sesame seeds
Sushi Dipping Sauce
6

tablespoons

soy sauce

2

teaspoons

pickled ginger

finely chopped

Wasabi – start with 1 pea sized amount and add more to taste
Instructions
Cook the rice according to the instructions, and allow to cool.

Meanwhile, chop your vegetables into thin strips and mix the 3 dressing ingredients together in a small bowl.

When the rice has cooled, divide it evenly between 2 serving bowls and top with the salmon and vegetables.

Carefully hold a sheet of dried nori seaweed over your hob (gas or electric both work, electric hobs just take a little longer) and toast half a sheet of nori on both sides until it has darkened and become brittle rather than bendy. Crumble it between your fingers into a small bowl and top the sushi bowl with this crumbled nori and the sesame seeds.

Serve with the sushi dipping sauce.