Strawberry and Black Pepper Muffins? Might seem a strange choice, but this easy muffin recipe proves these two flavours go together perfectly!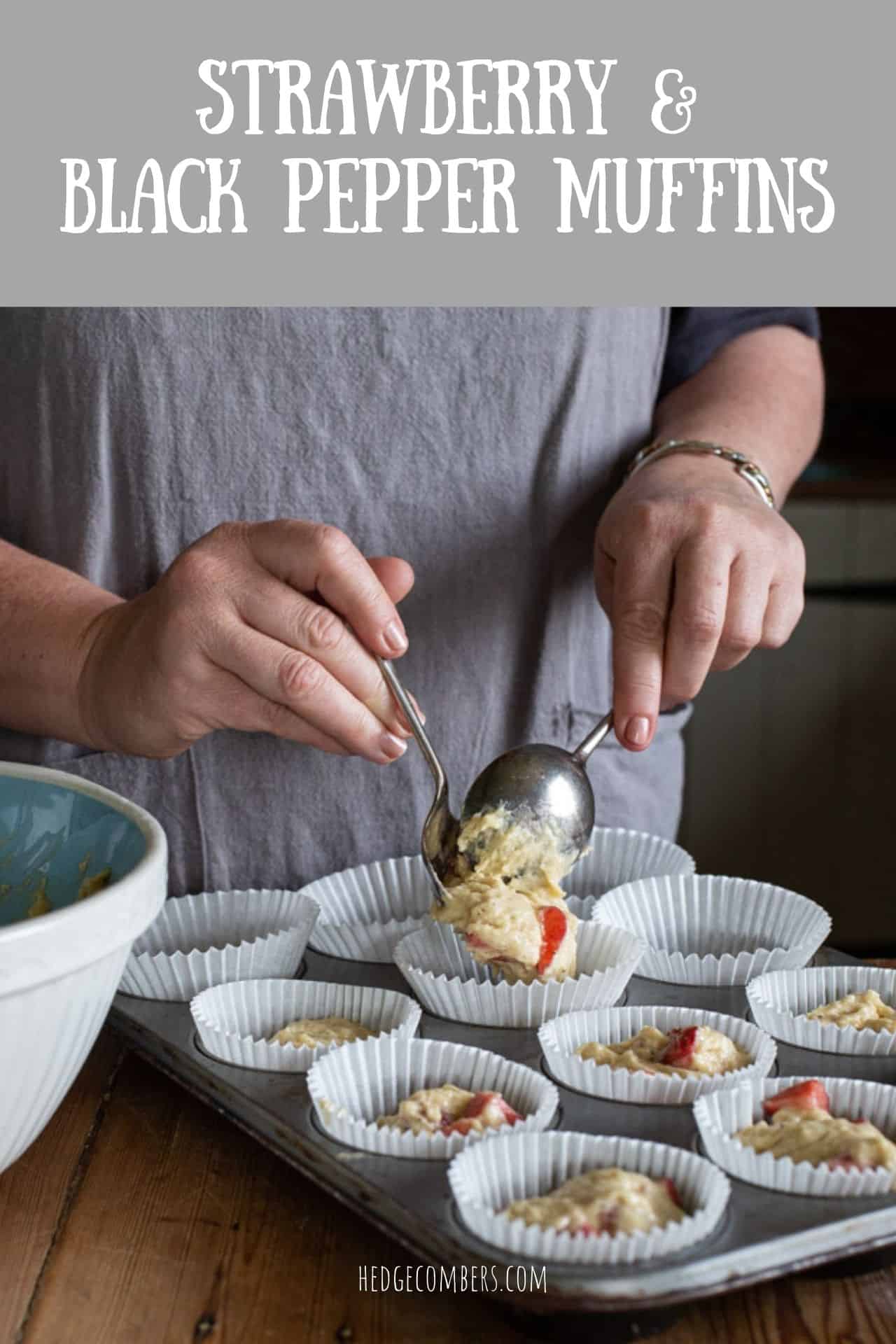 This recipe was originally published in 2014 & has been updated for 2021
Have you ever tried strawberries sprinkled with freshly ground black pepper?
If not trust me, I know how weird it sounds.
I remember the first time I heard about this bizarre pairing. And I remember being mildly concerned.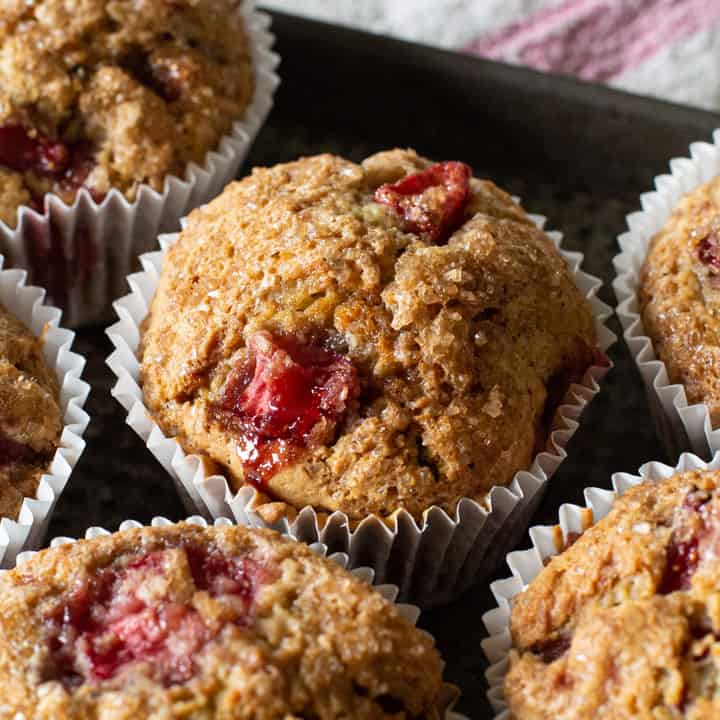 Mind you, it didn't help that I heard about it at a slimming class. And they offered it as a substitute for strawberries with cream.
I mean, seriously?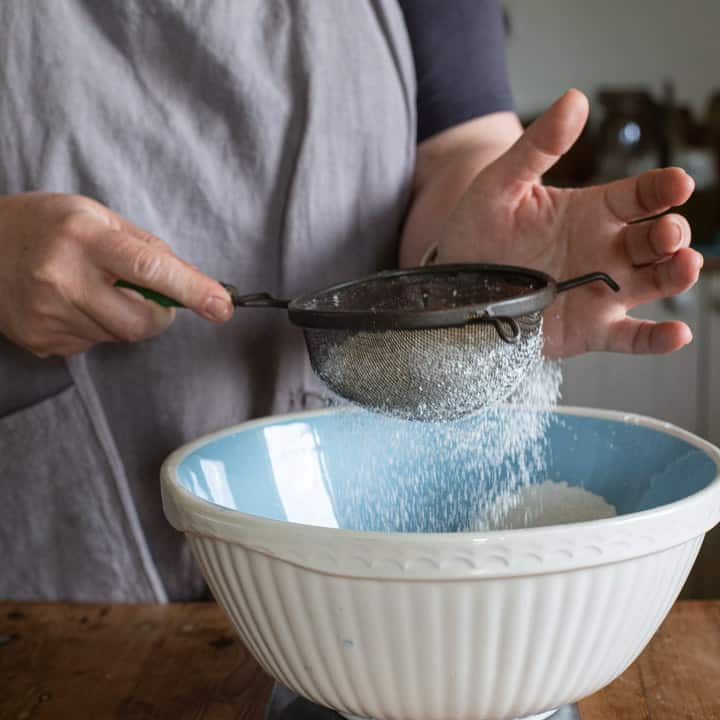 That said, I vowed a long time ago to always try weird food combo's, before writing them off.
And every once in a while, they really pay off!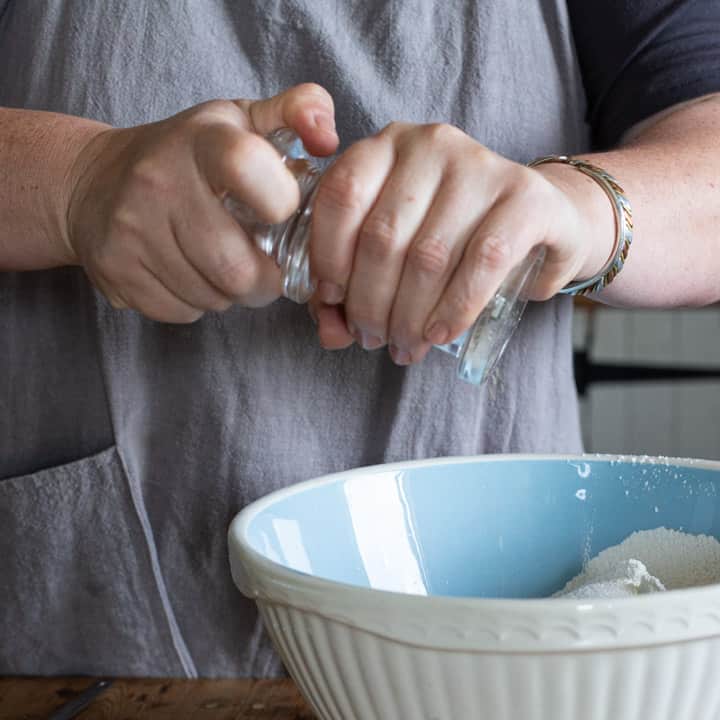 The black pepper in these sweet muffins shouldn't be tasted as such. Instead, the pepper is there as an 'extra'.
It's very subtle. It warms the muffin with the slightest hint of spice.
A little warning though. In one batch I made, I forgot to whisk the dry ingredients together before adding the wet.
This meant there were 'clumps' of black pepper in a few muffins, and this was not so pleasant!
MAKE SURE YOU WHISK/MIX YOUR DRY MIX!!!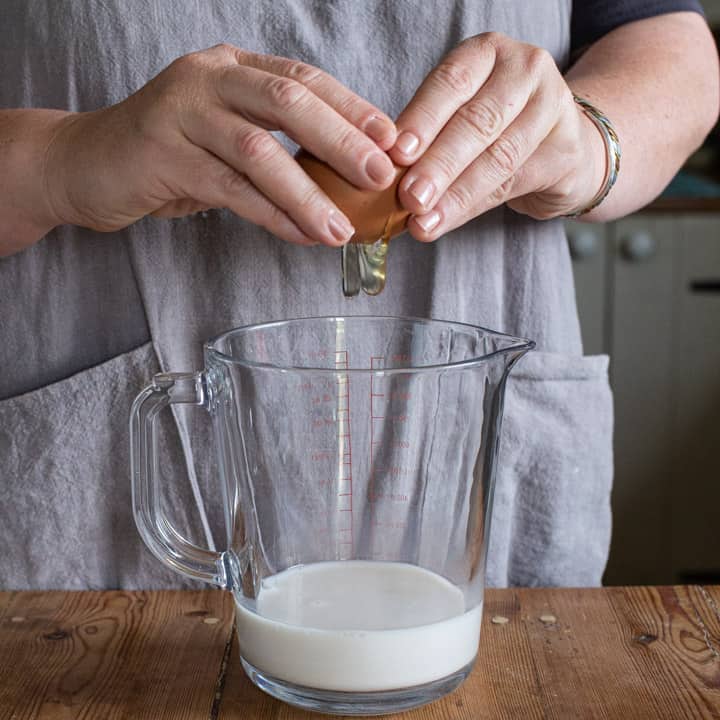 How to make Strawberry Muffins
As with all muffins, you need to start off with a bowl of your dry ingredients. I like to sieve them just to make sure you don't get any dry lumps in your muffins.
And a jug of your wet ingredients.
By blending them together at the very last minute, the raising agent will be activated just before it hits the heat of the oven.
Ensuring you a big a fluffy muffin!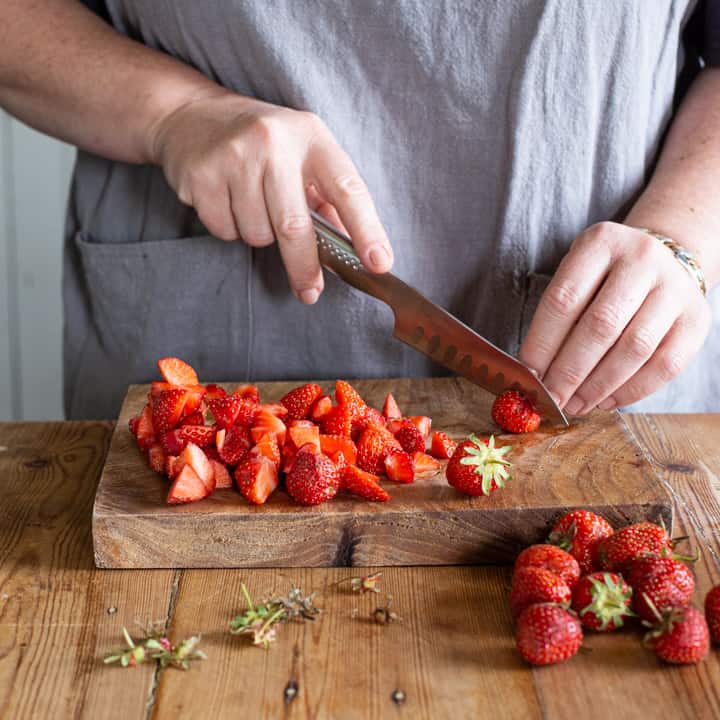 Fresh strawberries in muffins
Once my wet & dry were ready to go, I chopped up all my strawberries.
This ensures they spread evenly throughout the muffins, and you won't get a muffin that has no fruit in it.
It also helps the strawberry juices flow. This helps them look extra pretty, and become even moister.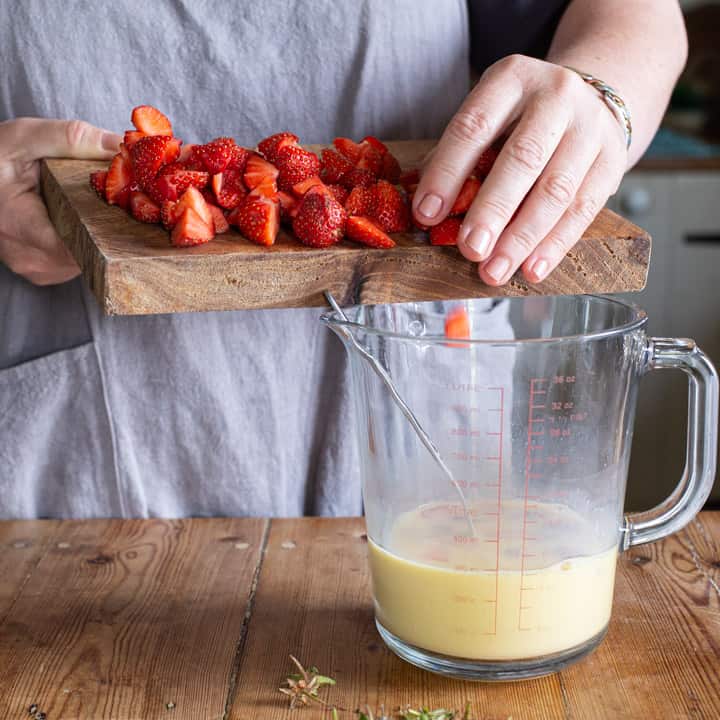 When the oven is preheated, and the muffin tin is lined with paper (or silicone) muffin cases, you are ready to make muffin magic!
Pour the wet ingredients into the dry.
Quickly but gently, fold the two together to combine.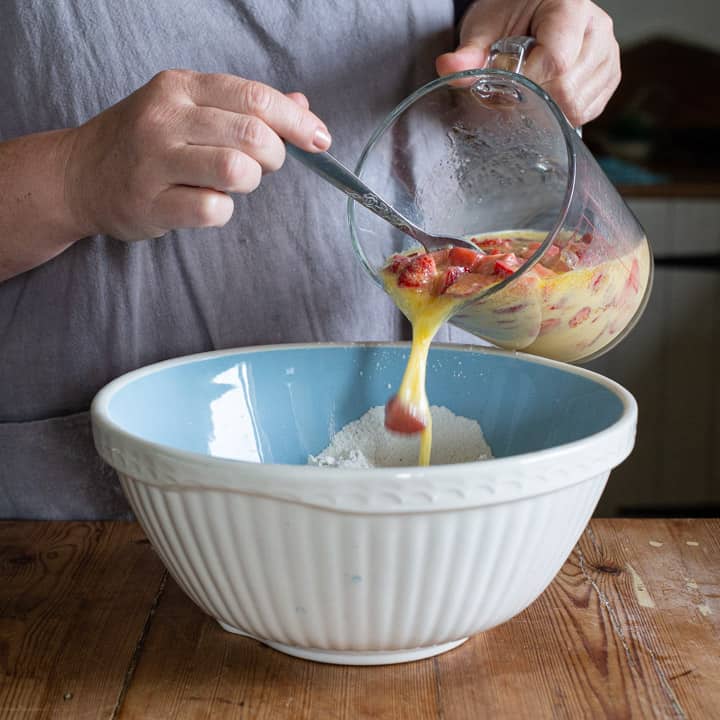 How to mix muffin batter
You want to get to the point that no dry flour can still be seen, but be sure not to over mix it.
(If you over-mix it, you'll bash the bubbles of air out of the batter. This will mean your muffins won't be as beautifully fluffy as you'd hoped).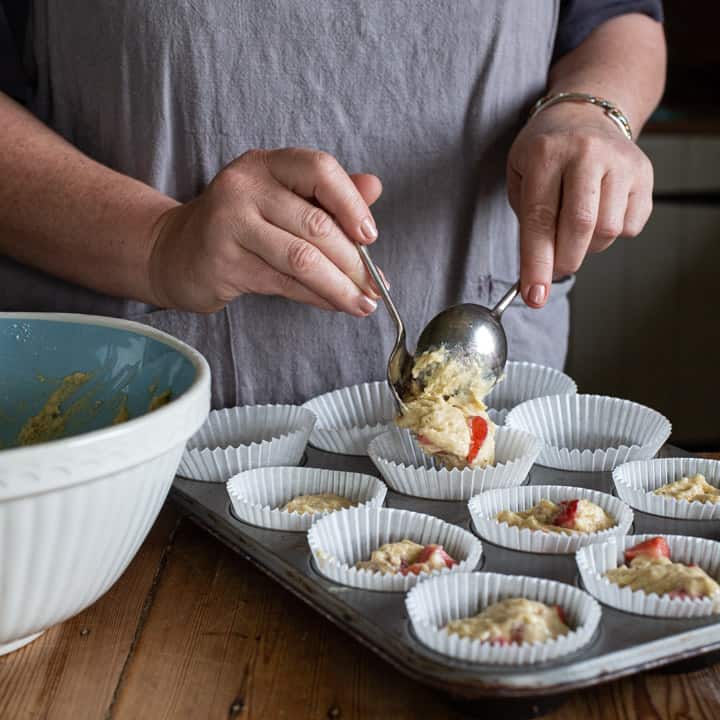 Then simply scoop the batter between your muffin cases. I like to use two soup spoons for this job.
The recipe below makes 12 muffins.
If you're using cupcake cases/tins, they are slightly smaller than those of muffins. So the cases will be much fuller than mine in the pics. (This isn't a bad thing, they might just rise way above the tops of the cases once baked!)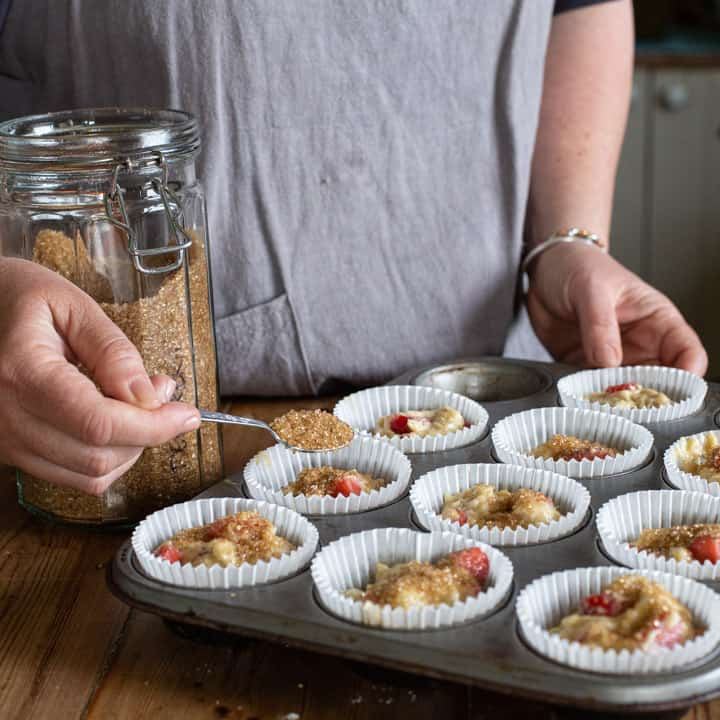 Before popping them into the oven to bake, I like to sprinkle them with some brown sugar.
This step isn't necessary, but it creates a lovely sweet crust that complements the juicy muffins perfectly.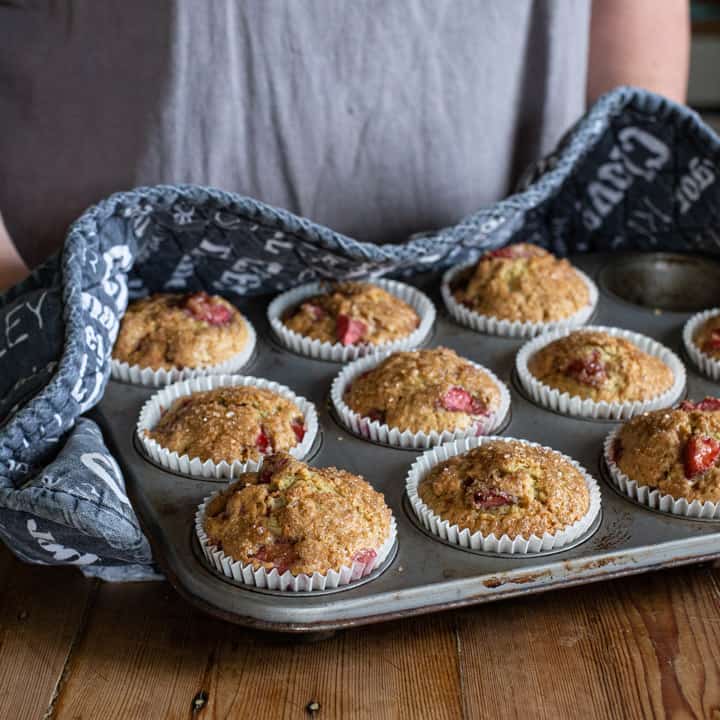 To test if your muffins are baked, press the centre of one with your finger. (Avoid poking an obvious strawberry, as they will be HOT!)
If the muffin bounces back up after you remove your finger, it's ready.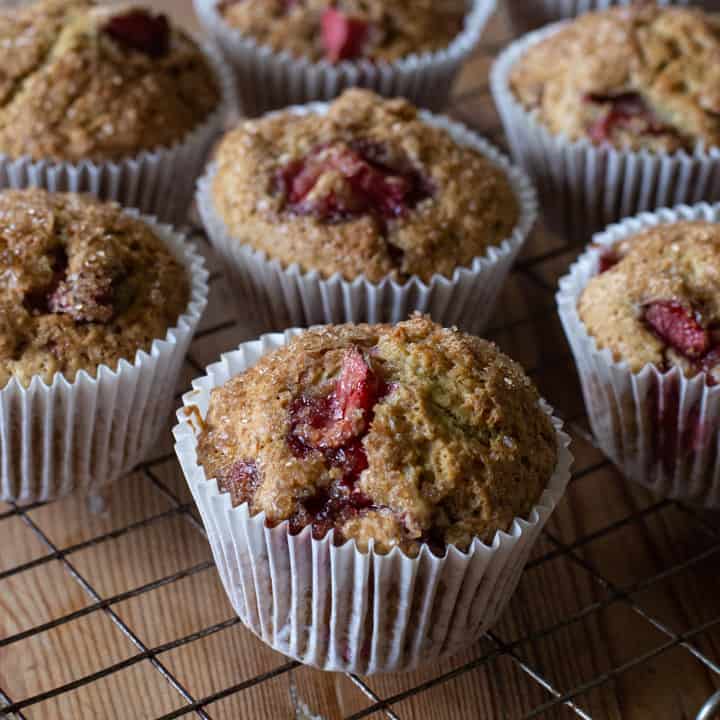 Remove the muffins from the tray and place them onto a cooling rack.
Leave until cool, then store in an airtight tub for up to a week. (good luck having them last that long!)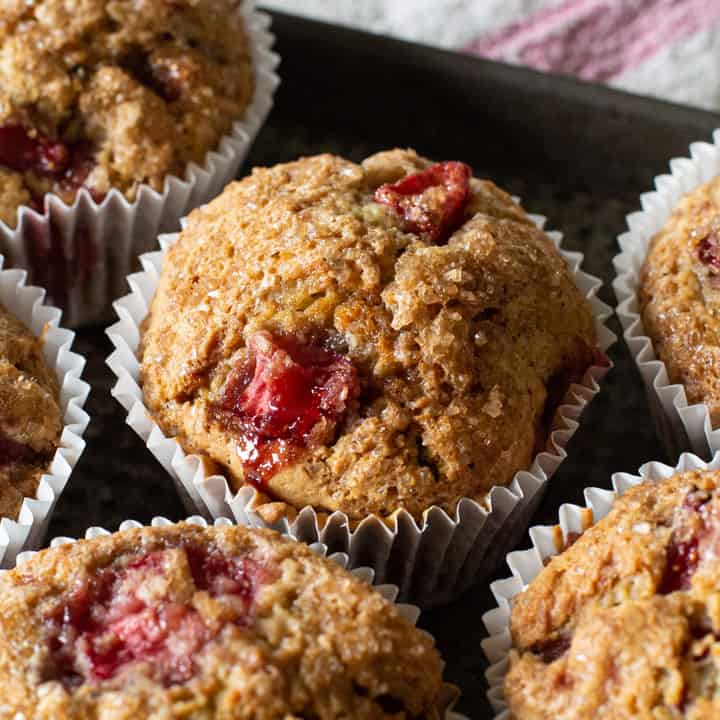 One last little note.
You would think that hot muffins, straight from the oven taste the best.
But I'm always disappointed when I dive straight in and eat them hot.
In my humble opinion, muffins taste 100% better when they have fully cooled.
What do you think? Let me know in the comments below :)
Jane x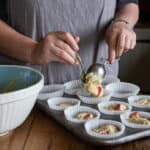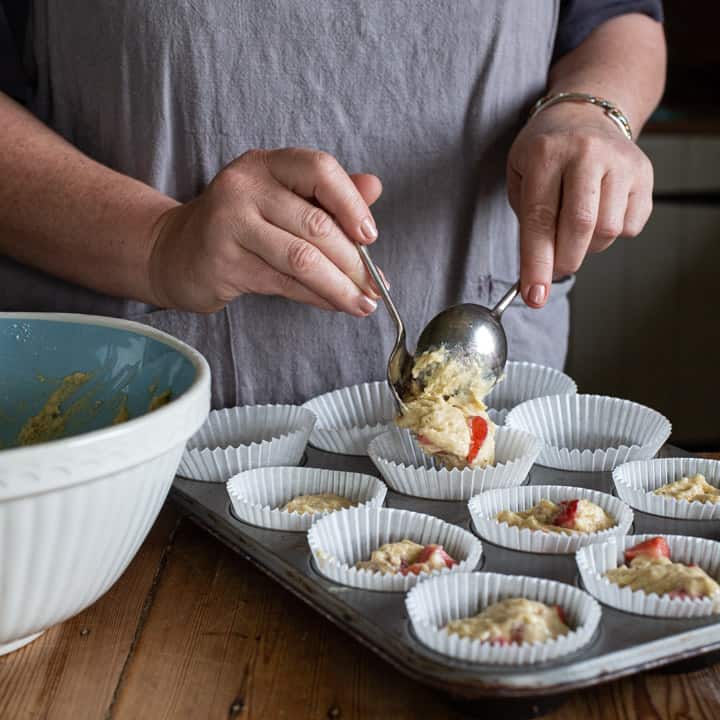 Strawberry and Black Pepper Muffins
Keyword:
strawberry muffin recipe, strawberry muffins
Ingredients
Dry Mix
275

g

plain flour

110

g

sugar

2

tsp

baking powder

1/2

tsp

bicarb of soda

- (baking soda)

1/2

tsp

salt

1

tsp

freshly ground black pepper
Wet Mix
1

egg

- beaten

180

ml

milk

- can use water instead

225

g

fresh strawberries

- chopped

90

ml

oil
The final flourish (optional)
Instructions
Preheat the oven to 190C/170 fan/ 375F/gas 5.

Line a muffin tin with paper or silicone cases.

Sift all of the dry mix ingredients together ina large mixing bowl.

In a jug, measure out all the wet ingredients.

Using a fork or a whisk, beat together well.

When the oven is up to temperature, gently fold the wet into the dry, mixing just until all traces of flour have gone.

Spoon the mix out into the muffin cases using two soup spoons.

Sprinkle the top of each muffin with a little brown sugar (optional).

Bake for 20-25 minutes, or until the tops are golden brown and they spring back when pressed.
Nutrition Facts
Strawberry and Black Pepper Muffins
Amount Per Serving (12 g)
Calories 210
Calories from Fat 81
% Daily Value*
Fat 9g14%
Cholesterol 15mg5%
Sodium 156mg7%
Potassium 149mg4%
Carbohydrates 30g10%
Protein 3g6%
Vitamin A 47IU1%
Vitamin C 11mg13%
Calcium 56mg6%
Iron 1mg6%
* Percent Daily Values are based on a 2000 calorie diet.
Need some more muffin inspiration? Pop over to my library of muffin recipes for a flavour to suit everyone :)
Janie x