Have you ever tried strawberries sprinkled with freshly ground black pepper? If not, trust me I know how weird it sounds – I remember the first time I heard about this bizarre pairing and I remember being mildly concerned. Mind you, it didn't help that I heard about it at a slimming class as a substitute for strawberries with cream. I mean, seriously?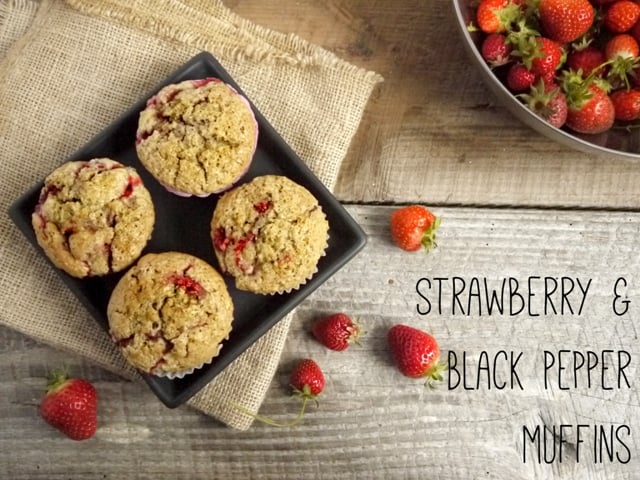 However, it's always worth trying weird combo's before writing them off. I have to say the heat from black pepper really does complement the cool, sweet juiciness of fresh strawberries. Actually, I'd go as far as to say that they're a match made in heaven. No cream necessary.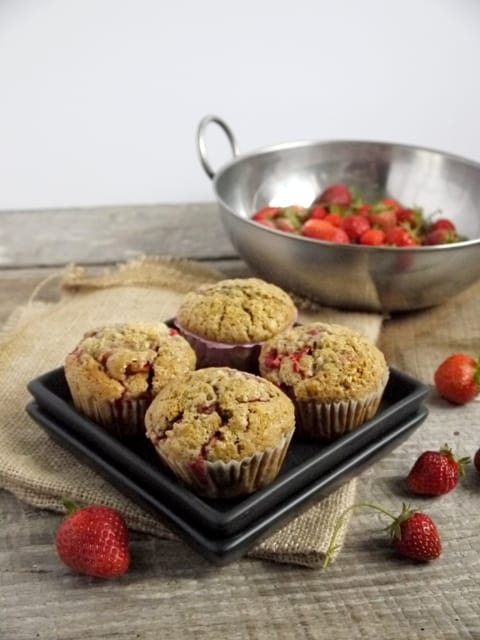 With that said when I dreamt up these Strawberry and Black Pepper Muffins I did secretly cross my fingers & hope for the best.
The strawberries have enough moisture to stop the muffins from drying out too quickly whilst imbuing their sweet, fragrant quality, and the pepper creeps up on your tastebuds leaving your mouth with a delightful warm afterglow.
Fear not my intrepid muffin munchers, these are the real deal and so worth the effort.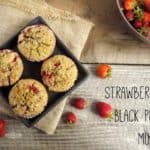 Strawberry and Black Pepper Muffins
Ingredients
Dry Mix
275

g

plain flour

2

teaspoon

baking powder

1/2

teaspoon

bicarb of soda

baking soda

1/2

teaspoon

salt

1

teaspoon

freshly ground black pepper

110

g

sugar
Wet Mix
1

egg

beaten

180

ml

water or milk

225

g

fresh strawberries

chopped

90

ml

veg oil or melted butter

A little brown sugar to sprinkle in top.
Instructions
Preheat the oven to 190/170 fan/ 375/gas 5. Line a muffin tin with paper or silicone cases.

Sift all the dry mix ingredients together. Don't worry if there are chunky-ish pieces of black peppercorns that won't go through the sieve, just tip them in.

In a jug measure and mix all the wet ingredients.

When the oven is up to temperature, gently fold the wet into the dry, mixing just until all traces of flour have gone.

Spoon the mix out into the muffin cases and sprinkle the top of each muffins with a little brown sugar.

Bake for 20-25 minutes or until the tops are golden brown and they spring back when touched.
Nutrition Facts
Strawberry and Black Pepper Muffins
Amount Per Serving (12 g)
Calories 0
* Percent Daily Values are based on a 2000 calorie diet.
Need some more muffin inspiration? Pop over to my library of muffin recipes for a flavour to suit everyone :)
Janie x