Hello Spicy Sobrasada Burger!
This burger is made with a mix of minced pork and spicy Majorcan sobrasada, a cured pork paste similar to a spreadable salami.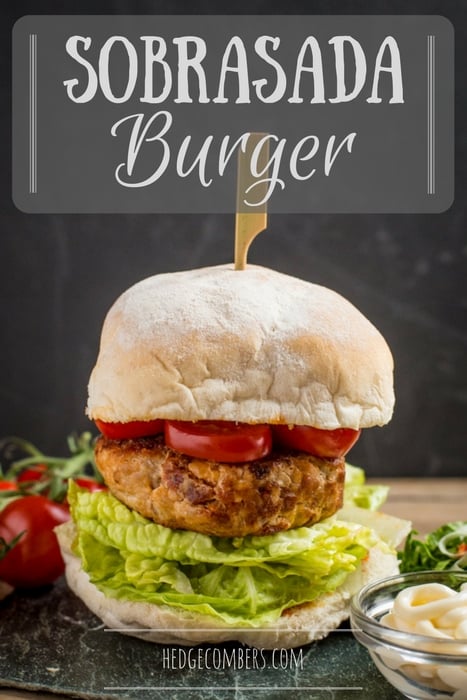 Mmm Mmmmmmm!
I have a feeling this sobrasada burger is going to be my go-to BBQ recipe this year.
It's sooo good!
Juicy, fiery and bursting with flavour, sobrasada is a blend of pork mince and spices.
There are two varieties, a mild one (which I have never tried) and this hot spicy one full of paprika and spices.
In Majorca it is sold by the 'sausage'.
I have found it before in UK supermarkets, but there it is pre-packaged in plastic deli packs.
In fact, I'm pretty sure I got it from Sainsburys for this Sobrasada and Goat Cheese Tart, but at the time of writing they don't have it in stock.
City Break Palma, Majorca
I was recently invited to explore the beautiful coastal city of Palma, Majorca, with Jet2 and the Majorcan tourist board.
It was a whirlwind adventure with a small group of bloggers and vloggers, and we were whisked around the very best restaurants, markets and bakeries.
Scroll down if you're in a hurry for the delectable sobrasada burger recipe, or take your time as I share my foodie highlights of the trip…
Valparaiso Palace Hotel and Spa
The Valparaiso is a luxurious 5 star hotel which is comfortable and relaxed with not even the slightest hint of stuffiness.
It commands regal views over Palma, to the bay and beyond.
Of an evening it's lovely to sit on your balcony and just soak up that view.
The cruise ships that dock in the harbour below all light up like little floating Christmas trees as the sun goes down.
With three pools, a huge spa and gorgeous restaurants, no one would blame you if you spent most of your visit just relaxing in the resort.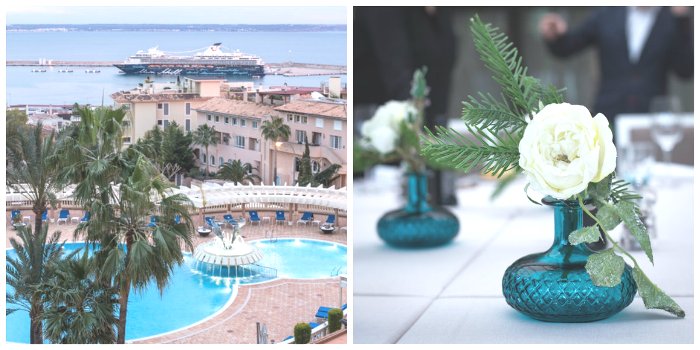 Mercat de L'Olivar
One of my most favourite things to do in a new town or city is to hunt down the local food market and to slowly wander and soak up the scents and tastes of the local cuisine.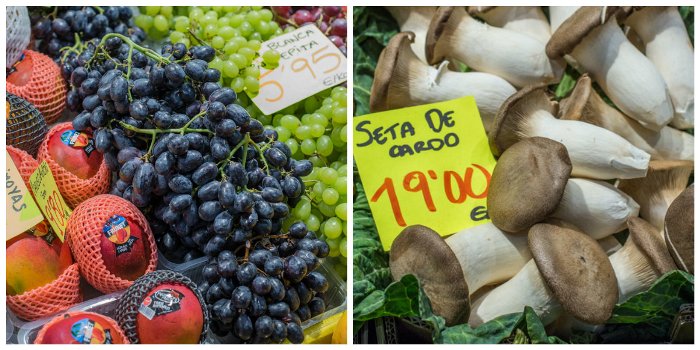 This market was up there as one of my favourites and is well worth a visit.
There's plenty of fresh produce (think cured meats, cheeses, baked goods etc), cafes and coffee bars and a fish market, with its own champagne and oyster bar.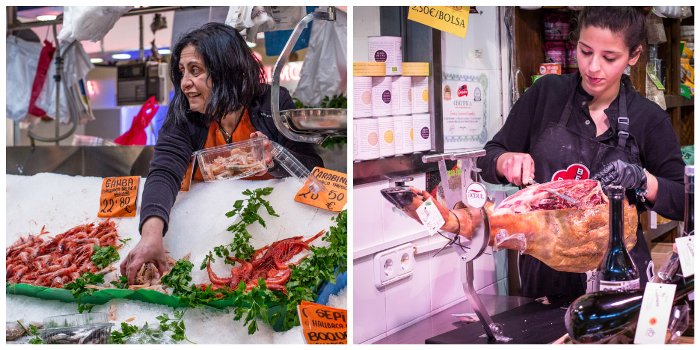 If you fancy recreating this spicy sobrasada burger, pop along to Mateu Fiol.
They have a huge range of charcuterie and cheeses, and the whole sobrasada 'sausage' was just 11 euros.
It's handy to note that as it's a cured meat (like salami) it doesn't need to be refrigerated.
So it'll be perfectly safe to tuck away in your luggage.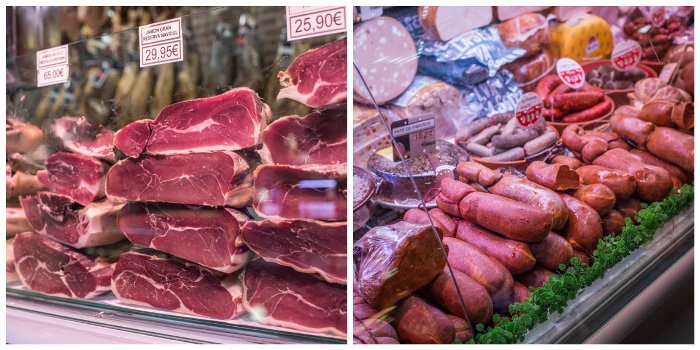 Fornet de la Soca
This bakery fed me quite possibly my favourite morsels of the entire trip.
They make all sorts of yummy things here, including superb lamb and sobrasada empanadas which tasted divine.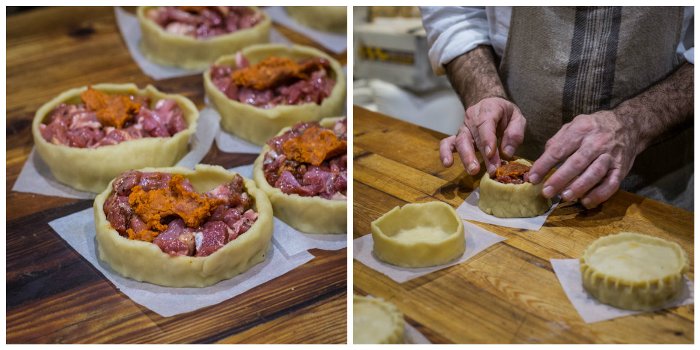 However, the puffy sweet cloud that stole my foodie heart was their ensaimada.
Completely dairy free it is made with lard instead of butter and reminds me of an English lardy cake crossed with a cloud.
Not heavy or stodgy in the slightest, just light, airy and with the slightest hint of caramelisation on the bottom.
Honestly, it's worth going to Palma just to hunt this treat down!
Huge apologies, it seems I didn't get a photo of the ensaimada, however one of my fellow travellers shared a pic on Instagram if you're intrigued.
Rialto Living
Whilst there is a lovely cafe in this beautifully restored building, the real reason I'm sending you here is for their beautiful range of home and kitchenware.
Sourced from all over Europe, there are such beautiful and uniques pieces here that I wanted to bring it all home to my photo studio.
If you don't share my love of all things food props, then go instead to be inspired by the fabulous architecture.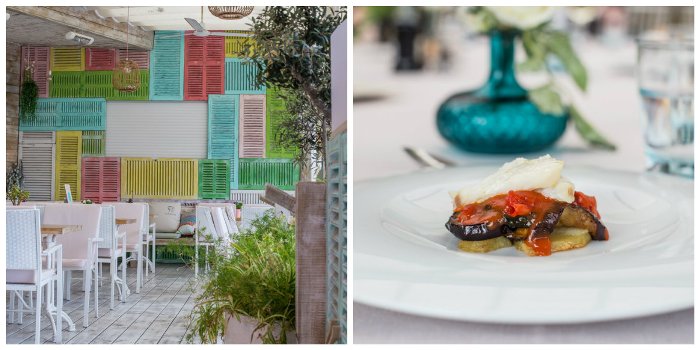 Other places worthy of a mention include Nakar Hotel with a rooftop bar.
Visit after sundown and you'll be treated to a live DJ, infinity pool and quite possibly the best bar view anywhere.
Oh, and the hotel itself is so high tech that it's worth staying here if you're a bit of a geek.
The Summum Hotel and Equus restaurant offered us a fantastic evening with fabulous food and wine.
There were two of us on the trip that had food intolerances, and every restaurant we visited adapted their menu to suit us brilliantly.
The chef at Equus restaurant even created a dairy-free dessert for the entire group!
That made me very happy!
Spicy Sobrasada Burger
OK, remember that recipe I promised you aaaages ago?
Well, here you go :)
So pork based burgers can be a little, meh.
They can be a weird dry texture, and miss that whole succulent beef burger thang.
They also need a decent level of seasoning to stop them being too bland.
No more friends.
This spicy sobrasada burger is going to knock your socks off.

If you can't find sobrasada in your local supermarket, try swapping it out for N'duja, or at a push a hot chorizo that you've diced up into teeny pieces.
Be sure to read the label if you're dairy free too, as most chorizo in the UK has milk in.
Click here to see me whipping up a spicy sobrasada burger in Myrtle the campervan!
And here's the full recipe.
Enjoy!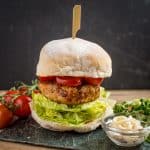 Sobrasada Burger
Ingredients
200

g

pork mince

75

g

sobrasada

salt and pepper

Burger bun, lettuce, tomatoes, mayo
Instructions
Pop the pork mince Into a large bowl.

Break the sobrasada into small pieces and scatter over the pork mince.

Using the tips of your fingers, gently mix the two together until the sobrasada is equally spread throughout the mixture. Do not squish, or squash the meat. For an extra juicy burger, be gentle.


Split the meat into two, then gently shape each one into a burger shape. Again. don't squash the meat, just gently pat it into shape.

Preheat a BBQ, griddle or frying pan. Lay the burger on and cook for 4-5 minutes or until the base has a good, golden crust and the meat pulls away evenly from the pan.

Season the top with salt and pepper, then flip and season the second side too.

Cook till cooked through (if you have a digital thermometer, the internal temp should exceed 63C).

Serve in a burger bun with lettuce, thick slices of tomato and mayonnaise. Delicious!
In conclusion, Palma is definitely on my list of European city breaks to take advantage of in the future. Just a 2 hour flight from the UK, and you'll be getting the best of both worlds – cultural city break with a beach resort vibe.
HUGE thanks to Jet2 and the Palma 365 for inviting me to explore Palma. As always all thoughts are my own.
Jane