In my younger days of partying a little too hard, I had a wonderful friend called Maurice, who would come round and look after my housemate & I when we weren't doing a very good job of it ourselves.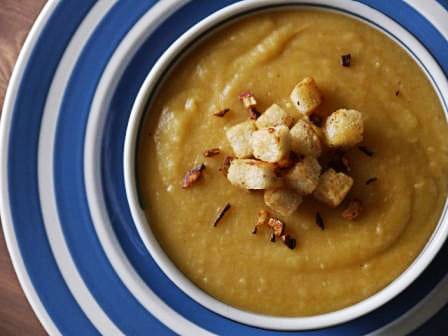 He would bring a can of Baxters Spicy Parsnip Soup with him, and feed us up. It became a kind of gastro comfort blanket.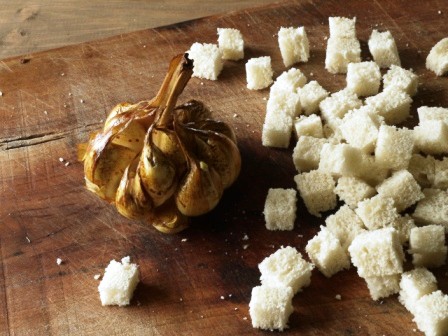 Sadly Mo is no longer with us, but I make this soup in his memory, every time I need to feel looked after and nourished. And I send him a nod and a wink as I eat it, proving I can look after myself now :)
Spicy Parsnip Soup with Smoked Garlic Croutons

Ingredients

450

g

parsnips

peeled & chopped

1

carrot

peeled & chopped

1

onion

chopped

1

potato

peeled & chopped

2-4

cloves

garlic

850

ml

chicken or veg stock

1/2

teaspoon

chilli powder

or as much fresh diced chilli as you like

1/2

teaspoon

garam masala

1

teaspoon

black pepper

1/2

teaspoon

turmeric

1

teaspoon

ground cumin

1

teaspoon

salt

2

slices

of bread

2

cloves

of smoked garlic

1

tablespoon

butter

Instructions

Fry the onion and garlic in a little oil. Add the spices and fry for a couple of minutes to release their flavours.

Add everything else to the pot and bring to the boil, immediately reducing to a simmer for around 20 minutes or until the vegetables are soft.

Whilst the soup is simmering, cut the crusts off the bread. Cut the slices into little dice, and shallow fry in the butter. When the squares are beginning to turn golden, add 2 chopped cloves of smoked garlic to the pan and fry with the bread.

Blitz the soup with a stick blender when cooked, adding as much freshly boiled water from the kettle to make it as thick as you like it. Pour into bowls and top with the yummy croutons.

Edited to add; When topping up with boiled water, add 1/2 a can of coconut milk too. Wowsers!
Shared with; Homestead Barn Hop, Mix it up Monday, Monday Mania, Melt in your mouth Monday, Wildcrafting Wednesday, Real Food Wednesdays