If you like a kick to your food, these Spicy N'duja Meatballs are gonna knock your socks right off!

Jonny had a group of mates camp over in our woods last weekend and he asked me to cook for them all on the Friday night.
For my own sanity I needed to keep the recipe simple, but equally needed a dish that went above and beyond the norm.
As meatballs are quite a blokey dish, I decided to pimp them into these spicy n'duja meatballs.
Rather than cooking up a bunch of pasta to serve alongside, we served them with Jonny's homemade sourdough bread.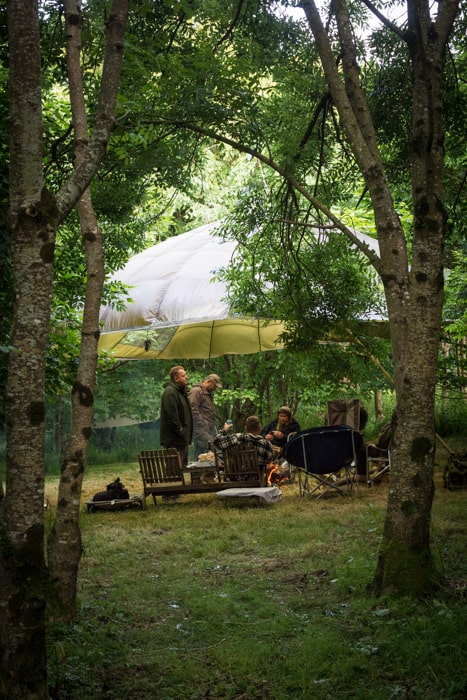 I must confess that I actually made and cooked the meatballs in my kitchen rather than over the fire as I quadrupled the recipe below and had 69 meatballs to deal with!
I needed to have the control of my hob and the cleanliness of my kitchen to make sure that everything was perfectly tasty and properly cooked through.
That said, if you've keeping to the recipe below, this will make a perfect campfire dish.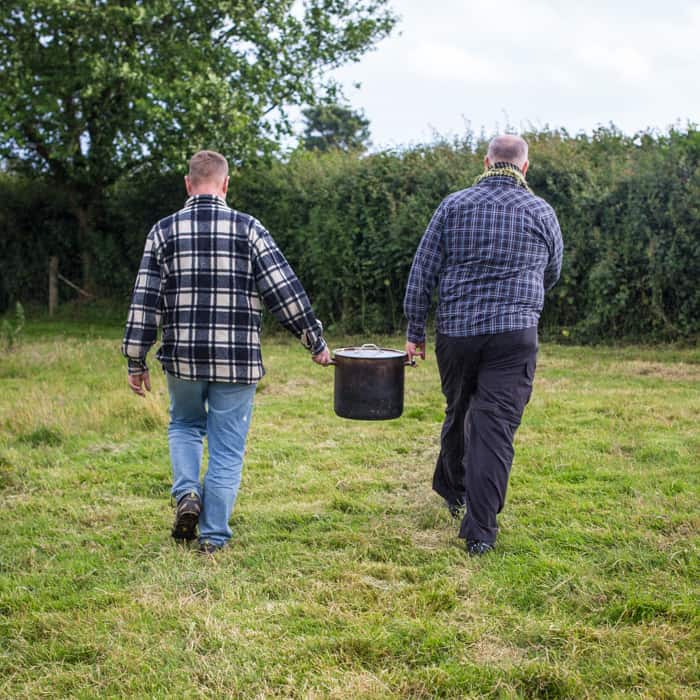 The long cooking time involved in this recipe is really to get that rich tomato sauce right.
So if you're camping and don't want to spend ages making the sauce, there's no shame in popping open a decent jar of ready made tomato based pasta sauce.
Then ignore the first half of the recipe below and go straight in with making the meatballs.
Once they're browned, simply pour the sauce over them and cook for a few more minutes before serving.
So what's n'duja?
Last year I visited Deli Farm Charcuterie in north Cornwall whilst on a sourcing trip with Fifteen Cornwall.
I remember the owner Jean Edwards saying she was working on creating their own n'duja to complement their already extensive range of cured meats.
I was really excited to see the first jars for sale at this years Royal Cornwall Show.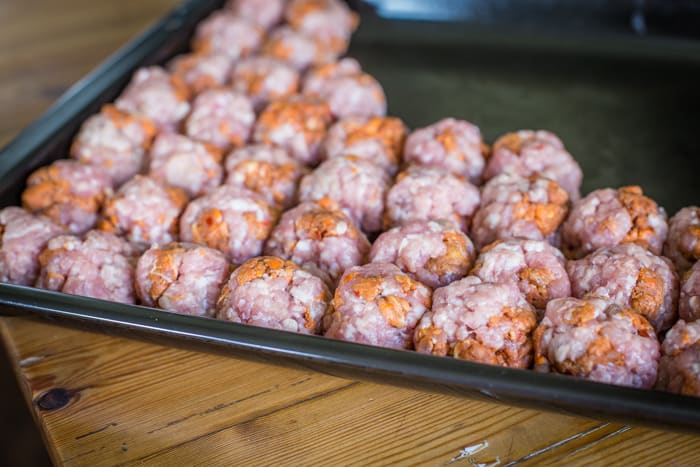 If you haven't happened across n'duja before, it's a blend of cured pork belly and cheek with a high level of red peppers and chillis.
It's likened to a fiery spreadable salami. And whilst it's not at all for the faint hearted, it's utterly delicious.
I first came across it at the Rock Oyster Festival where chef Andy Appleton created this incredible Cornish Fish Stew.
He topped the stew off with pieces of toast spread with n'duja and topped with white crab meat.
WOW.
Crab & n'duja are up there with cheese and wine as the most perfect of partners.
The Deli Farm version is less oily than the imported n'dujas I've tried which is perfect in this dish as there is just the right amount of fat to flavour the dish without needing to drain any off.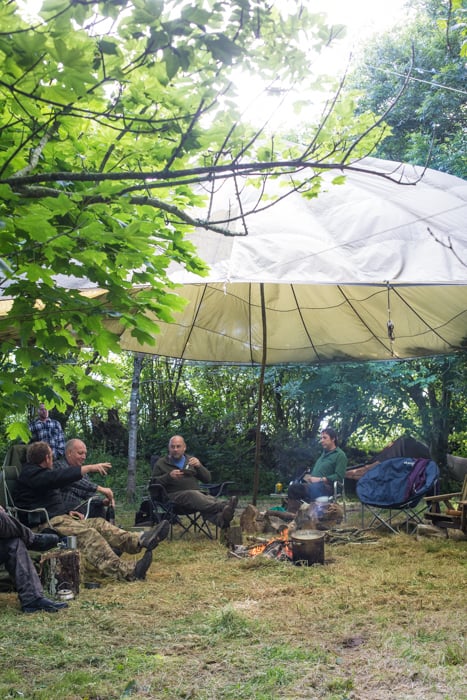 Meanwhile, back in the woods…
Dessert was served!
A traditional Cornish cream tea, which for the record involves a scone being spread first with strawberry jam and then topped off with clotted cream.
But as Jonny likes to do things a little differently, he went all Switzerland on us and remained neutral in the jam & cream wars…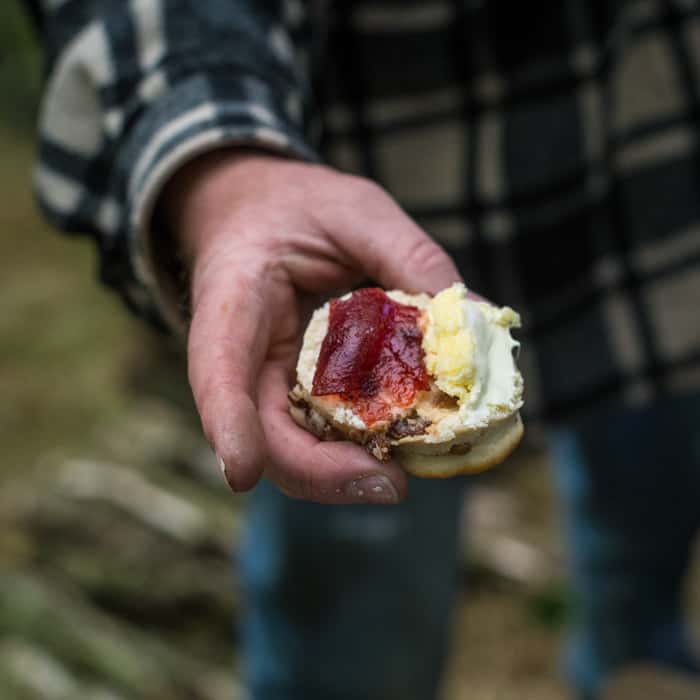 If buying British is important to you, please visit the Deli Farm Charcuterie website to order your jar of Cornish n'duja.
At the time of writing the n'duja is so new that it hasn't made it on to their website yet.
But if you have trouble finding it give them a ring and they'll be happy to take your order over the phone.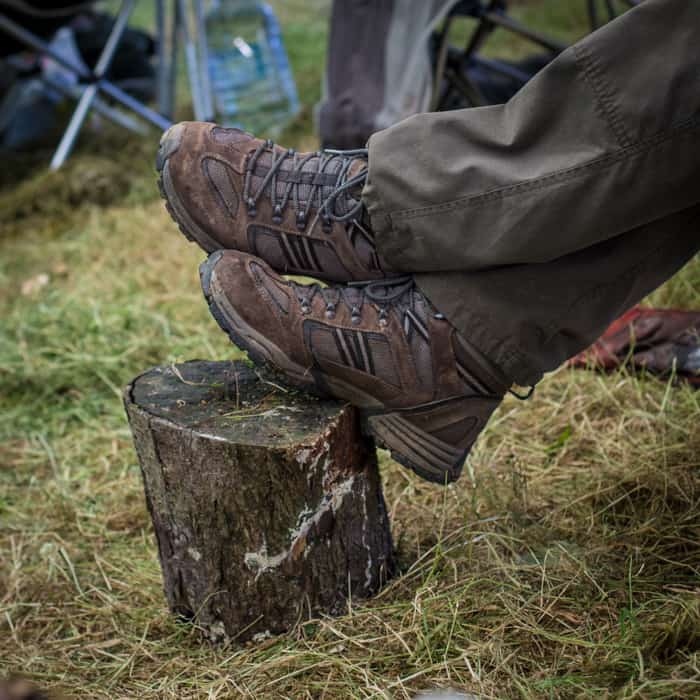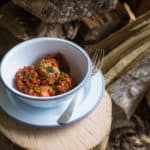 Spicy Nduja Meatballs
Ingredients
Rich Tomato Sauce
1

tablespoon

oil

2

onions

large,finely chopped

4

cloves

garlic

minced

8

sundried tomatoes

chopped

3

tablespoons

balsamic vinegar

700

g

passata

40

g

sultanas

Salt & pepper
Spicy N'duja Meatballs
500

g

pork mince

150

g

N'duja

1

tablespoon

oil
Instructions
Rich Tomato Sauce
Very gently fry the onions in the oil for 10-15 minutes until they are soft and slightly sticky - avoid getting them crispy, just lightly caramelised.

Add in the garlic, vinegar and passata and simmer for 30-40 minutes until it is rich, thick and gloopy.

Season with salt & pepper and add in the sultanas.
Spicy N'duja Meatballs
Break apart and spread out the pork mince over a large tray or baking sheet. Avoid squishing the meat too much, you want to work really gently to keep the individual strands as much as possible.

Weigh out the n'duja and break this apart into small pieces, dropping them evenly over the pork mince. It's worth taking your time doing this as the smaller the pieces, and more evenly the spread of n'duja, the more regular each meatball will taste. And as there is no other seasoning in the meatballs you don't want to get an n'duja free bite!

Next grab your kitchen scales and zero them with a small plate on. Pick up a lump of the meat mixture and weigh out 40g. Gently roll the meat into a ball - again don't press and squish the meat too much as you want any fat to render into the gaps for extra juicy meatballs, but roll enough so that they hold together during cooking.

Heat the oil in a frying pan. When hot fry the meatballs just until they have golden patches.

Tip into the tomato sauce and reheat until piping hot. Serve with buttered sourdough bread, pasta or whatever the hell you fancy!
Nutrition Facts
Spicy Nduja Meatballs
Amount Per Serving
Calories 705
Calories from Fat 432
% Daily Value*
Fat 48g74%
Cholesterol 123mg41%
Sodium 598mg26%
Potassium 1593mg46%
Carbohydrates 34g11%
Protein 34g68%
Vitamin A 930IU19%
Vitamin C 26.3mg32%
Calcium 83mg8%
Iron 5.6mg31%
* Percent Daily Values are based on a 2000 calorie diet.
Disclosure: This content/recipe is NOT sponsored. It's just a yummy recipe from a very happy customer that is eager to support Cornish artisan producers. :)
Janie x