This Pork in Mustard and Cider is one of Jon's signature dishes, I'm quite sure he won't mind me sharing it with you :) He normally makes it in the oven, but I just knew it would be a winner in the slow cooker. The meat is fall apart tender, the gravy is tummy growingly good and with a big dollop of creamy mash you will be feeding a very happy family!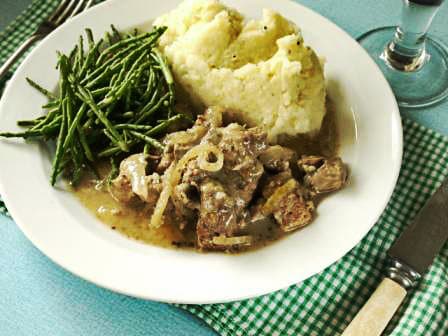 It's also a really useful recipe if you grow your own pigs. Come butchering time, remove the skin and most of the fat from any odd cuts of meat, dice and put to one side for this dish. It really doesn't matter what part of the beast the meat come from (I used a shoulder here) as the slowcooker will tenderise it perfectly.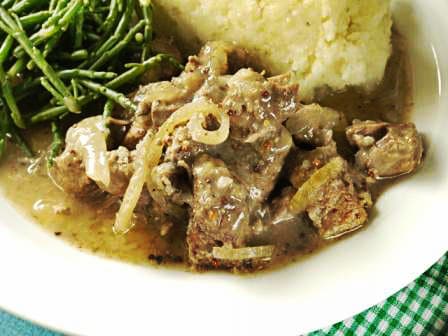 We normally serve it with a big pile of greens, but all we had in was a packet of samphire. I admit, it's the first time I've had samphire, and it really complements this dish well. Lightly steamed for 2 -3 minutes so it still has a little crunch left in, it'll deliver a subtle burst of saltiness with each mouthful. It works a treat!
Pork in Mustard and Cider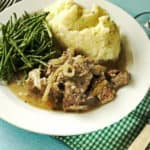 Slow Cooker Pork in Mustard Cider
Keyword:
Pork in Mustard and Cider
Ingredients
1-1.5

kg

of pork

3

onions

large

1

teaspoon

wholegrain mustard

heaped

1

litre

dry cider

Butter or oil from frying
To thicken the sauce
1

tablespoon

cornflour

heaped

A few tablespoons of cold water
Instructions
Fry the sliced onions gently for 10 - 15 minutes, until they are lightly coloured and really soft. Tip them into the slowcooker.

Turn up the heat in the frying pan, melting some butter until it is sizzling. Add the cubed pork and sear each side of the meat until it is showing some good colour. Tip meat & juices into the slowcooker.

Add the mustard, and slowly pour in enough cider to cover all the meat. Switch the slow cooker on, and leave for 7-10 hours on low, or 4-6 hours on high.

When the meat is as soft as you like, season well and add the cornflour & cold water mixture. Stir well, and wait for a few minutes for the sauce to thicken.
Nutrition Facts
Slow Cooker Pork in Mustard Cider
Amount Per Serving
Calories 476
Calories from Fat 279
% Daily Value*
Fat 31g48%
Cholesterol 143mg48%
Sodium 123mg5%
Potassium 633mg18%
Carbohydrates 6g2%
Protein 39g78%
Vitamin A 10IU0%
Vitamin C 5.2mg6%
Calcium 59mg6%
Iron 2.5mg14%
* Percent Daily Values are based on a 2000 calorie diet.