This Slow Cooker Pepperpot Stew is a Caribbean stew and contains a dreamy combo of beef, coconut milk and various veggies, beans and light spices. It is comfort food at its finest and requires very little prep.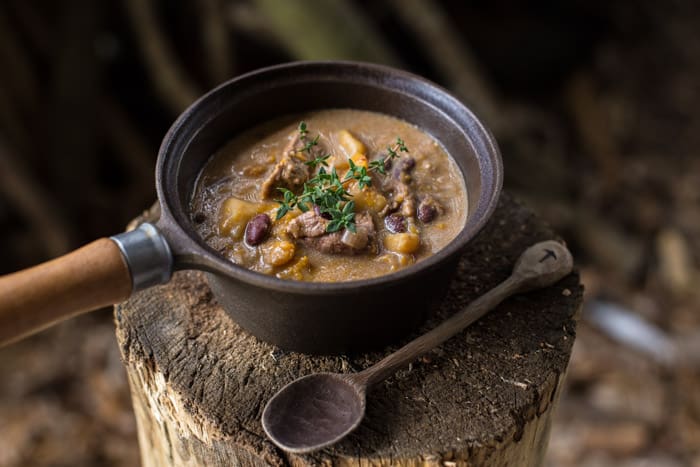 This recipe was originally published in March 2016
The Joys of Slow Cooking
Update: I recently re-made this Caribbean stew when I recorded a video for my YouTube channel whilst camping out in Myrtle at Portreath in Cornwall as part of a series of campervan comfort food recipes. Check out the full video here. It was so good (and the weather is SO bad right now), I decided to pull it out of the archives and re-publish it here for you! Enjoy!
Making this recipe for Slow Cooker Pepperpot Stew over the weekend reminded me how essential slow cookers are for busy families with full schedules.
Things are a tad more hectic here than normal as I start Jury Service tomorrow and being self employed I've had to get things organised behind the scenes of the blog to keep bringing you tasty content during my legal hiatus.
Honestly, it's a bit of a worry how long I'm going to have to take off work. They tell you to plan for 2 weeks, but I have heard of cases that go on for months. I'm keeping everything tightly crossed that I get a quick (and preferably not too grizzly) case.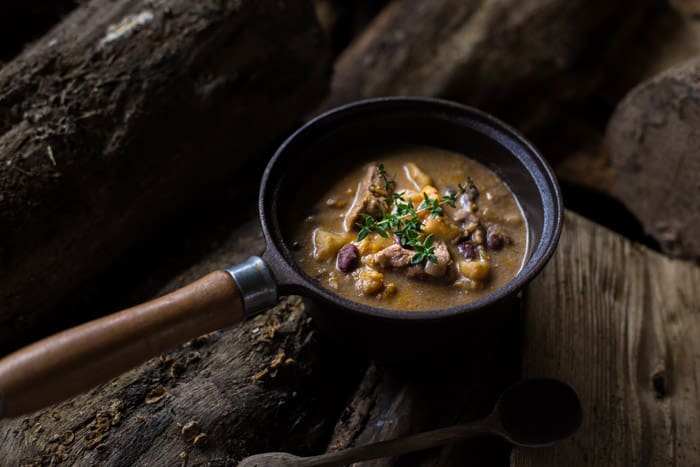 Secondly it's also a pretty busy time on the farm, with spring being our one chance to get the bulk of the fruit & veg seeds sowed and with most of the animal housing needing some level of love and attention.
As you can imagine, cooking a hot meal over the weekend wasn't exactly up there on my list of priorities.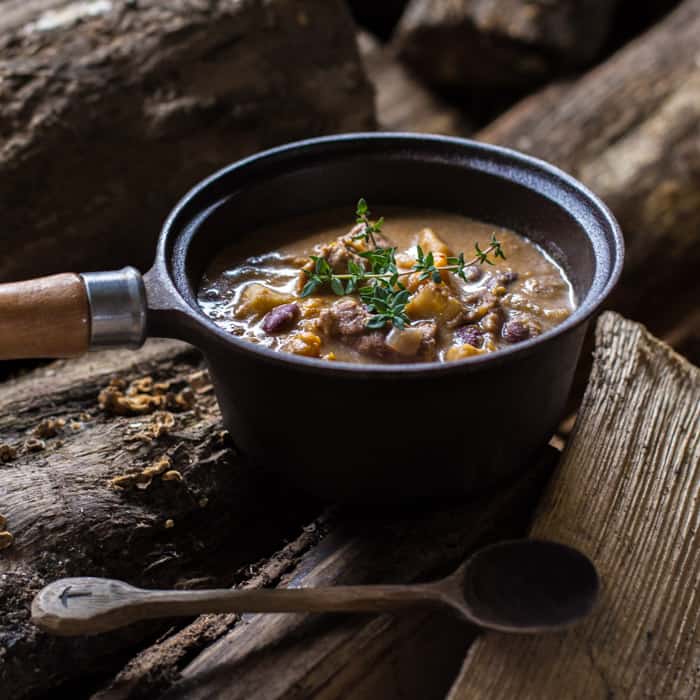 Quick, easy and delicious Pepperpot Stew Recipe
Pulling out the slow cooker, chucking in a variety of items and switching it on took no more than 15 minutes. And yet 5 hours later we had the most nourishing and comforting lunch which I swear tasted better for the lack of effort involved in its creation.
The other great thing about this slow cooker pepperpot stew recipe (and a trick you can adapt to most any slow cooker recipe), is that by bulking a meaty dish out with a myriad of filling vegetables and beans, you need to buy far less meat overall.
If you then opt for the cheaper, tougher cuts of meat that will melt into the most unctuous of tender bites once the slow cooker has worked its magic on them, you'll have extra change in your purse so you can ensure that the meat you do buy is of the highest quality and welfare possible*.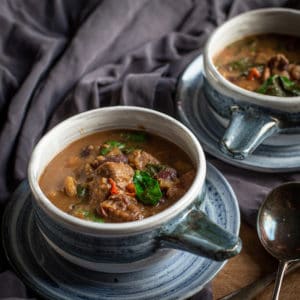 This is good, real food how it should be.
Embracing a more simple, rustic approach to cooking by using traditional one-pot techniques to create delicious family meals that will stretch the grocery budget and save you time in the kitchen too.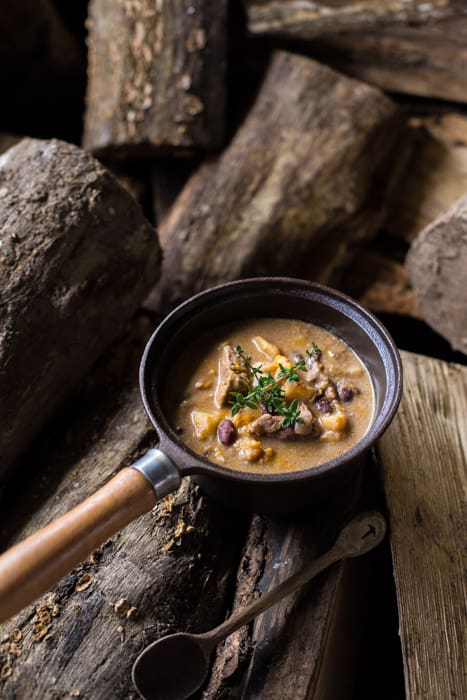 Choose less, cheaper cuts of meat for improved animal welfare standards
*For those of us that choose to eat meat, as consumers we are the only people that can change unkind farming practices. If we all make the decision to stop buying cheap meat, the farmers will stop producing it. That's simple economics.
Next time you're buying beef or lamb, I understand that the best you can buy in terms of welfare standards is organic meat. Producers can only clearly state that the product is organic, not only in terms of standards concerning the environment, but also when they meet strict welfare, environmental and hygiene standards. In this day and age these standards should be the basis of our farming system, but sadly they're not. Let's work together to change this, one tasty stew at a time :)
Janie x
PS if you love your slow cooker as much as me, you may want to check out my awesome way for cooking a whole chicken in one. Click to find my slow cooker whole chicken recipe. Enjoy!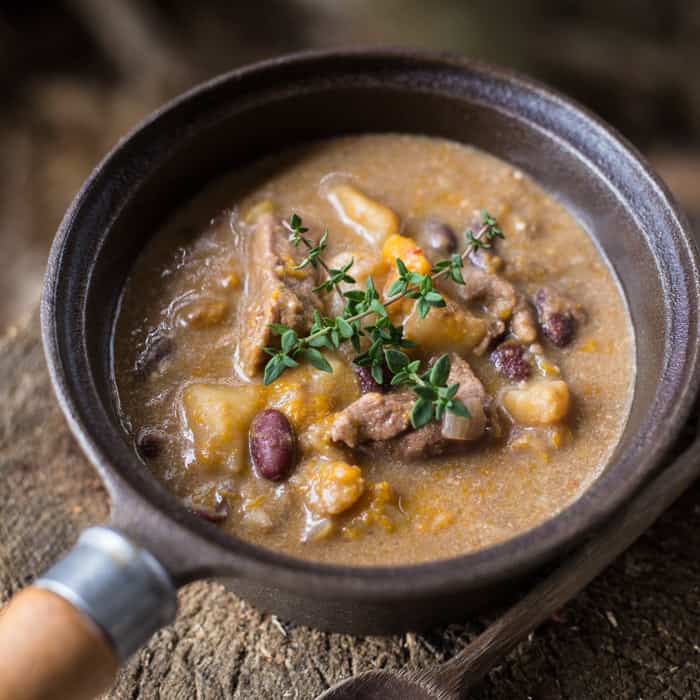 Beef Pepperpot Stew Recipe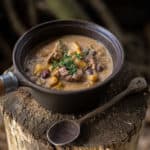 Beef Pepperpot Stew Recipe
Ingredients
450

g

stewing beef

lean

2

sprigs

thyme leaves

2

cloves

garlic

crushed

1

inch

fresh ginger

peeled and finely chopped

1

fresh red chilli

deseeded and chopped or a large pinch of dried chilli flakes

200

ml

hot beef stock

Salt & black pepper

450

g

potatoes

peeled & cubed

225

g

butternut squash or pumpkin

peeled, deseeded and roughly cubed

1

can

red kidney beans

drained

2oo

ml

coconut milk

canned

150

g

baby spinach leaves
Instructions
Place all the ingredients except the spinach in a large slow cooker and cook for 4-6 hours on high, or 8-10 hours on low.

During the last 20 minutes of cooking time add in the spinach.

Spoon into soup bowls and serve with crusty bread.
Nutrition Facts
Beef Pepperpot Stew Recipe
Amount Per Serving
Calories 349
Calories from Fat 144
% Daily Value*
Fat 16g25%
Cholesterol 68mg23%
Sodium 202mg9%
Potassium 1302mg37%
Carbohydrates 24g8%
Protein 28g56%
Vitamin A 9645IU193%
Vitamin C 52.6mg64%
Calcium 112mg11%
Iron 7.3mg41%
* Percent Daily Values are based on a 2000 calorie diet.