Once in a while I surpass all expectations in the kitchen. Take this dish, Slow Cooker Beef in Red Wine & Mustard. I haven't been shopping for about 3 weeks. Our cupboards are bare. The fridge recently got cleared out of all the out of date food, and suddenly that was bare too.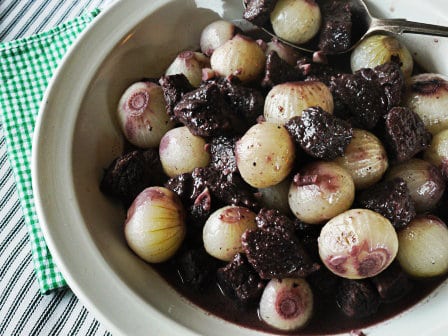 From the depths of the freezer I found a small beef joint. Jonny had bought a bag of pickling onions before Christmas with the greatest of intentions, but had never pickled them. And yesterday morning he made the mistake of telling me I could use the last of his red wine as there wasn't much left. Ahem.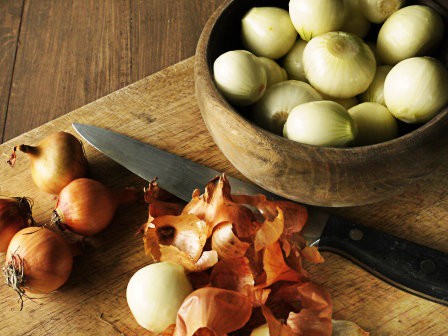 Slow Cooker Beef in Red Wine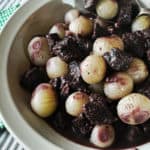 Slow Cooker Beef in Red Wine & Mustard
Keyword:
Slow Cooker Beef in Red Wine
Ingredients
850

ml

red wine

Shhhh!

600

g

beef

the cheap cuts, veined with fat will be perfect. The joint I used however had zero fat on and still tasted utterly delicious!

1

tablespoon

of flour

seasoned

400

g

shallots

or in my case, small pickling onions!

6

cloves

cloves

peeled & chopped

2

teaspoons

Dijon mustard

if I'd had any wholegrain mustard I would have added a big dollop of that too

1

beef stock cube

Salt & pepper
Instructions
Skin, top and tail the little onions. When you cut the bottom/root end off, only cut a little bit away to prevent the onion collapsing after spending hours in a slow cooker.

Chop the meat into cubes, and roll around in the seasoned flour. Heat a little oil or butter in a heavy frying pan till it's shimmeringly hot, then sear the meat until it is nicely browned on all sides.

When you throw the meat into the super hot pan, it will stick. Just wait 30 seconds or so and it will magically unstick itself. That is when it is perfectly seared, and time to turn it over. If you leave it much longer after searing, it will burn.

Tip the seared meat into the slow cooker (crock pot).

Add another bit of oil or butter to the pan and throw in the onions. You just want to get a little colour on their skins. Keep rolling them around in the pan until they have turned golden with the odd darker patch, and tip them into the slow cooker too.

Pour the red wine into the still hot pan where the meat was seared, and using a spatula scrape the bottom of the pan, making sure you scrape up any gooey stuck bits. Pour this in on top of the meat.

Add the garlic cloves and the mustard, and pop the lid on the slow cooker. I cooked it for 6 hours on high (or 8 - 10 hours on low)

Just before you're ready to eat, spoon the meat into a serving bowl and pour the red wine gravy into a large saucepan. Add the stock cube, salt & lots of black pepper and boil hard until it has reduced by at least half.

Keep reducing it until it is as thick as you like, or if you want lots of sauce add a little cornflour mixed with cold water and let it simmer for a couple of minutes until it has thickened how you like it.

Pour over the meat and serve with potatoes & fresh green beans, or just a hunk of fresh warm bread and a large glass of wine (if there's any left :)
Nutrition Facts
Slow Cooker Beef in Red Wine & Mustard
Amount Per Serving
Calories 647
Calories from Fat 270
% Daily Value*
Fat 30g46%
Cholesterol 106mg35%
Sodium 393mg17%
Potassium 1024mg29%
Carbohydrates 25g8%
Protein 28g56%
Vitamin C 8mg10%
Calcium 90mg9%
Iron 5.3mg29%
* Percent Daily Values are based on a 2000 calorie diet.