This simple honey and mustard gammon recipe is such an easy way to cook a moist, juicy baked gammon ham.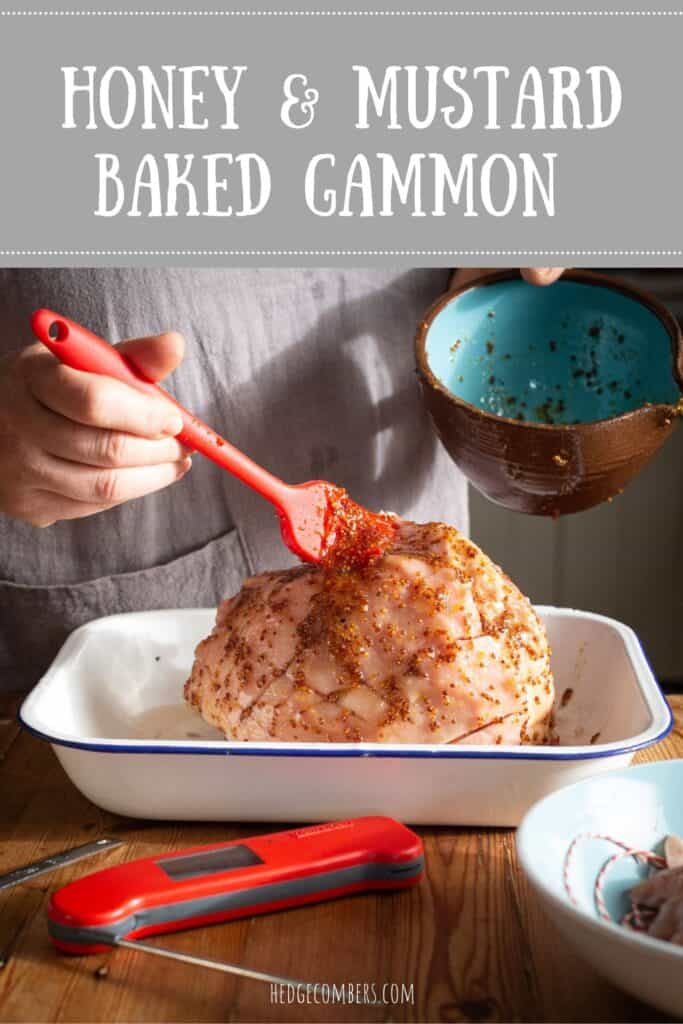 This recipe is sponsored by Thermapen
Let's make this year the one!
After the isolation of Christmas 2020, I'm sure I'm not alone in wanting to make this Christmas extra special!
With that in mind I've teamed up with Thermapen to bring you a (stress free) traditional ham recipe. Plus there's a fun festive giveaway too!
This is the prize that's up for grabs. It includes a Thermapen One, the latest addition to the Thermapen range of digital thermometers. The best thing about this new recruit, is that it registers a temperature in just one second!
For anyone that's ever hovered over a vat of bubbling jam trying to get an accurate temperature reading will know how impressive this is!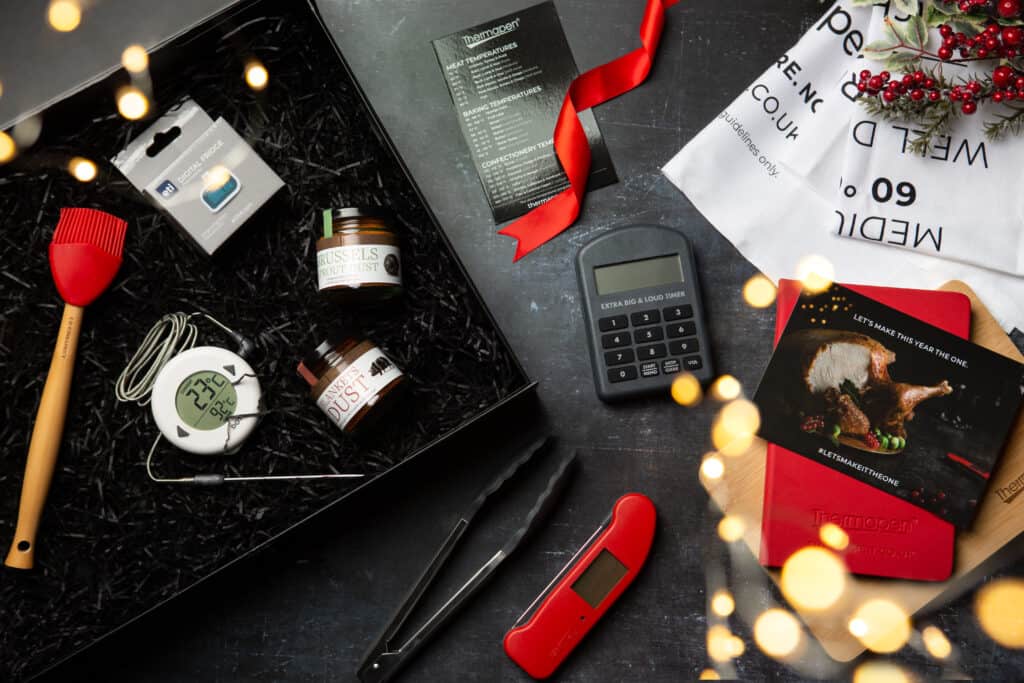 To enter, and to find out more about the prize, simply scroll to the Rafflecopter box at the bottom of this blog post.
In the mean time, let me show you just how easy it is to make your own honey baked gammon ham this Christmas…
Gammon or Ham?
Before we start on the recipe, let's clear something up. Here in the UK, a gammon is a cured, uncooked pork joint.
Once that gammon joint is cooked, it becomes a ham.
So in this easy recipe I'm using a free range gammon joint that weighs around 2KG in weight. If your joint is a different size, keep reading and I'll help you adapt the timings to ensure you get a perfectly juicy ham.
Different ways to cook a gammon joint.
There are a few ways to cook a gammon joint.
You can boil it, bake it, or as I'm going to walk you through today, you can boil and then bake it!
1/ boiling a ham
If you wish to serve a boiled ham, simply follow the recipe below and remove the joint from the pan of water. Ensure the internal temperature of the meat is at or above 63C (145F) and serve.
The meat will be soft, tender and very moist. But you won't have any additional flavours of the honey and mustard.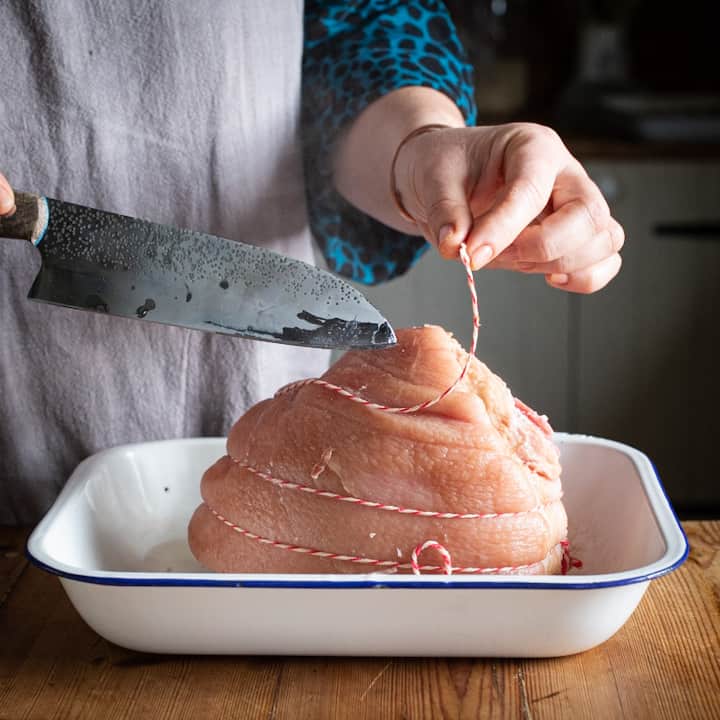 2/ baking a ham
In older cookbooks this would never be an option as the salt used in brines needed to be rinsed off of the meat by boiling the meat first. However, as todays brines are much less salty, you could bake the meat for the entire cooking time.
If you do this, don't add the honey and mustard until the final 20 minutes or so, as the sugar will likely burn. Be sure not to let the meat dry out if you choose to bake it.
3/ boiling and baking a ham
This is my favourite way to cook a ham. The actual cooking time is done in the water, so the meat is juicy and tender. Once cooked, the ham is then placed into a baking tray, covered with the honey and mustard mix and baked.
This gives you a ham joint that is moist inside, yet sticky and caramelised on the outside. In my mind it's the best of both worlds, and is an absolute joy to eat!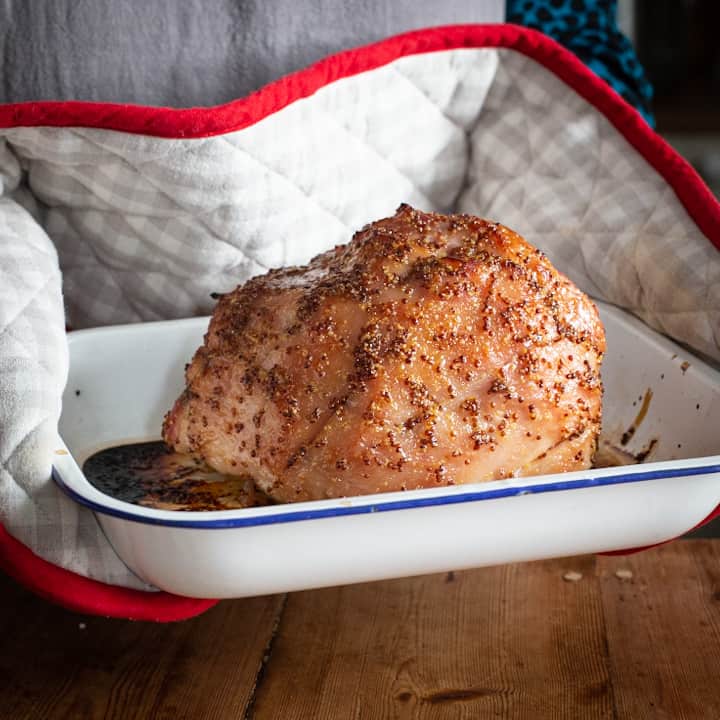 How to bake a Simple Honey and Mustard Gammon Ham
1/ boil the gammon
Place your gammon joint into a very large saucepan. The meat needs to be entirely covered in water, so the deeper the pan the better.
Cover the meat with cold water, then pop on a lid and bring to a boil.
Reduce the heat and simmer for the time specified. My 2KG joint took 2.5 hours.
2/ Prepare your honey and mustard glaze
In a small bowl mix together the honey and mustard.
I prefer to use 100% wholegrain mustard, purely as it's my favourite mustard! But you can swap this out with your favourite mustard, or try combining a mix of mustards.
In the past I've used a mix of English and wholegrain mustards for a ham glaze. But you could also use Dijon if you prefer.
Over time you'll find your perfect blend.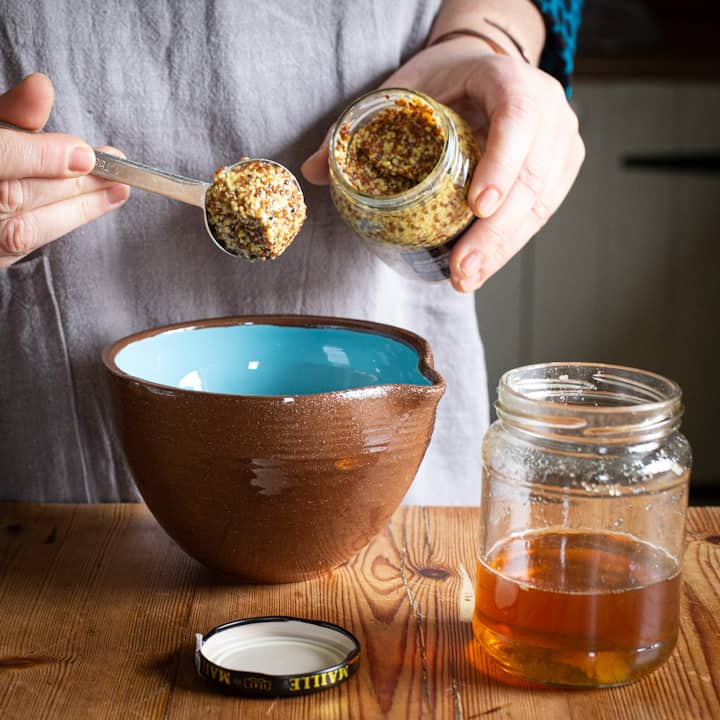 When it comes to honey, you're going to want a runny honey to make blending easier.
My jar of runny honey had become quite hard and crystallised, so I simply left the jar in a bowl of hot water for about 30 minutes and gave it a good stir. This dissolved the crystals and returned it to a nice liquid state again.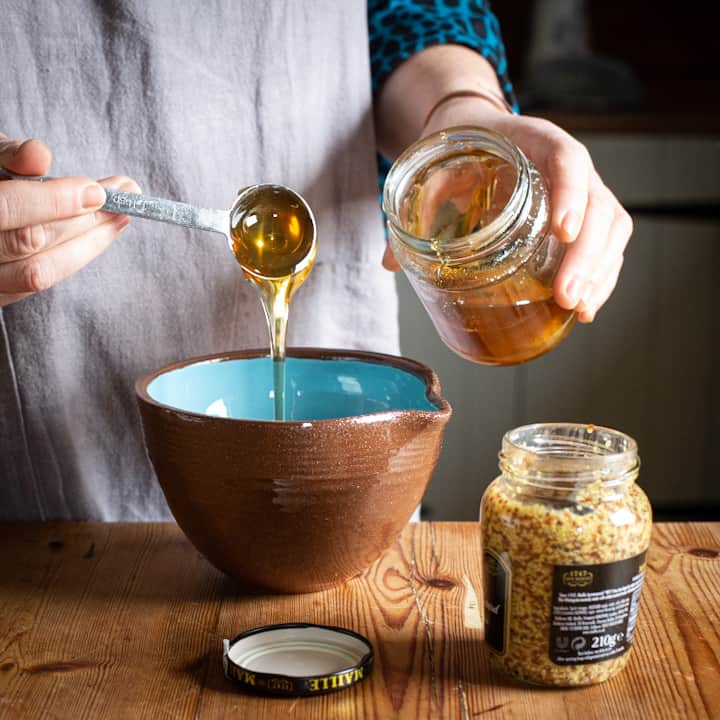 3/ prep the joint for the oven
When the cooking time is up, carefully remove the joint from the pan of water. At this point I like to take the internal temperature of the joint to ensure it is fully cooked through.
I simply insert my Thermapen One digital thermometer probe into the centre of the joint and within just 1 second the exact temperature is recorded on the LCD screen.
Pork is cooked and safe to eat at (or above) 63C (145F). If your joint is below this temperature, return to the pan of water and cook for another 30 minutes, then retest.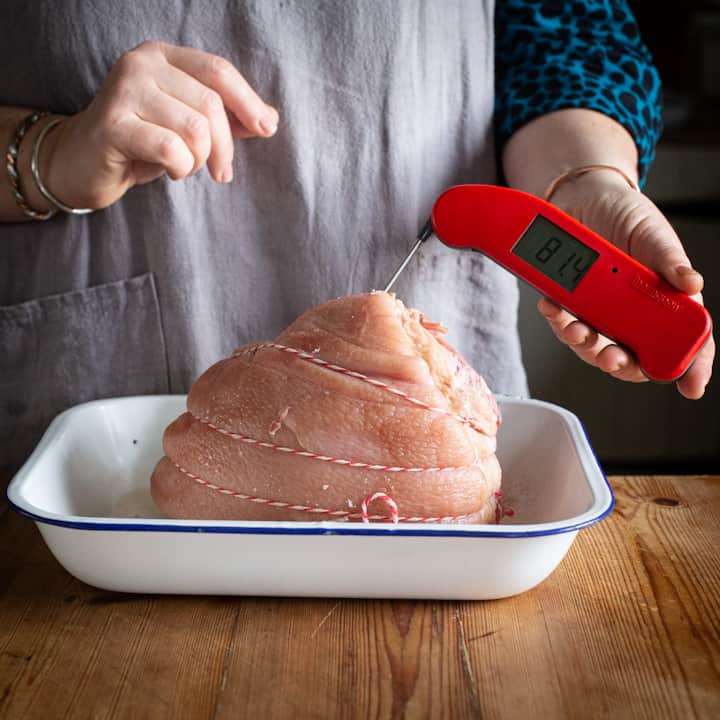 Next, remove any strings holding the joint together, then carefully cut away the skin from the ham.
I like to leave a layer of fat on the ham as it keeps the joint moist as it bakes. It also soaks up the honey and mustard flavour well, giving you a gently caramelised crust that is just divine.
Using a sharp knife to score the remaining fat into a criss cross pattern will also help the glaze flavour the fat and the meat underneath.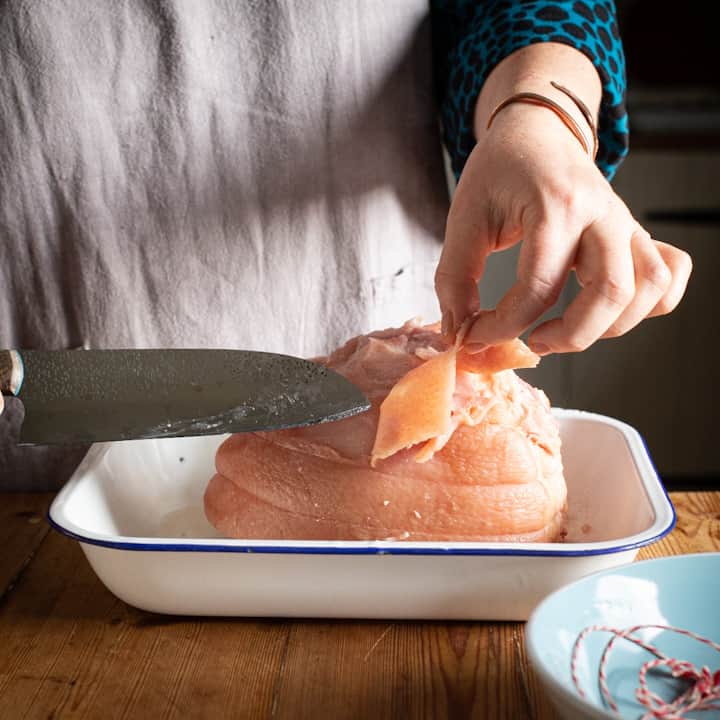 4/ coat your ham in the glaze
This is the fun part!
Pour your honey and mustard glaze over the joint then brush it evenly all over.
I used a silicone basting brush, but a spoon or even your hand would work just as well!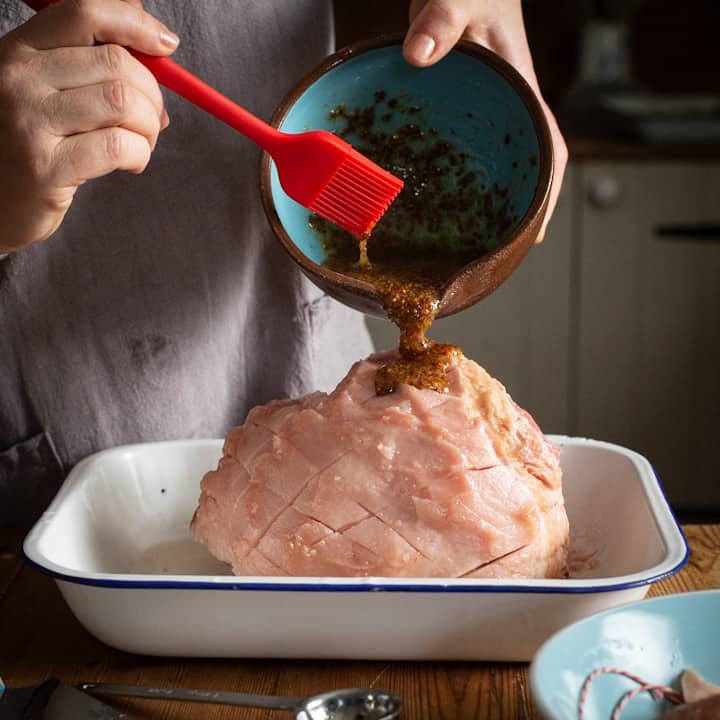 Be sure to cover all sides of the ham with the glaze.
And work it into the score lines in the fat too.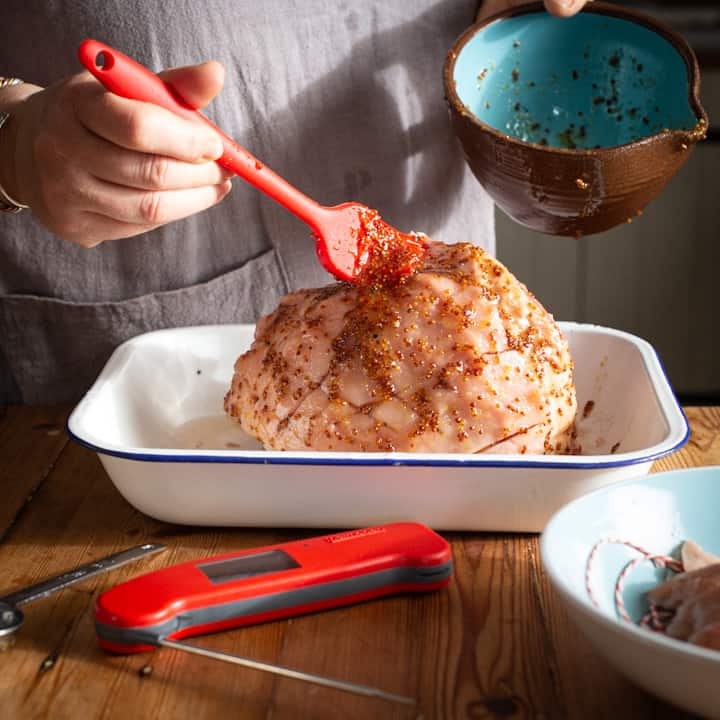 5/ bake your ham
Now you're ready to bake your ham and add that yummy layer of caramelisation.
It's worth noting that at this point your ham is already cooked. So the meat only needs to be in the oven long enough to set the glaze, and push the flavours down into the meat.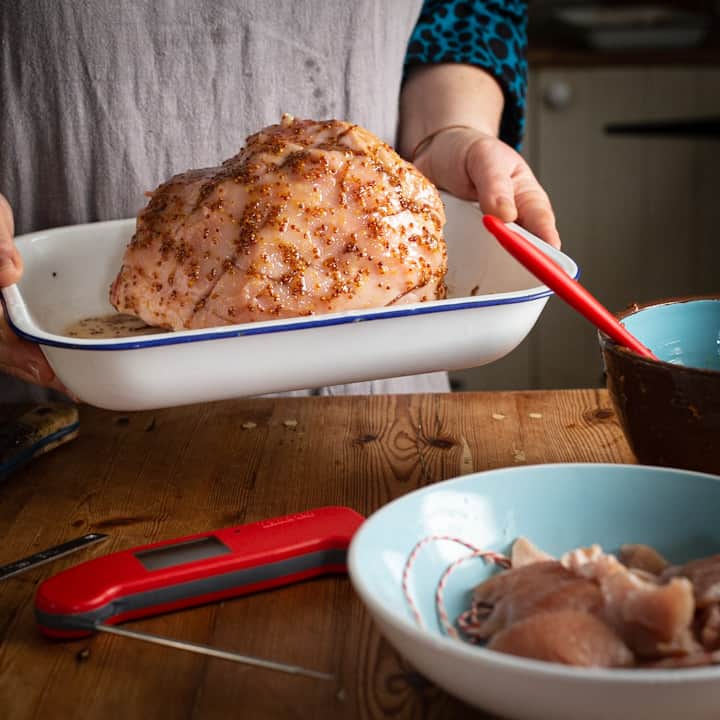 Preheat your oven to 180C (350F).
Pop the joint into the preheated oven, then set your timer for 20 minutes.
Check the joint isn't burning, then replace in the oven. Turn the baking tray around each time you check as some ovens have hot spots.
Check every 10 minutes thereafter until the ham has taken on the colour you like. Mine was in the oven for a total of 25 minutes, and it was delicious!
When your ham is at the colour you like, remove from the oven and let rest whilst you dish up your sides.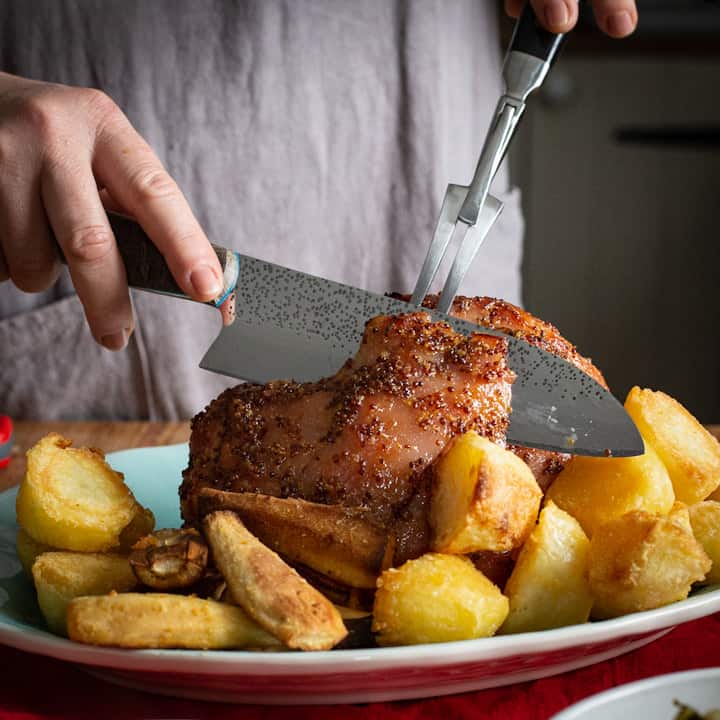 How to adjust timings if your gammon is large or small
For a simple rule of thumb, cook your gammon for 30 minutes per 500g of meat + 30 minutes over.
So, if your joint weighs 500g, it would take 30 mins of cooking time + 30 mins over = 1 hour total.
If your joint weighed 3kg, it would take 3 hours of cooking time + 30 mins over = 3.5 hours total.
Got a question? Drop it in the comments below and I'l try my best to answer it!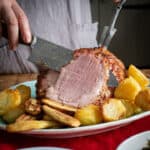 Simple Honey and Mustard Gammon
Keyword:
honey and mustard gammon
Ingredients
2

kg

gammon

– smoked or unsmoked

3

tbsp

runny honey

3

tbsp

mustard

– wholegrain, Dijon or English, or try a mix of your favourites
Instructions
Boiling your gammon
Place the gammon joint into a large saucepan. Cover with cold water, pop the lid on the pan, then place on the hob and bring to a boil.

(If your pan doesn't have a lid, use a large plate or piece of foil).

Reduce the heat to a simmer, and set your timer for 2.5 hours.

Check occasionally and top up with water if the level drops too much.

Halfway through the cooking time I like to turn my joint over in the water to ensure even cooking. I find the easiest way to do this is by using a large pair of kitchen tongs.
Glazing your ham
Meanwhile, mix your honey and mustard together in a small bowl.

When the cooking time is up, take the internal temperature of the meat and ensure it is at (or above) 63C (145F).

If it's not, cook for another 30 minutes and retest the temperature.

Using the kitchen tongs again, remove the meat from the pan, placing it in an oven proof baking dish.

Cut and pull away any strings holding the joint together.

Using a sharp knife, carefully cut the skin away, leaving a thin layer of fat on the meat.

Use the sharp knife to score the fat into a criss cross pattern. Try not to cut into the meat, just the fat.

Pour over the honey mustard glaze, and brush all over the surface of the ham evenly to coat.
Baking your ham
Bake in an oven preheated to 180C (350F) for 20 minutes.

Remove from the oven and check that the crust isn't burning. If you'd like it darker, return to the oven, checking every 10 minutes or so.

When it is the colour you like, remove from the oven and let rest whilst you serve the rest of your side dishes.
Nutrition Facts
Simple Honey and Mustard Gammon
Amount Per Serving
Calories 262
Calories from Fat 54
% Daily Value*
Fat 6g9%
Cholesterol 124mg41%
Sodium 203mg9%
Potassium 727mg21%
Carbohydrates 5g2%
Protein 44g88%
Vitamin A 17IU0%
Vitamin C 1mg1%
Calcium 27mg3%
Iron 1mg6%
* Percent Daily Values are based on a 2000 calorie diet.
Thermapen Festive Giveaway!
The Prize:
1x Red Thermapen One
1x DOT
1x Extra Big & Loud timer
1x Digital Fridge Magnet
1x Thermapen chopping board
1x Red Le Creuset Basting Brush
1x Ross&Ross Pigs in Blankets Dust
1x Ross&Ross Brussel Sprouts Dust
1x Tongs
1x Exclusive Thermapen recipe journal
1x Temperature Tea Towel
1x Thermapen Temperature Fridge Magnet
Worth over £145
And if you're not lucky enough to win this time round, feel free to grab my discount code to get a whopping 20% off your Thermapen order! Simply add the code: HEDGE20 at checkout!
Huge thanks to Thermapen for sponsoring todays recipe. As always all thoughts (and leftovers!) are my own.
Jane x