This Sea Bass Risotto recipe is so quick and easy to make, but tastes extraordinarily good. The sea bass is juicy with golden, crispy skin and the risotto is creamy, rich and comforting.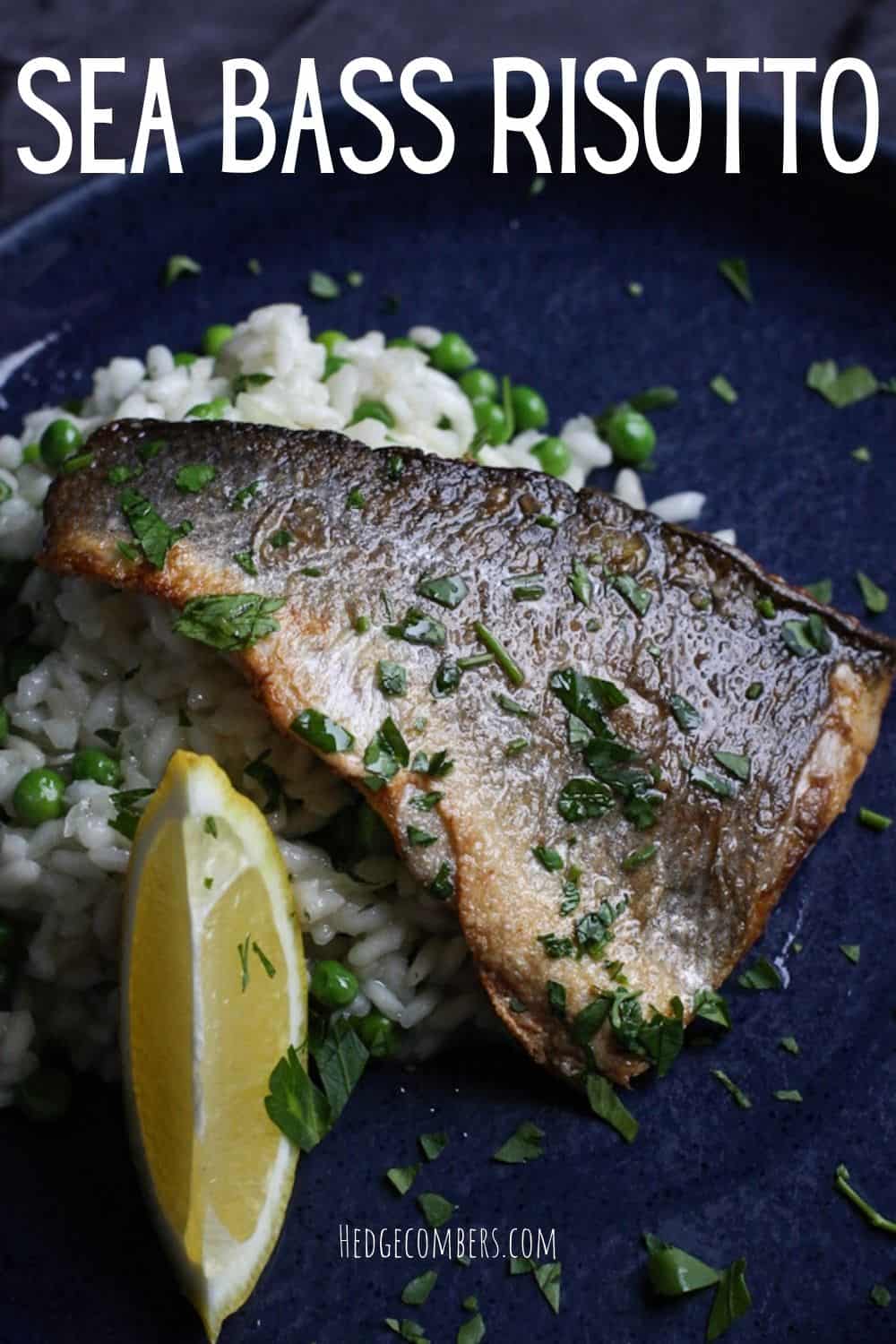 If ever there was a recipe I would recommend getting under your belt, a simple risotto would be it.
It's such a go to supper in our house as it cooks so quickly, tastes so decadent, and has a very calming and meditative effect on the cook.
Seriously, give it a go and tell me if you think I'm wrong!
This is the first time I've topped a risotto with a crispy fillet of fresh sea bass. But i can assure you it won't be the last!
The texture and flavour contrast is just heavenly.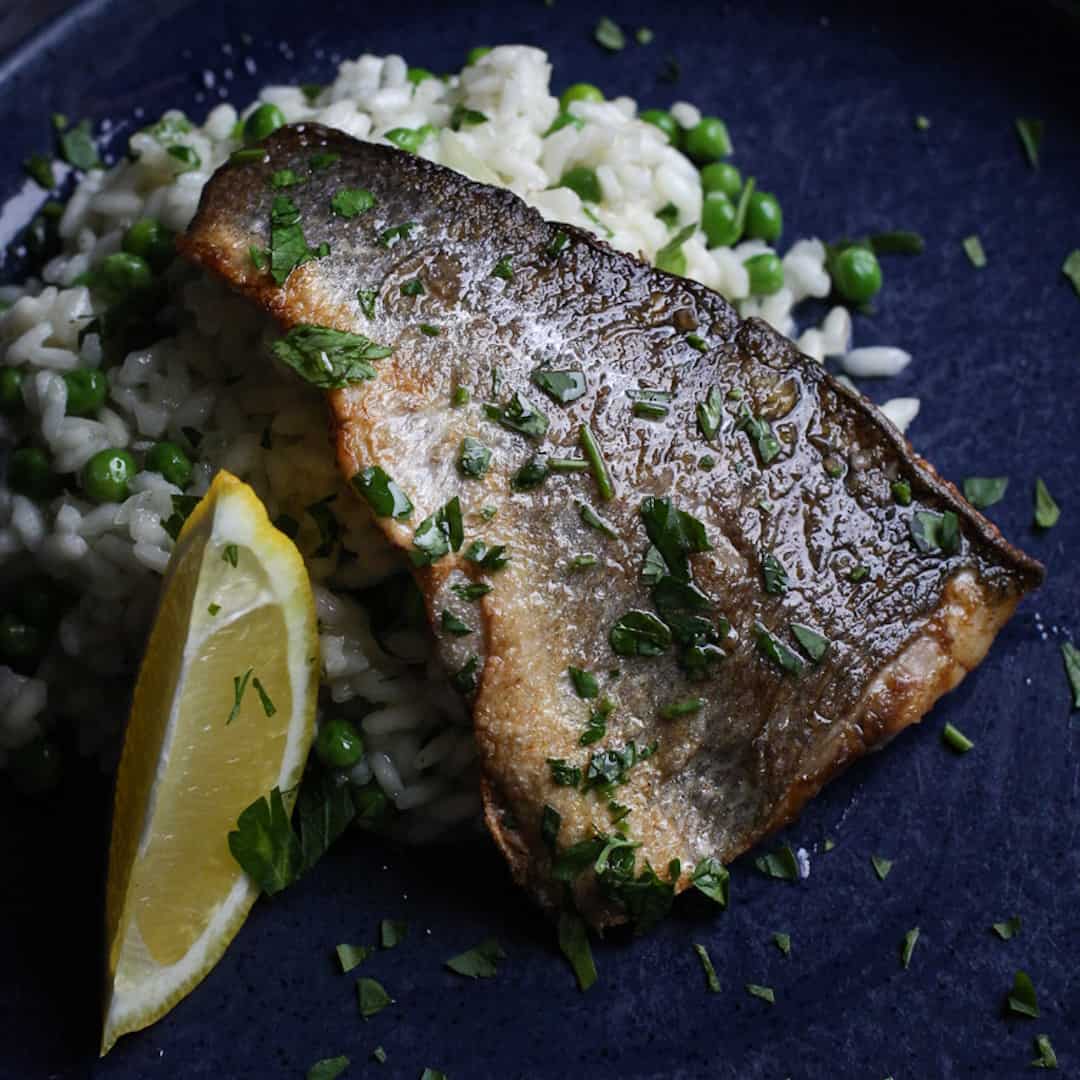 How to make a Sea Bass Risotto
Let's start off by getting the risotto cooking in a mid sized saucepan, and midway through we'll switch over to cooking the sea bass fillets alongside in a frying pan.
To make the simple risotto
1/ fry the onion
Pour the oil into your saucepan, then add in the finely chopped onion.
Fry gently for around 10 minutes, or until it's really soft (and not crispy!)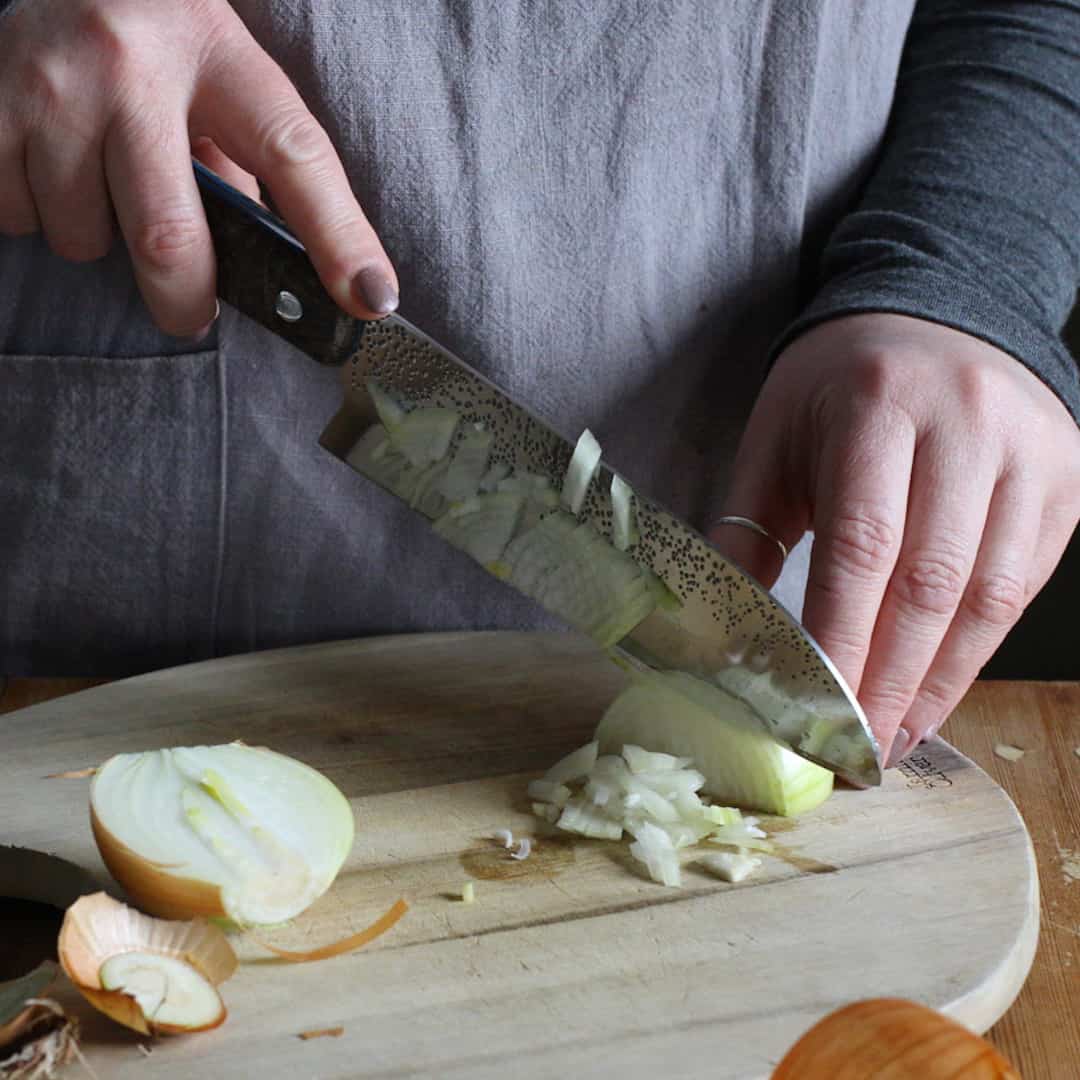 2/ add the rice
I used Arborio rice, but you could use whichever is your favourite short grain, risotto rice.
Different risotto rices you could find are: Carnalroli, Baldo and Violone Nano.
Stir the grains in the oil to make sure each one is lightly coated and cook like this for about a minute.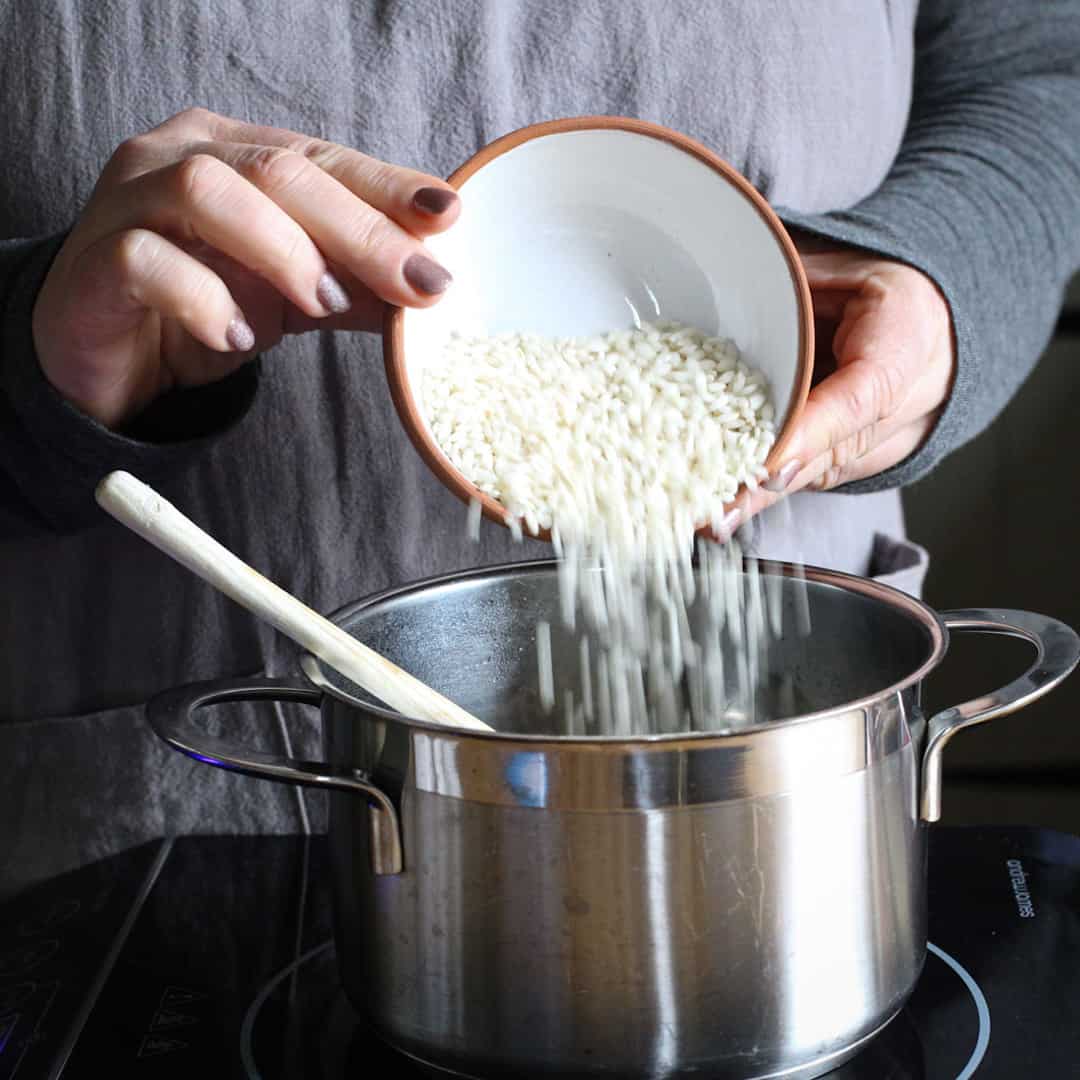 3/ add the (hot) risotto stock
The key to making risotto is to add a little stock at a time. Stir until that has been absorbed before adding any more.
When it comes to what type of stock to use in this risotto, I would suggest a fish stock.
However, rather than making a special trip to the store if you don't have any, I think a vegetable or chicken stock cube would produce an equally delicious meal.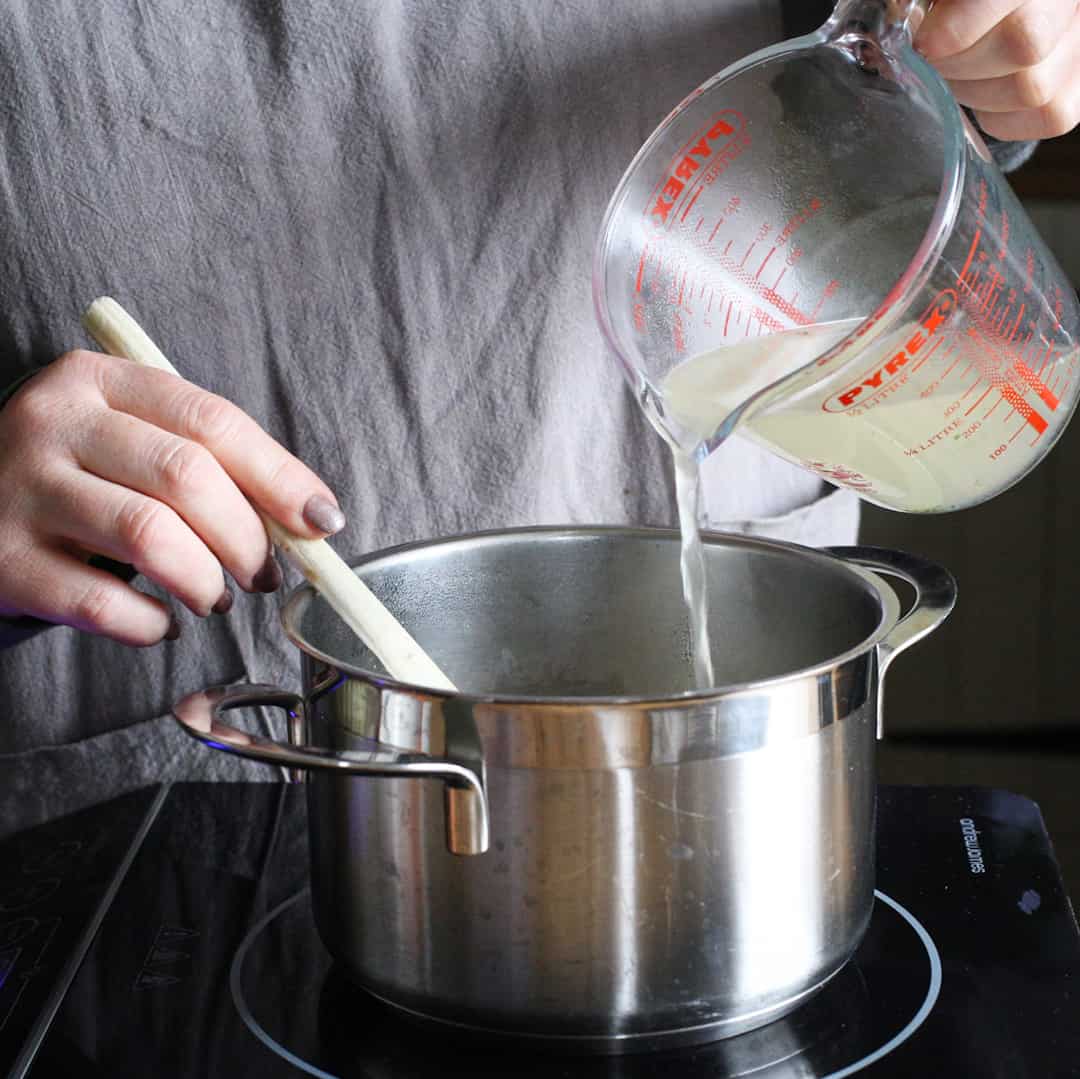 Fresh/frozen fish stock
If you have some fresh or frozen homemade fish stock, then add this to a small saucepan and bring to boil. Immediately reduce the heat to a very gentle, slow simmer and add the stock to the rice ladle by ladle.
Stock cube
Otherwise you can use a fish stock cube (I used one from Knorr).
Make the stock cube up with boiling water in a jug and have to hand next to the stove.
Repeat the adding of stock and then stirring until the stock is almost all gone.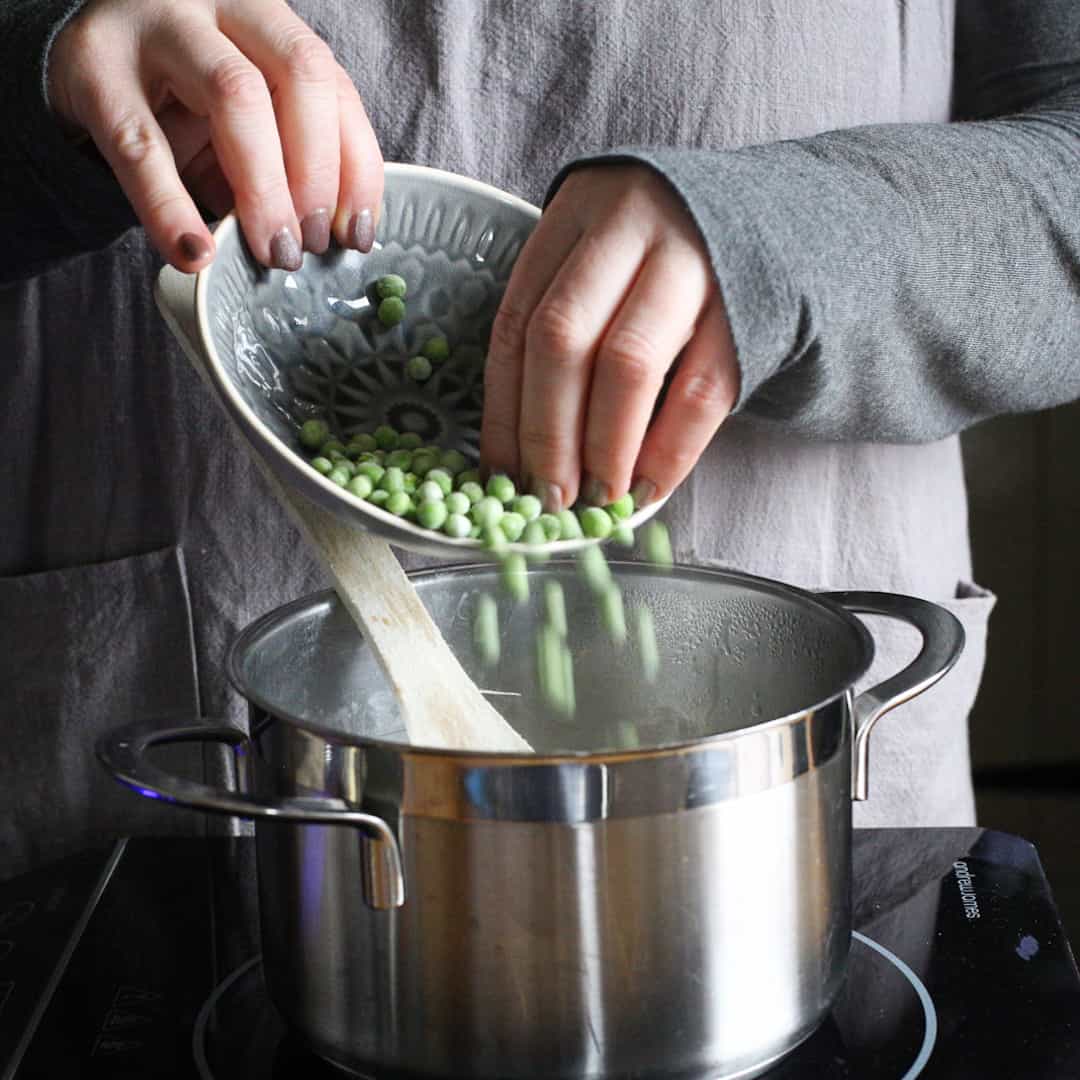 4/ add the frozen peas
At this point add the frozen peas and the butter to the pan.
Stir the risotto vigorously to melt the butter and defrost/cook the peas (whilst keeping them very fresh tasting).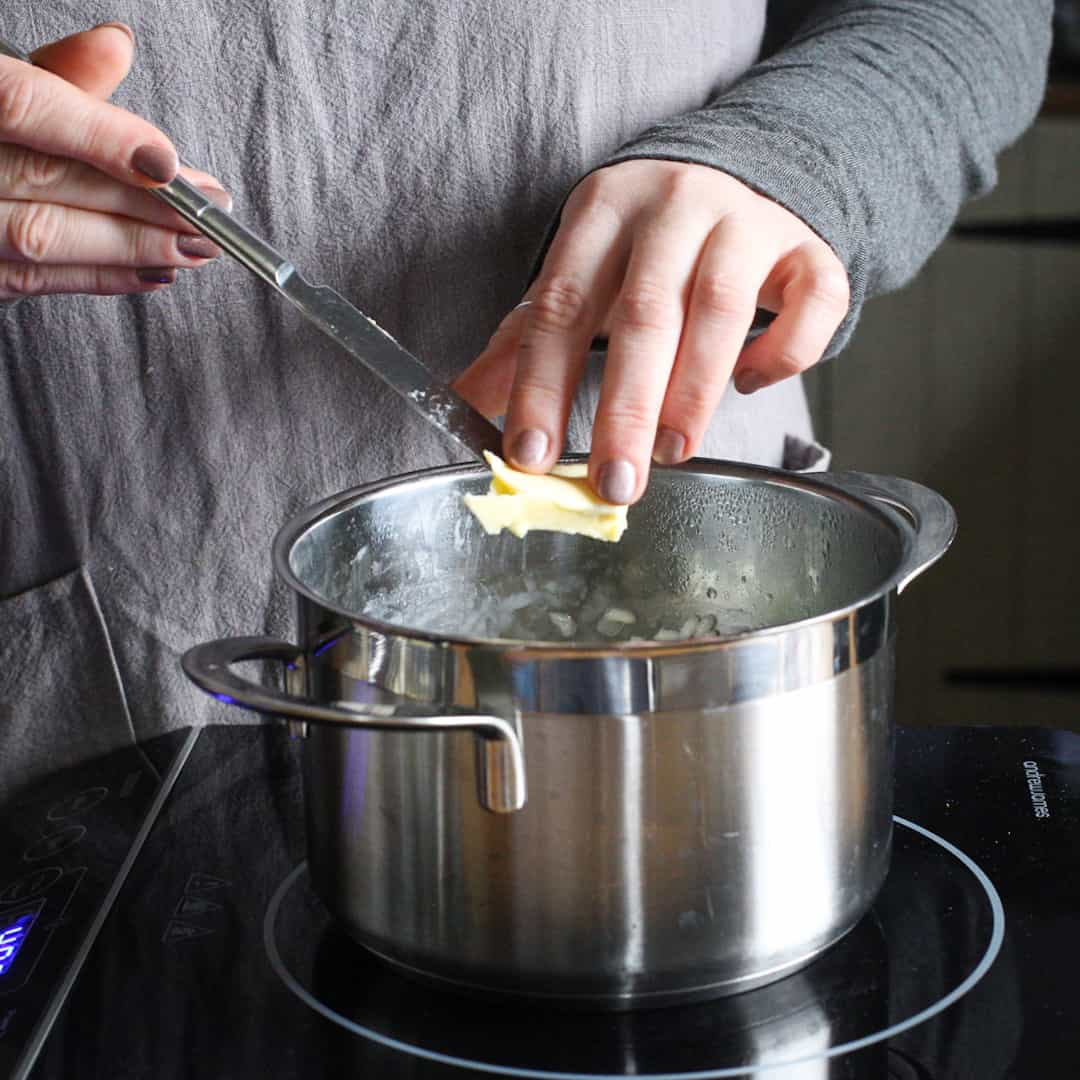 How to make Crispy Pan Fried Sea Bass
The key to getting any fish skin nice and crispy is to preheat the pan so it's nice and hot before letting your fillets anywhere near it!
Also be sure the skin is dry by patting with some kitchen paper, and a sprinkle of salt on the skin not only flavours it, but helps get it nice and crispy too.
1/ prep the sea bass
As the risotto is cooking, you can start prepping your sea bass fillets.
Firstly, pat both sides of the fillets dry with some kitchen paper, then sprinkle a little salt on the skin side of the fish.
2/ fry the fish
Choose a frying pan that's big enough to comfortably fit both fillets without them overlapping. Preheat it to a medium high heat.
Once hot, add the butter and swirl it around to coat the bottom evenly.
Then carefully lay the sea bass, skin side down, into the bubbling hot butter.
(you could also use salmon, mackerel, hake, cod or most other fillets of fish instead of sea bass).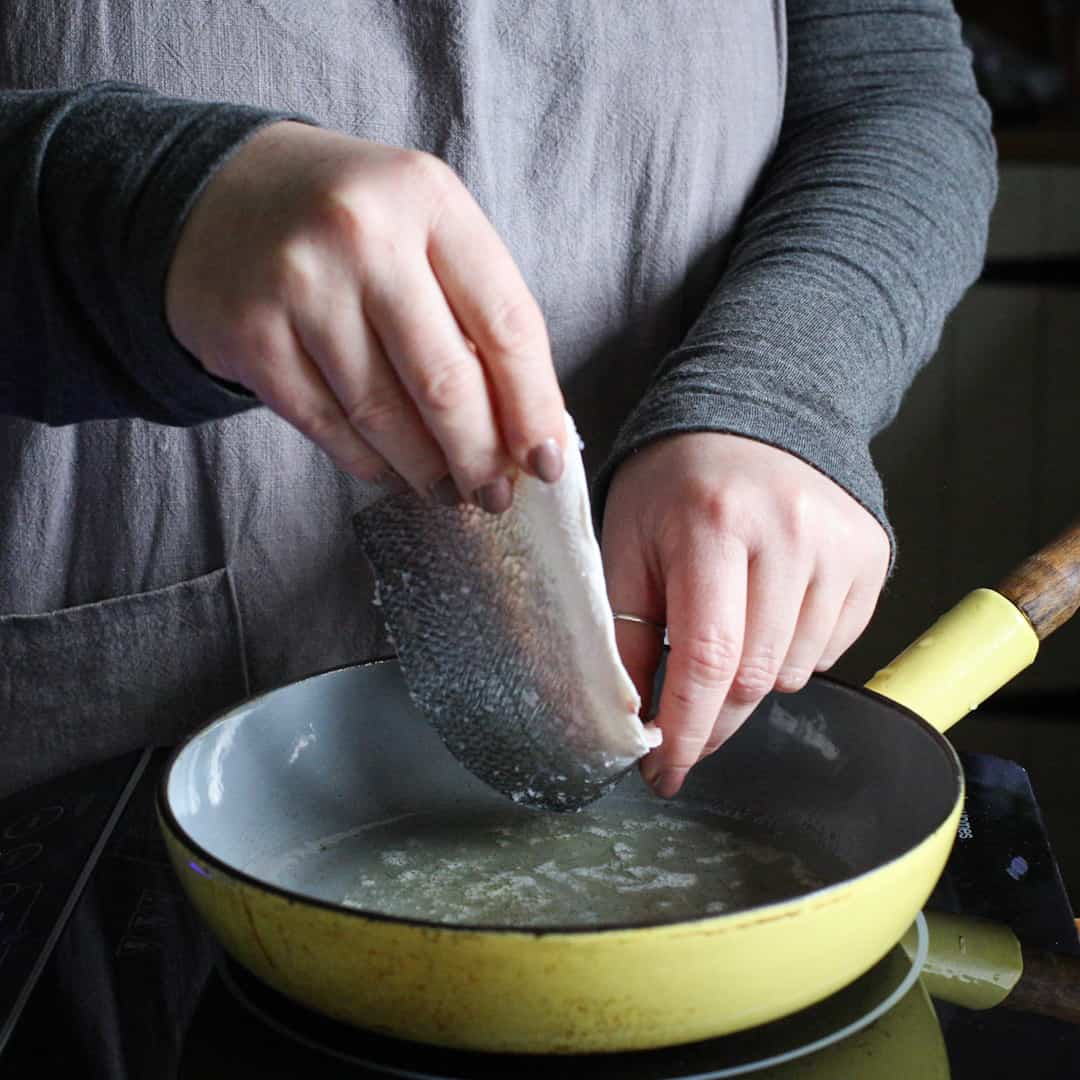 Leave in place for 3 or 4 minutes, then carefully flip it to cook the second side.
The second side likely won't take as long – maybe 1 or 2 minutes.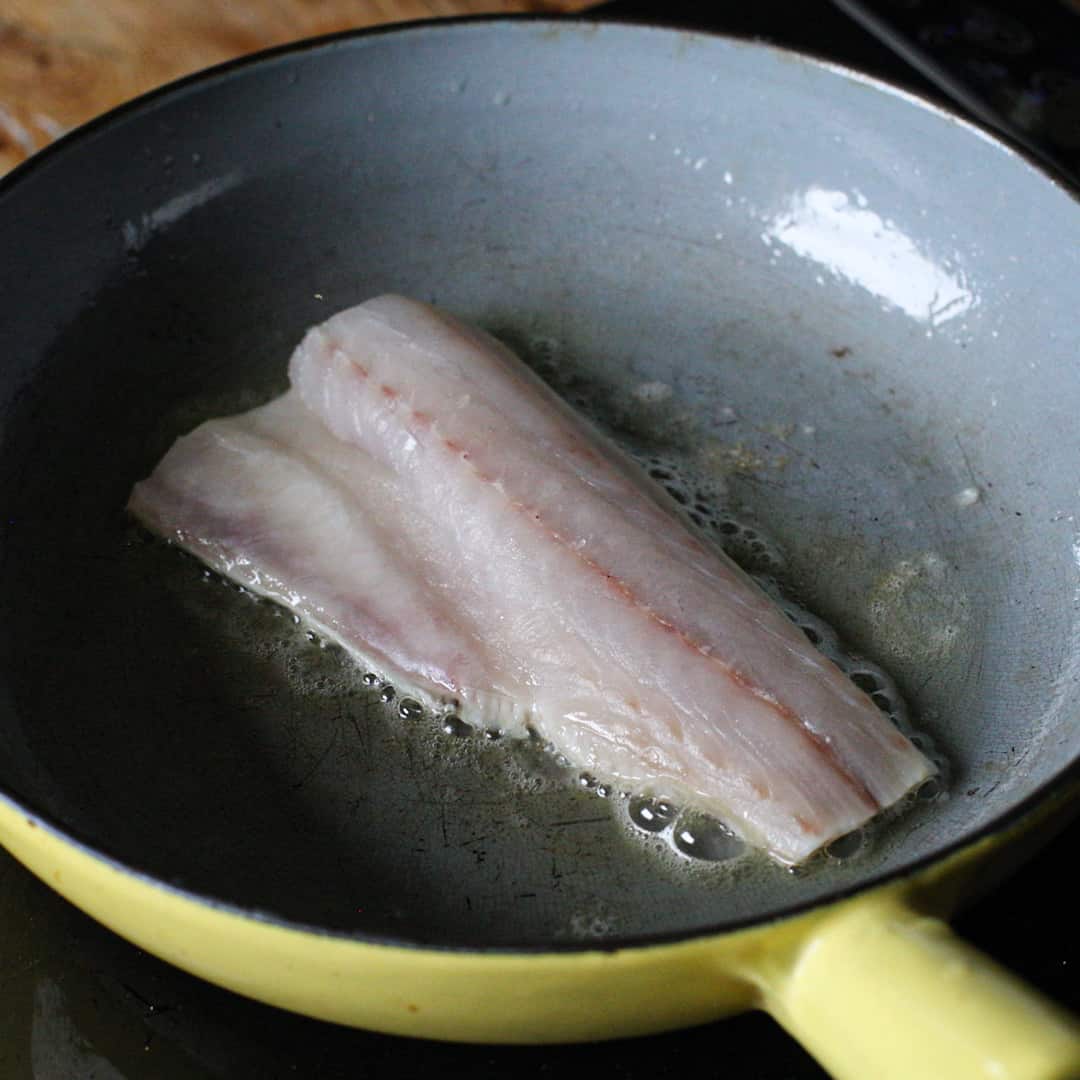 How to serve risotto with crispy sea bass
Once the risotto is cooked and the fish is opaque right the way through, you can serve.
Simply divide the risotto between two plates or bowls.
Top with the sea bass fillets and sprinkle with the chopped parsley and a wedge of lemon.
I recommend each diner squeezing the lemon juice over both the fish and the rice as it adds such a bright, zesty flavour.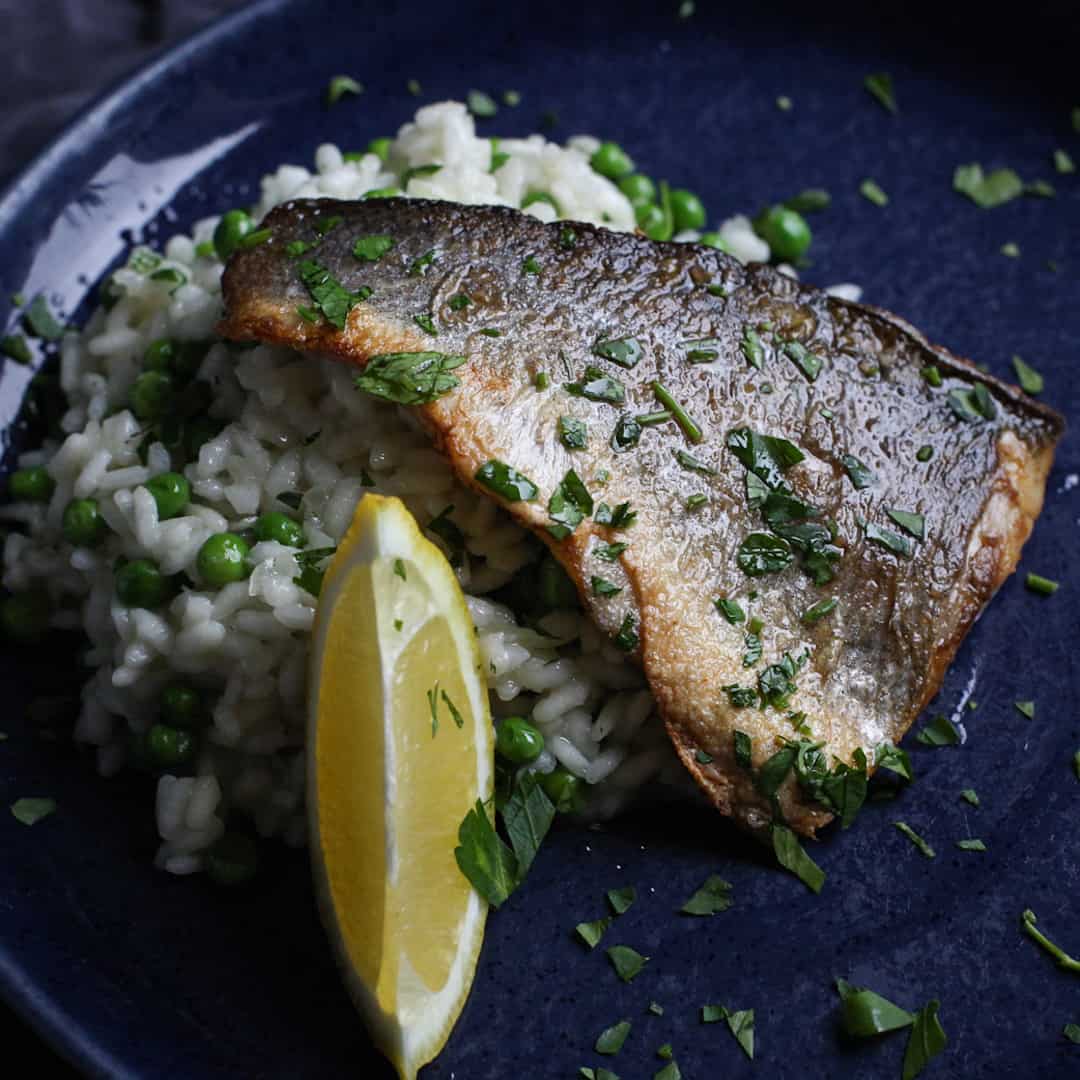 Is British Sea Bass a Sustainable fish to buy?
Whenever I'm looking for information regarding the sustainability of a specific species, my first port of call is the Cornwall Good Seafood Guide. If you live in another corner of the world, a quick Google search should find you an equivalent resource you can use.
According to the link above, sea bass can be a relatively sustainable choice, depending on the way way the fish is caught. In this instance, look for hand caught sea bass, and avoid those caught by 'Gill Netting' or 'Demersal Trawl'.
As always I would urge you to find a reputable fish monger in your area as they have much more information and control over the quality and ethics in their products than a supermarket wet fish counter.
And now on to the full recipe…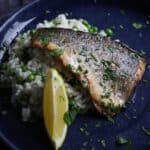 Sea Bass Risotto
Keyword:
sea bass risotto
Ingredients
to make the risotto
1

tbsp

olive oil

1/2

onion

- very finely diced

500

ml

boiling water

1

fish stock cube

200

g

Arborio rice

150

g

frozen peas

2

tbsp

butter
to make the crispy pan fried sea bass
1

tbsp

butter

200

g

sea bass fillets

- approx weight. Skin on, all bones removed

2

tbsp

parsley

- fresh, finely chopped

2

lemon wedges
Instructions
to make the risotto
Add the olive oil and onion to a saucepan and gently fry for around 10 minutes until the onion is soft and translucent.

You don't want to get any colour on the onion or let it burn, so stay close and stir regularly.

Boil the kettle and pour the boiling water into a jug. Crumble in the stock cube and stir until dissolved.

Alternatively, you can use homemade or shop bought fish stock by bringing to boil in a small saucepan.

Going back to the pan with the onion in, add in the rice and turn the heat up a little.

Stir constantly for about a minute, then slowly start adding your hot stock, a couple of tablespoons at a time.

Continue adding your stock, and stirring, until the stock has almost all been used. This should take about 15 minutes or so.

Once you've added your last splash of stock and it's been mostly incorporated into the rice, add in your frozen peas.

Stir well, reduce the heat and just give them a minute or two to defrost and heat through.

Finally, add the knob of butter and stir your risotto vigorously to create an extra creamy and rich texture.
to make the crispy pan fried sea bass
As the risotto is cooking, you can start prepping your sea bass fillets.

Firstly, pat both sides of the fillets dry with some kitchen paper.

Heat a frying pan that will comfortably fit both fillets at the same time. Once hot, add the butter and swill it round the pan.

Season teh skin side of each fillet with salt, and lay them skin side down in the hot, bubbling butter.

Cook for 3 or 4 minutes on the skin side, then carefully flip over with a fish slice or spatula.

Cook on the second side for 1-2 minutes.
to serve
Divide the risotto between two plates.

Place the sea bass fillets on top, skin side up.

Scatter with the chopped parsley and lemon wedge and serve.
Nutrition Facts
Sea Bass Risotto
Amount Per Serving
Calories 751
Calories from Fat 252
% Daily Value*
Fat 28g43%
Cholesterol 125mg42%
Sodium 718mg31%
Potassium 613mg18%
Carbohydrates 95g32%
Protein 29g58%
Vitamin A 1530IU31%
Vitamin C 47mg57%
Calcium 70mg7%
Iron 7mg39%
* Percent Daily Values are based on a 2000 calorie diet.