What a treat this Sausage and Caramelised Onion Bagel is. You need patience to let those onions gently brown and sweeten, which makes this the perfect weekend breakfast. Brew a pot of coffee, grab the weekend papers, relax and enjoy.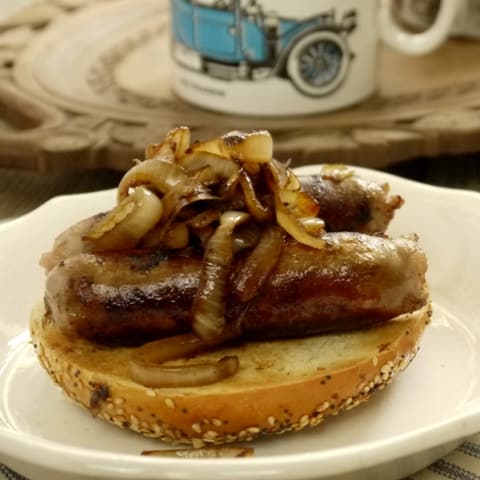 I must admit to having sausages on the brain right now. Our pigs are off to the abattoir in a fortnight and for the first time ever, we are doing all the butchering ourselves. There's no excuse really since going on the Pork Butchery Course last year, and I have got a wonderful friend Derek that is going to help me through the process, but even so it is quite an intimidating thought processing 60+ kilo of pig in my kitchen!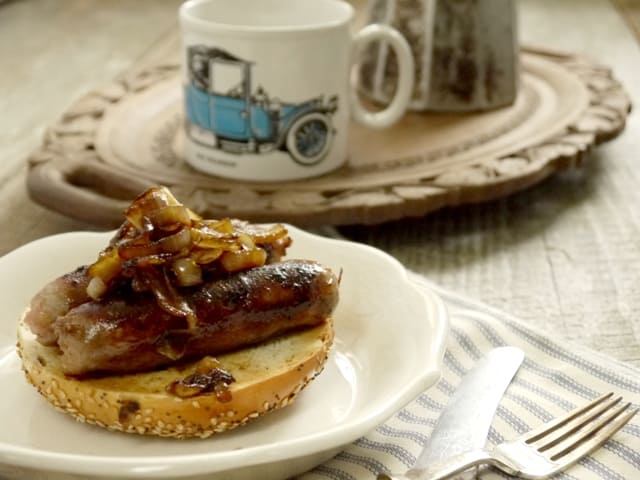 Anyway, in preparation for the meat storm that's about to arrive, we are eating as much as possible from the freezer to make room. I was pretty chuffed to find one little bag of these pork & leek sausages hiding in an icy dark corner from our last pigs and I wanted to make something really special with them to celebrate.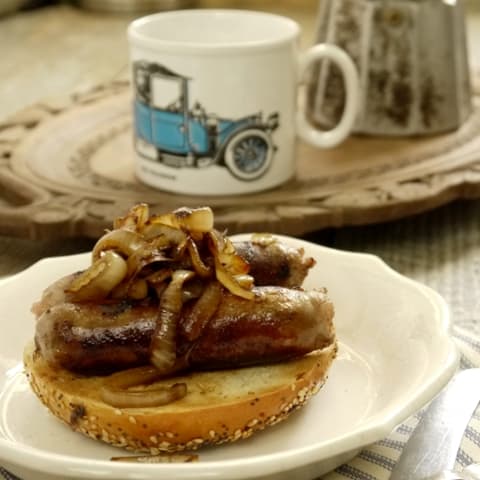 We tend to fry sausages here (I know, I know) but do feel free to grill or even oven bake yours. The real magic comes from pairing them with those delectable sweet onions. Sheer heaven on a plate.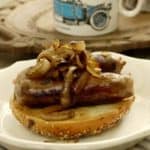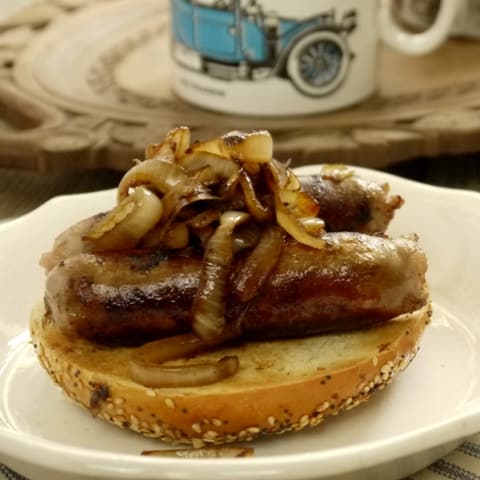 Sausage and Caramelised Onion Bagel ~ Weekend Breakfast
Ingredients
Per person
Oil

fat or butter for frying

1

onion

thickly sliced

1

teaspoon

sugar

2

teaspoons

balsamic vinegar

2

good quality pork sausages

1

bagel

split & toasted
Instructions
Heat the oil or fat in a heavy frying pan, throw in the onions then turn the heat down to a gentle heat. Add the sugar and balsamic vinegar and let cook very very slowly, stirring occasionally. This process takes around 30 mins so don't rush it, keep stirring and scraping all the taty bits off the bottom of the pan ensuring they don't burn at all.

Meanwhile cook the sausages however you fancy, toast the halved bagels and pile them all up on a plate and get stuck in.

Happy weekend :)