Pizza cravings had me in the kitchen first thing mixing up a fresh batch of pizza dough. Whilst the dough was rising I popped down to the greengrocers to find the perfect topping and saw the girl behind the counter bagging up some fresh samphire.
Pizza + Samphire? I figured it was worth a try.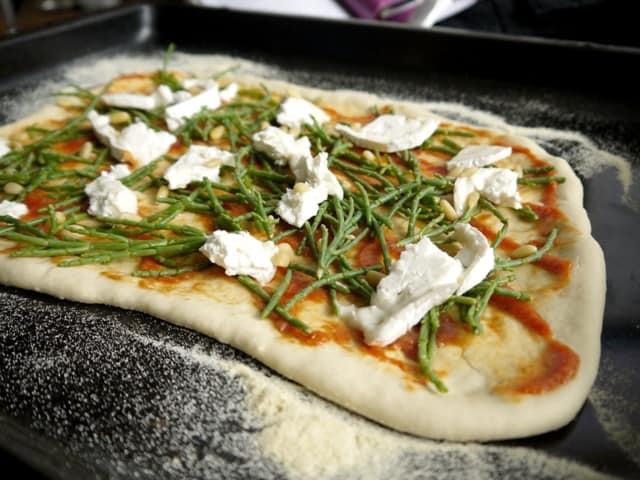 I also picked up a small pack of goats cheese to accompany it and traipsed home to my bowl of patiently prooving dough.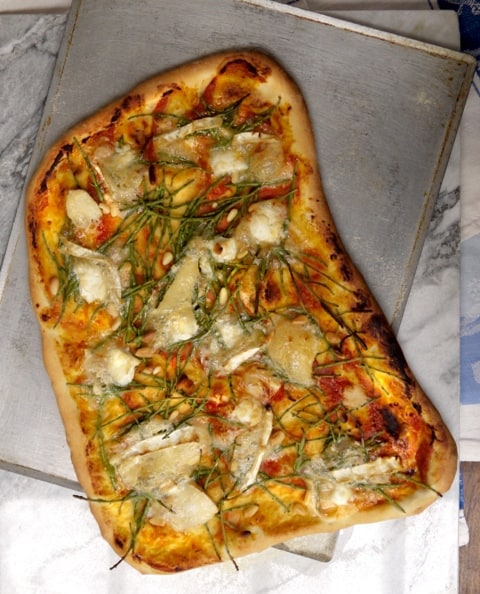 I'd made the pizza sauce a couple of days before by skinning some fresh tomatoes and simmering them down with some oregano, seasoning and chilli. A blitz in the blender and it was smooth and perfect to lick over a pizza base.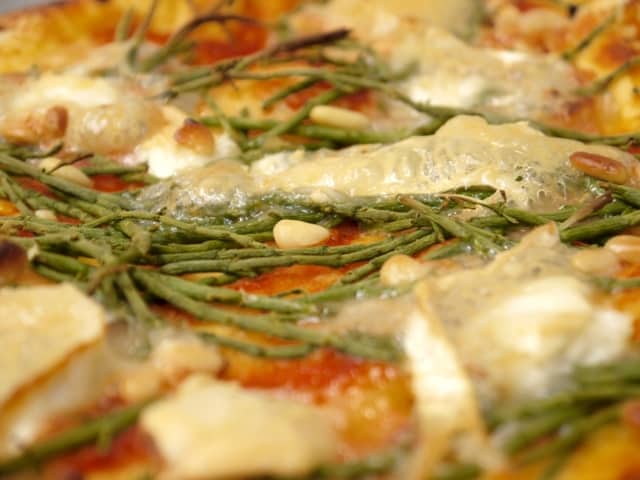 In no time at all this beautiful, light lunch was ready. The slightly salty samphire was a big hit alongside the creamy yet sharp goats cheese. And the rich home made tomato and chilli pizza sauce brought all the flavours together and made me a very happy girl indeed.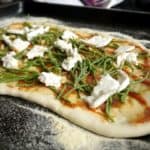 Samphire and Goats Cheese Pizza
Ingredients
1

very thin pizza base

As much pizza sauce as you like. I went for less on this pizza

not wanting to overpower the other flavours and used about 1 heaped tablespoon

A handful of fresh samphire

100

g

goats cheese

1

heaped tablespoon pine nuts

Freshly ground black pepper
Instructions
Preheat your over to 250/480/Gas 9

If you're making your own pizza base, roll and manhandle it out to as flat as possible. The thinner the better.

Load the base up with the pizza sauce, samphire, chunks of goats cheese and finally a sprinkling of pine nuts. Bake for 10-12 minutes or until the base is golden and the cheese melted.