This rose hip syrup recipe is a delicious wild cordial made from foraged rose hips. It's a traditional winter tonic, packed full of Vitamin C, but it makes an equally delicious cocktail too!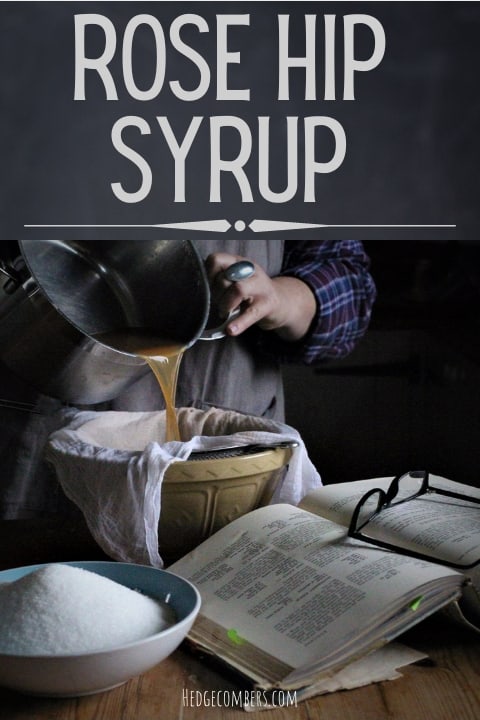 This wild rose hip syrup recipe is such a fun winter project, and the pretty little bottles of cordial make a lovely DIY gift.
The syrup itself can be used as you might use any sweet syrup. It's beautiful poured into a mug of hot water for both kids and adults alike.
It goes remarkably well with gin and soda in a cocktail, and I bet it would be lush poured over ice cream or pancakes (or both!). I also like to add a dash to my homemade kombucha before serving – it's a quick way to get a flavoured kombucha that also has medicinal benefits too.
Is rose hip syrup good for you?
The one thing rose hip syrup is famed for is its bumper Vit C content.
In fact, during the Second World War, when the imports of exotic fruits that made up most of the British Vitamin C intake were disrupted, the British government asked the public to go out and forage rose hips from the hedges around their towns and villages.
The mass of berries gathered (120 tonnes in the first year alone!) were then made into rose hip syrup.
The bottles of syrup were easily available at a controlled price of 9d a bottle (4 old pence, which equates to about £4 in todays money). However mothers and children were able to buy it in larger, cheaper quantities through welfare clinics.
CREDIT: The above info, plus more of this interesting story was taken from the 1972 edition of Food for Free, by Richard Mabey (Amazon affiliate link).
Along with Vitamin C, rose hips contain organic acids, tannins, flavonoid pigments (Vitamin P) and carotenoids (Provitamin A). It can be used to soothe sore throats and may lessen the duration of the winter sniffles.
How Do you Collect Rose Hips?
Foraging for rosehips is great fun, although you will likely return with some scratches from the rose thorns!
To find out my handy hints to safely pick these little red berries, please see this article: Rose Hips: How to Forage, Cook and Eat them (article coming soon!)
But there are a couple of little warnings I must add to this page:
* Be sure you're only picking red berries from a rose plant. They often grow entwined with other plants in hedges and many red berries are toxic.
To make doubly sure, I recommend going through your basket at the end of the day to check each and every berry. During this check I like to snap the remainder of any stalk left on the hips too.
* Avoid roses that have been chemically sprayed. Whilst you can pick hips from a wild rose or a cultivated garden rose (as all rose hips from the Rosa family are safe to consume), it's worth knowing that some garden centres may spray plants with chemicals to keep them in prime condition for selling. So if you're collecting hips from garden roses, only take them from plants that have been in your garden for at least one calendar year. When it comes to wild roses, only pick in a place where you can be sure that no one has sprayed weed killer, pesticides or other chemicals (ask your council if you want to pick in parks or council owned areas).
* Rose hips contain tiny little hairs that can irritate your digestive system if consumed. For this reason you'll see that in the recipe below we strain the syrup through muslin cloth twice, and this is to ensure that there are no hairs in the final syrup. Eating rose hip flesh raw is safe, and very delicious, but you can only nibble the flesh from the outside – if you pop the whole hip in your mouth you'll end up with thousands of these little hairs in your mouth and then your digestive tract. Not to be recommended!
Foraging Rose Hips for this Recipe
When I first started foraging the hedges for rose hips this year I was a bit early and had trouble finding many.
So, I would bring home a meagre handful and pop them into the freezer. Over the course of a week or two I managed to build my stash up to about a kilo.
This was the point that I pulled out my beloved Mrs Beeton's book of 'Cookery and Household Management' to see how this recipe would have traditionally been made. I made it her way, and honestly, it was a total faff. So although this recipe is inspired by Mrs Beeton, I've simplified her recipe somewhat making a (little) less washing up for you.
Below you'll find step-by-step photos, and below that is the full recipe. I live in England so it's written in metric, but there's a little button in the recipe card you can toggle if you prefer to read recipes in US measurements.
And finally, I hope you enjoy making, and drinking this delicious rose hip cordial! This winter it's been an absolute joy drinking a hot mug full on a crisp, cold day.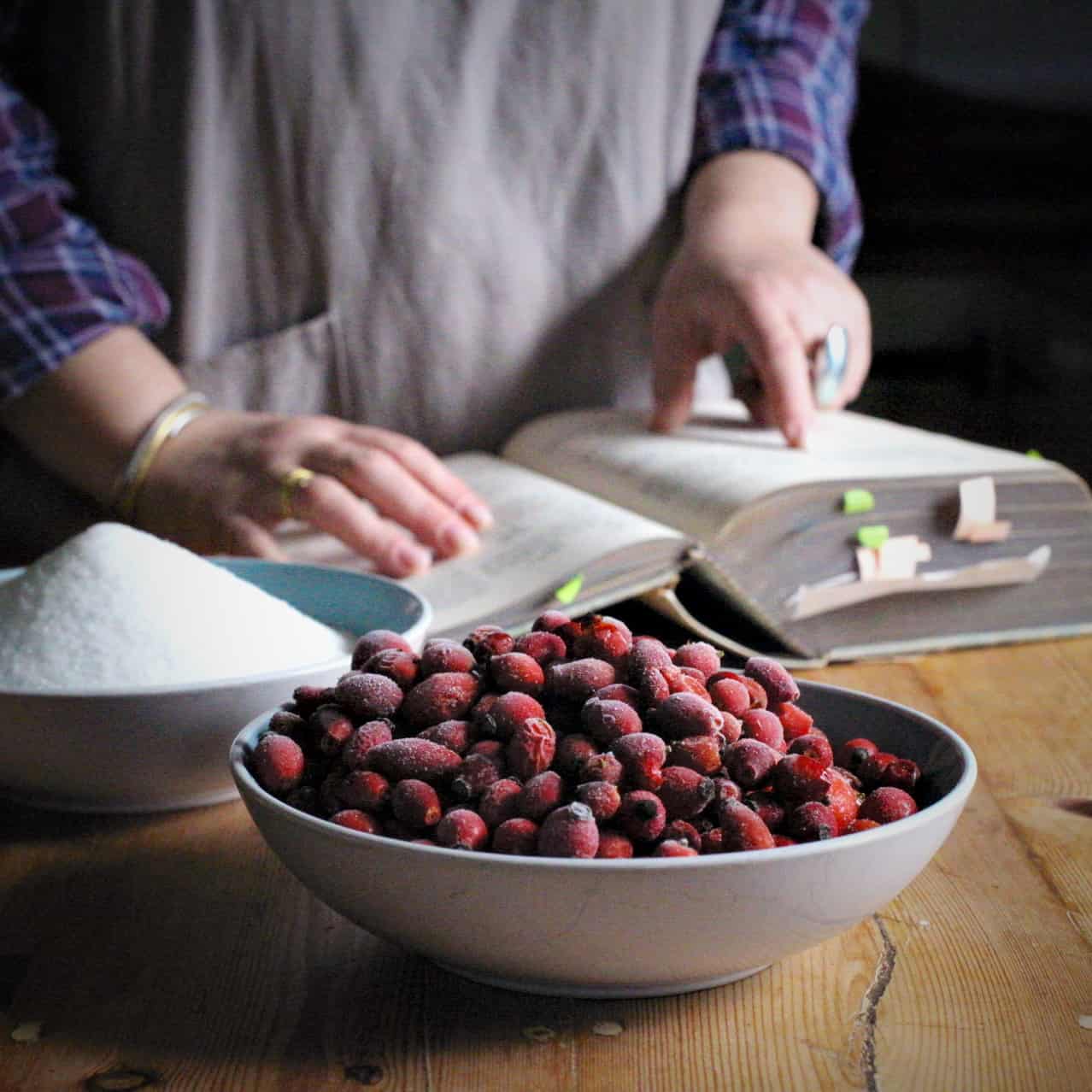 Step by Step Rose Hip Syrup Recipe
This recipe definitely isn't difficult, but there are a few steps and it makes for a tonne of washing up (picture proof of this at the bottom of this post!)
Before you start, I'm assuming you'll be storing your syrup into glass bottles rather than drinking it all in the next few days. So make sure your bottles, lids and the funnel you intend to use are sterilised by the time your syrup is ready.
The easiest way to do this is by running them all through the dishwasher. Although you can also boil them in a pan of water or use sterilising solution used on babies bottles if you prefer.
1/ pick rose hips
Gather as many as you can and freeze until you have about 900g (2lb).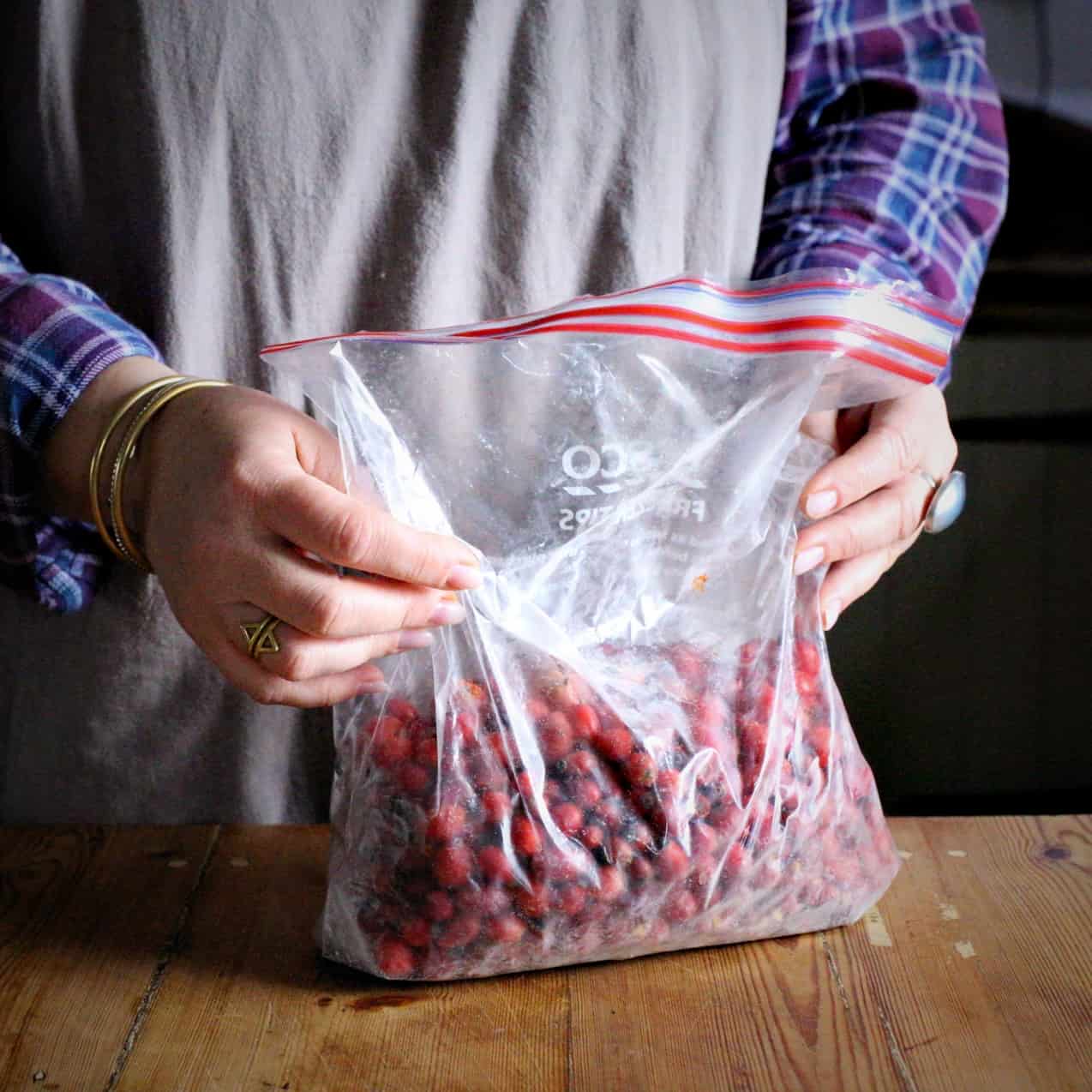 I worked with mine from frozen but you can defrost yours first if you prefer.
2/ boil water
One of the key things to know about cooking rose hips is that boiling water doesn't affect the Vit C levels, but cutting them open does.
According to Richard Mabey "the hips were leached with boiling water immediately after grinding, to destroy an enzyme which inactivates the Vitamin C very rapidly".
So, to be sure you're getting maximum nutrients, bring the pan of water to a boil (in a large saucepan) before cutting the hips open.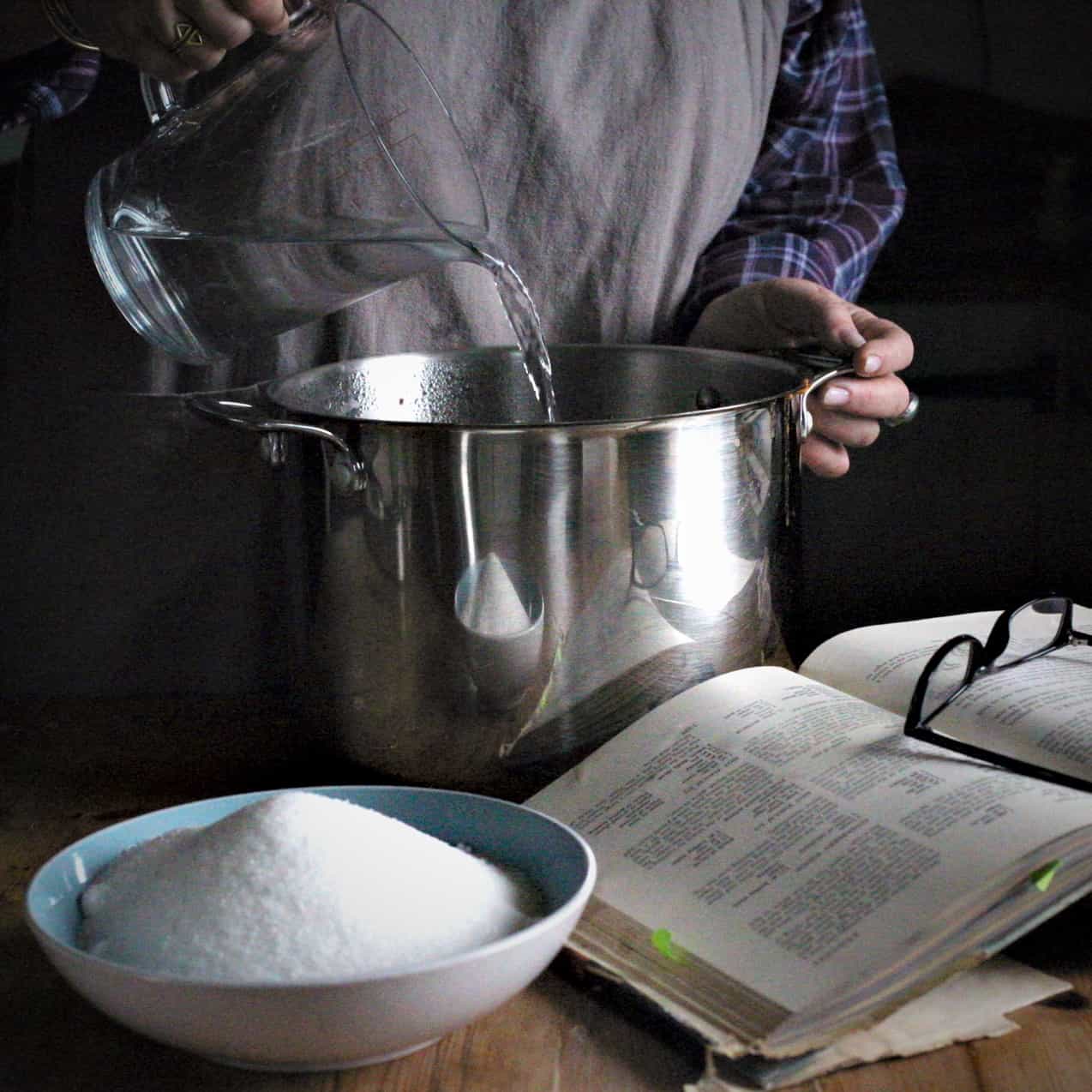 3/ grind or cut hips open
I added my (frozen) rose hips to my food processor and pulsed them until roughly chopped.
I then immediately added them to my pan of boiling water.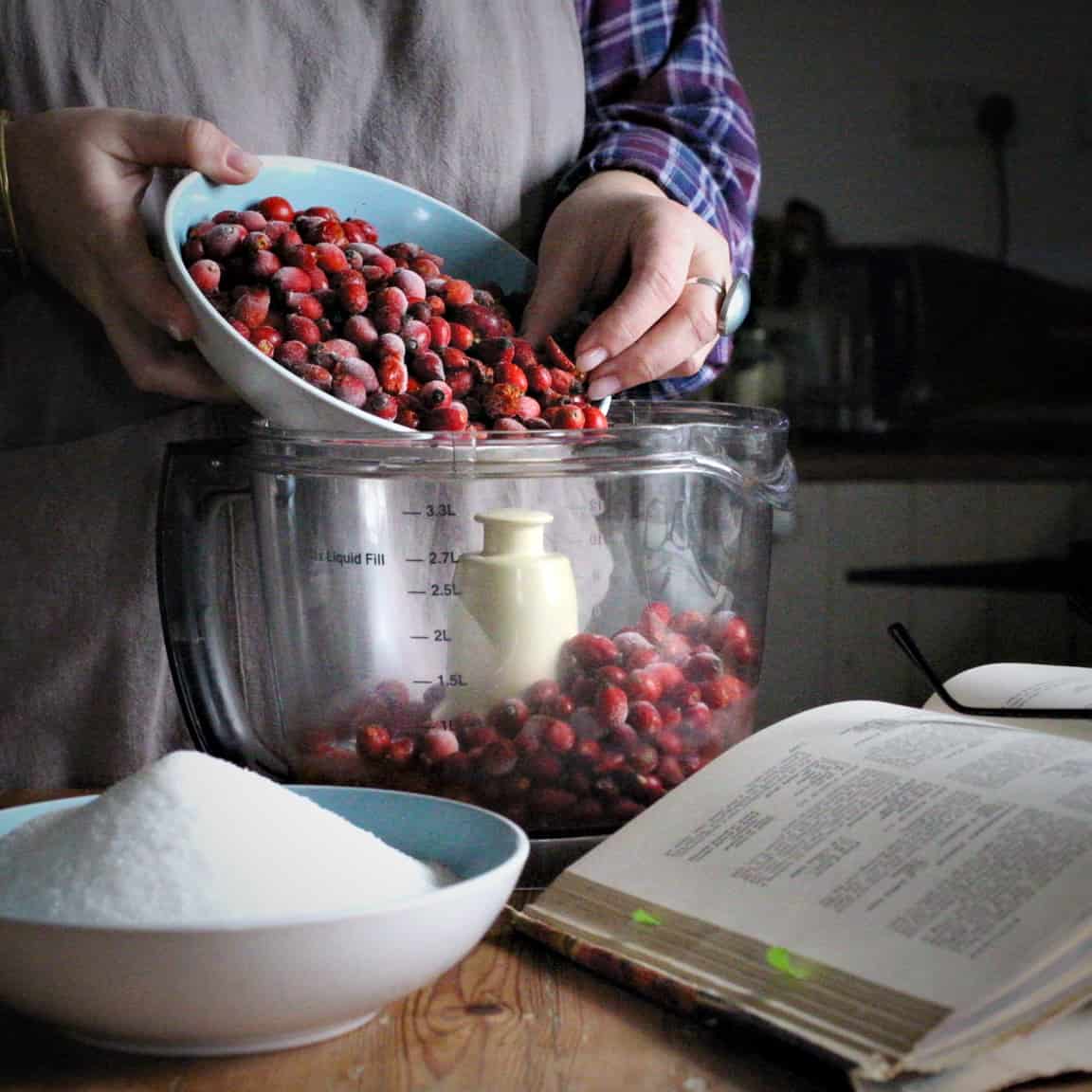 If you don't have a food processor, simply chop each one in half with a sharp knife and fling the pieces directly into the pan of hot water.
It's also worth noting that I didn't bother cutting the top or bottom 'bits' off the hips before grinding. As they will be filtered several times I didn't think it worth the effort.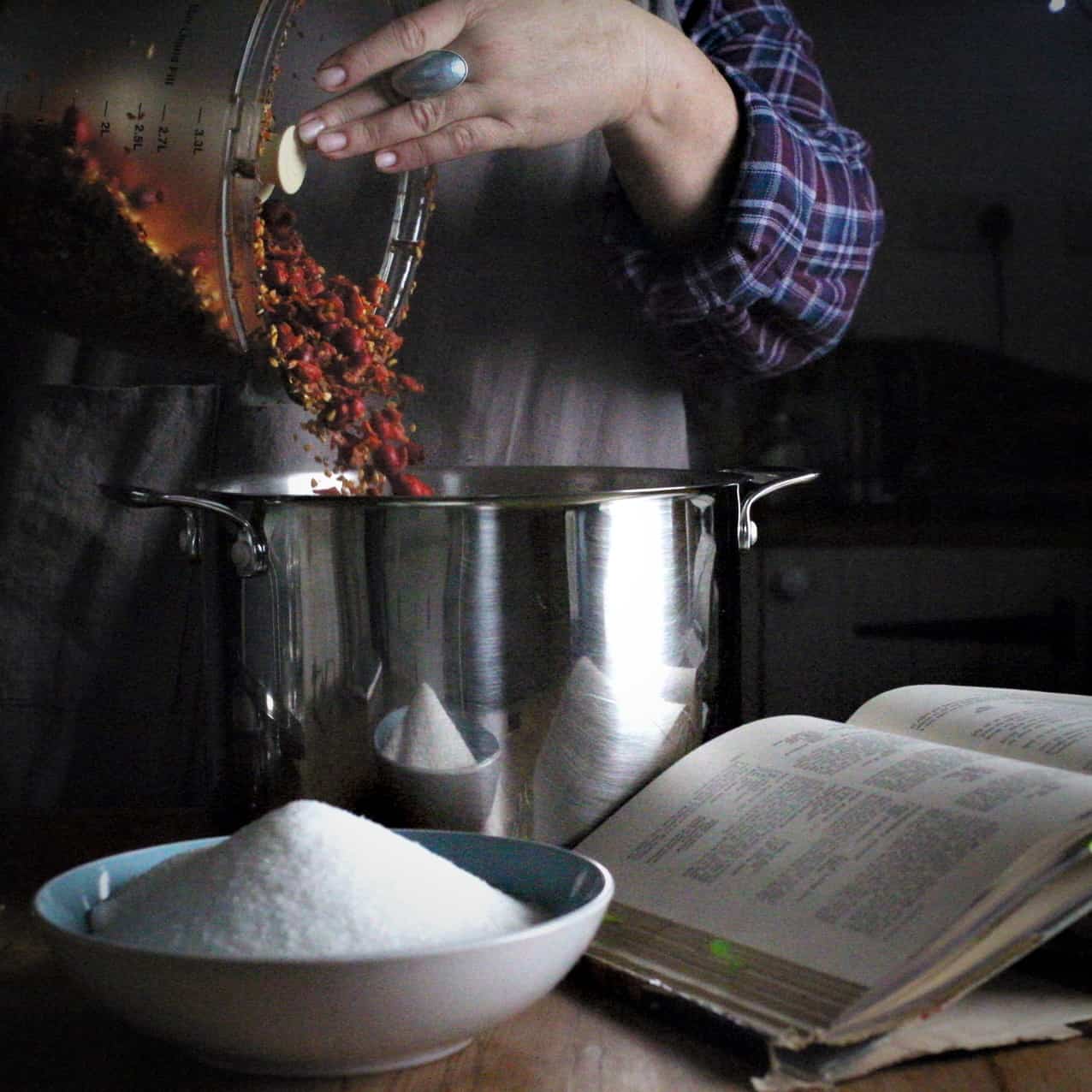 4/ boil the hips
Once the berries are in the pan, bring the water back up to a boil and simmer for fifteen minutes.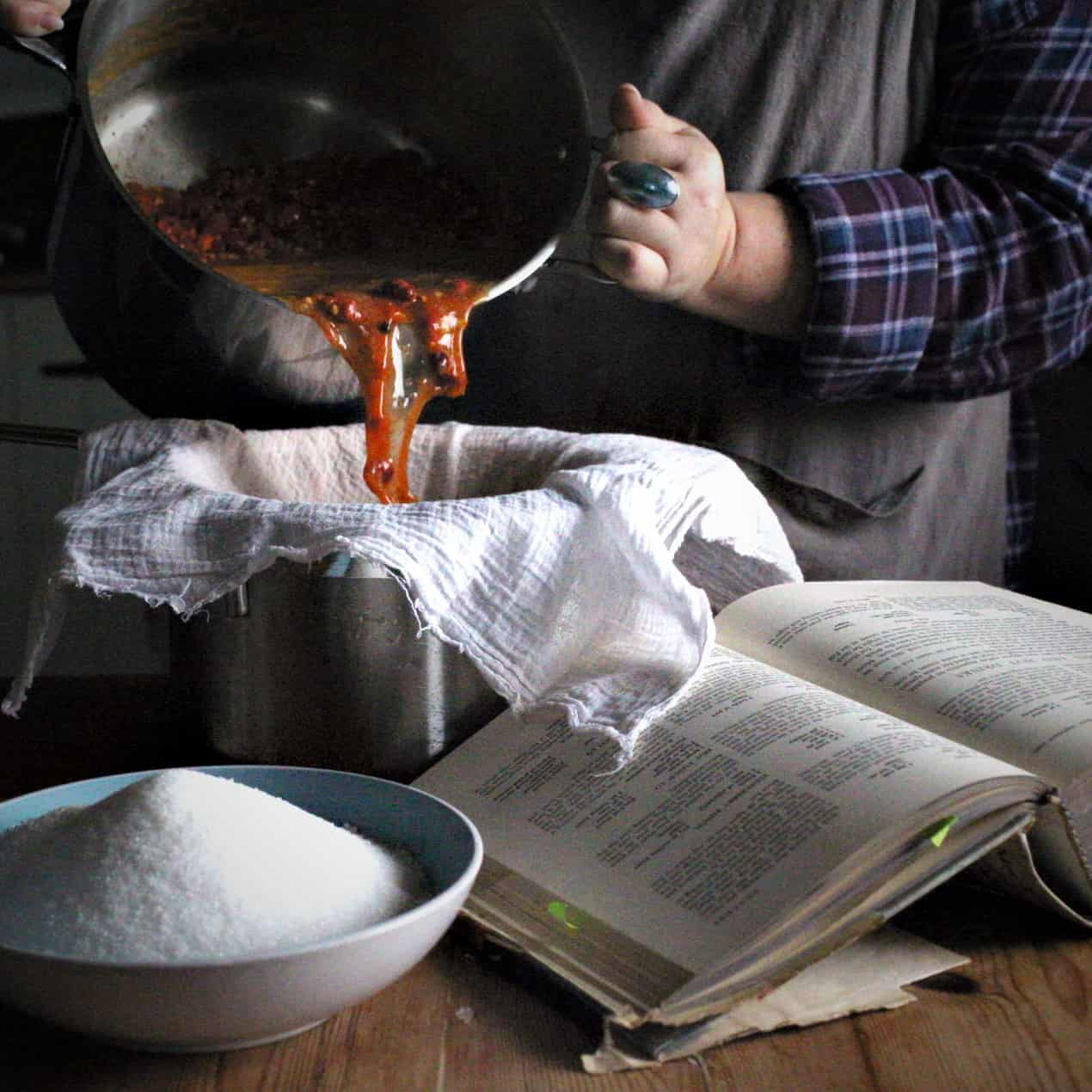 5/ strain the hips
Find another large clean pan or bowl.
Line it with a sieve, and line the sieve with a clean piece of muslin cloth. If you don't have any muslin you could use a nut milk bag, or even a clean tea towel. Ideally you want a fabric with a very tight weave to collect all the tiny, irritating hairs that surround the seeds.
Pour the rose hips and water into the lined sieve to strain. You may need to do this in stages depending on the size of your sieve.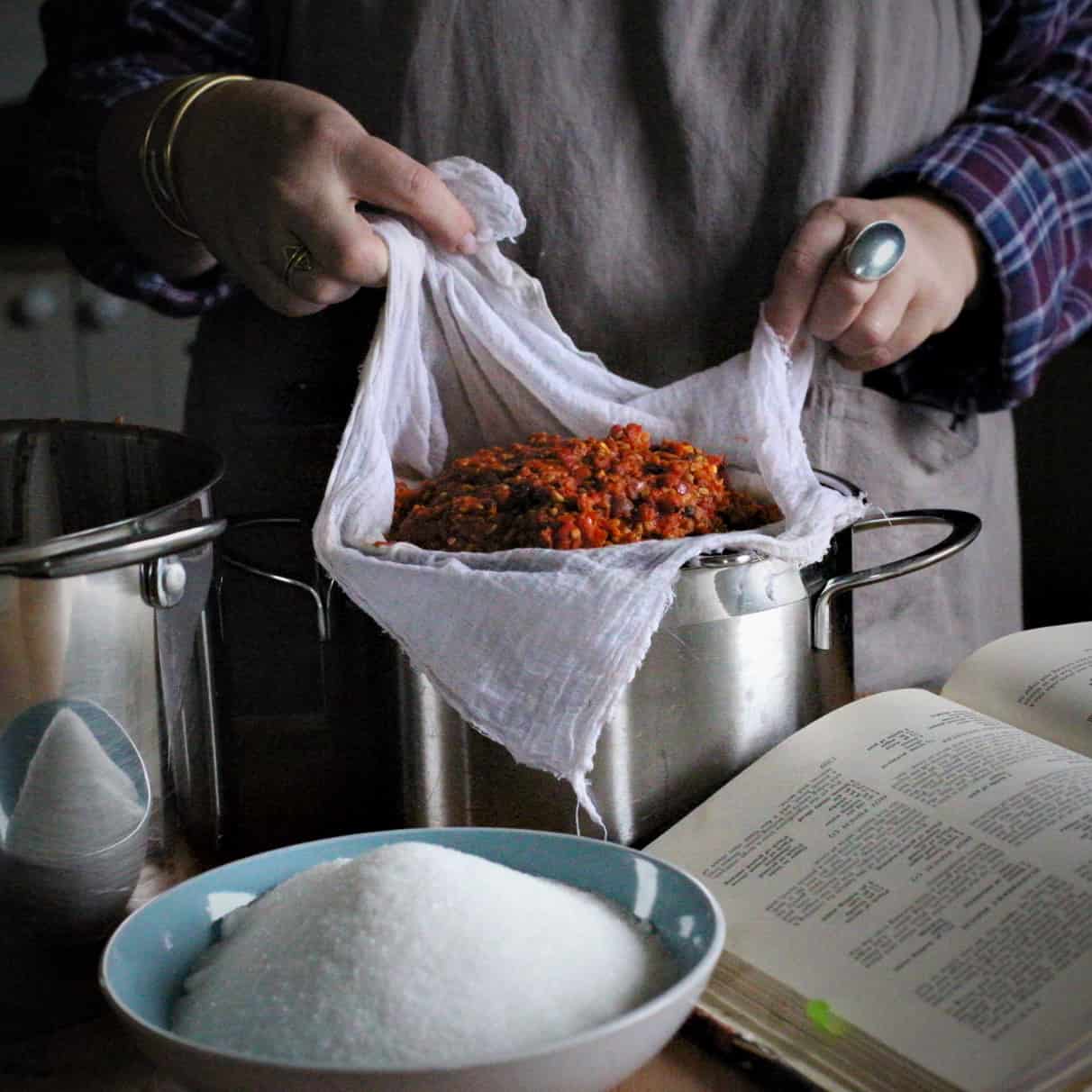 6/ wring out the hips
This part is optional, and I believe it's the reason that my rose hip syrup ended up cloudy as opposed to clear. If you prefer your syrup to be clear, try leaving the juice to drip through via gravity rather than twisting the muslin as I do. This will likely take several hours so I would likely leave it overnight. Then please let me know in the comments below if it works for you!
If you choose to wring it out, simply gather up the edges of your muslin, hold the ball of berries, and carefully squeeze them to extract as much of the juice as possible.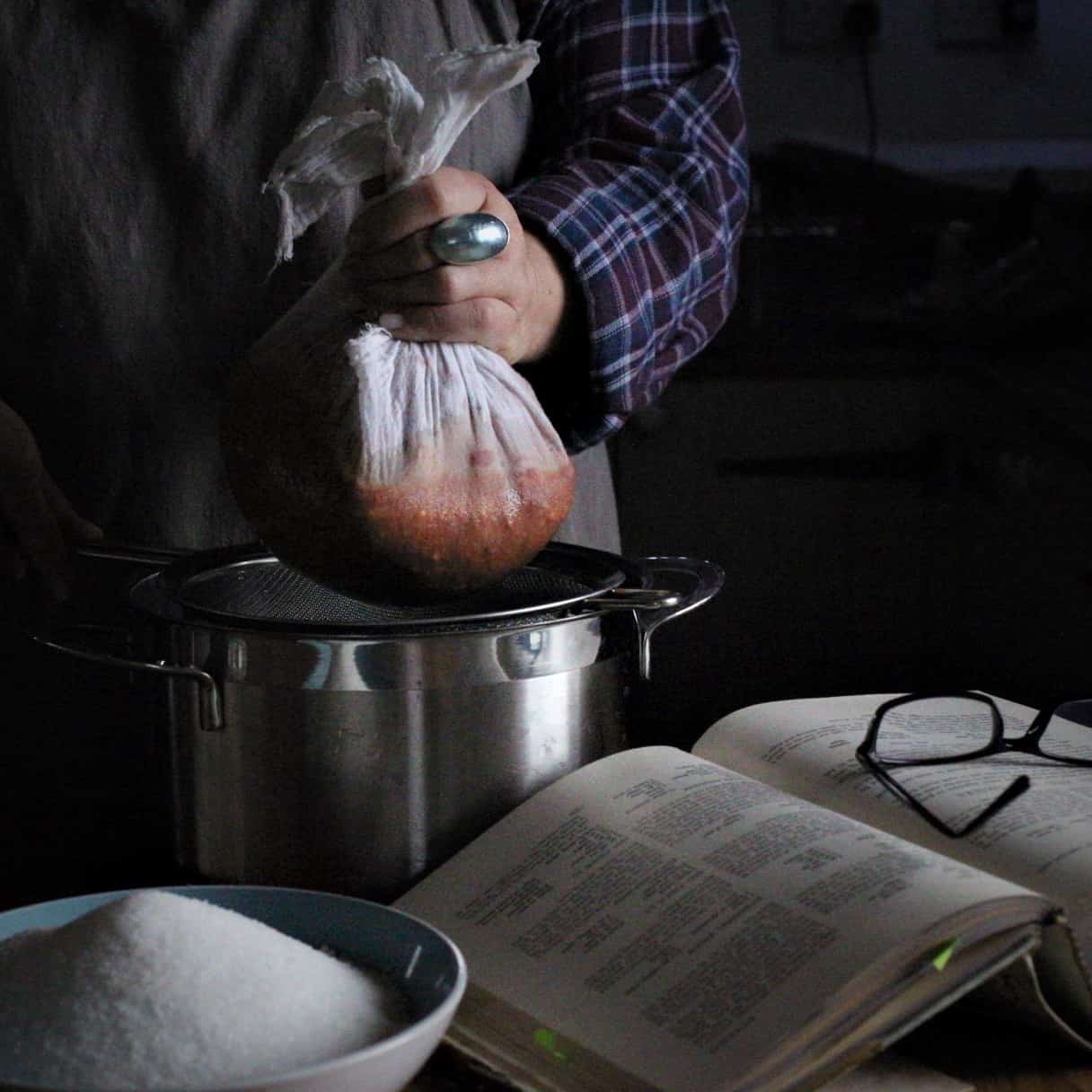 7/ restrain the juice for a final time
Just to make sure we catch all of those little hairs, we're going to strain it through muslin a second time.
Firstly, I washed up the sieve and first saucepan and lined it with a fresh (clean) piece of muslin. If you can double this piece of muslin over then all the better for maximum straining power!
Pour the juice back through the sieve, into the saucepan.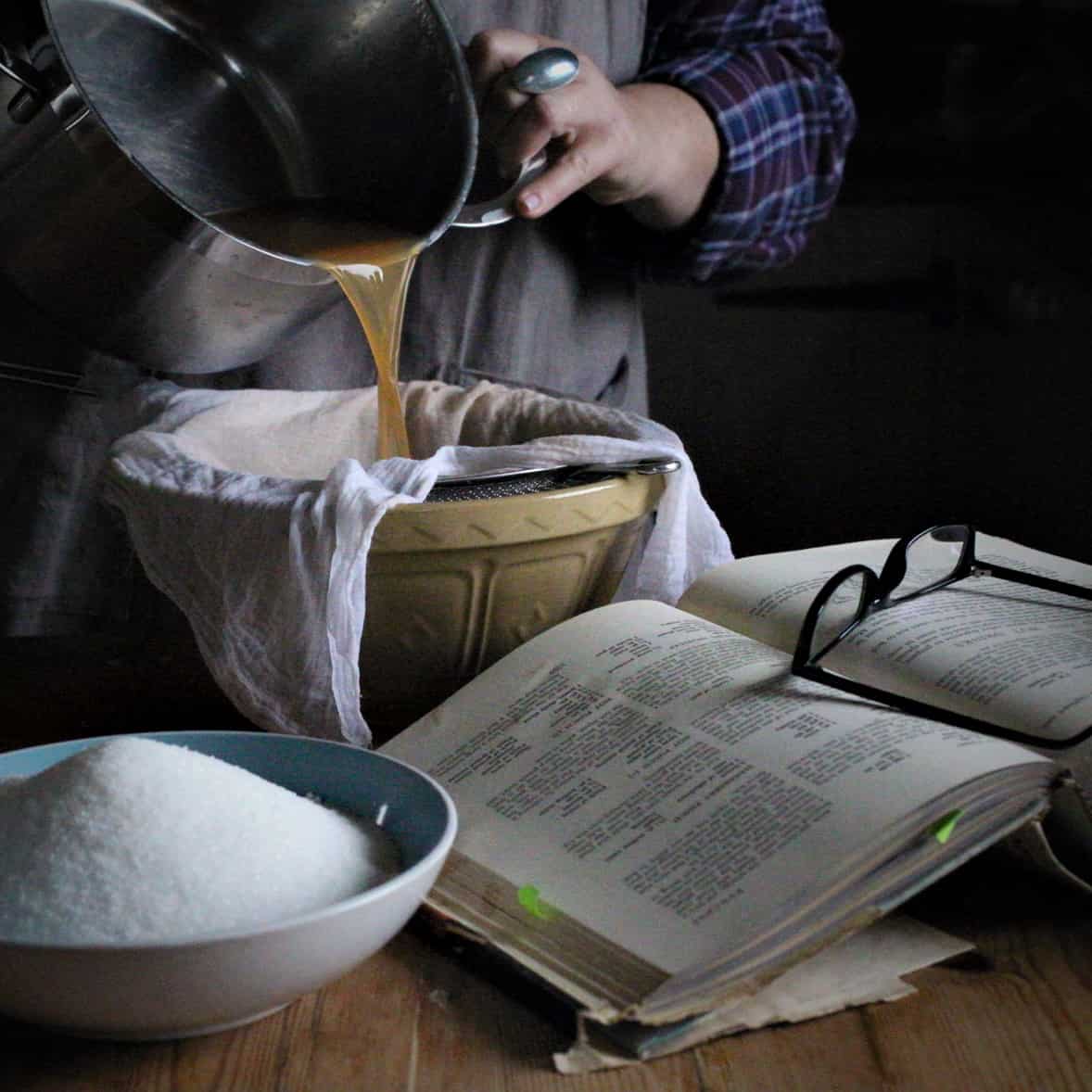 8/ add sugar to make a rosehip syrup
You could totally keep this juice sugar free and drink it as is. However, by adding the sugar you'll be taking the shelf-life (or should I say fridge-life) from a few days to several months. It'll also be much more palatable to children with sugar added!
To do this, pour the sugar into the pan of juice and heat gently until the sugar has all dissolved. Be sure to stir well as it heats so it doesn't burn on the bottom of the pan.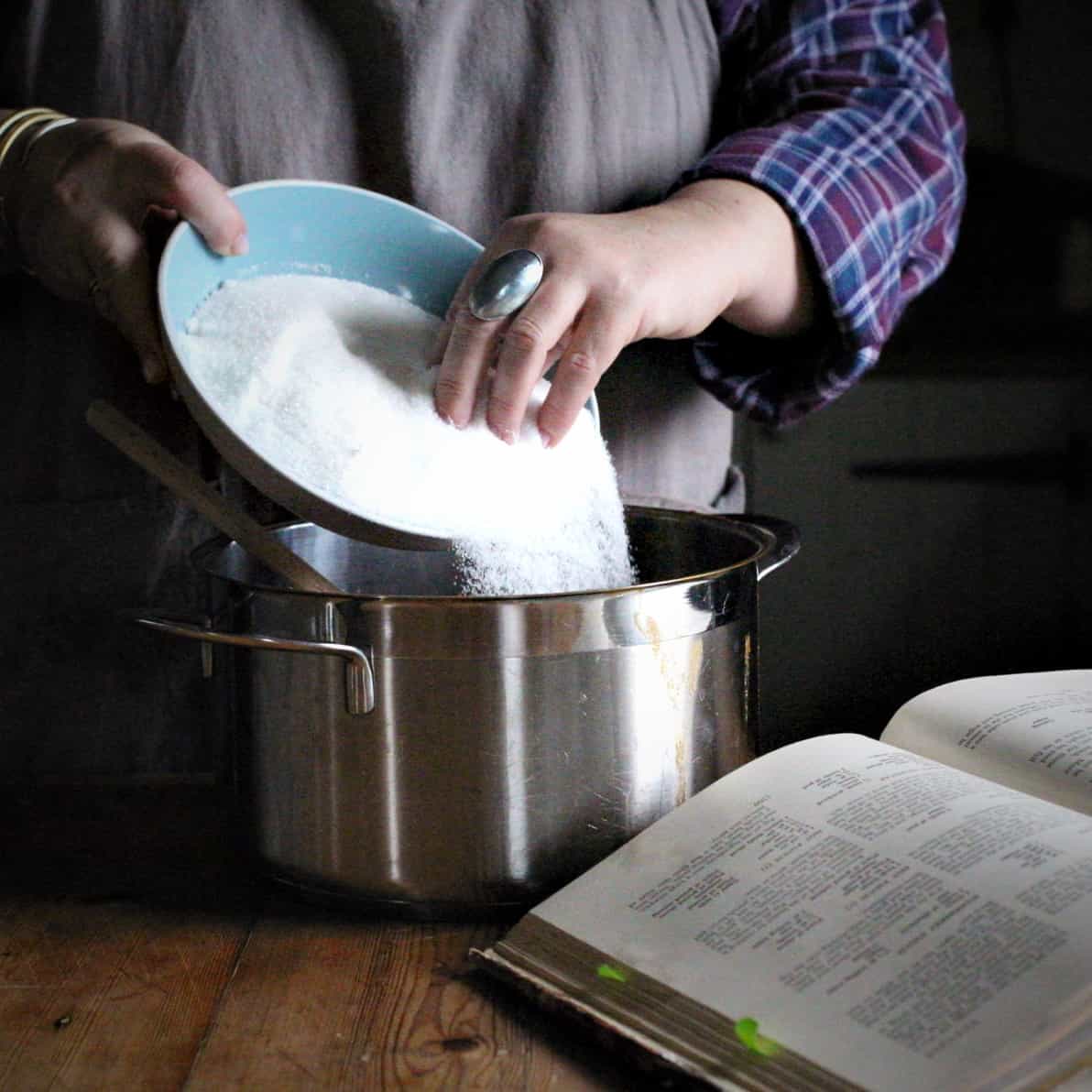 Once the sugar is dissolved, bring the syrup up to a boil and cook for 5 minutes.
Remove from the heat and carefully pour the syrup through your sterilised funnel into the sterilised bottles.
Let cool over night before adding the (sterilised!) lids and storing in the fridge.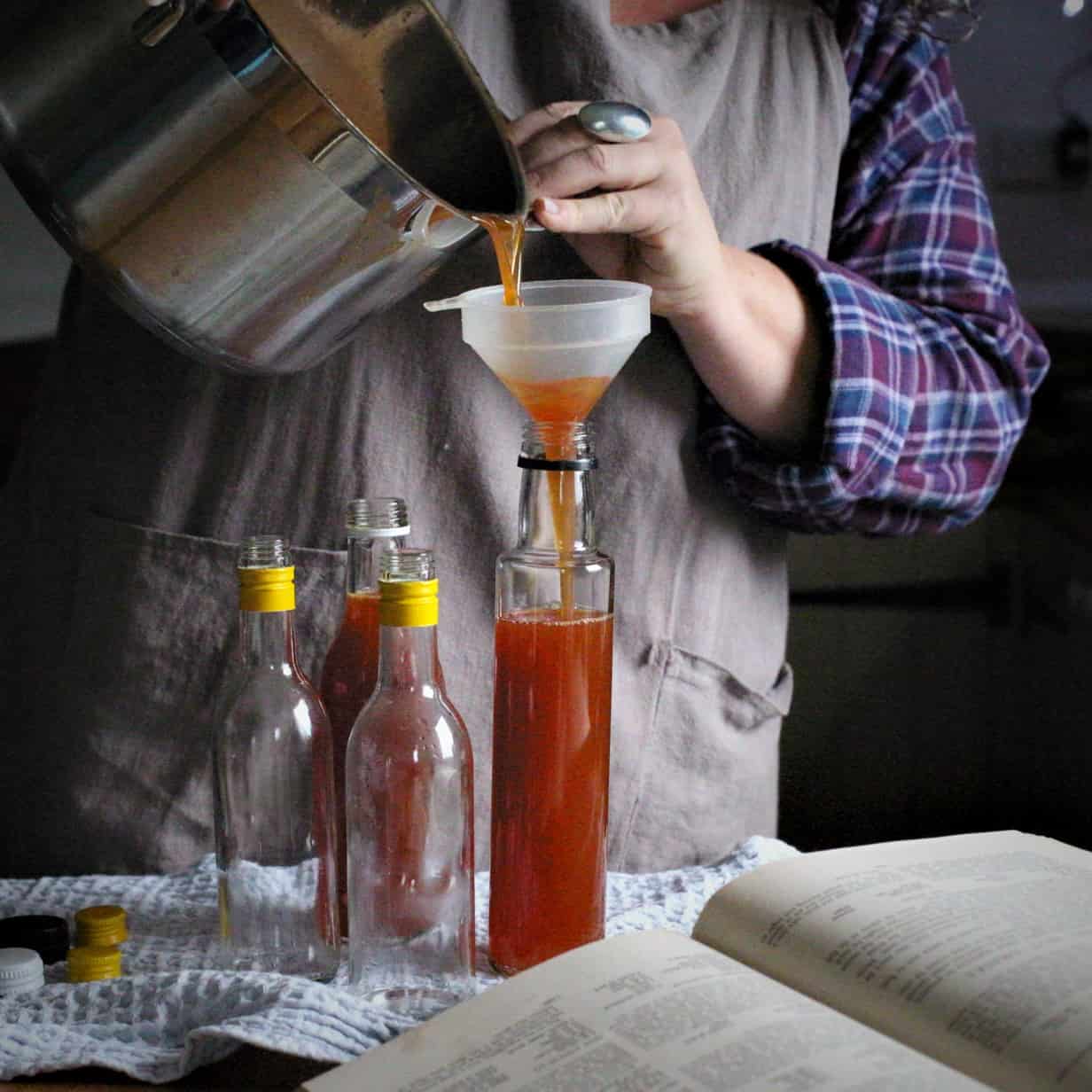 That's it! You now have a stash of homemade Vitamin C busting rose hip syrup to get you through cold and flu season!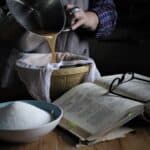 Wild Rose Hip Syrup Recipe
Keyword:
rosehip cordial, rosehip syrup
Ingredients
900

g

rosehips

900

g

sugar

2

litre

water
Instructions
to make the rosehip juice
Pre-boil the water in a large saucepan.

If you're using a food processor, pulse the hips until each one has at least one cut in it, then immediately add the hips to the pan of water.

If using a knife, cut each hip in half, immediately throwing the two halves into the pan of water.

If cutting by hand, be aware of the irritating little hairs that are inside each hip - make sure not to wipe your eyes or wipe your hands on your clothes as you're processing them.

When all the hips are in the pan, bring to a boil then reduce to an active simmer and cook for 15 minutes.

Meanwhile, line a second pan with a sieve that is lined with a piece of clean muslin cloth (see the article above for other ideas of tightly woven fabrics you could use instead if you don't have any muslin).

After 15 minutes of simmering, carefully pour the rosehip mash into the lined sieve.

Allow the juice to slowly drip through. To extract the maximum juice possible, when the hips have cooled enough to handle, pick up the edges of the muslin and firmly squeeze as much juice through as possible.

Discard the boiled hips to the compost pile.

To be extra sure that you removed all the little hairs from the juice, wash up the sieve and first saucepan thoroughly, then run the juice through a second clean piece of muslin. This will catch any last stragglers!
to make the rosehip syrup
Now you have a pan of rosehip juice, we need to add sugar to turn it into a syrup.

Add the sugar to the pan and set over a low heat. Stir well whilst bringing up to a boil. Continue stirring until the sugar has completely dissolved.

Boil gently for 5 minutes.

Next, remove the pan from the heat and very carefully pour the hot syrup into the sterilised bottles using the sterilised funnel.

Allow the syrup to cool before popping the (sterilised!) lids onto the bottles and storing in the fridge.

If everything was spotlessly clean, these should stay mould free in the fridge for several months. Pour away any that appear to grow flulf or mould.
Nutrition Facts
Wild Rose Hip Syrup Recipe
Amount Per Serving
Calories 82
Calories from Fat 1
% Daily Value*
Fat 0.1g0%
Sodium 2mg0%
Potassium 65mg2%
Carbohydrates 21g7%
Protein 0.2g0%
Vitamin A 652IU13%
Vitamin C 64mg78%
Calcium 27mg3%
Iron 0.2mg1%
* Percent Daily Values are based on a 2000 calorie diet.
Remember me saying how the Mrs Beeton's original recipe left me with a tonne of washing up?
Well, here's the proof! My kitchen got destroyed :)