Roasting strawberries is a wonderful way to get a soft, juicy and naturally sweet topping without adding any sugar. And piling the roast strawberries on hot griddle cakes is the perfect way to serve them.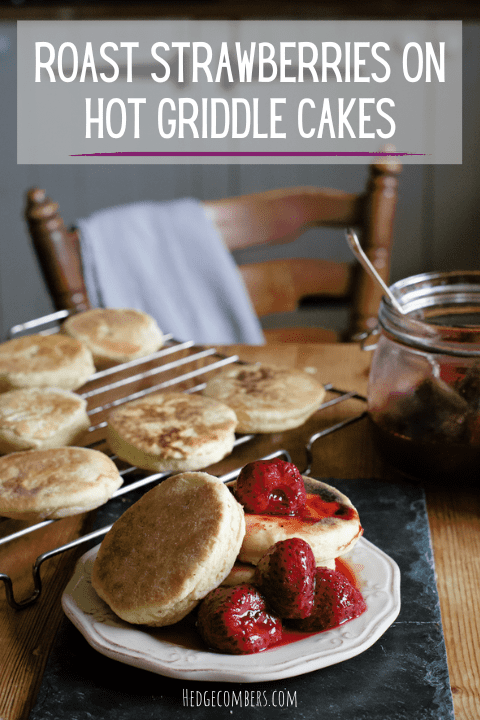 Have you ever tasted roast strawberries?
If like me you haven't, imagine opening a jar of really expensive strawberry jam.
Picture how the jam is studded with soft jewels of whole strawberries that explode in your mouth in a concentrated burst of sweet caramelised juice.
The flavour of these roast strawberries is exactly the same. Just minus the sugar.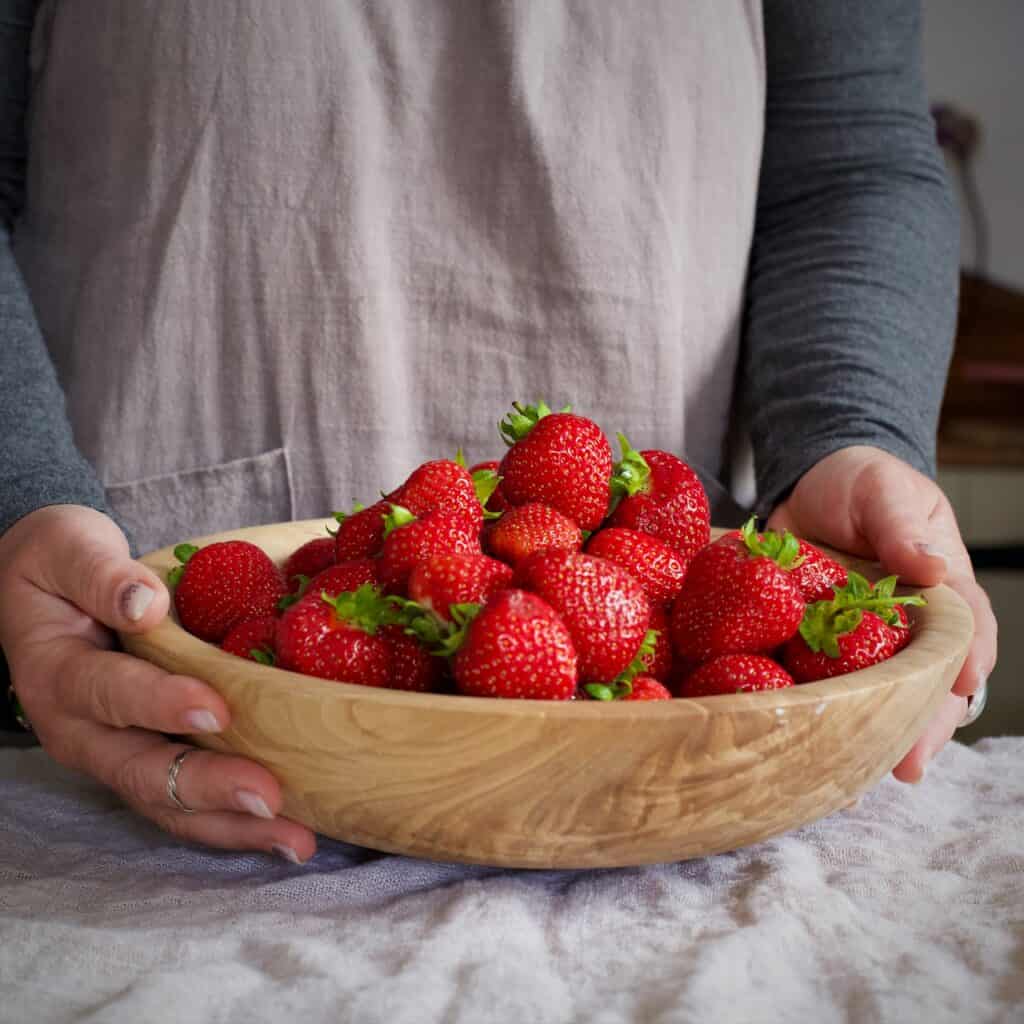 There's two halves to this recipe: roasting the strawberries and making the griddle cakes.
I'll walk you through both elements separately, of course with lots of photos.
However, if you'd rather just dive into the entire recipe, scroll down to the bottom of this post where the full recipe is ready and waiting!
Depending where you are in the world, you'll be able to easily switch between metric and US measurements at the flick of a button too.
How to Roast Strawberries
1/ prep your strawberries
Wash your strawberries first by placing them in a sieve and running under plenty of cold water.
Tip them out onto a clean tea towel, and gently roll them around in the fabric to remove most of the water.
Using your thumb nail, or a small paring knife, hull the strawberries by digging out the stalk and leaves.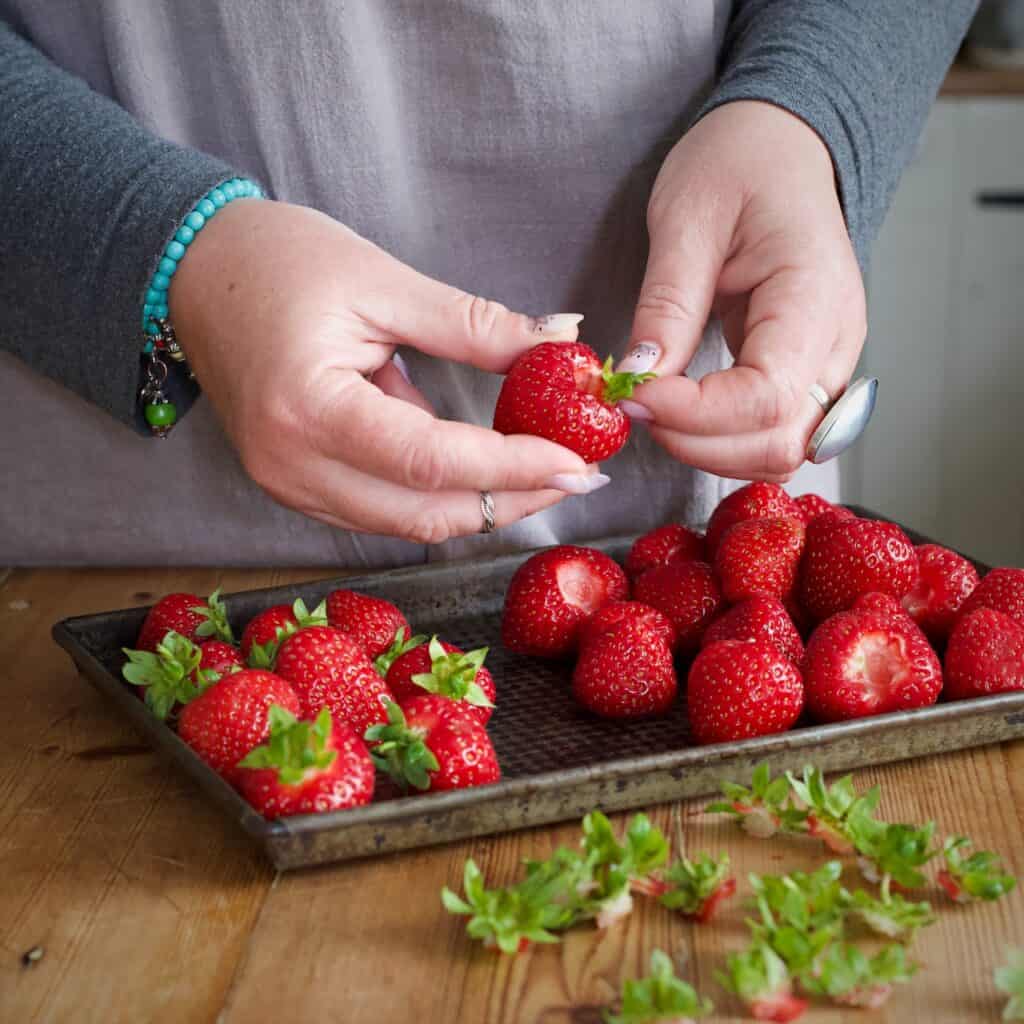 Once hulled, the strawberries can be placed on a baking tray to roast.
2/ how to roast the strawberries
Place the baking tray into a preheated oven.
Let roast for 15-20 minutes.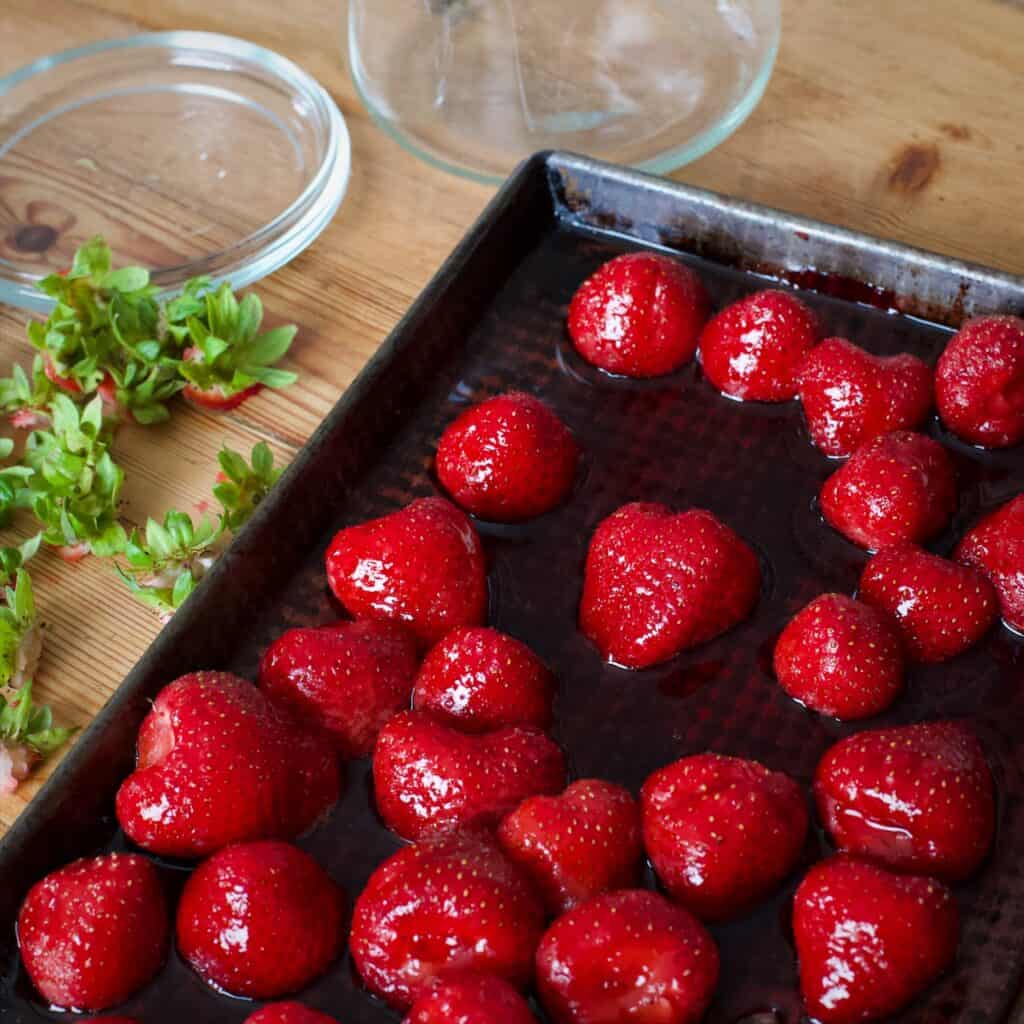 When ready they will have slightly collapsed into themselves and be sitting in a puddle of strawberry juice.
If after 20 minutes they are still looking pert and firm, turn the oven off but leave the baking tray inside with the door shut and they will continue to slowly cook.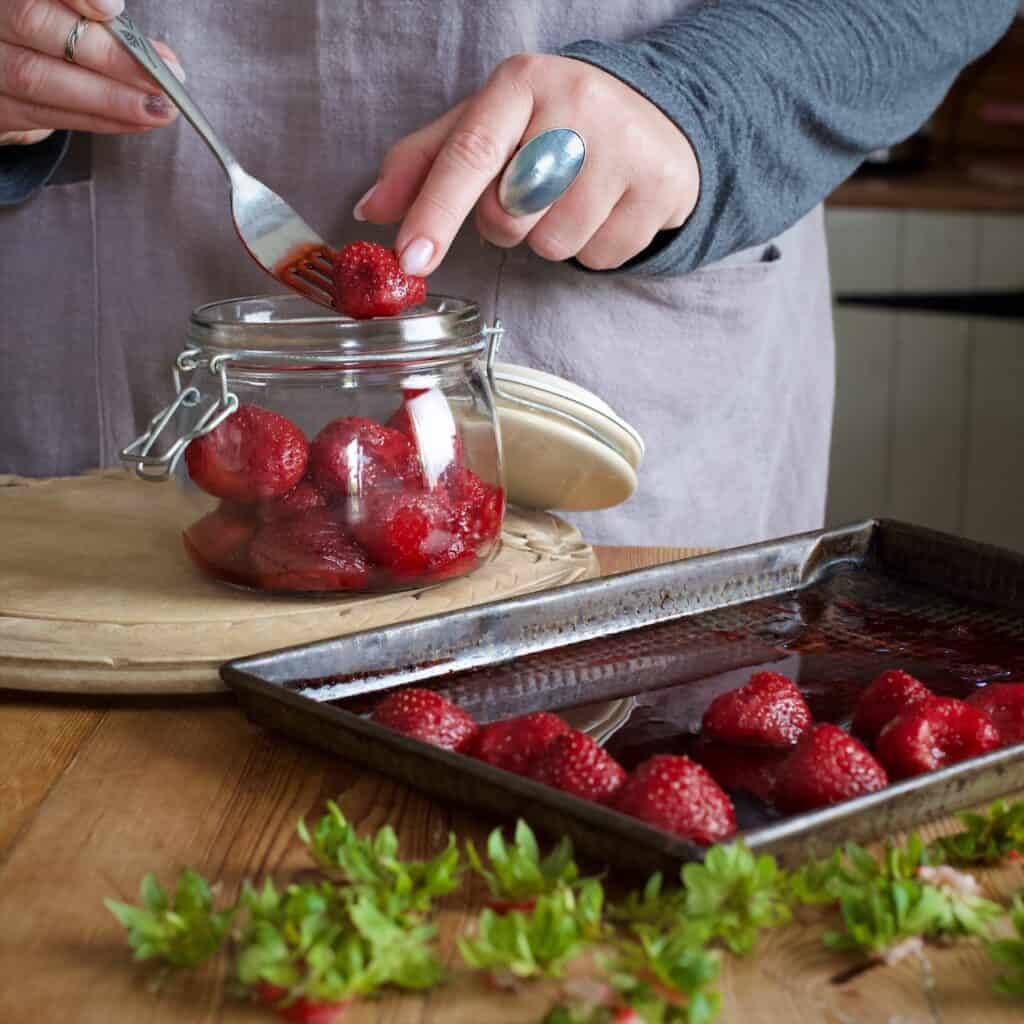 3/ how to store roast strawberries
Once cooked you can serve with them hot, or place into a glass jar as I did and leave in the fridge until you're ready to cook the griddle cakes.
If you choose the latter, either let the strawberries cool fully on the tray. Or, place the hot berries and juices into the glass jar and let fully cool before closing the jar lid and placing into the fridge.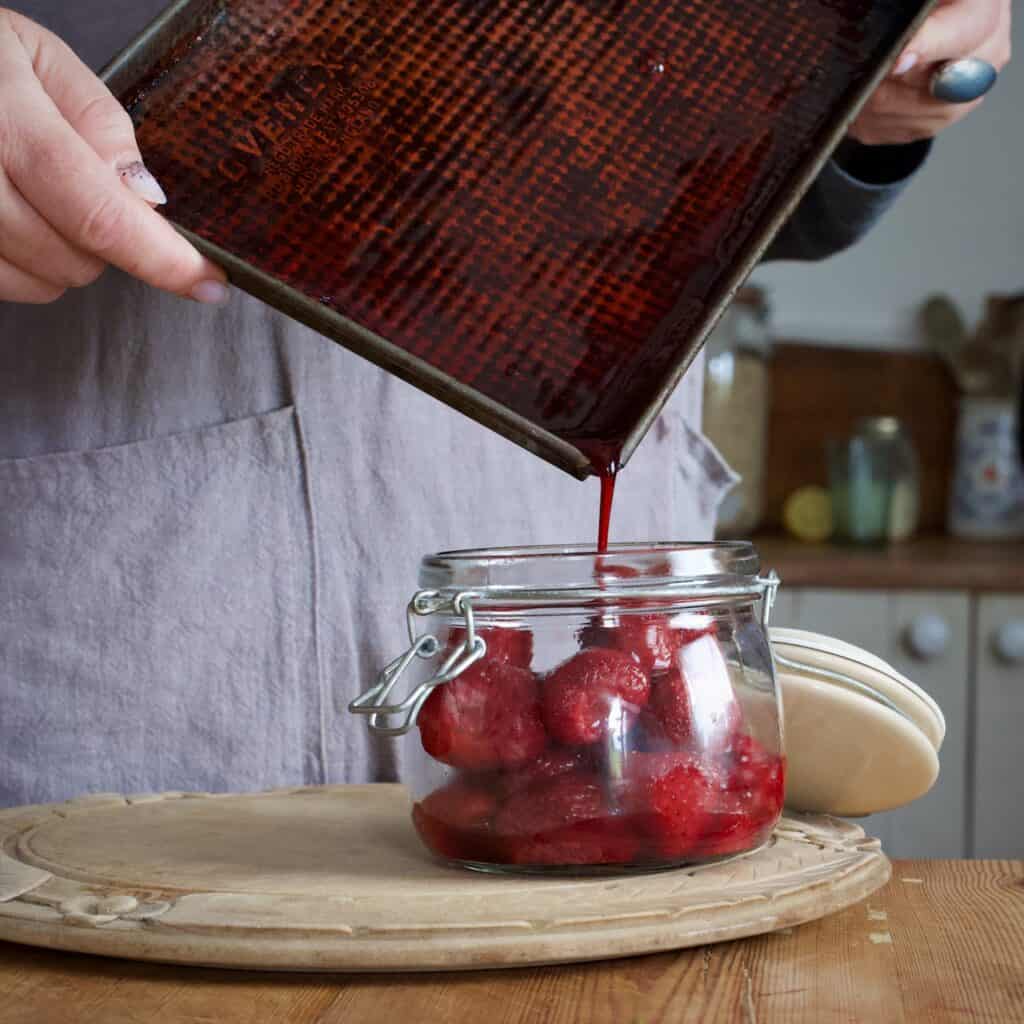 This magical jar of roast strawberries can be used in so many delicious ways!
Try dolloping some onto rice pudding, granola, porridge, ice cream, cereal or adding to a smoothie.
But for now, let's make some hot griddle cakes to serve them on…
How to Make Traditional Hot Griddle Cakes

Griddle cakes are a stove top breakfast or dessert dish that would traditionally have been cooked over the embers of a fire.
Either a cast iron skillet would have been balanced over the grate. Or a cast iron griddle pan would have been hung from a tripod over the fire.
Luckily for us, we can enjoy this old fashioned treat using a frying pan and an electric or gas hob too!
1/ how to make griddle cake dough
In a large mixing bowl sieve the flour, baking powder and salt together.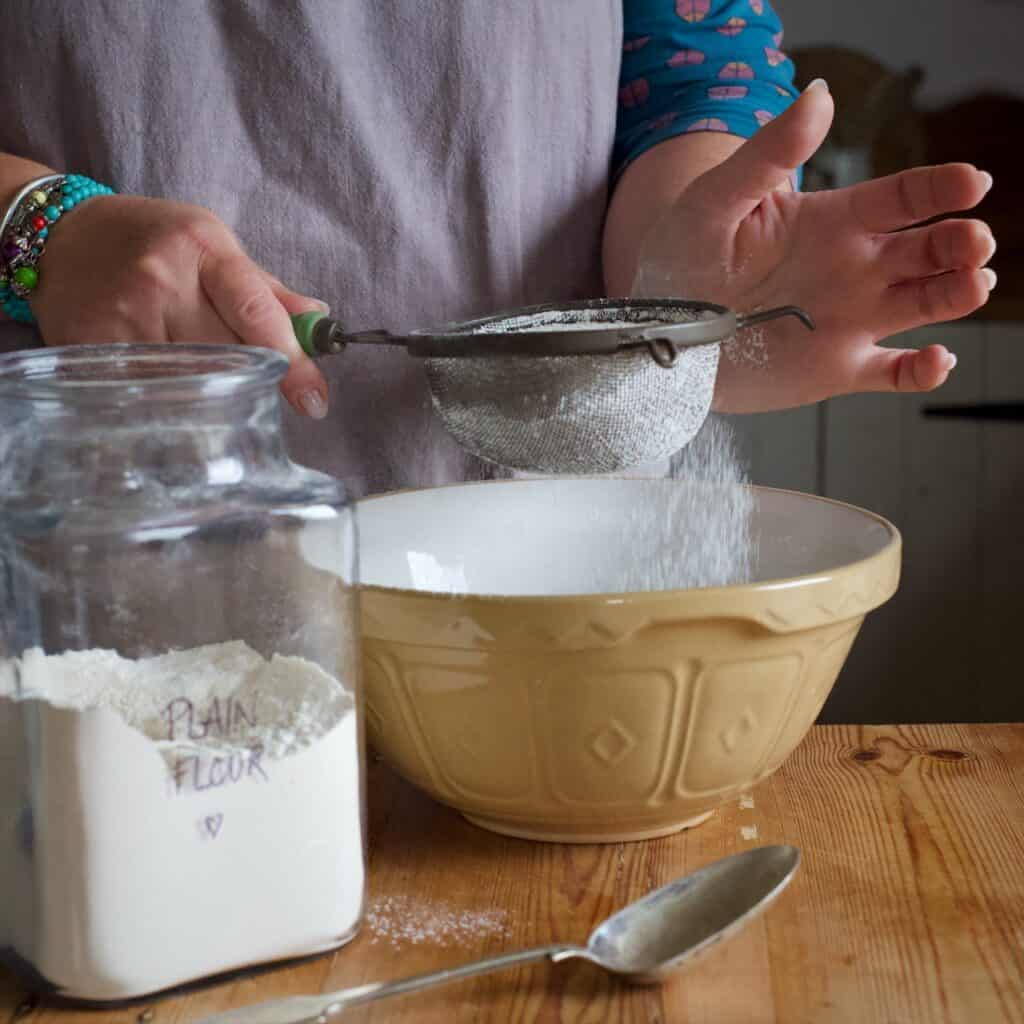 Add in the sugar and lemon zest (if using), and mix together well.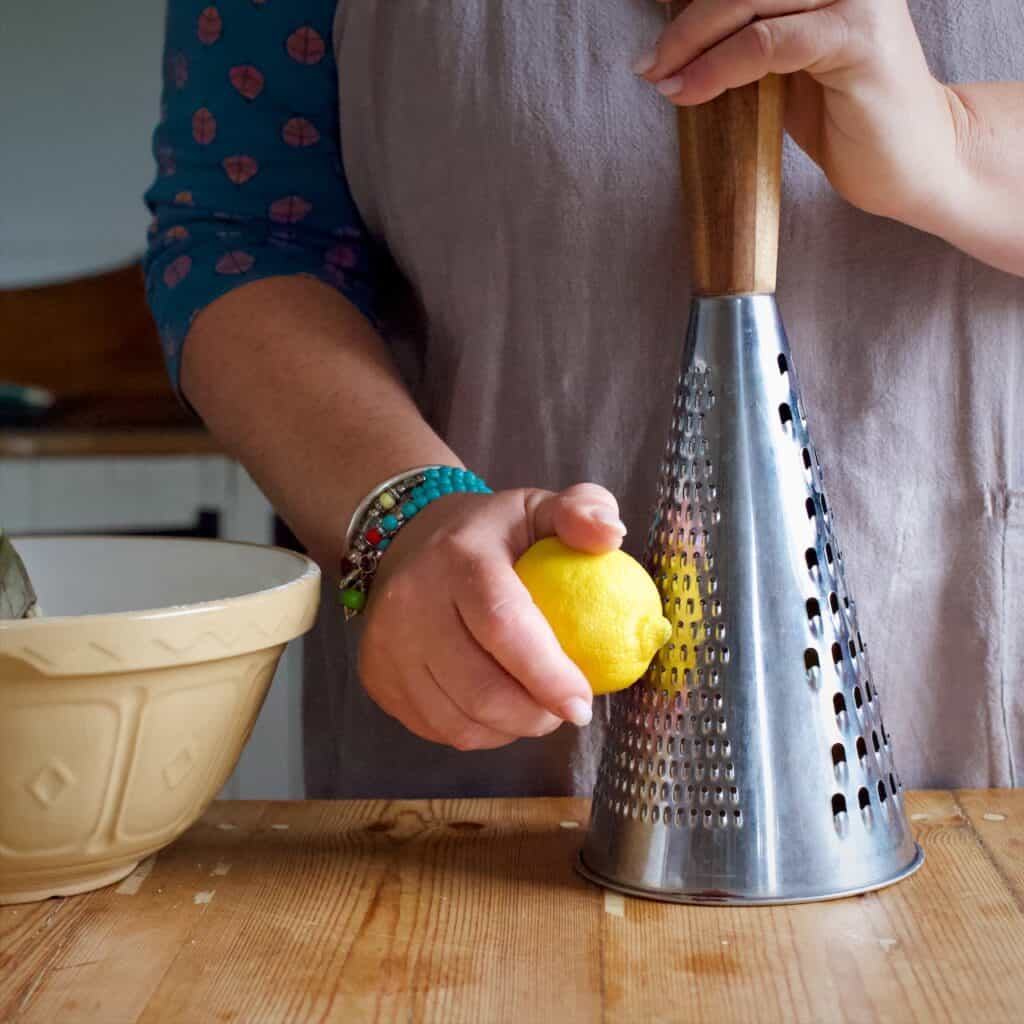 Tip the butter into the bowl and mash it into the flour mixture using either your fingertips, or a pasty blender.
Once it's all worked through, it should resemble soft, fine breadcrumbs.
Crack the egg into the bowl, and pour in about half of the milk.
Keep the rest of the milk nearby in case your mixture is too dry.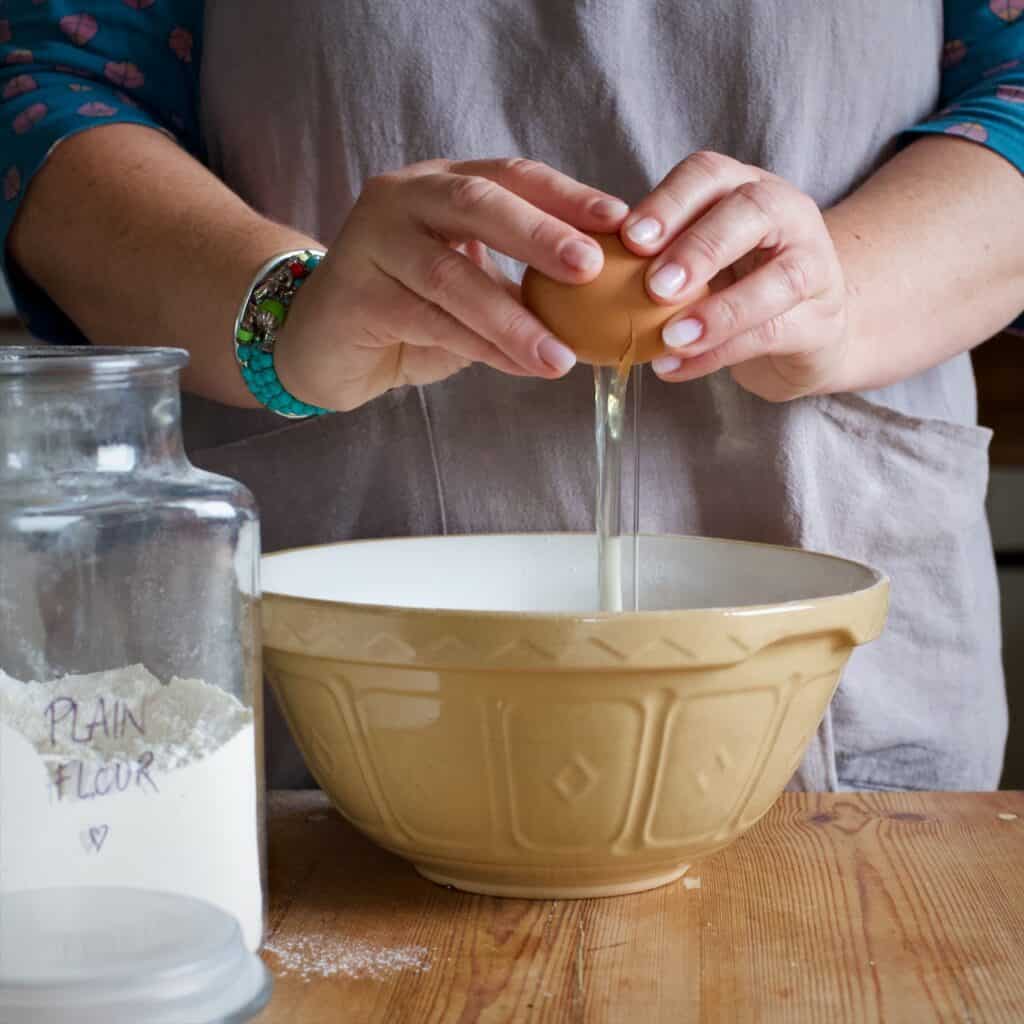 Stir together until you have a soft, squishy dough.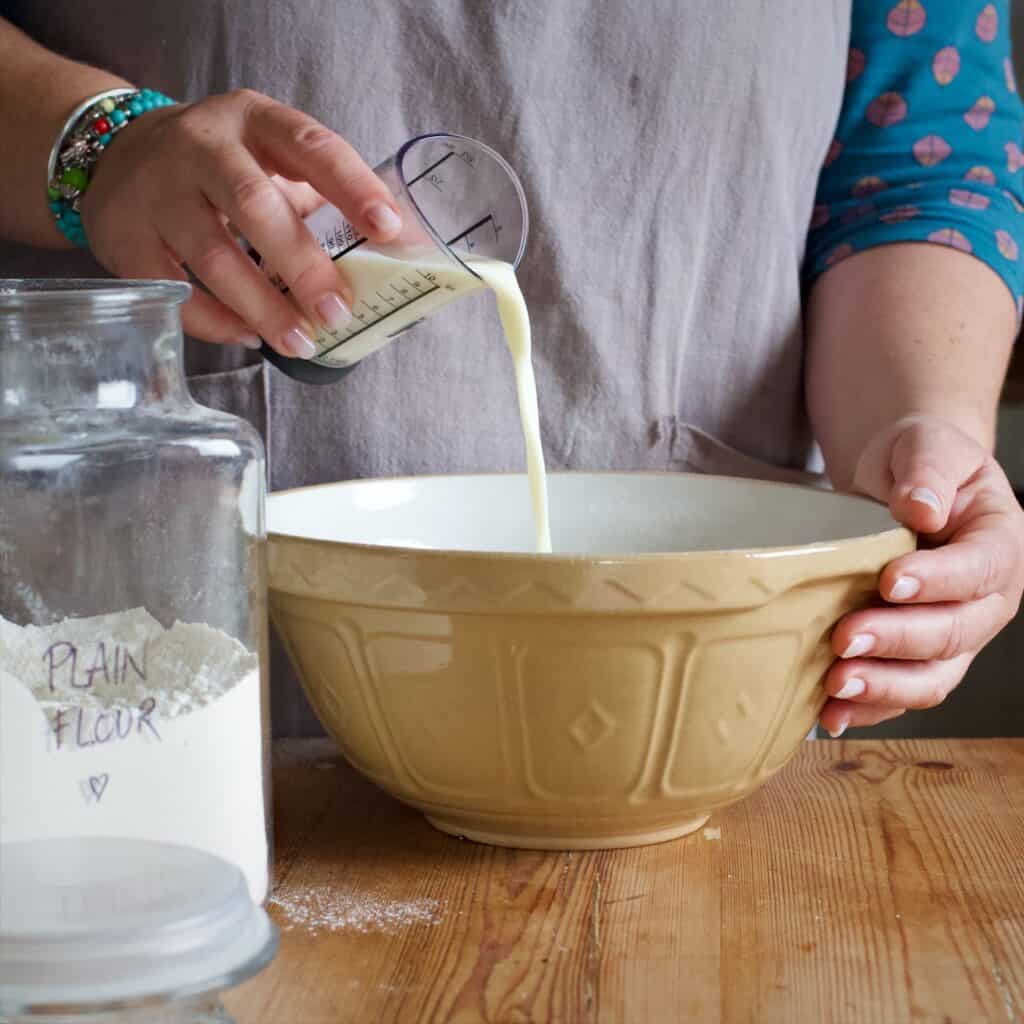 I added too much milk to my bowl initially so my dough was a little too wet and stuck to the work surface (see the pic below).
Don't worry if you make the same mistake, just add a little more flour to thicken and dry it up.
If your dough is too dry and stiff, keep adding a little more milk at a time until it becomes easier to work with.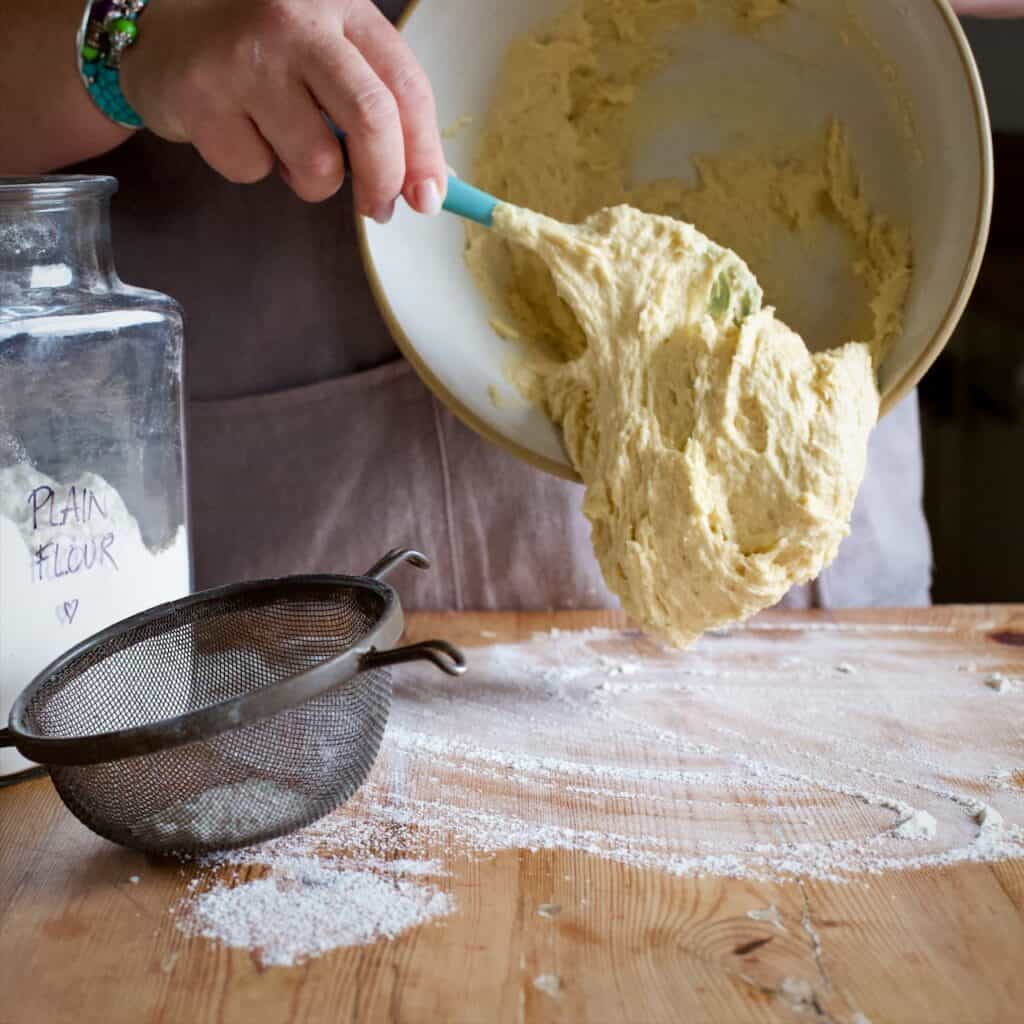 2/ how to cook stovetop griddle cakes
Preheat a frying pan or skillet over a medium heat.
Tip the dough out on to a work surface that's been dusted with flour.
Roll the dough out until it's about 5mm thick. If it sticks to the rolling pin or surface, just sieve a little flour over it.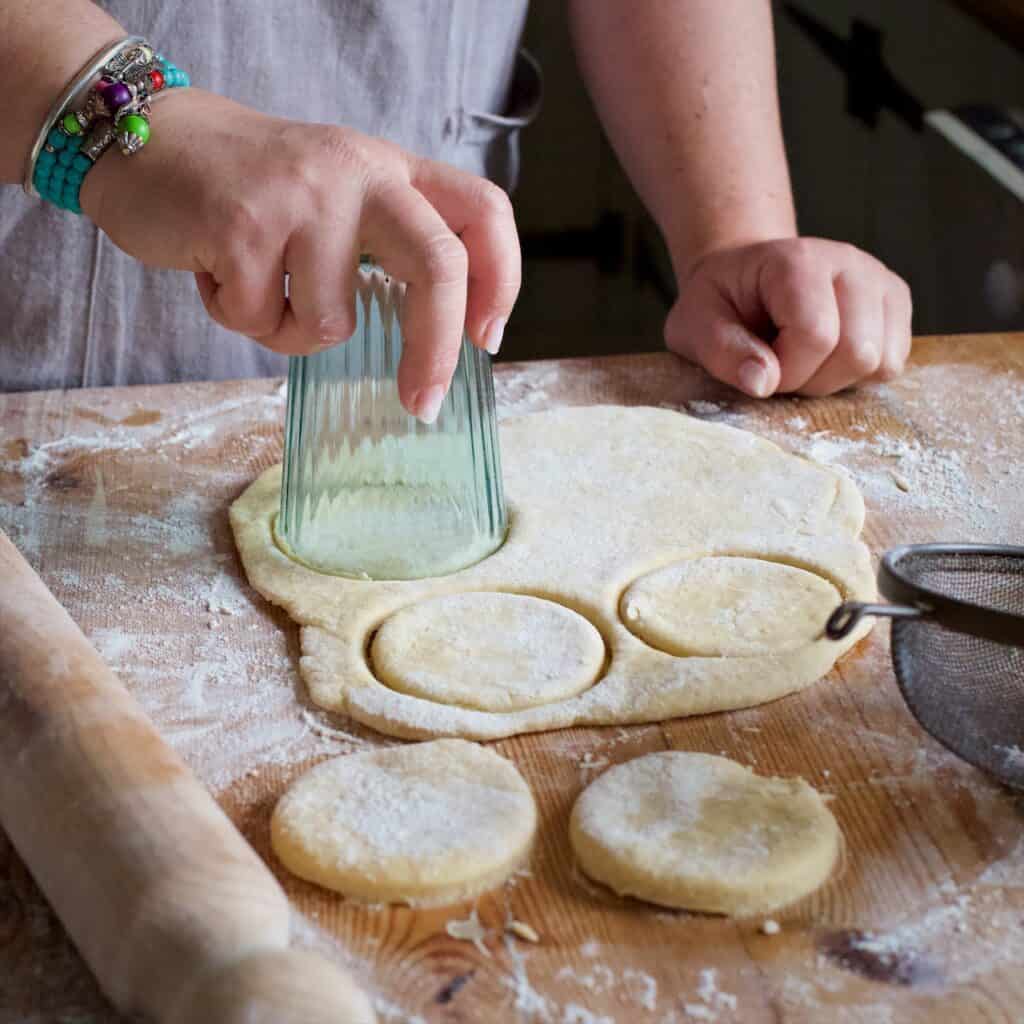 Using a cookie cutter or upturned glass, cut out disks of dough.
Spray the hot pan with a little oil, then slide a butter knife under each disk of dough to transfer it to the pan.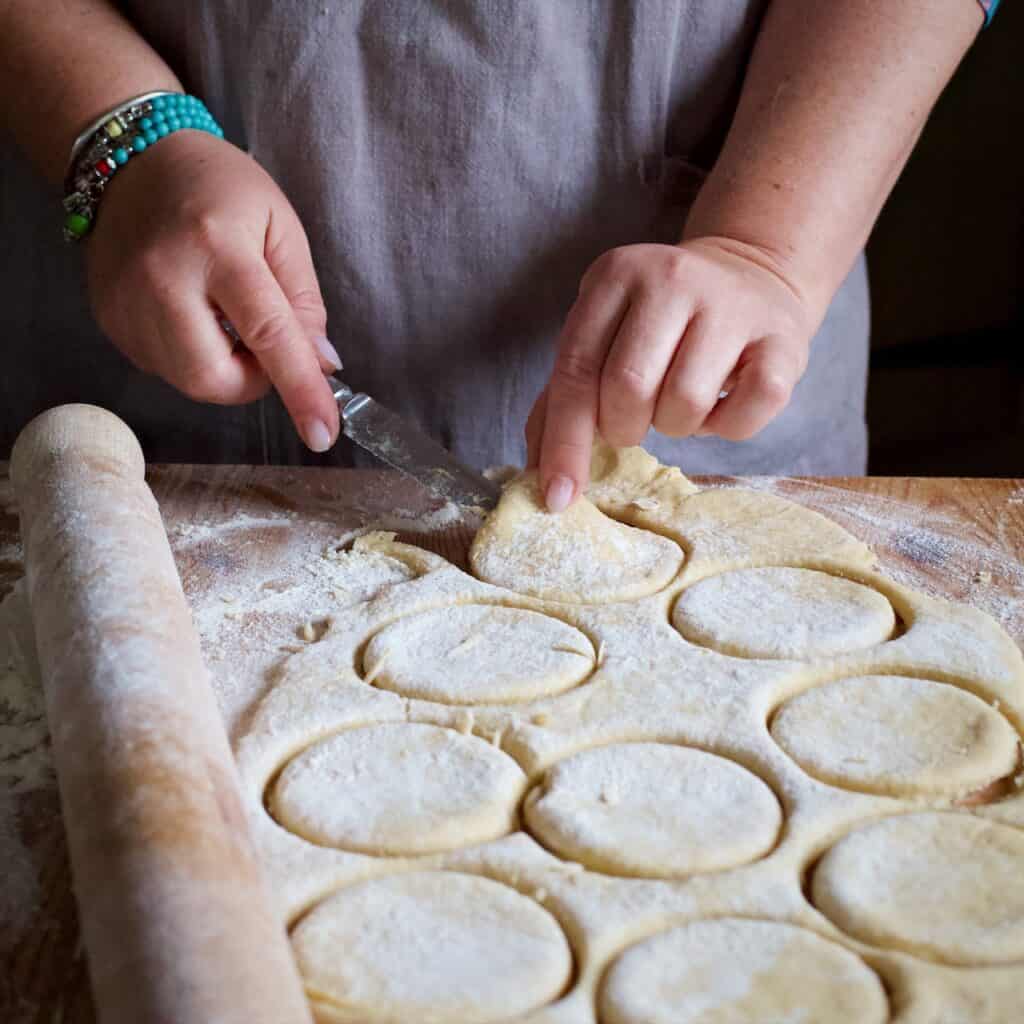 Place just enough griddle cakes in the pan that will fit comfortably without being overcrowded.
Cook for about three minutes, or until the underneath is golden brown.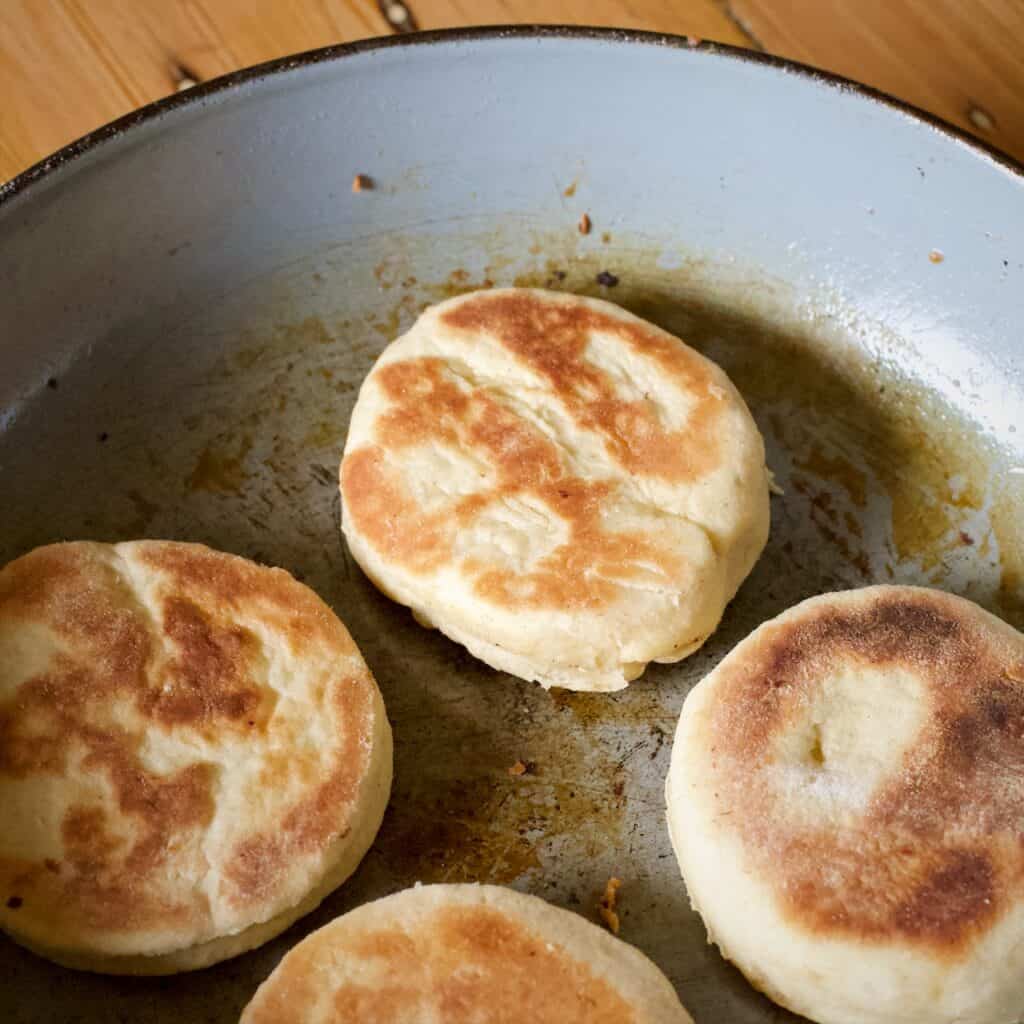 Flip the cakes over and repeat on the second side. Mine took 6 or 7 minutes in total to cook right through.
Place onto a plate to keep warm whilst you cook the rest.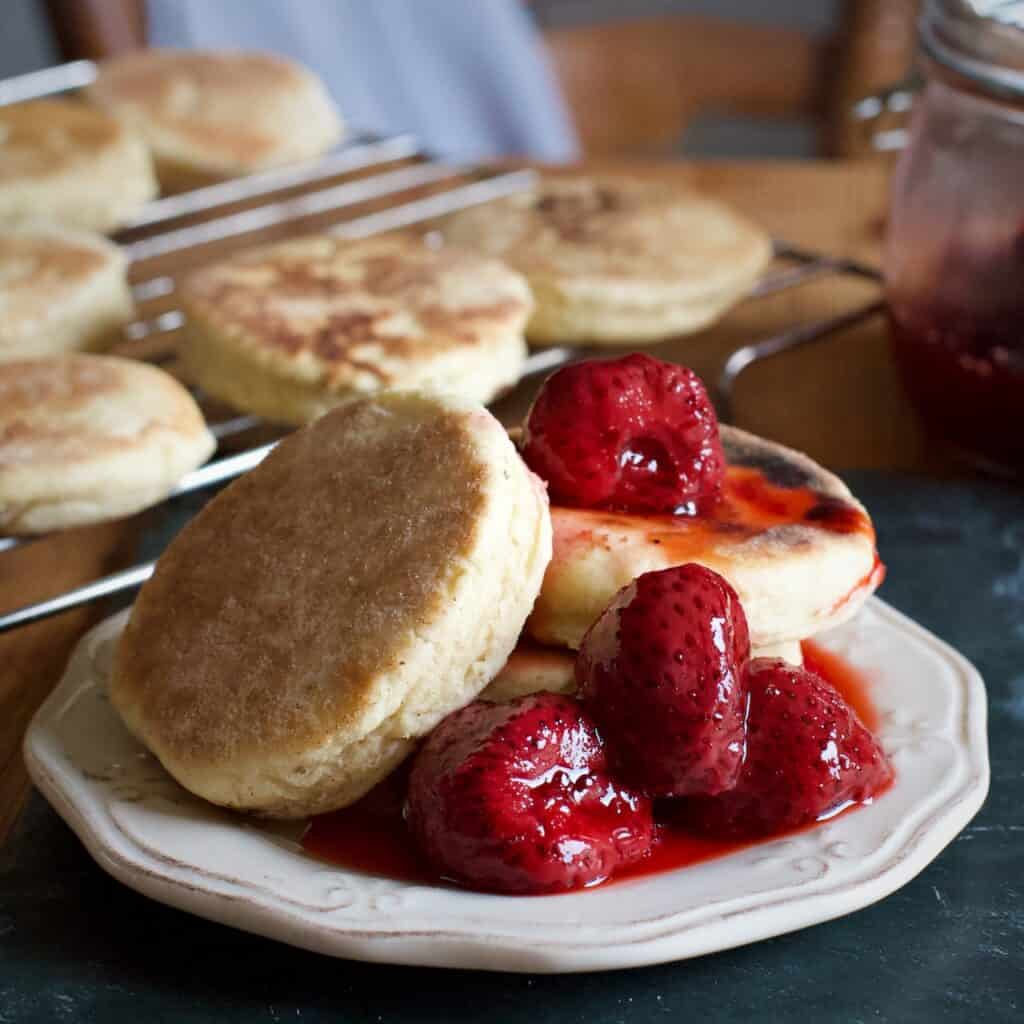 Serving the Roast Strawberries and Hot Griddle Cakes
To serve, simply pile up 2 or 3 griddle cakes onto a small plate.
Spoon over a few of the roast strawberries, then top that with a good drizzle of the juices too.
It makes a stunning weekend breakfast when you and need something a little more special than usual.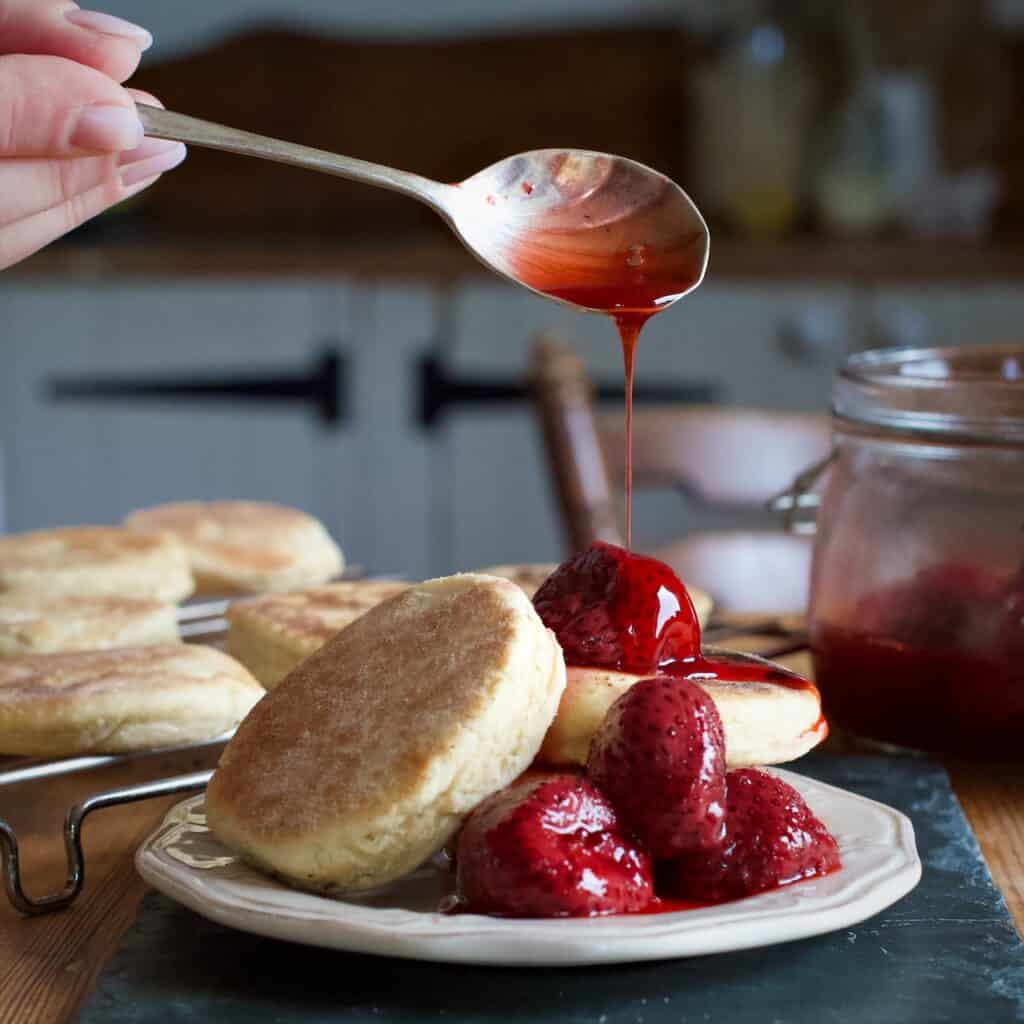 The roast strawberries in the picture above were cold, as I'd made them two days prior to making the griddle cakes.
You can see that when cool, the strawberry juice thickens and becomes quite syrupy. Even though there was no sugar added!
---
I hope you love this recipe as much as we do :)
Please feel free to tag me in any pics you share online if you give this, or any of my recipes a go! I love seeing my food being made all over the world, and I try to share all the pics I see. You can find me pretty much everywhere as @hedgecomber.
Janie x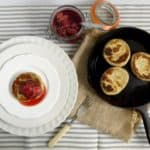 Roast Strawberries on Hot Griddle Cakes
Course:
Breakfast, Dessert
Keyword:
griddle cakes, roast strawberries
Ingredients
griddle cakes
225

g

plain flour

1

tbsp

baking powder

- level

1

pinch

salt

100

g

butter

- cubed. For a more traditional griddle cake you could swap half of the butter (50g) out for lard if you have some.

3

tbsp

sugar

1

lemon

- zest only

1

egg

100

ml

milk
Instructions
how to roast strawberries
Preheat the oven to 170C/150fan/325F.

Hull the strawberries and place in an even layer on a baking tray.

Bake for 15-20 minutes, by which point they should have collapsed into themselves and be sat in a puddle of strawberry juice.

If however they're still pert and firm, switch the oven off & let them sit in the hot oven for another 5-10 minutes.

Pour the strawberries and juice into a clean jar and allow them to cool fully before putting on a tight fitting lid and storing in the fridge.

Once in the fridge they'll last a few days.
how to make griddle cakes
Mix the flour, baking powder and salt together.

Rub in the butter (and lard if using) with your fingertips until it resembles breadcrumbs.

Stir through the sugar and lemon zest.

Crack in the egg and pour in the milk.

Mix together until you have quite a stiff dough.

Dust a clean worktop with a little flour and use a rolling pin to roll the dough out to about 5mm thick.

Cut into rounds using a cookie cutter or upturned glass.

Repeat with the leftover dough until it's all used.
how to cook griddle cakes
Preheat a griddle or heavy bottomed frying pan over a medium high heat.

Grease the pan with a little oil or butter and add as many griddle cakes that will fit comfortably into the pan. Cook for about three minutes and then flip, cooking for a further three minutes on the second side.

Keep the cooked griddle cakes warm until all the dough has been cooked.

To serve, stack three or four hot griddle cakes onto a plate.

Top with some of the roast strawberries and pour over a little of the juice.
Nutrition Facts
Roast Strawberries on Hot Griddle Cakes
Amount Per Serving
Calories 501
Calories from Fat 207
% Daily Value*
Fat 23g35%
Cholesterol 98mg33%
Sodium 202mg9%
Potassium 652mg19%
Carbohydrates 67g22%
Protein 9g18%
Vitamin A 747IU15%
Vitamin C 88mg107%
Calcium 209mg21%
Iron 4mg22%
* Percent Daily Values are based on a 2000 calorie diet.