This rhubarb, strawberry and ginger jam recipe brings together three gorgeous flavours that complement each other perfectly.
It's delicious served with hot buttered toast, or dolloped on a steaming bowl of rice pudding!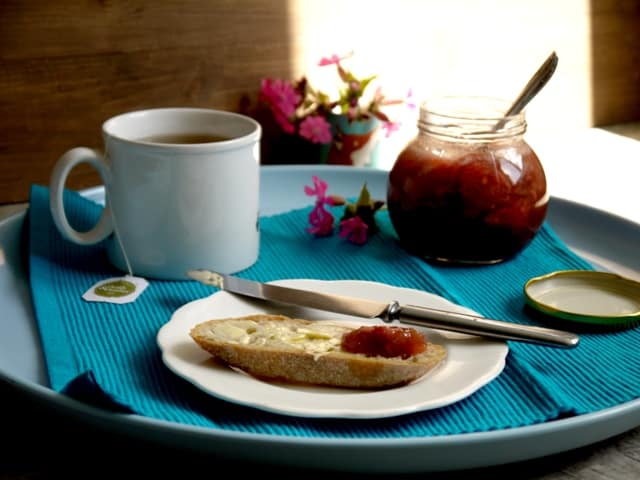 Rhubarbs jam is often best saved until later in the rhubarb season when the stalks are long and thick.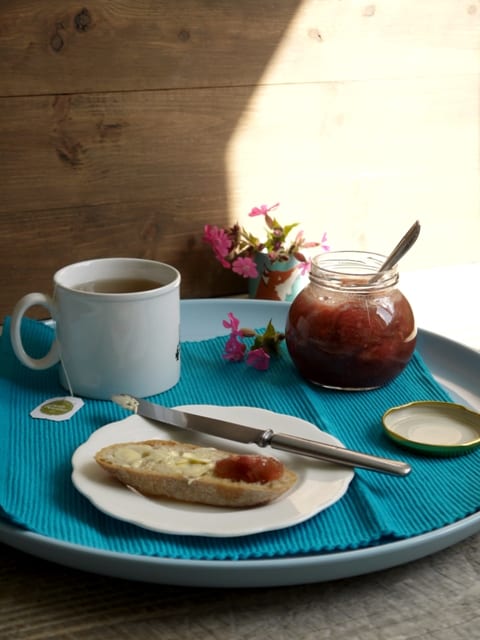 When the stalks are young and tender, they are far too delicate for preserves, and are best saved for gently poached dishes.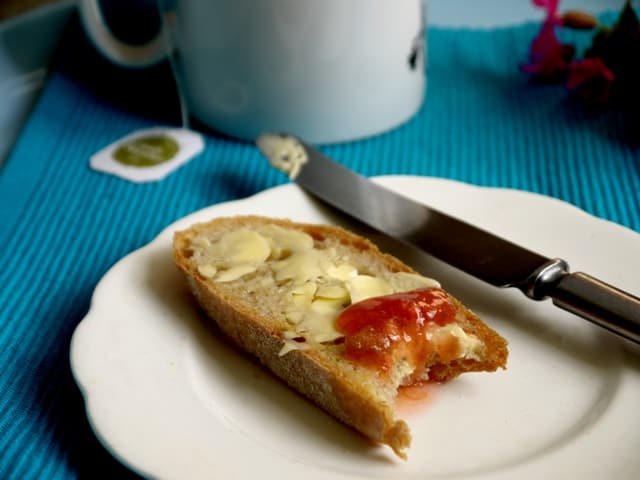 The following recipe makes about 10 jars. So be sure you have a few ready and sterilised before you get jamming!
If you give it a go, do let me know how you get on.
Janie x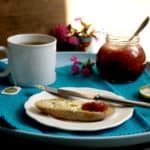 Rhubarb, Strawberry and Ginger Jam
Keyword:
rhubarb strawberry and ginger jam
Ingredients
1.8

kg

rhubarb

- stems only

450

g

strawberries

1.8

kg

granulated sugar

150

g

fresh root ginger
Instructions
Pre-sterilise your jam jar, lids, jam funnel and ladle by running through the dishwasher on a hot wash. Keep all equipment in the dishwasher with the door closed until need to keep it hot.

Chop the rhubarb into inch long pieces.

Place into a large, deep saucepan or preserving pan, add 2 tablespoons of water and pop on the lid.

Simmer gently for 10 minutes.

Pour the sugar into the pan, give it a stir and simmer until the sugar is all dissolved.

Meanwhile, peel and finely chop ginger.

Don't crush the ginger as this will leave you with stringy bits in your jam. Instead, use a sharp knife to really finely chop it up.

Once the sugar is dissolved, add the ginger and the strawberries to the pan.

Bring to a boil, and continue boiling for about 15 minutes, or until setting point of 105°C (220F) is reached.

There will likely be a layer of white foam on the top of the boiling jam.

It won't harm your jam to leave this in, but your finished jam will look much cleaner if you scoop it off using the ladle.

Remove the pan from the heat and using the jam funnel and ladle, carefully scoop the boiling hot jam into the hot jam jars.

Top with wax paper jam discs and seal immediately.
Nutrition Facts
Rhubarb, Strawberry and Ginger Jam
Amount Per Serving
Calories 947
Calories from Fat 9
% Daily Value*
Fat 1g2%
Sodium 14mg1%
Potassium 816mg23%
Carbohydrates 242g81%
Protein 3g6%
Vitamin A 236IU5%
Vitamin C 52mg63%
Calcium 208mg21%
Iron 1mg6%
* Percent Daily Values are based on a 2000 calorie diet.