We have reared our own Ross Cobb chickens for the table for many years, and it makes economical sense if you choose to eat meat & if you have the land. It provides us with 'happy meat' that is fed on good quality food, whilst spending its days running round on grass under an (intermittent) Cornish sun.
However, having just culled the last 15 birds from this batch of Ross Cobb table birds, we (Jonny, my brother Stuart & I) are repulsed and sickened to the point of no return.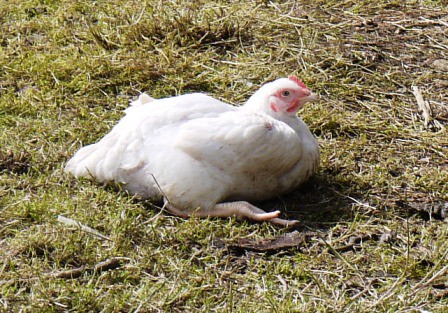 My Dad has farmed this land since the 70's, and he opted for the commercial breed of chicken known as the Ross Cobb table bird. Every year we would take delivery of these chunky little birds with thick legs and huge feet, and watch them grow into beachballs with feathers.
The Ross Cobb weighs in at 2 kg at 6 weeks. Think about how big an egg is, and how big a 2 kg chicken is. All that growing in 6 weeks? Crazy. Ours go on for up to 12 weeks, creating a roasting bird more reminiscent of a turkey than a chicken.
I have fed, plucked and drawn enough of these birds to tell you that all too often their body mass grows quicker than their legs ability to hold them up. They 'go off their legs' because their skeleton can't keep up with their obscene growth of muscle.
Several birds per batch drop dead of heart failure, due to the abnormal demands made on their cardiovascular system.
Apparently, this is farming.
Well, no more. The 3 of us have finally quit taking part in growing this kind of meat.
A fresh start
Next spring we will find a nice little trio of Buff Orpingtons or White Leghorns maybe. We'll grow meat in a slow, old fashioned & sustainable way that makes sense to us, and we'll eat chickens that we know lived a happy life.
If I can offer any advice to anyone still considering rearing these birds, cull them young and don't order more than you can handle. If life gets in the way (which has happened here with Dad getting sick) they don't pause in their relentless growth waiting for you to catch up. They just keep getting bigger & bigger.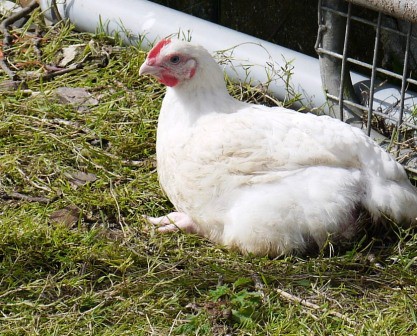 Have you ever grown Ross Cobbs, or would you never entertain the idea?
Also, do you have any thoughts as to which old fashioned meat bird we should plump for next year? If so, please leave a comment below.
Janie x
8/4/15 Edited to add this useful comment from Stuart;
Hi Janie,
Just stumbled across this on Google.
I breed and rear these commercial type birds here in the UK on a small scale, I have a couple of dozen breeders.
I have spent many years in the poultry industry though and a lot of them on broiler farms.
These birds by design are bred to grow as quickly and as big as possible.
They should not be kept any older than 8 weeks of age, normal commercial practice is to kill hens at 5-6 weeks at around 2Kg and the males at 7 weeks at around 3.5Kg, I have never heard of them being kept longer than 8 weeks of age commercially.
They are not bred to be kept longer/bigger than that, any that are kept past that age or size will suffer from the size and weight related problems you have experienced unless fed a restricted or low nutrition diet.
Although they are often incorrectly referred to as Ross Cobbs, they will be either Ross OR Cobb, these are the two major broiler producing companies so you will either have a Ross bird or a Cobb bird, Hubbard is another breeding company regularly available but a smaller sized producer.
The pure breeds don't come close to the performance of the commercial strains, I looked at rearing pure breeds for the table but when you cost the feed they eat to the time it takes them to reach a decent weight they will end up costing you a lot of money for very little return.