I've been wanting to learn some basic pork butchery skills for an age, and I when I saw this class advertised, I signed up straight away.
It was held at Etherington's Butchery Academy, in Scorrier near Redruth. A purpose built butchery school which is only a year old, with a farm shop and bakery attached.
After getting kitted out with chain mail glove, rather attractive blue hair net and butchers coat I was given the obligatory health & safety chat and then told that any cuts of meat I made that were good enough, would be put out for sale in the butchers.
No pressure whatsoever then!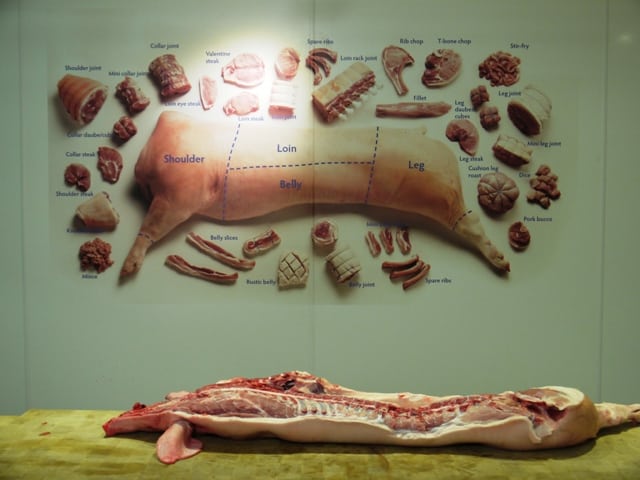 I was a little surprised (and utterly delighted) to be the only student in my class. I had the lovely tutor Frank all to myself! In a regular sized class of 4-6 students we'd each be expected to take apart a shoulder joint, however with the one on one training I ended up butchering an entire half pig.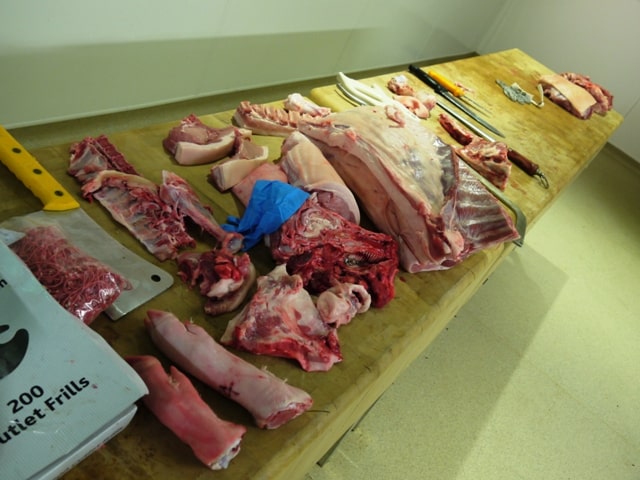 This is what my half pig looked like after a couple of hours. Apparently it takes Frank about 15 minutes to do what it took me all morning to achieve!
Throughout the day we covered knife skills, sharpening & safety, butchers knots and how to tie up a joint and open, tunnel & sheet boning. I cut & rolled a loin rack joint which looked very fancy, along with loads of other pieces I've forgotten the names of, but the highlight of my day was making sausages.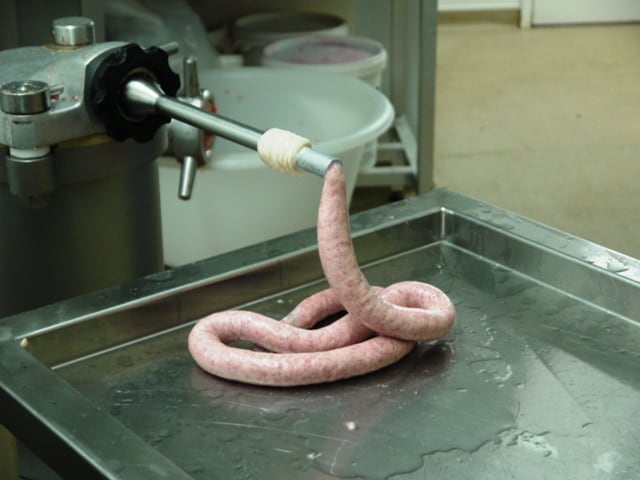 Once all the spare meat was minced, it was mixed by hand with a divine smelling pork & apple seasoning & some water, minced again and then stuffed into traditional hogs casings.
Learning to link the sausages wasn't quite so easy, but I got there in the end. It was great fun and I managed to get some half decent looking bangers out.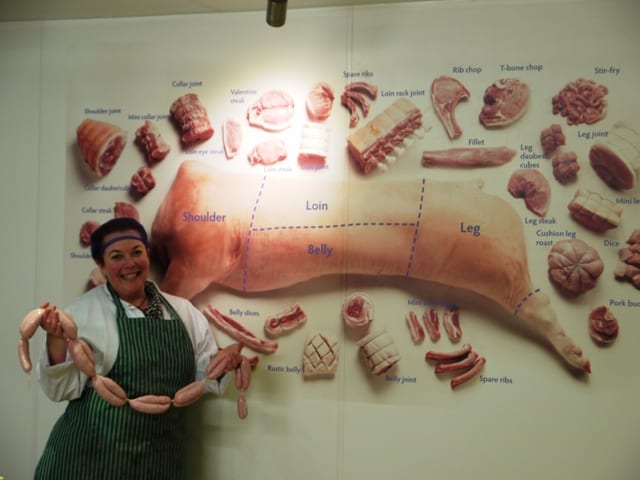 See that loin rack at the bottom of the pic with the fancy with frilly things on? That was one of mine :) I was so tempted to buy it, but instead I plumped for a lovely piece of meaty belly pork that I'd had my eye ever since removing it in the morning. The rolled joint above it was mine too, but I wouldn't have blamed them if they'd taken it out the back and turned it into sausages as soon as I'd left!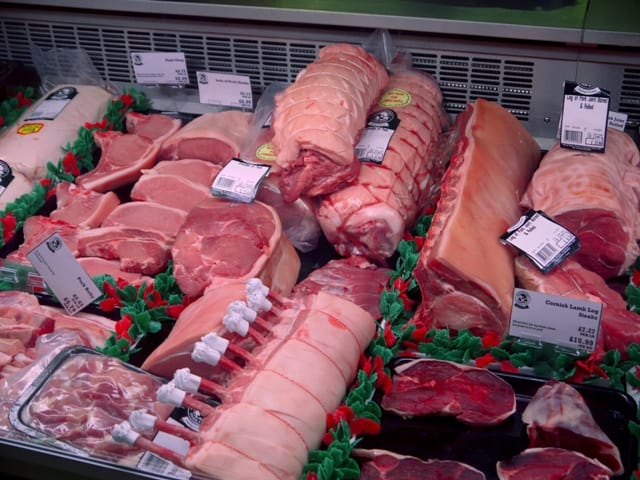 If you any interest at all in learning lamb, beef or pork butchery, I can't recommend this school highly enough. I can't wait to get next years piggies, and to save myself a fortune getting someone else to butcher them.
A full days lesson at the academy costs £79.95 + VAT while a half day costs £50 + VAT. However, if you have a holding number, you may be able to book the course as I did though the Rural Business School at Duchy College for a discounted rate.