This Pollock and Grilled Corn Curry is inspired by the rich fiery curries of Sri Lanka, with the sweet white fish and grilled corn balancing out the heat perfectly.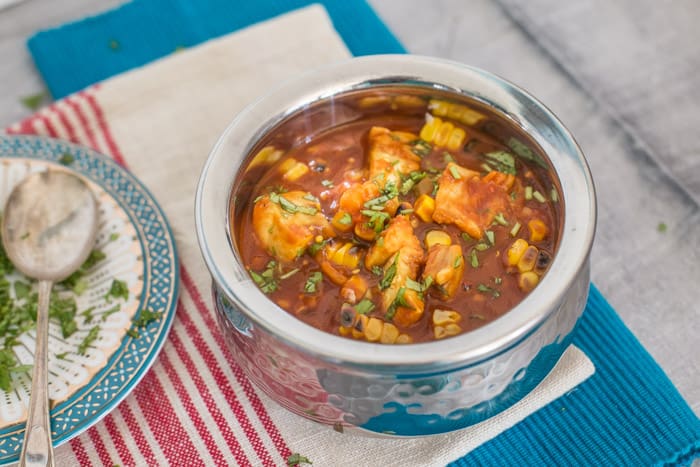 Regular visitors to Hedgecombers.com will know that I lurve my seafood. I guess it helps living on the south Cornish coast, just three miles from a small fishing port, but I try to sneak it in as many meals as possible. Much to Jonny's disdain.
In fact we have some really low tides this weekend and I'm off razor clamming with friends. Last time I went I only snagged one so I'm hoping the clamming gods are on my side this time!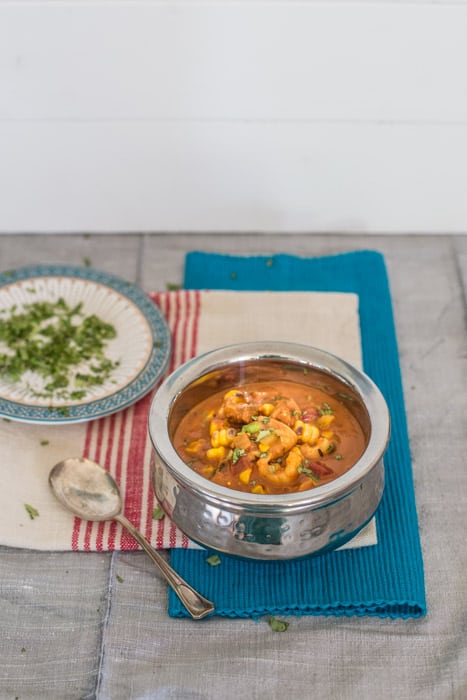 And now I have a fishy secret to share. Even though I live so close to perfect fishing waters and great fishmongers, I always, always, always have a stash of different fish and seafoods in my freezer. Whilst for most dishes I would prefer fresh, at times the weather stops our local fleet from going out to sea. Other times I'm in that joyous freelancer dry spell waiting for invoices to clear so avoid shopping like the plague. And at yet other times I've spent the day at my computer, in my PJ's, and cant rustle up the energy to dress appropriately to leave home and shop.
A final reason to opt for frozen is if you don't have a decent fishmonger in your area. Frozen fish will usually be fresher than what you'll find on the supermarket wet fish counter. Go figure.
In my freezer you'll always find at least one bag of prawns as they are the epitome of fast food. There is usually a bag of salmon fillets and at least one variety of white fish. Pollock is my current white fish of choice. It's cheaper than cod and generally more sustainably caught. It's also meaty enough to withstand cooking in wet dish like this without falling apart.
The pollock I used here is courtesy of Iceland. It's extremely good value, currently £4 a kilo, and is encased in a thin protective layer of ice that ensures the fish defrosts perfectly with no freezer burn or dried out bits.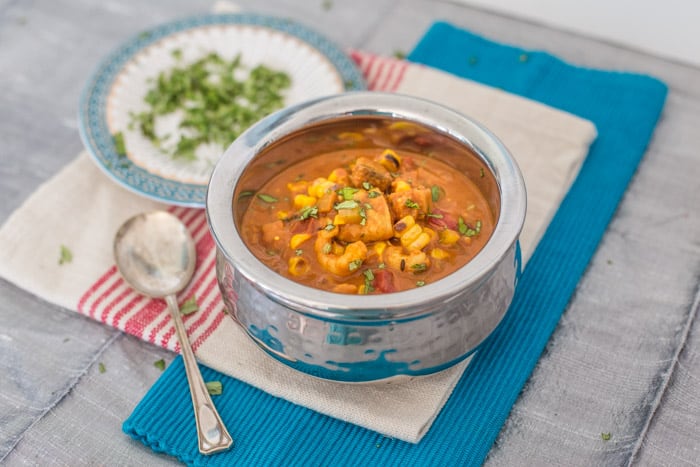 Pollock and Grilled Corn Curry
When I realised just how eye wateringly hot my home grown and dried chillis were (after I'd added them to the curry I hasten to add) I decided this spicy little number also needed the sweet juices of some freshly picked corn too. I cooked the cob under a hot grill to slightly blacken and blister the kernels first, just to add another layer of smoky flavour to the pot.
Traditionally a Sri Lanken curry is served with rice, but feel free to serve it whatever you fancy. Crusty bread, egg or rice noodles or as I did in all its naked glory for a filling low carb option.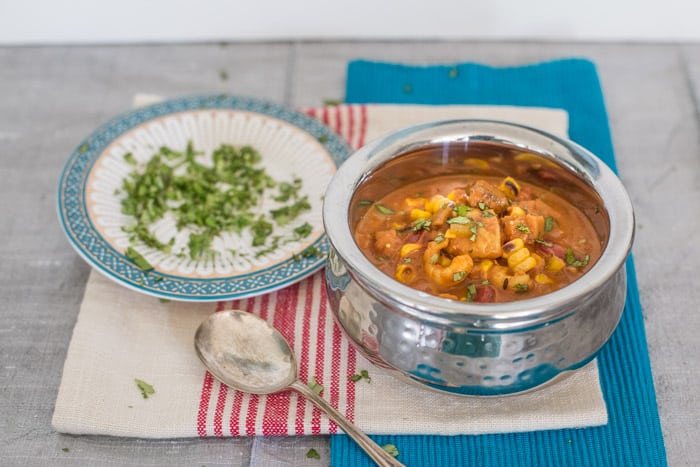 So there we have it. Pollock and Grilled Corn Curry. It's fiery, it's tasty and incredibly easy to throw together. Enjoy!
PS for all you other lactosally challenged, Iceland also have a range of pre-prepared seafood meals which I grabbed a couple of whilst last in store. They go from freezer – to hob – to plate in just 9 minutes.
So far I've only tried the one below and can highly recommend it (never thought I'd say that about a ready meal!!). The clams are juicy and tender, the sauce is really well flavoured and the ingredients are things you have in your own kitchen. No additives, no weird stuff and absolutely no dairy :)
Each pack serves two with pasta, but I had it low carb & pasta free all to myself. It was really, really good and I will definitely be buying it again. It's a bargain for only £3! Oh and if you're planning on making my Pollock and Grilled Corn Curry and want to get your pollock from Iceland, they call it whitefish. Not sure why, but look out for the bag below.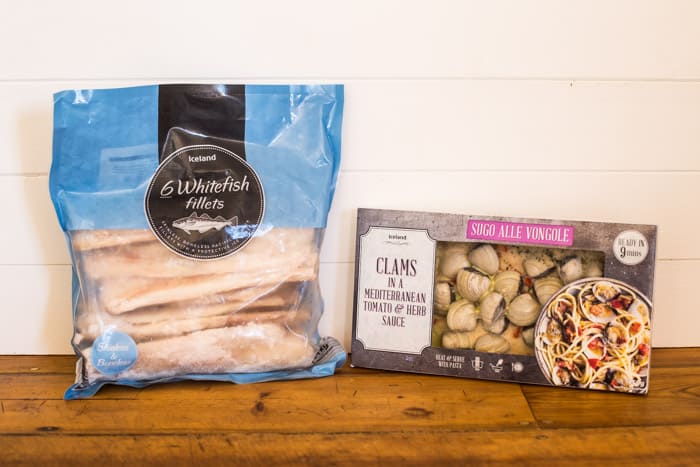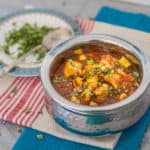 Pollock and Grilled Corn Curry
Ingredients
Step one
1

fresh corn on the cob or the equivalent in frozen sweetcorn
Step two
1

tablespoon

oil

butter or ghee

1

onion

finely diced

1

inch

piece of fresh ginger

finely grated
Step three
2

cloves

garlic

minced

1

teaspoon

turmeric

1

teaspoon

yellow mustard seeds

1

teaspoon

cumin seeds

Crushed seeds from 5 cardamom pods
Step four
500

g

carton of passata

2

large fresh tomatoes

cored and chopped

1

teaspoon

tamarind paste

1

teaspoon

hot chilli flakes

more or less to taste

Juice from 1/2 a lime
Step five
2

boneless & skinless fillets of Pollock

defrosted if frozen and diced into bite sized pieces

A handful of defrosted cooked prawns

1/2

a can of coconut milk

Fresh coriander for serving

optional
Instructions
Step one
Heat the grill (or BBQ) and grill the corn on the cob until the kernels start to blacken. Keep rotating the cob so that it cooks equally. Remove from the grill and when cool enough to handle slice the kernels off with a sharp knife. If corn isn't in season ignore this step and add in a handful of frozen sweetcorn kernels a couple of minutes from the end of cooking.
Step two
Heat the oil in a large pan over a medium heat. Gently cook the onion and ginger until the onion has softened
Step three
Turn the heat up and add in the garlic, turmeric, mustard, cumin and cardamom seeds. Move them round the pan for 2 - 3 minutes
Step four
Pour in the passata, tomatoes, tamarind paste, chilli flakes and lime juice. Stir well and let simmer for 5 minutes.
Step five
Add in the pollock and let cook for another 4-5 minutes or until the fish is cooked right through. Add in the prawns and corn kernels for the last minute of cooking time to heat through before serving.
Huge thanks to Iceland for sponsoring this recipe post and allowing me to continue bringing you tasty recipes, for free. As always all thoughts, and leftovers, are my own ;)
Janie x