Here's a simple poached rhubarb recipe that will turn those sour stalks into a sweet and tender dessert you'll look forward to all year!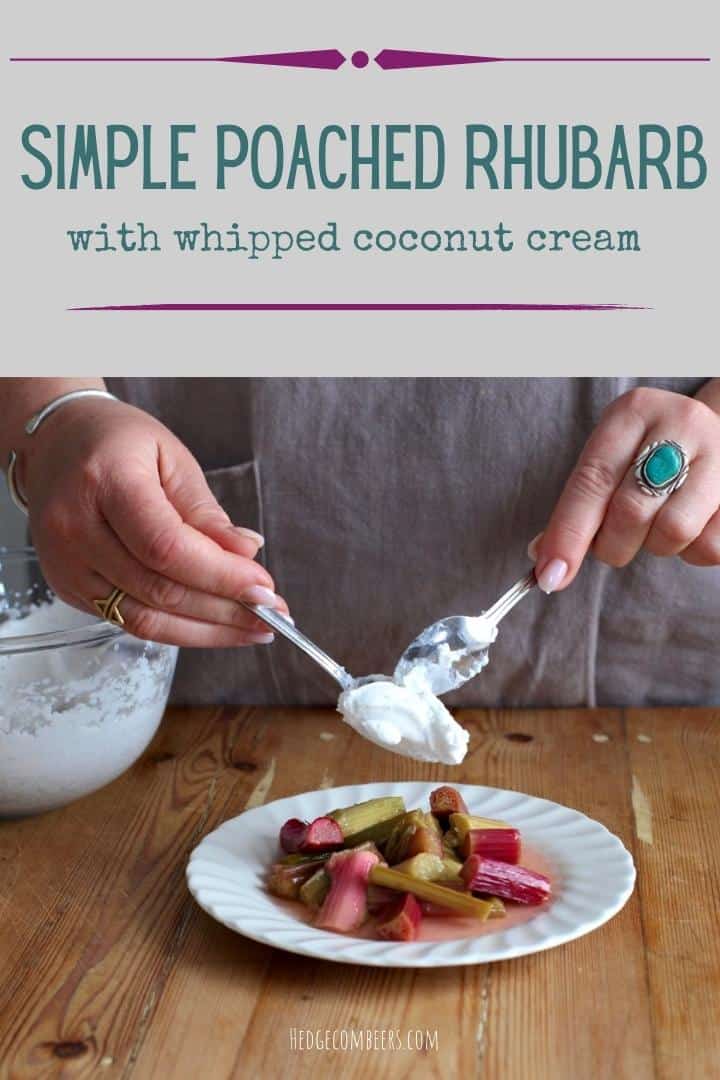 This recipe post was last updated in June 2022.
This is the year I officially fall in love with rhubarb.
Like most kids, I didn't enjoy something that needed a tonne of sugar on it to make it taste anything but sour.
Like olives and spinach, rhubarb is a flavour I had to grow adult tastebuds to truly appreciate!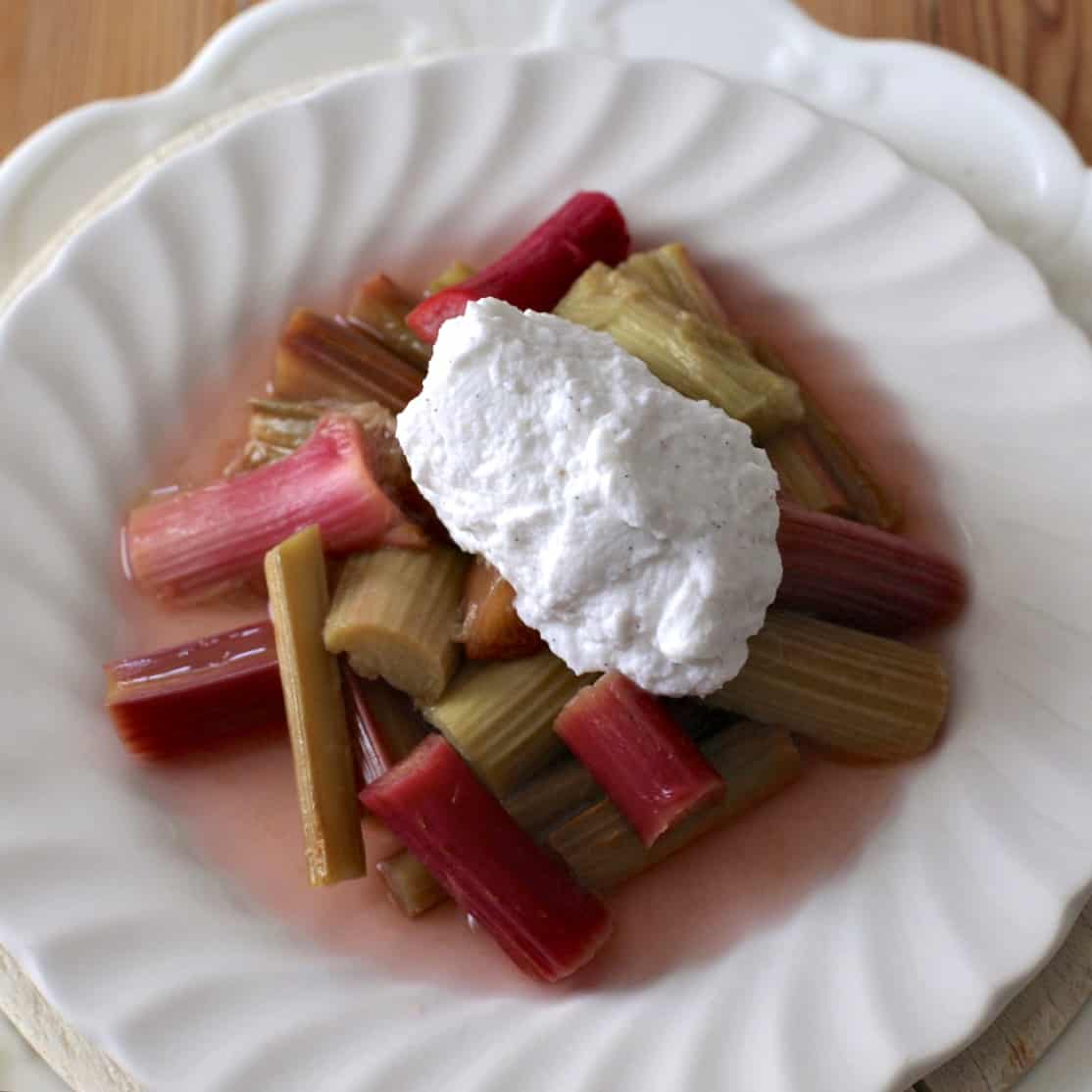 Whilst I love this gorgeous Rhubarb Tarte Tatin recipe, I wanted a go to recipe that was more simple.
That I could enjoy if home alone, or if there weren't enough rhubarb stalks left in the allotment to make a large dessert.
That I could whip up from simple store cupboard ingredients, in next to no time.
And that's when I created this really quick poached rhubarb recipe.
The whipped coconut cream makes it fancy enough to to share with friends, but is entirely optional.
How to make poached rhubarb
1/ prep your rhubarb stalks
First up, pick (or buy!) your rhubarb stalks.
Remove any leaves (don't forget they are poisonous to humans and some pets, so dispose of them carefully).
And give them a good scrub under cold running water.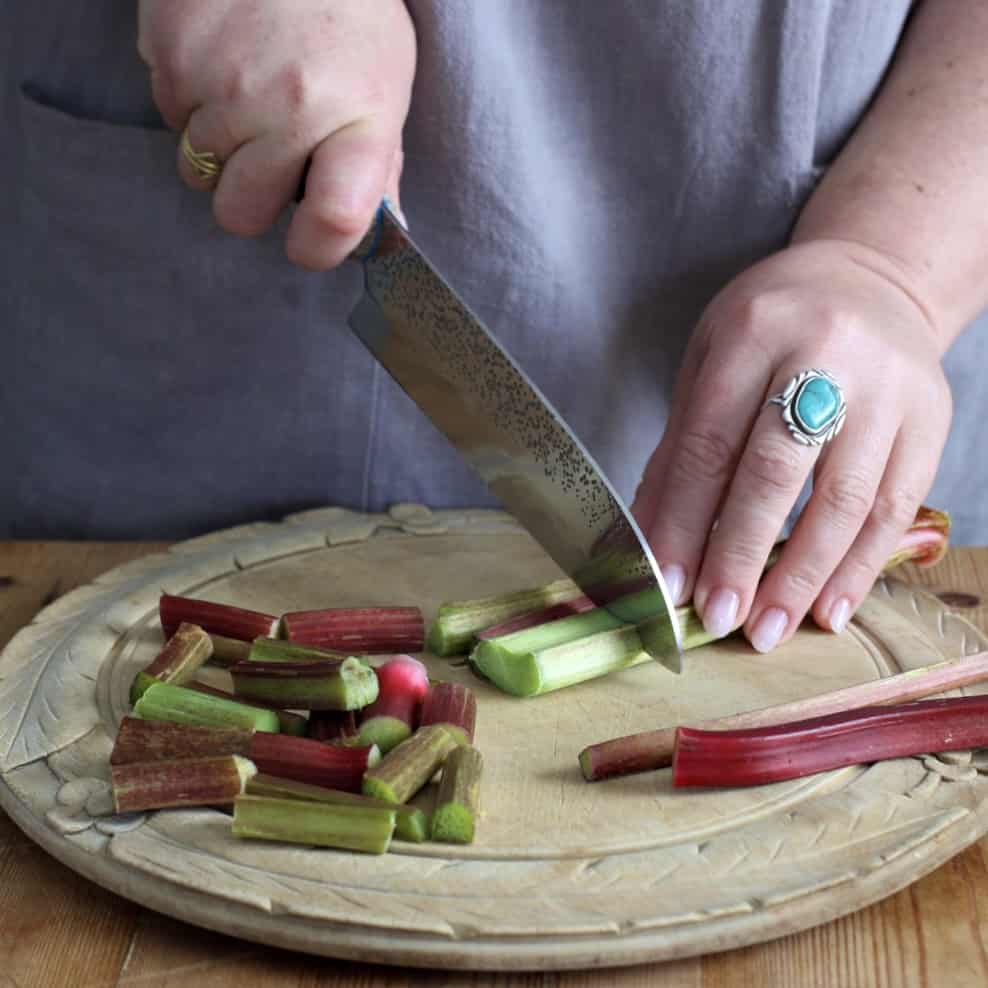 2/ chop the rhubarb
Cut each rhubarb stalk into bit sized pieces.
I found about an inch in length is perfect.
You could keep the stalk whole, but they will poach more evenly if they fit in a saucepan in a single layer.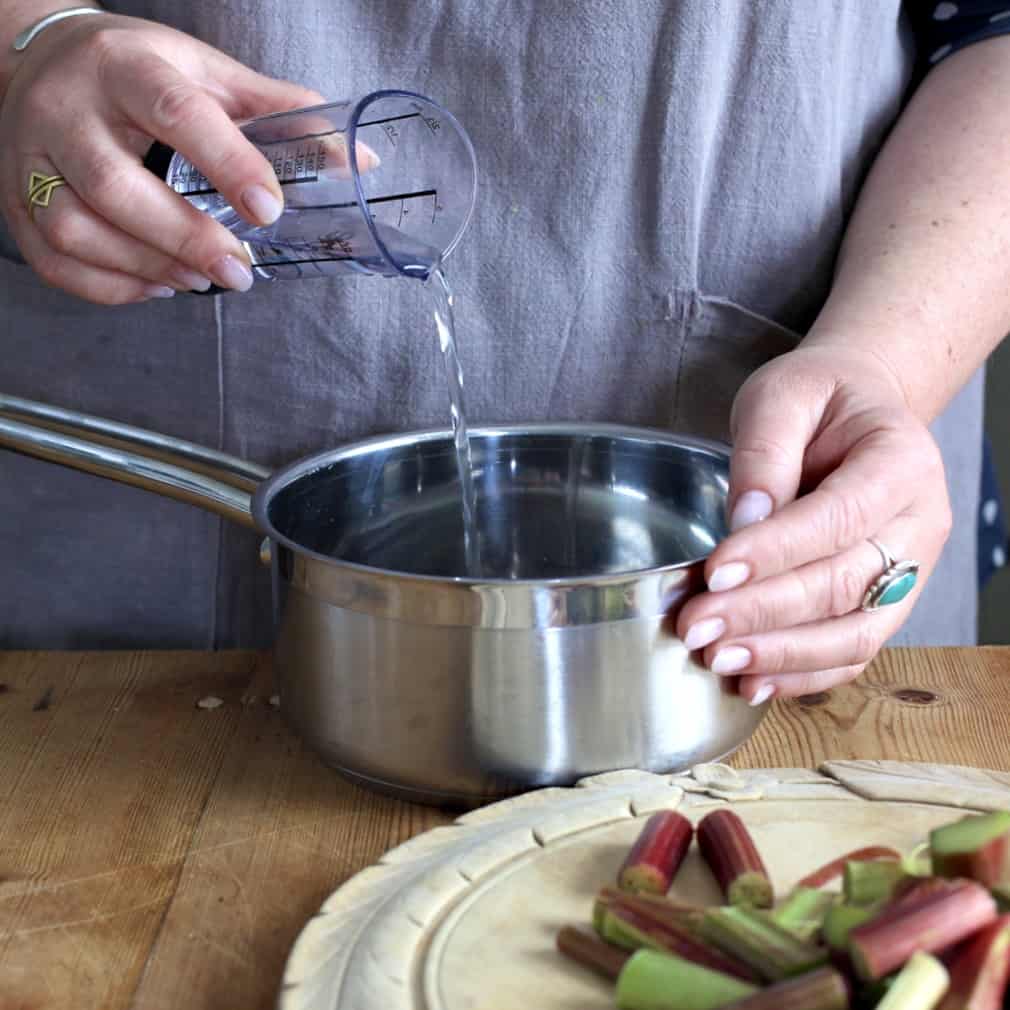 3/ make the poaching liquid
In a small saucepan, add the water and brown sugar.
Pop on the lid and heat over a medium high heat until the water is bubbling.
Shake the pan around a little until the sugar has all dissolved.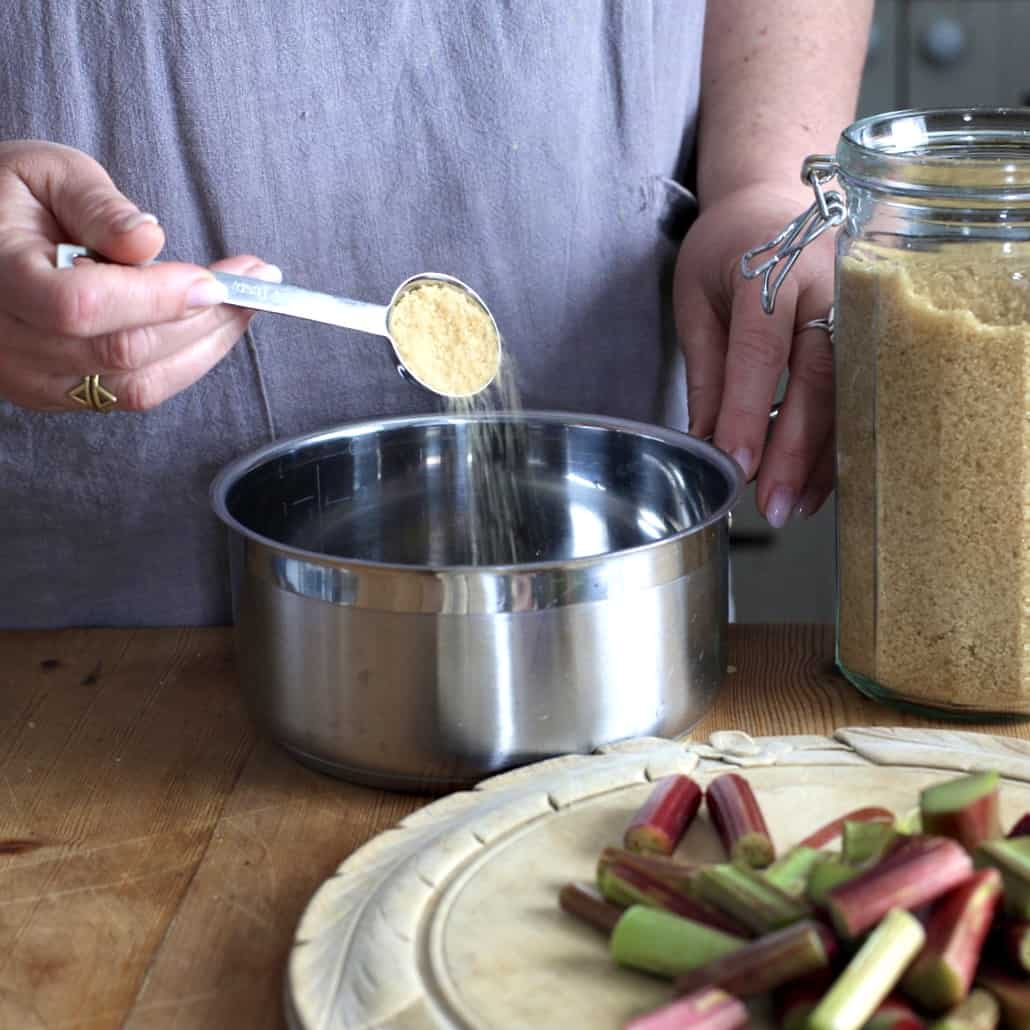 4/ add the rhubarb to the poaching liquid
Carefully tip the rhubarb pieces into the hot water.
Replace the lid and return the pan to the heat.
Turn the heat down and let the rhubarb very gently simmer, until the stalks are soft but not mushy.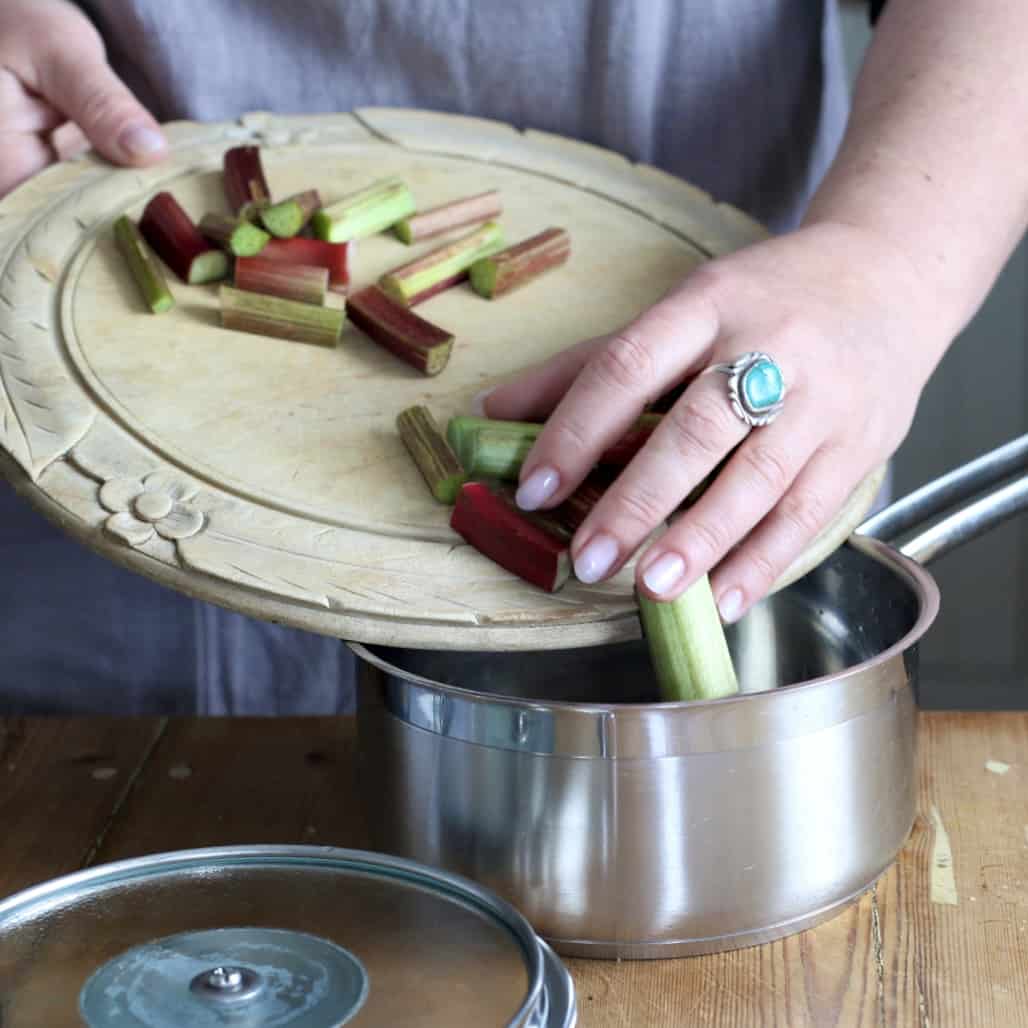 5/ serve your poached rhubarb
To serve, place your poached stalks of rhubarb onto a dessert plate.
Pour over the sweet poaching liquor.
You can serve this as is for a very simple and frugal dessert. It also makes a gorgeous addition to a bowl of porridge or a rice pudding.
However if you'd like to serve it with whipped vanilla coconut cream, keep reading!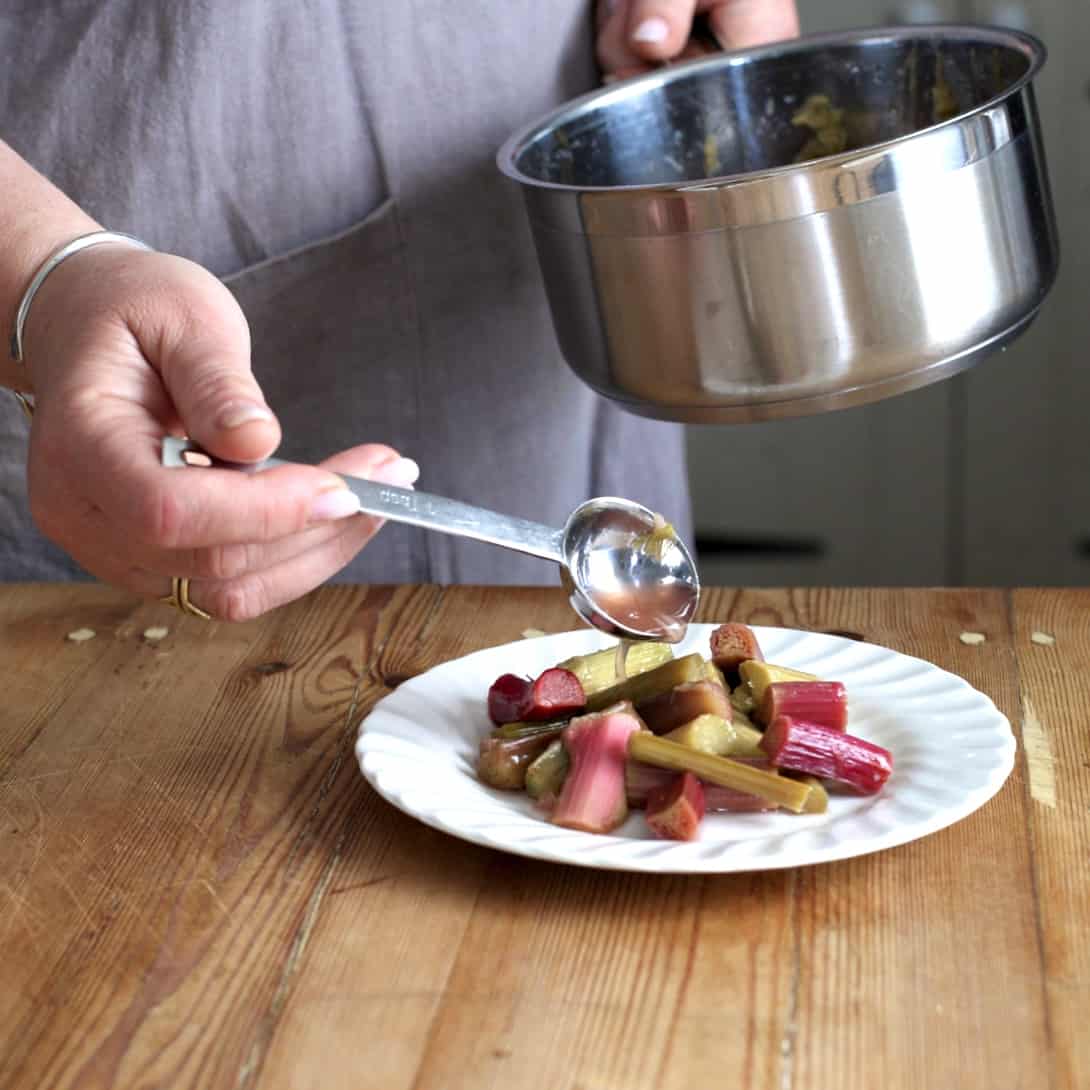 How to make whipped vanilla coconut cream
The MOST IMPORTANT RULE to making whipped cream with a can of coconut milk, is that the can is cold. 
For the cream to actually froth up and whip, it needs to have been in the fridge for AT LEAST a couple of hours, but preferably overnight. 
In fact, I tend to always have a can of coconut milk in the back of the fridge for this very reason!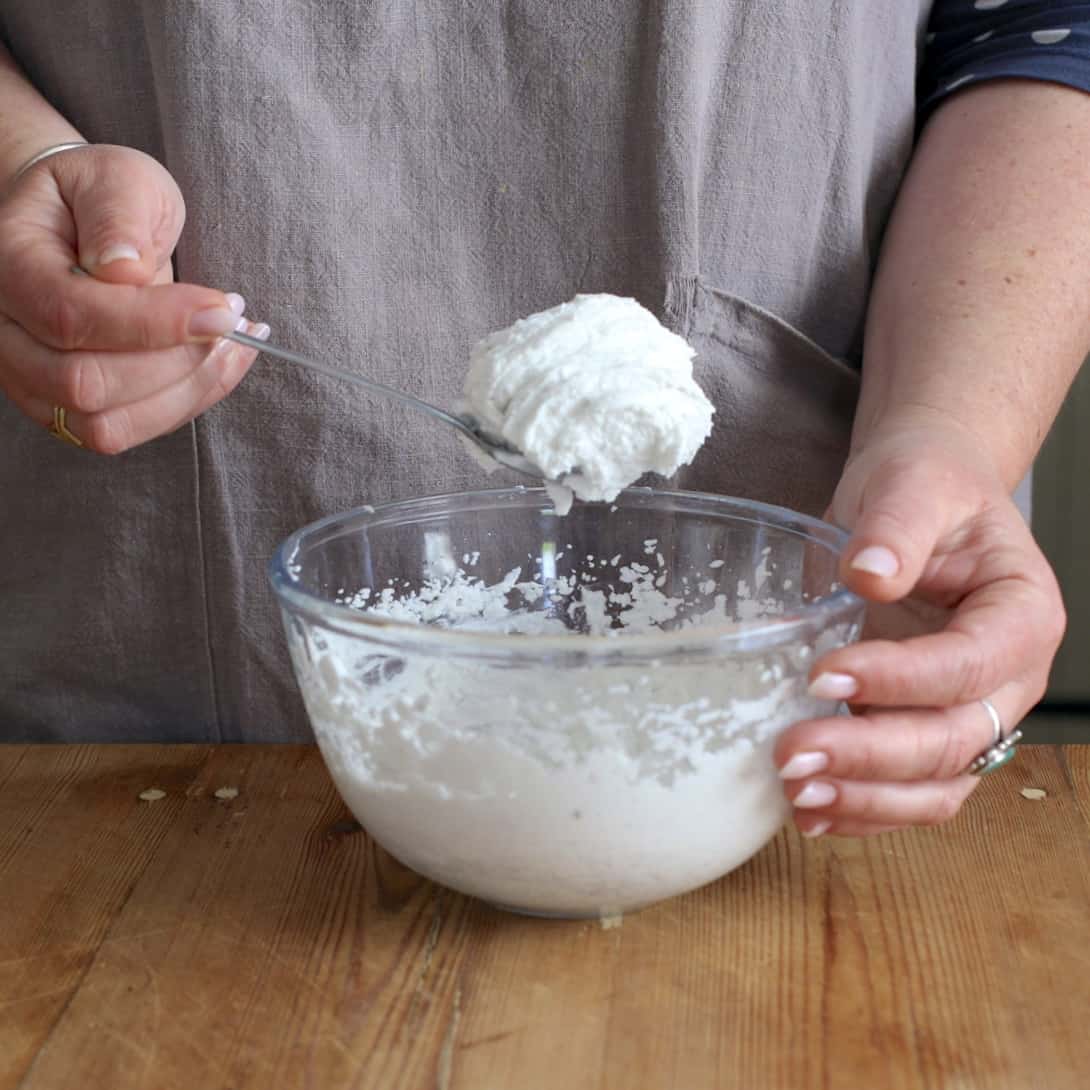 If unshaken, a can of coconut milk will separate.
On the top you'll get the thick, white 'coconut cream'. On the the bottom you'll get the watery 'coconut water'. (When you shake the can, the two merge and become 'coconut milk').
Once chilled, the thick white part becomes almost solid. And that's the state you need it to be to whip it.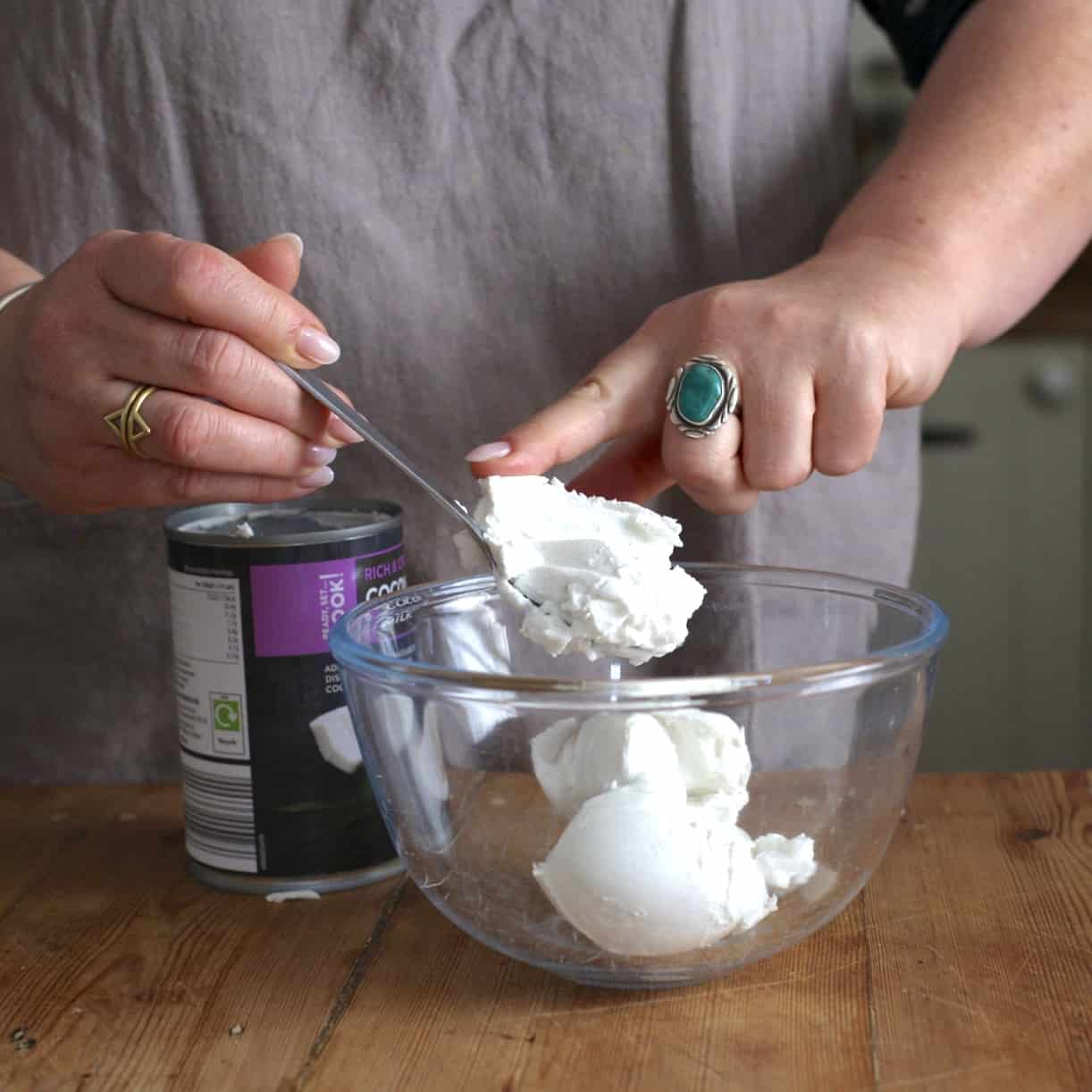 1/ remove seeds from a vanilla pod
Use a sharp knife to carefully cut open a vanilla pod along the length.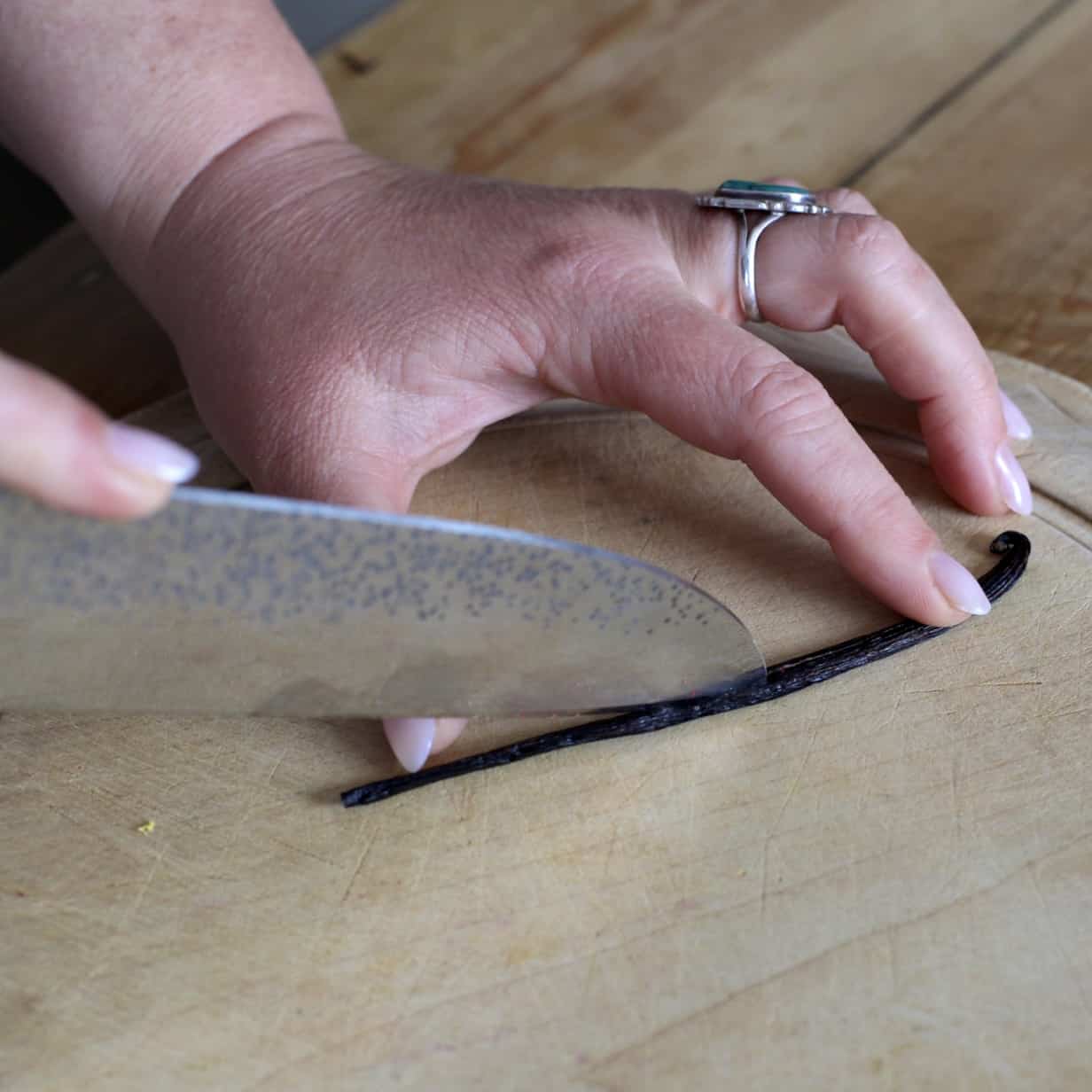 Turn the knife over and use the back of the knife to scrape the seeds from the pod.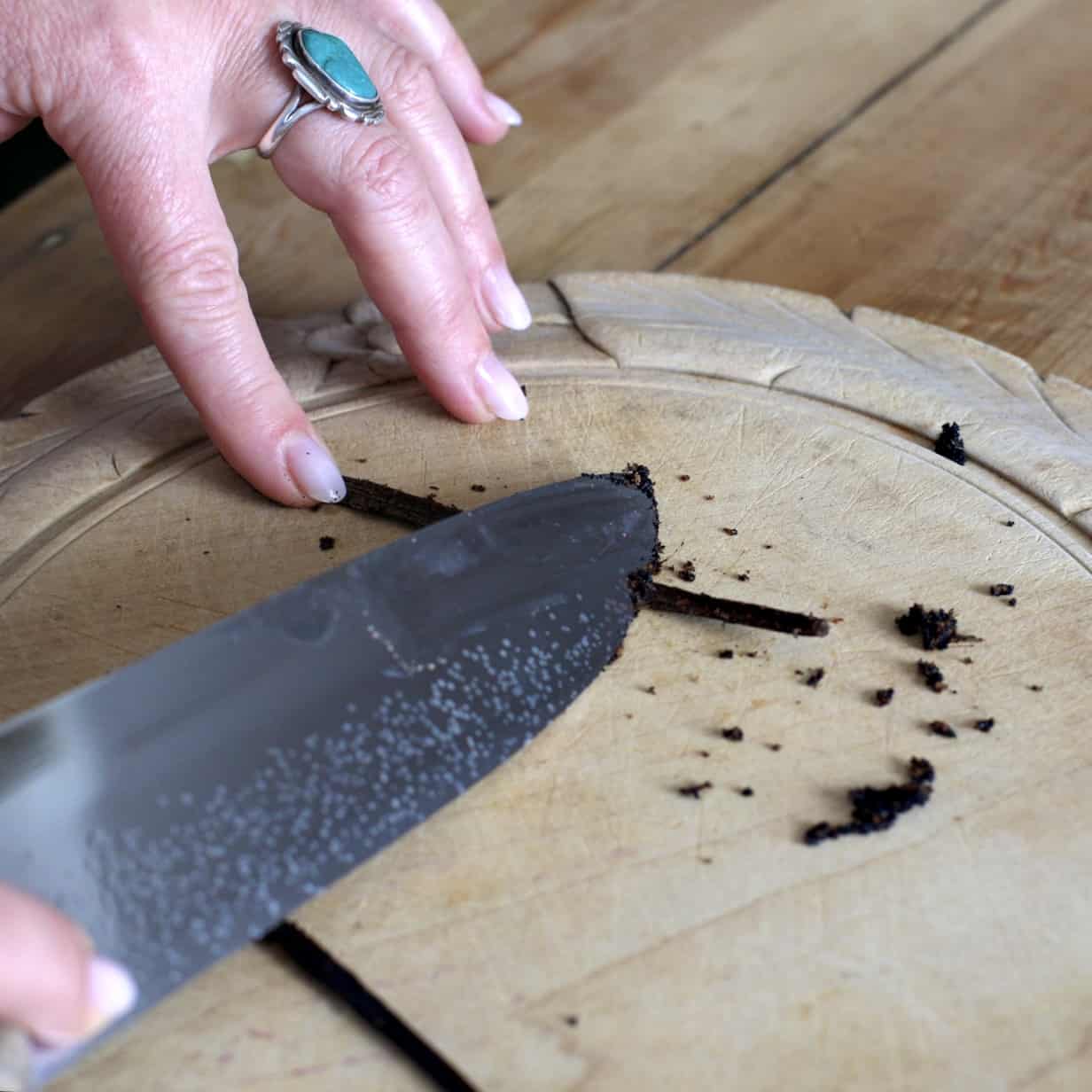 Put them to one side until you've whipped your coconut cream.
2/ scrape out the thick part from the can of coconut milk
Open the can, then use a dessert spoon to lift out the thick, solid white part.
Place into a bowl and immediately whip. Ideally with an electric whisk.
If you only have a hand whisk, you may wish to chill the mixing bowl first along with the can of coconut milk. As the longer it takes you to whip it by hand, the warmer and therefore the harder it'll become to actually whip.
With my electric whisk, it took about 4 or 5 minutes to become frothy and whipped.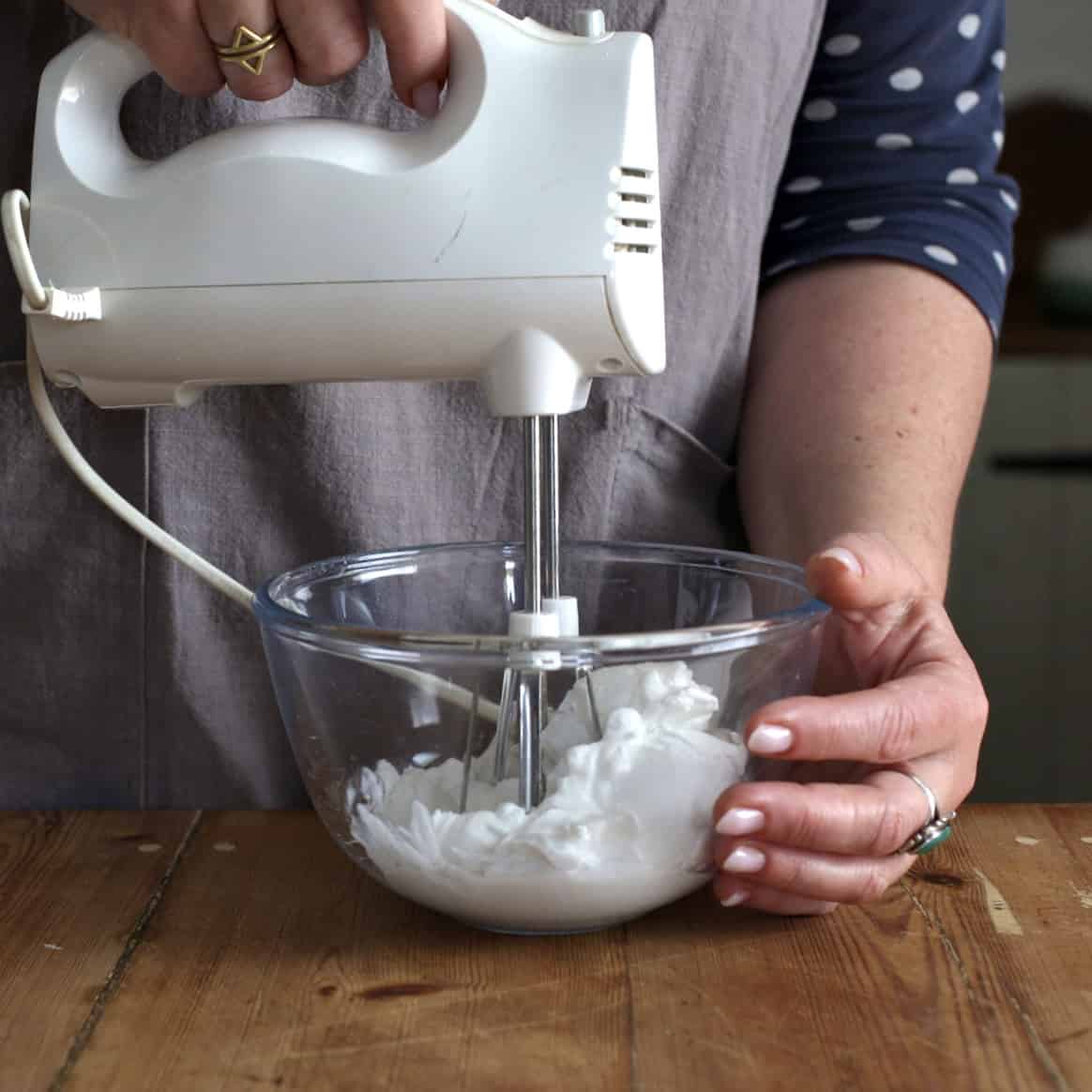 When frothy, scrape the vanilla seeds into the bowl.
Give a final mix to incorporate them through the whipped coconut cream.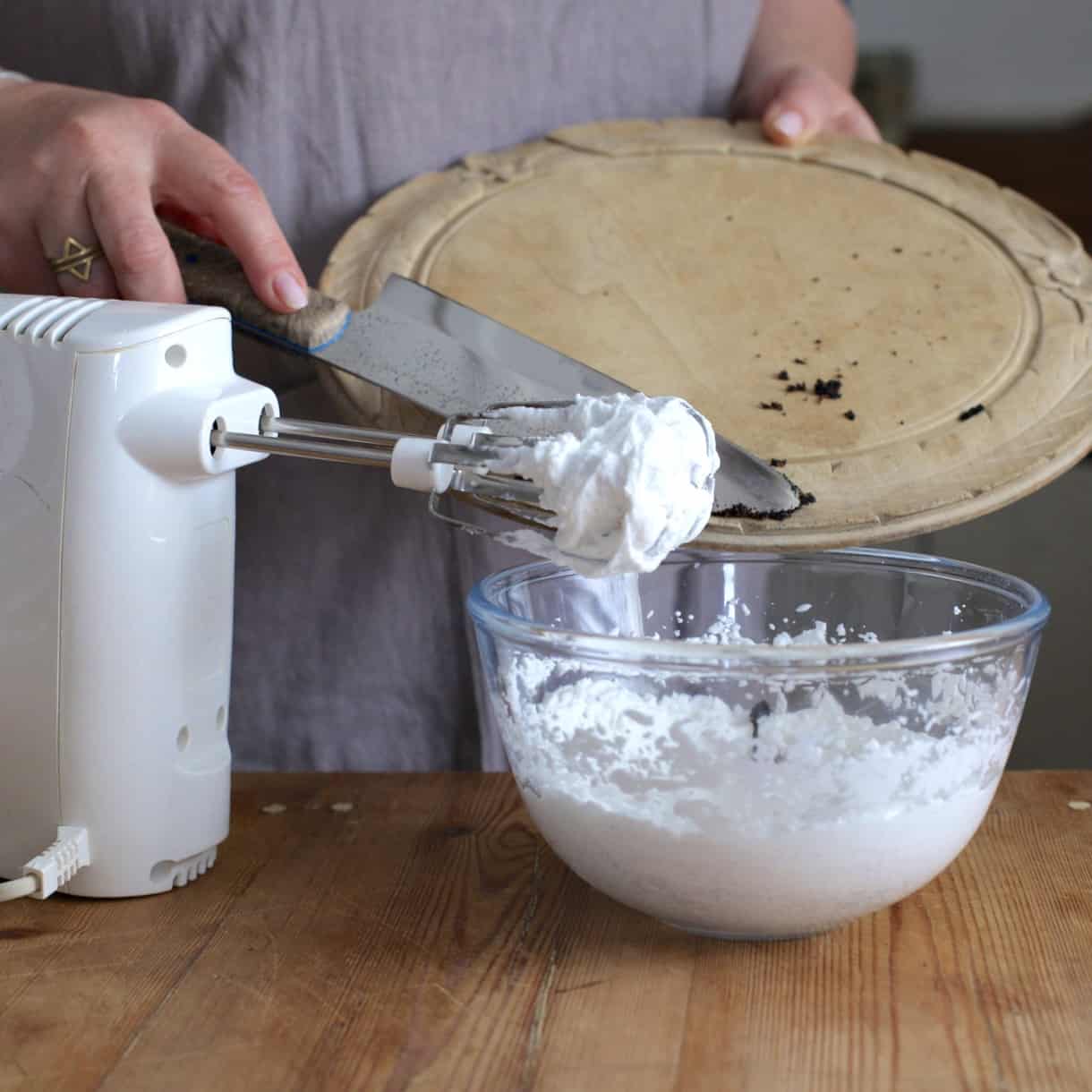 Your whipped coconut and vanilla cream is now ready to serve!
Any leftover whipped cream can be stored in an airtight tub in the fridge for a couple of days.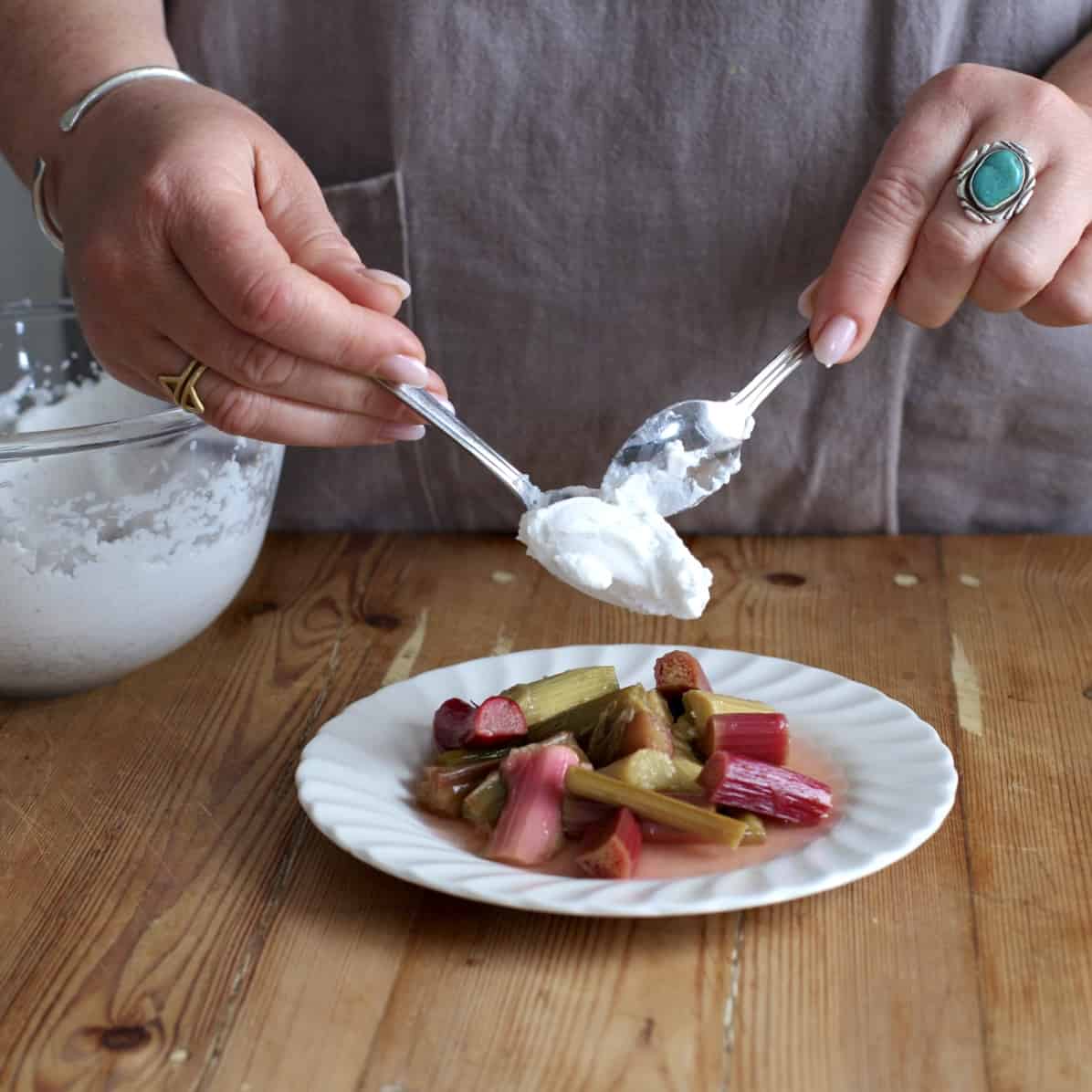 Can I whip low fat canned coconut milk?
Low fat canned coconut milk is exactly the same product as the regular full fat version, but with more water added.
So yes, whilst you will be able to whip the solid white part from a low fat can, there will just be a lot less of it in the can.
If you wish to serve 4 portions of poached rhubarb and whipped coconut cream, you'll need to use a can of regular or full fat coconut milk.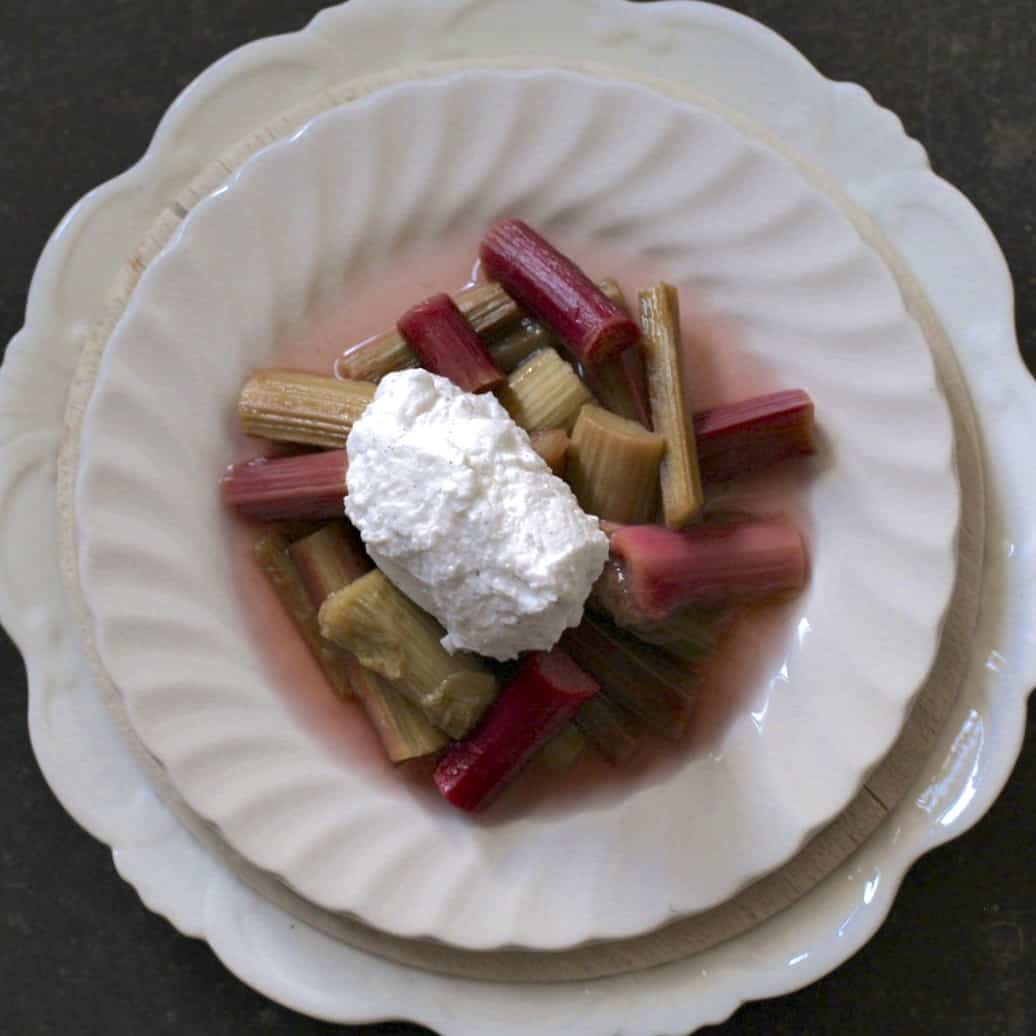 I hope you enjoy this quick and easy poached rhubarb recipe as much as I do! Feel free to tag me in any pics you share of this, or any of my recipes online. You can find me pretty much everywhere as @hedgecomber, and I try to share all the pics that I see :)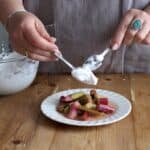 Poached Rhubarb with Vanilla Coconut Cream
Ingredients
Poached Rhubarb
600

g

fresh rhubarb

- washed & cut into 1 inch pieces

50

g

brown sugar

100

ml

water
Whipped Vanilla Coconut Cream
440

Ml

can coconut milk

- full fat. MUST be chilled

1/2

tsp

vanilla paste

or seeds from 1 a vanilla pod
Instructions
to poach the rhubarb
Pour the water and sugar into a saucepan and heat until the sugar is dissolved.

Remove any leaves and dispose of them appropriately (rhubarb leaves are poisonous to humans and some pets). I compost mine.

Scrub the stems under running water to clean.

Cut the rhubarb into 1 inch pieces, then add to the pan.

Put the lid onto the pan, reduce the heat until it's just gently simmering, and let the rhubarb poach for 5 or 6 minutes.

When it is soft, but before it gets mushy, remove from the heat.

It can be served hot or cold.
to whip the coconut cream
Open the cold can of coconut milk and scoop out the thick, hard white part.

Place into a bowl and immediately beat with an electric hand mixer.

After 4 or 5 minutes, the structure will change and the cream will be quite frothy, much like whipped cream.

Slice the vanilla pod in half lengthways, and use the back of the knife to scrape out the tiny little vanilla seeds.

Add them to the whipped cream and give another quick mix to blend evenly.

Serve immediately, or store in a covered tun in the fridge for up to days.
Nutrition Facts
Poached Rhubarb with Vanilla Coconut Cream
Amount Per Serving
Calories 338
Calories from Fat 243
% Daily Value*
Fat 27g42%
Sodium 27mg1%
Potassium 742mg21%
Carbohydrates 26g9%
Protein 4g8%
Vitamin A 153IU3%
Vitamin C 15mg18%
Calcium 158mg16%
Iron 2mg11%
* Percent Daily Values are based on a 2000 calorie diet.