This Piri Piri Beef Salad is the ultimate way to use up leftovers from your Sunday lunch that packs a punch of flavour.

I love beef. In fact I think it is my favourite meat, but sadly it's the one animal that we don't rear, or know any local farmer that rear that we can swap with. So whenever I buy a joint of beef it becomes an adventure, to make the most of every single morsel and not waste an iota of it. That said I am equally happy stood at the fridge door picking those crusty little bits off the edges and stuffing them in my mouth day or night.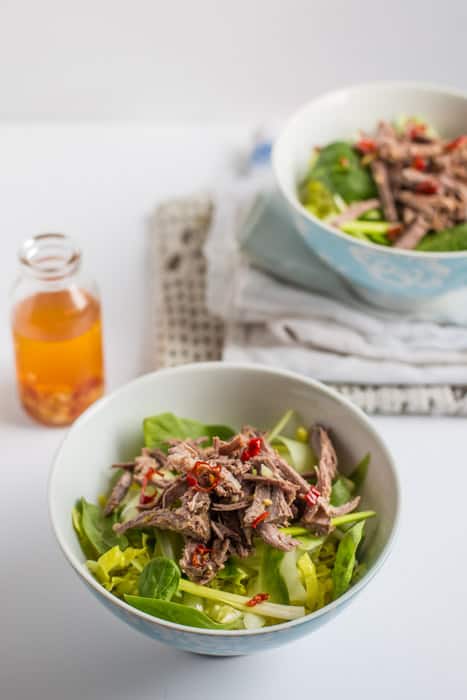 So just to rewind a little… I love roast beef, but for it to be utterly perfect it has to be fall apart tender. You know, where it just shreds as soon as you get a fork within a metre of it. And whilst it's pretty easy to slow roast in the oven, this time I popped the joint into the slow cooker, naked, just to see what would happen. Well, I'm sold!
Obviously, the meat was beyond tender and even though I didn't put any red wine or port in with it (Jonny wouldn't share) there was a good inch or two of juices in the bottom of the dish by the time it had finished cooking. These I simply poured into a milk pan and added a little corn flour for instant, perfect gravy. Surprisingly you do still get a small amount of crusty bits on the meat above the tide line, not as much as if it had been oven roasted, but still enough to make my fridge picking worthwhile.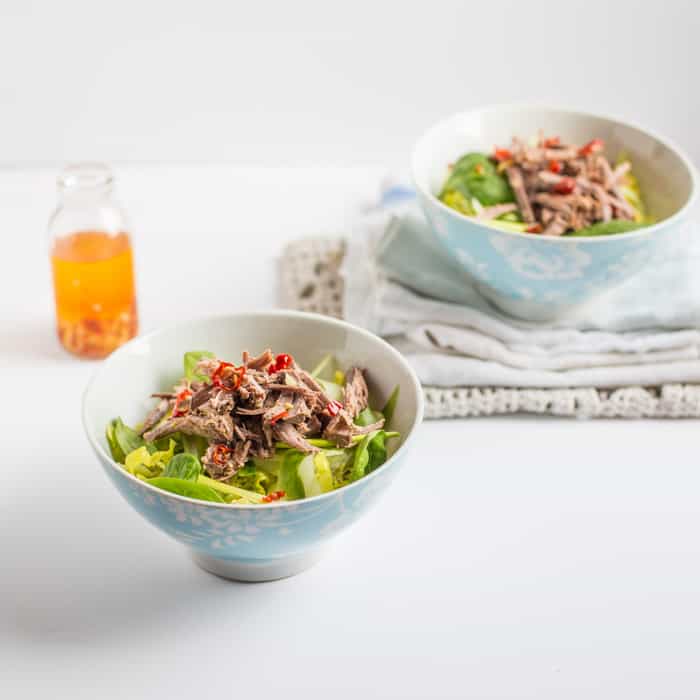 And now onto this salad. I was down to the dregs of the beefy leftovers so wanted to mark the occasion with something a little bit special so I whipped up a piri piri sauce. The base of the sauce is olive oil, but to add extra flavour I used the oil from a jar of sundried tomatoes which I love and always seem to have lots of!
Add in some garlic, chilli, lemon zest and a little white wine or apple cider vinegar and you're good to go with one the simplest yet tastiest salad dressings around.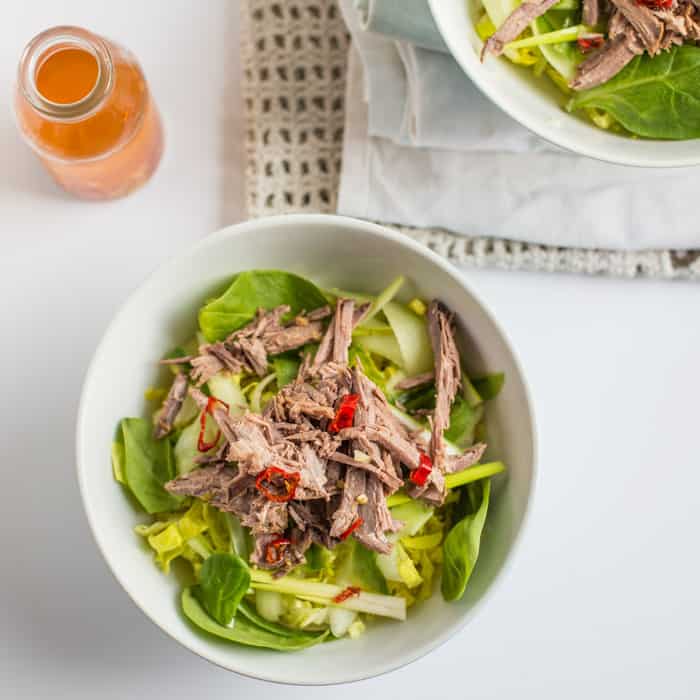 Do let me know what you think if you give the slow cooker beef or the piri piri beef salad a go, I'm pretty sure you're going to like it :)
Janie x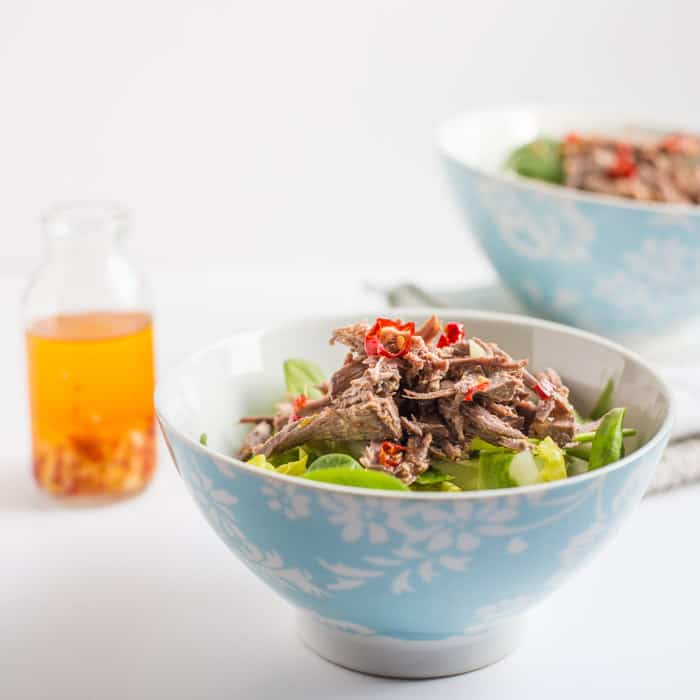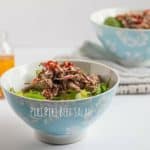 Peri Peri Beef Salad
Ingredients
PeriPeri Sauce
4

tablespoons

oil

1

tablespoon

white wine vinegar or apple cider vinegar

1-3

small red dried chilli's

finely sliced

1

garlic clove

crushed

Zest of half a lemon
Salad
A pile of salad veggies

A handful of shredded beef

or more traditionally with this dressing, chicken
Instructions
Mix the dressing ingredients together in a glass or small bottle.

Load of the salad & meat into bowls and top with a little dressing, Go steady at first if you're not keen on too much heat until you've worked out how hot your chilli's are.