These quick and easy Pickled Red Onions are fab served on a burger, with salad, or as a sharp kick to meat and two veg.
Not only do they look beautiful, they don't take long to pickle either!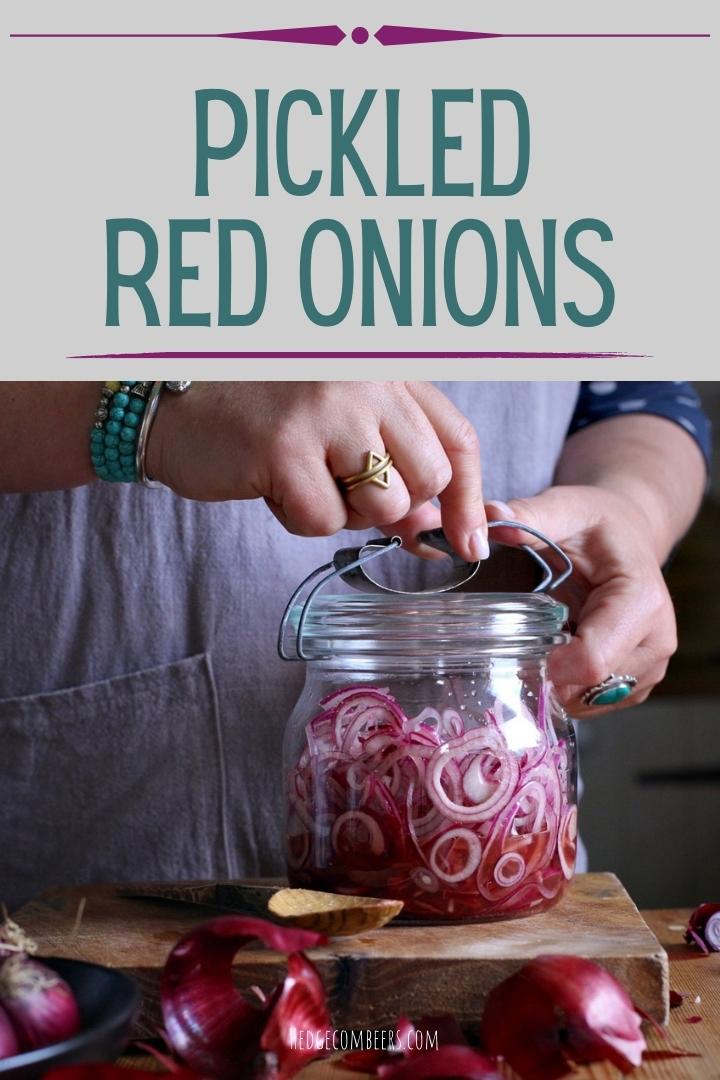 If you love the flavour of traditional pickled onions, you are going to LOVE this recipe!
The red wine vinegar makes for a lighter, more flavourful pickle than the malt vinegar traditionally used in store bought traditional pickled onions.
The red onions are slightly milder in flavour than white onions, making this a more delicate pickle.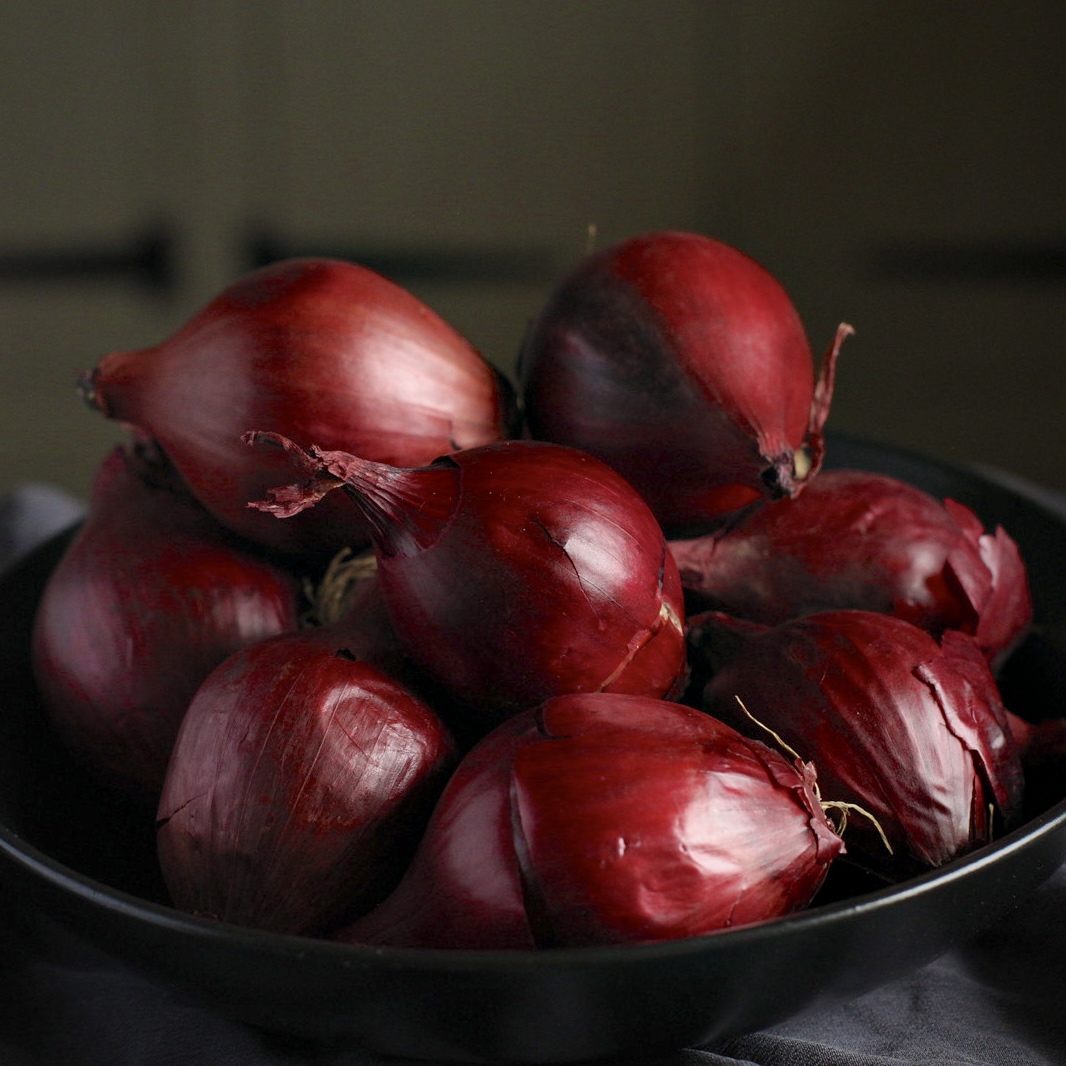 As the onions are thinly sliced, the pickling time is massively reduced (they can be eaten after 20 minutes, although taste softer/better if left overnight).
And do I even need to mention just how beautiful a homemade red onion pickle looks??! The colour of this pickle is so pretty that they make a striking side dish to offer alongside any BBQ or pot luck.
Oh, and the sharp sweetness of them perfectly balances fattier cuts of meat or rich, creamy dishes.
Unlike most pickled foods, they can be ready to eat within 20 minutes. Although, I would recommend a longer spell in the brine to soften any harsh edges of the onion or vinegar if you have the time.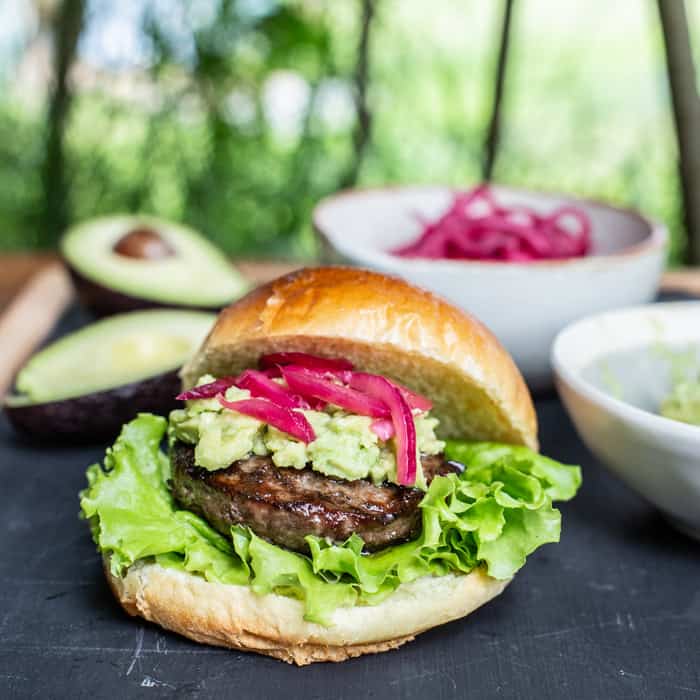 How to Make Homemade Pickled Red Onions!
OK, let's walk you step by step through this quick and easy recipe.
And at the bottom of this page you'll find the full recipe with both metric and US measurements.
Let's go!
1/ slice your red onions
Top and tail your onions, then remove the outer skins. Try not to cut through into the onion, as you want the rings to be as intact as possible.
Using a really sharp knife, carefully slice the onions into rings.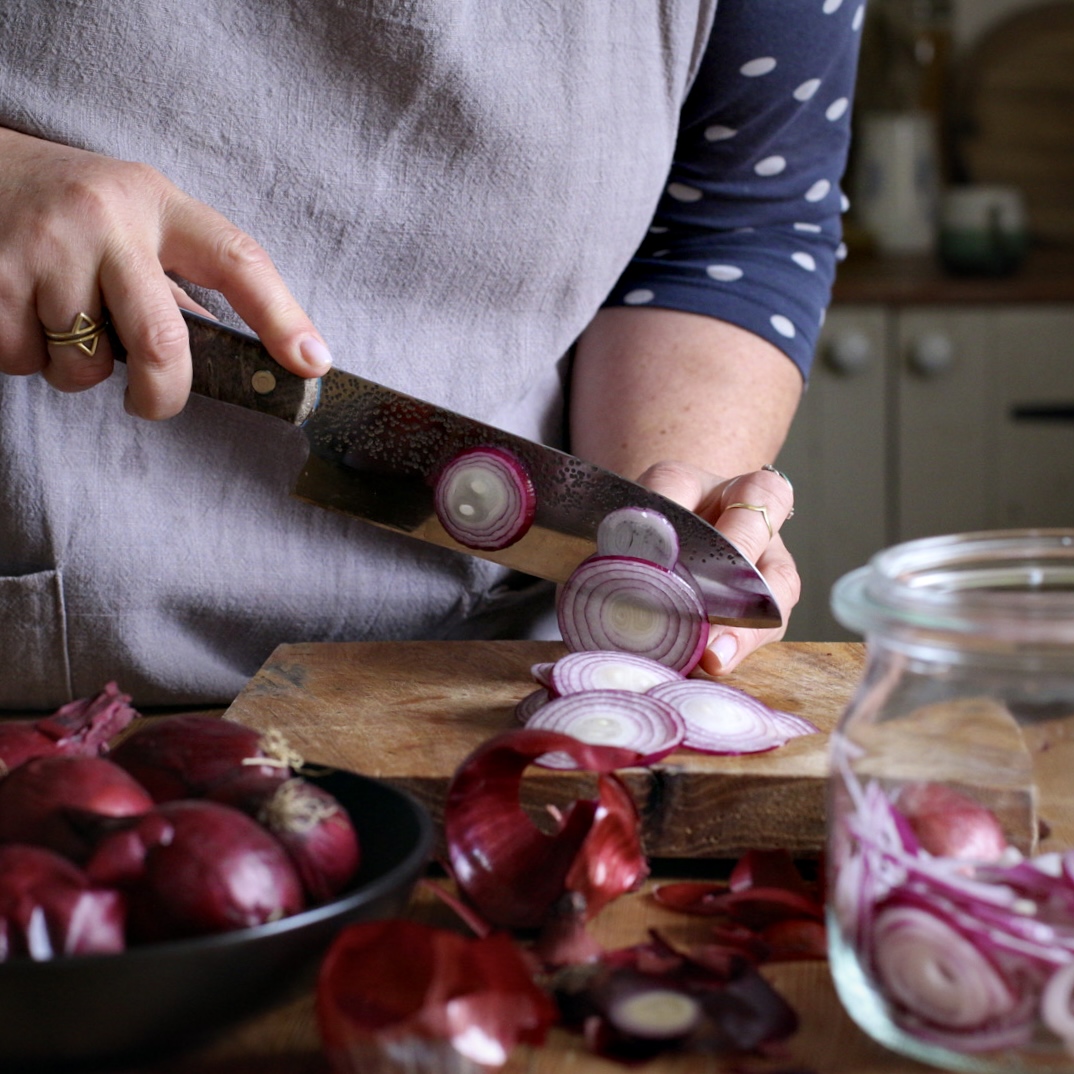 Place the red onion rings into a glass bowl or jar. Avoid using any metal containers or utensils when making this pickle as they may react to the acid in the vinegar.
I like to gently break open the slices into individual rings.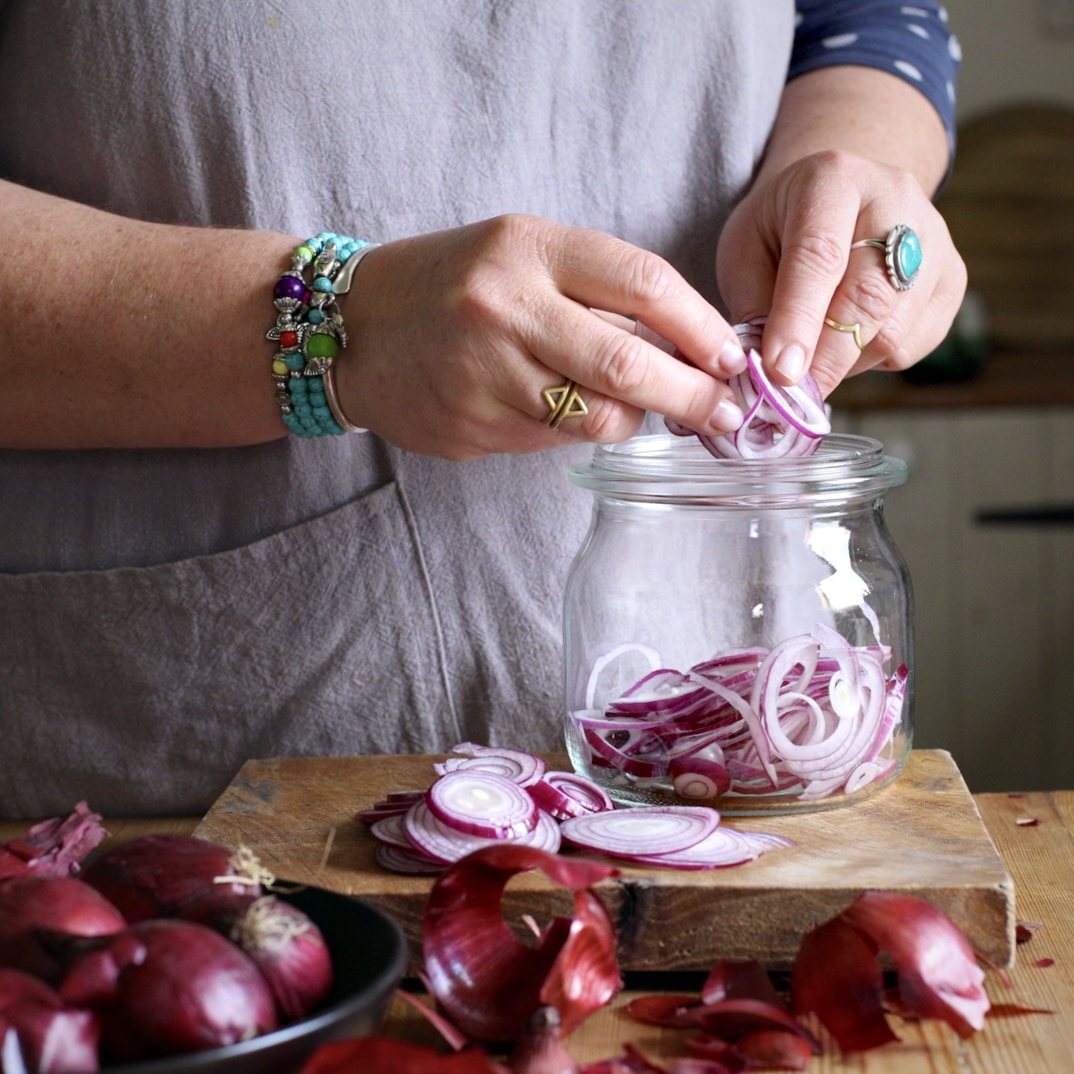 2/ make your pickle juice
Measure out your red wine vinegar.
You could try out a different vinegar, but I love the vibrancy that the red wine vinegar brings to the pickled onions.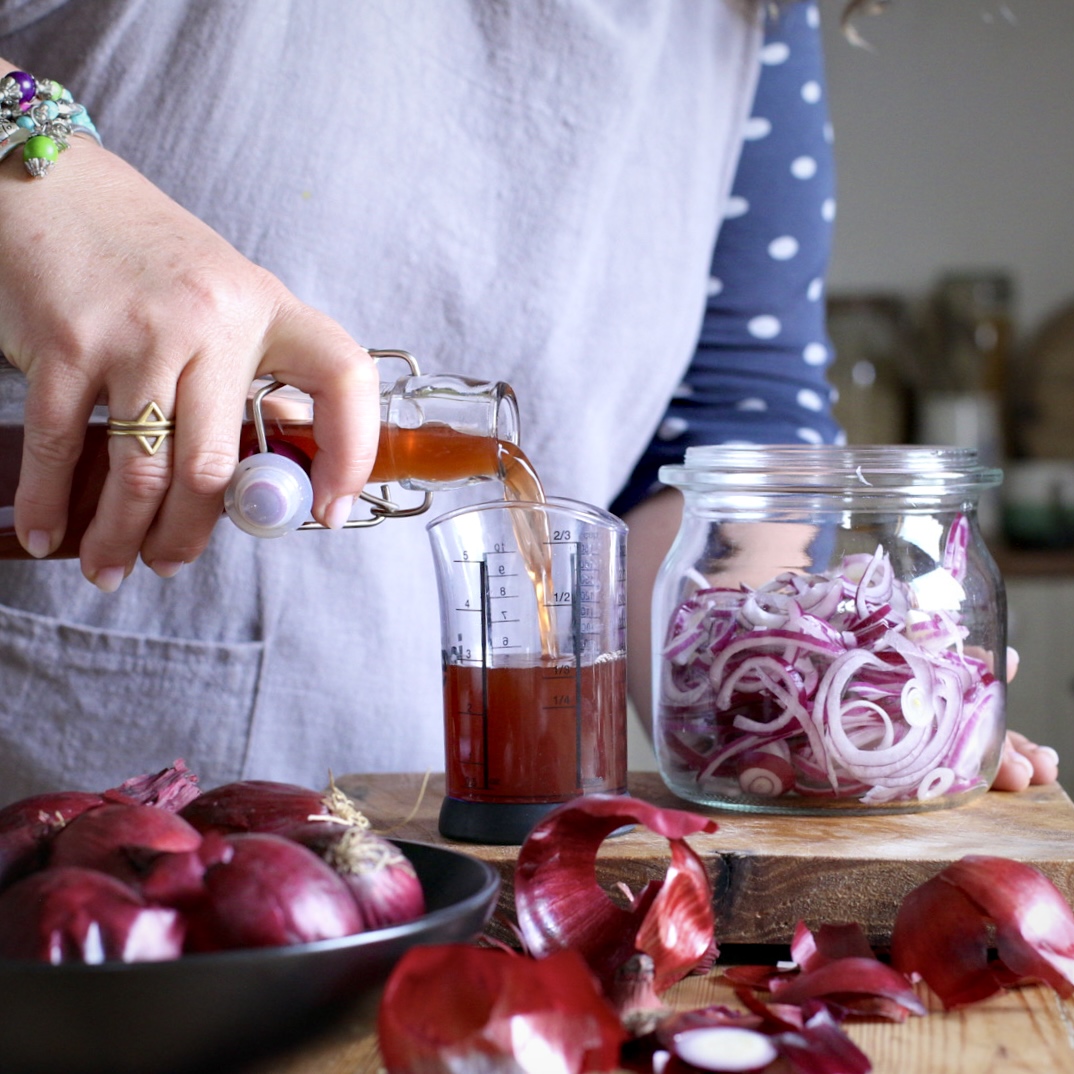 Pour this into the bowl or jar, then add the salt and sugar.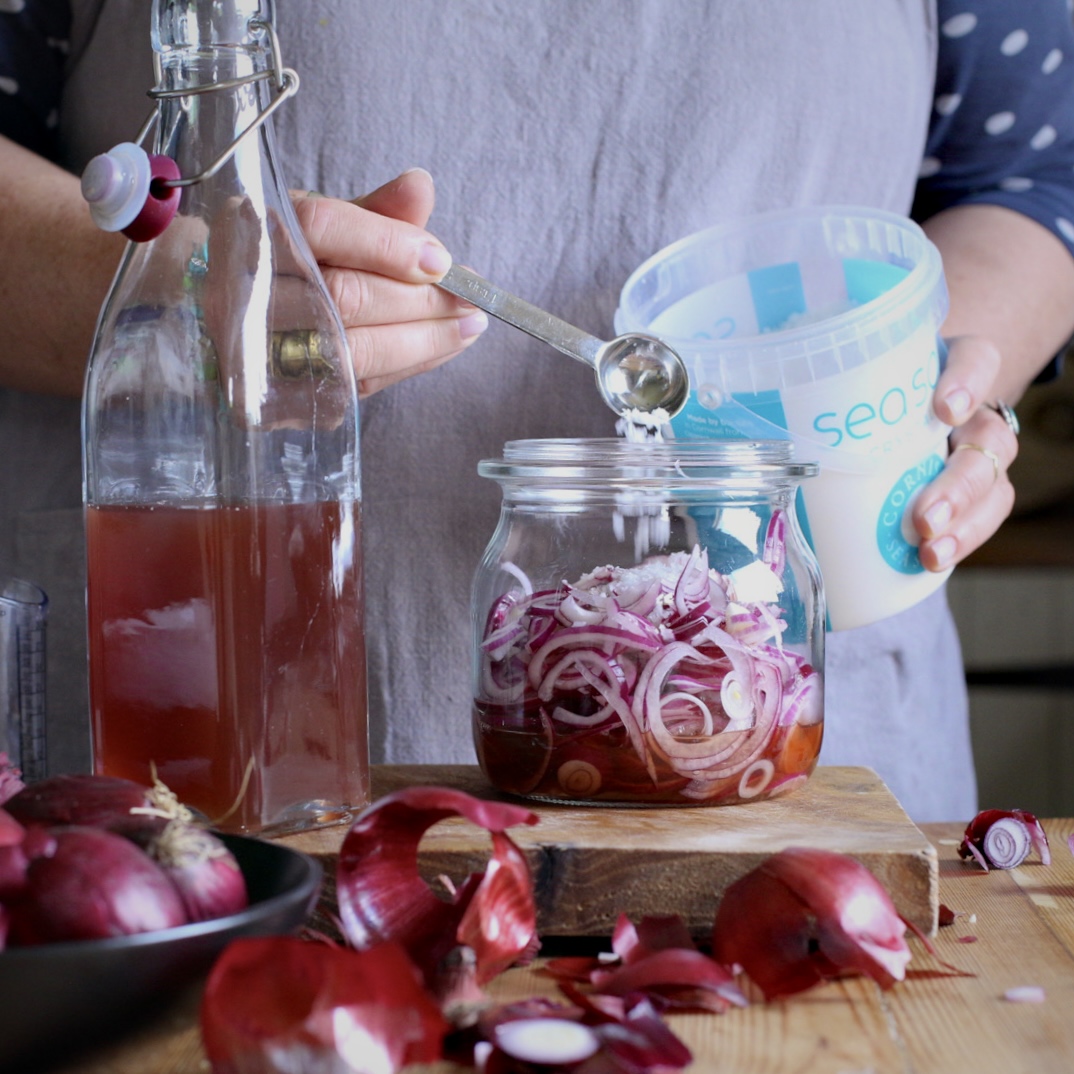 If you avoid sugar you could omit this entirely, but in this case I recommend leaving the pickle to infuse for at least 8 hours before eating as it will still be quite sharp after just 20 minutes.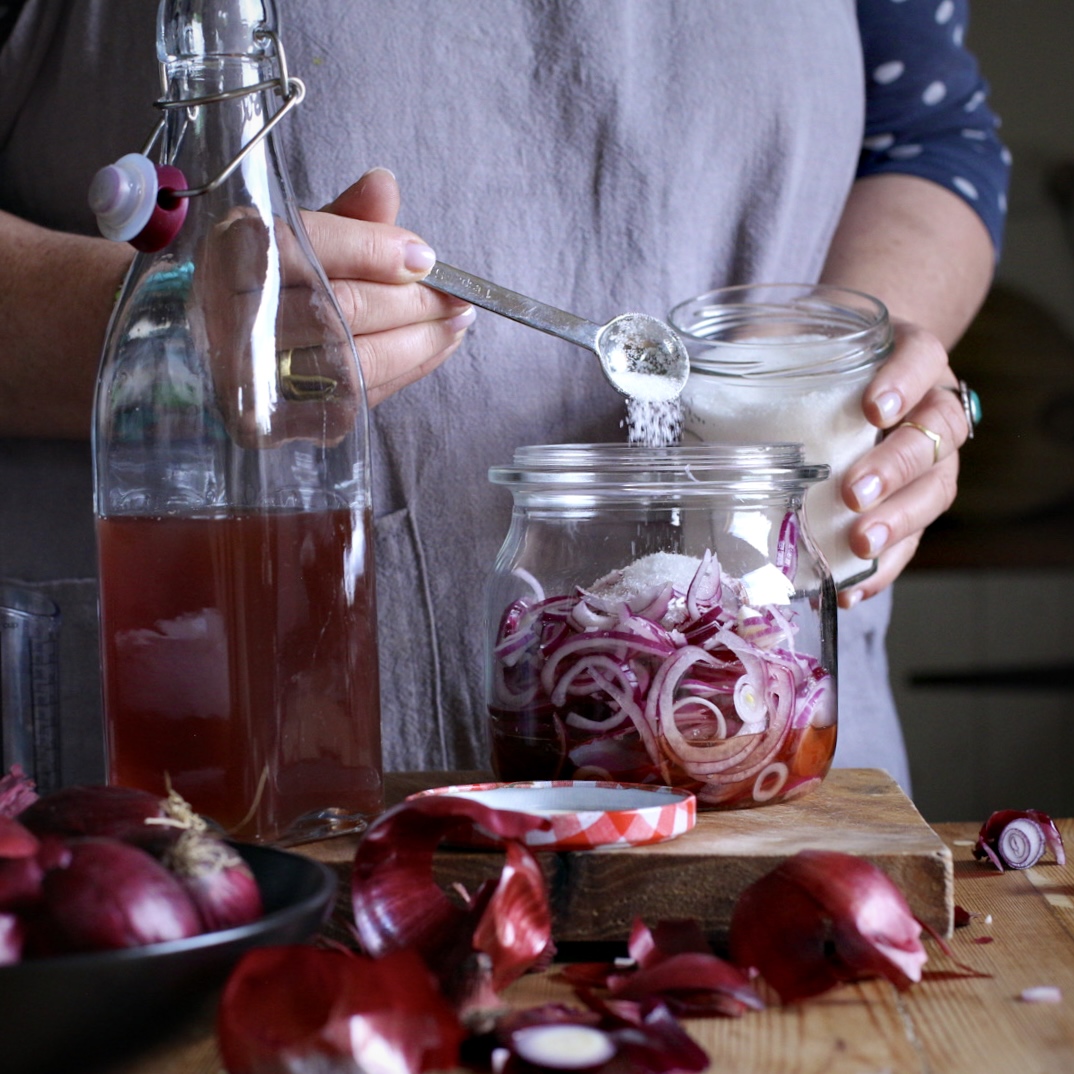 Using a wooden spoon, gently stir the content together.
If you are using a jar with a tight fitting lid, you could share your pickle instead of stirring.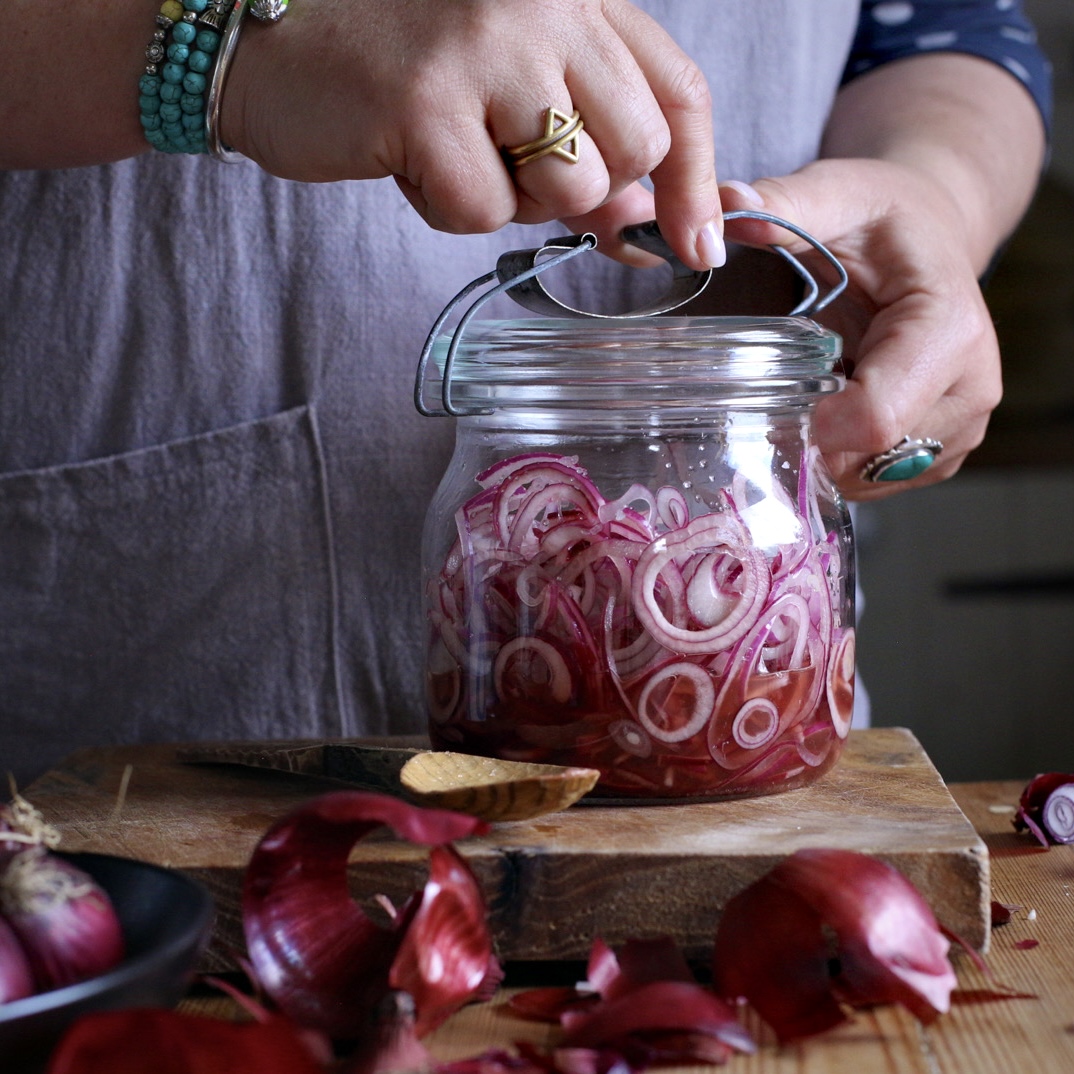 Cover your bowl, or pop a lid on your jar and place your pickles in the fridge.
Leave for a minimum of 20 minutes, or for up to 24 hours before stirring once again and serving.
They make a brilliant, slightly sharp burger relish that is to die for!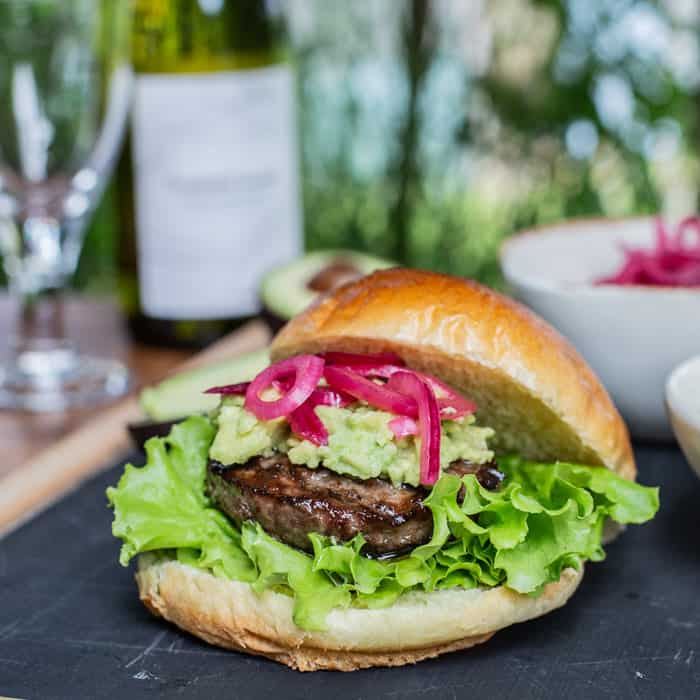 How long do pickled red onions last in the fridge?
They will last for 2 – 3 weeks, although I bet you'll have used them up well before then!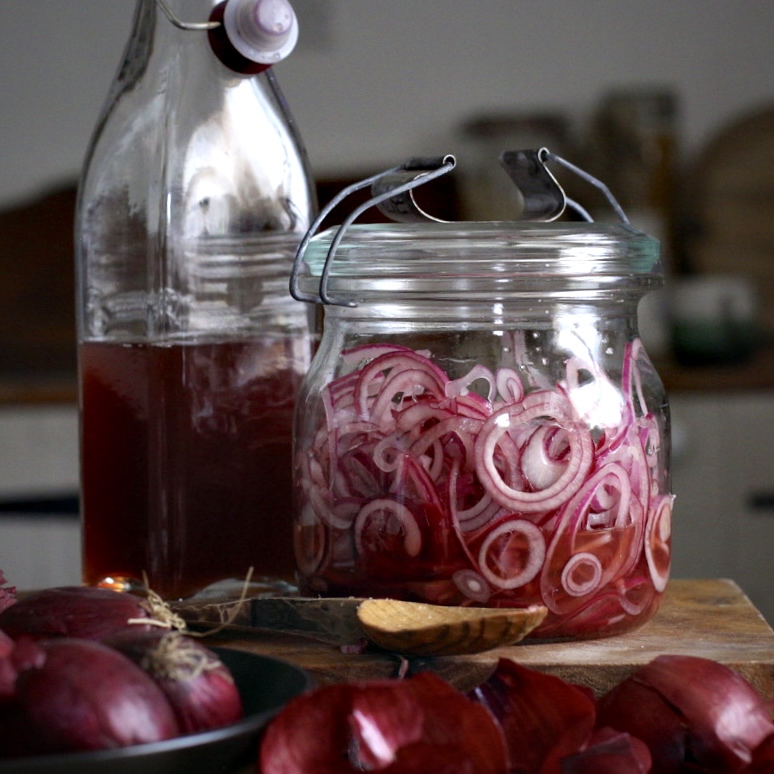 Down below is the main recipe, plus you'll find a couple of options to shake things up a bit if you're in the mood.
There's a Mexican red pickled onion and a spicy pickled red onion version too. Let me know your favourite!
I hope you love this recipe, and as always please feel free to tag me in any pics you share of it online – I love seeing my recipes made all around the world and I try to share all that I see! You can find more pretty much everywhere as @hedgecomber.
Enjoy!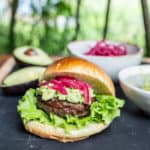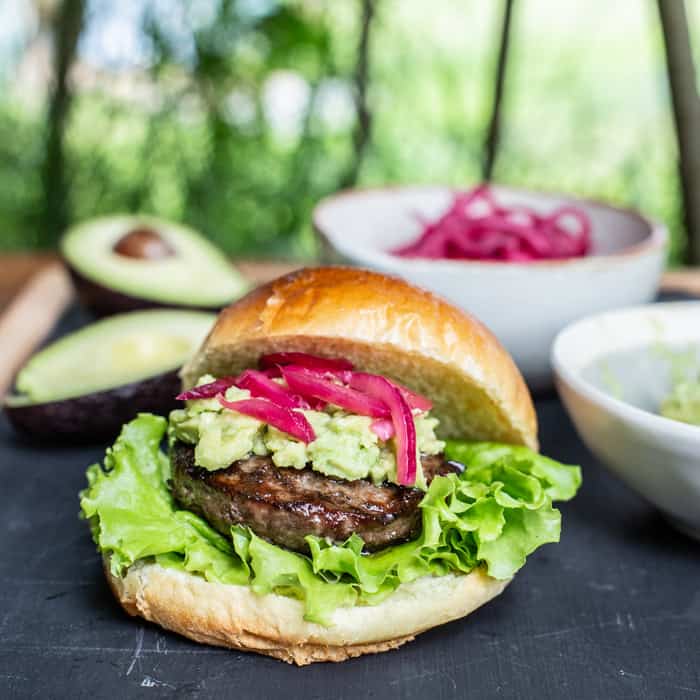 Pickled Red Onions
Keyword:
pickles, pickled onions, pickled red onions, salad, side dish, red onions,
Ingredients
2

medium red onions

- thinly sliced

120

ml

red wine vinegar

1

tsp

salt

1

tsp

sugar
Instructions
Pile the thinly sliced onions into a non metallic bowl or large glass jar.

Pour over the vinegar and add the salt & sugar. If you wish to include any of the optional extras below, add them at this point also.

Mix well, cover and refrigerate. They are ready to eat after 20 minutes, although in my opinion taste their best after 8+ hours in the brine.
Recipe Notes
Whilst the basic recipe is fantastic, if you make this as much as we do, you make like to shake it up once in a while too! The following are optional extras that you may like to pimp the basic recipe with.
Spicy Pickled Red Onions
Add 1/2 to 1 chilli in the initial stages.

You can either slice the chilli to incorporate it throughout the pickle, or keep the chilli whole, and just cut one slice through its length to allow the juice to seep out with out having the extra heat from the flesh and seeds when you come to serve.
Mexican Style Pickled Red Onions
Add 1/2 red chilli, 1 minced clove of garlic and 1 tsp oregano to the mix.
Sugar Free Pickled Red Onions
Simply omit the sugar from the above recipe.

I find that if you make them sugar free, you want to let them marinade for at least 8 hours as otherwise they can be a bit too punchy!
Nutrition Facts
Pickled Red Onions
Amount Per Serving
Calories 21
% Daily Value*
Fat 0g0%
Cholesterol 0mg0%
Sodium 390mg17%
Potassium 61mg2%
Carbohydrates 4g1%
Protein 0g0%
Vitamin C 2.7mg3%
Calcium 8mg1%
Iron 0.2mg1%
* Percent Daily Values are based on a 2000 calorie diet.