This quick and healthy Pan Griddled Tuna with Salsa Roca will become a weeknight favourite for sure!
Ready in just 10 minutes, it's a winner!

Commissioned post
Before I lead you onto this gloriously simple recipe, I need to tell you about my recent trip to London.
As you know I regularly work with the supermarket chain, Iceland.
They invited a bunch of bloggers and vloggers on a fun trip to the capital, and we got spoilt rotten!
We stayed in a gorgeous hotel on Clapham Common which I highly recommend if you're looking for a good base for your next trip.
We visited the flagship Iceland store nearby and were walked through their latest range of products.
These included the long-awaited frozen avocados.
I had no idea they could be frozen, and I'm really excited to finally try them when they reach my local store!
Jonny was way more impressed with the limited edition Mac & Cheese pizza :)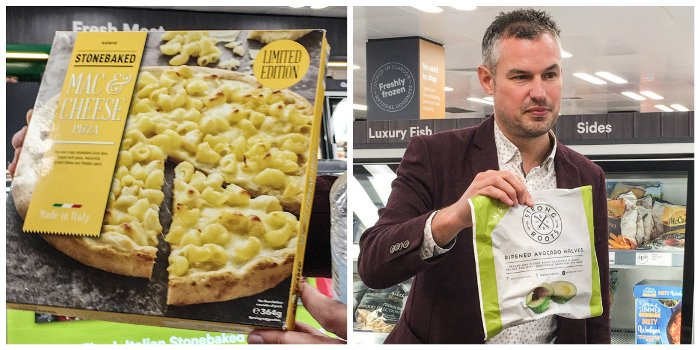 We then made our way to Cactus Kitchens, the cookery school founded by Michel Roux Jr.
Here Neil Nugent, head chef at Iceland, took us through a fishy masterclass that blew my mind (and expanded my waistline!).
It's common knowledge that the fish you see on supermarket wet fish counters aren't all that fresh.
In fact they can often be up to 10 days old (does that gross anyone else out?).
When you buy frozen however, you know that piece of fish was frozen within 24 hours of being caught.
All the flavour and nutrients are locked in waiting for you to defrost and use whenever suits you.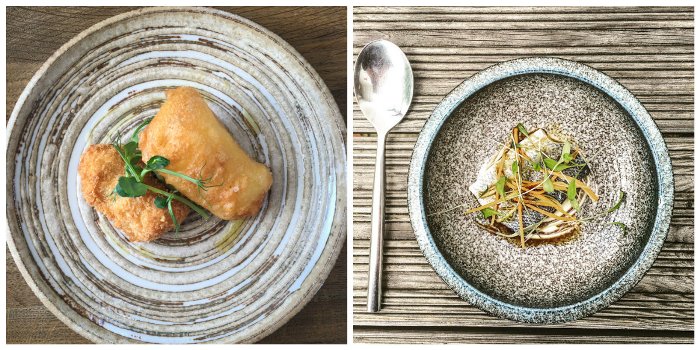 Using defrosted fish from Icelands very own freezers he poached, grilled, fried, risotto'd, baked and sashimi'd his way round the kitchen.
Producing plate after plate of delicious food for us to photograph, and of course, eat.
Really tough day ;)
Pan Griddled Tuna with Salsa Roca
One of my favourite dishes of the day was for this lovely Pan Griddled Tuna with Salsa Roca.
I've never heard of salsa roca before and I loved it.
Small cherry or plum tomatoes are blackened in a hot pan before being chopped and mixed with oil, red onion and coriander.
The little charred bits of skin add a lovely smoky depth to the salsa and it's well worth the effort.
I used Icelands frozen tuna steaks that I'd defrosted overnight in the fridge.
Each steak is individually wrapped so there's no problem with a smelly fridge as they defrost.
Just before use, open the packet up, drain the fish and then pat dry with kitchen paper.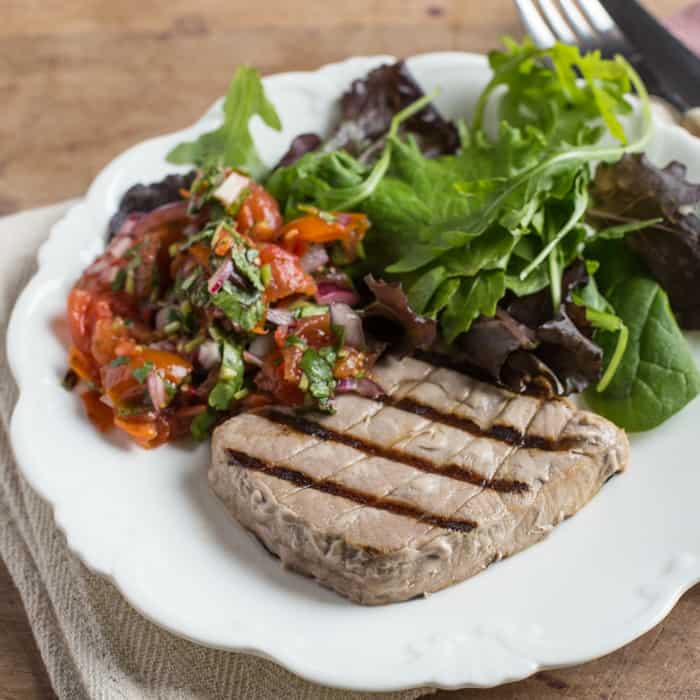 One last thing, the cookery school sits above the TV studio where Saturday Kitchen is filmed live every week.
Obviously, I couldn't miss up the opportunity to pose with the famous omelette pan on set!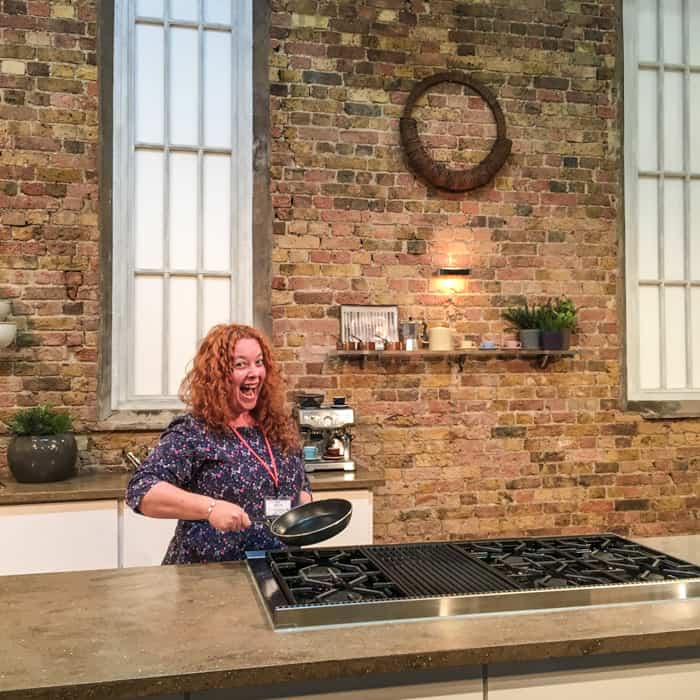 Enjoy the recipe folks!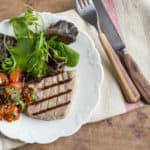 Pan Griddled Tuna with Salsa Roca
Ingredients
Salsa Roca
1

Punnet

baby plum or cherry tomatoes

1

small

red onion,

1

tablespoon

olive oil

1

tablespoon

diced red chilli

3

tablespoons

chopped coriander

juice of 2 limes

2

tuna steaks, defrosted

1

bag

peppery leaf salad

salt & pepper to taste
Instructions
Salsa Roca
Preheat a non stick pan until very hot. Place the baby tomatoes in and allow the skins to blacken. Don;t worry f they burn a little, this all add to the flavour.

Move around the pan until there is a lot of colour on them. Remove from the pan, allow to cool and roughly chop into a bowl.

Finely dice the onion (if you aren't keen on the strong flavour of raw onion, rinse it under cold water, then drain well) and add to the tomatoes along with the lime juice, coriander, chilli and olive oil.

Season with salt and pepper and the salsa roca is ready.
Pan Griddled Tuna
Preheat a griddle pan (preferably a cast iron one) until very hot.

Drizzle a little more oil over the defrosted tuna steaks and season with salt and pepper.

Place the tuna on the griddle and leave for one minute each side for a rare steak, or 2-3 minutes each side for a well don esteak.

Serve with the peppery leaf salad and salsa roca immediately.
Nutrition Facts
Pan Griddled Tuna with Salsa Roca
Amount Per Serving (0 g)
Calories 0
% Daily Value*
Fat 0g0%
Cholesterol 0mg0%
Sodium 0mg0%
Potassium 0mg0%
Carbohydrates 0g0%
Protein 0g0%
Vitamin A 0IU0%
Vitamin C 0mg0%
Calcium 0mg0%
Iron 0mg0%
* Percent Daily Values are based on a 2000 calorie diet.
Huge thanks to Iceland for allowing me to share this delicious Pan Griddled Tuna with Salsa Roca recipe, for our amazing trip to London, and for sponsoring this post! Their support allows me to continue bringing you tasty content, for free. As always all thought (and leftovers!) are my own.
Jane x