This easy almond slice uses store cupboard staples and makes a lovely, light treat for a lunch box or coffee break.
The ingredients are cheap and few, and it's such an easy bake to throw together.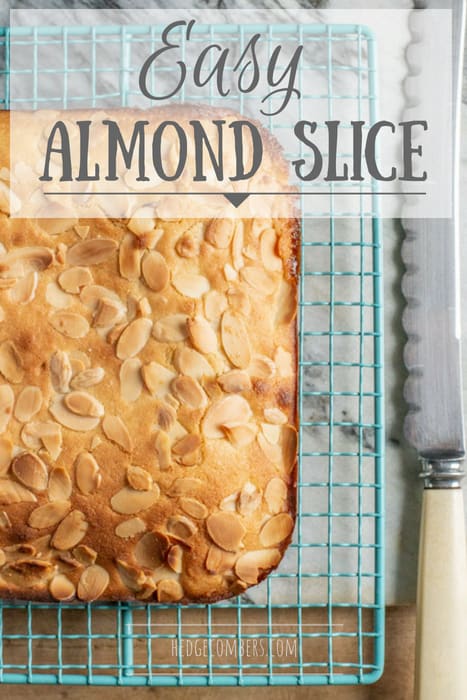 This recipe was originally published in 2015
Almond Slice or Bakewell Slice?
Almond slice recipes are often found with a pastry base and a raspberry jam layer. But in my opinion, that's heading into the realms of a Bakewell slice.
A traditional almond slice recipe has a ground almond sponge and a crunchy topping of flaked almonds.
It is a really moist bake and will happily last a few days in an airtight tin.
That is if you have more self control than I ;)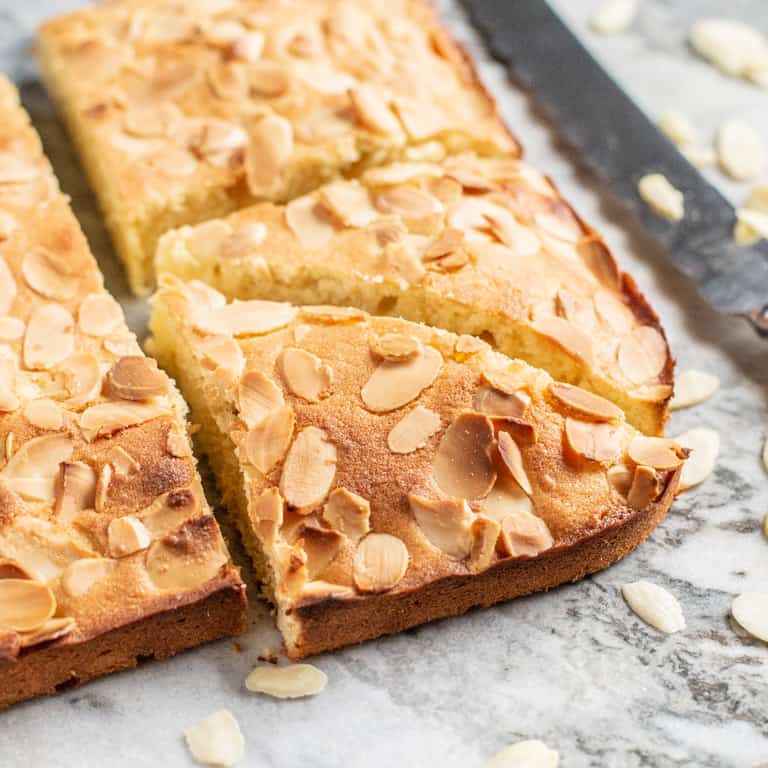 How to Bake an Easy Almond Slice
This is one of the easiest bakes in the world!
Let me walk you through it step by step. Or if you prefer, you can skip down to the bottom of the page for the entire recipe.
And if you are lover of all things baked, do check out my other baking recipes when you've finished here!
Greasing the baking tin
For starters, you're going to need a baking tin that is around 8″ or 20cm square.
You can use slightly larger or smaller. But if it is larger your almond slice will be thinner and therefore may need less cooking time.
And if it's smaller your almond bake may be thicker and require a few minutes extra cooking time.
You can also use a round or oblong tin, but again cooking times may vary depending on how thick your batter is.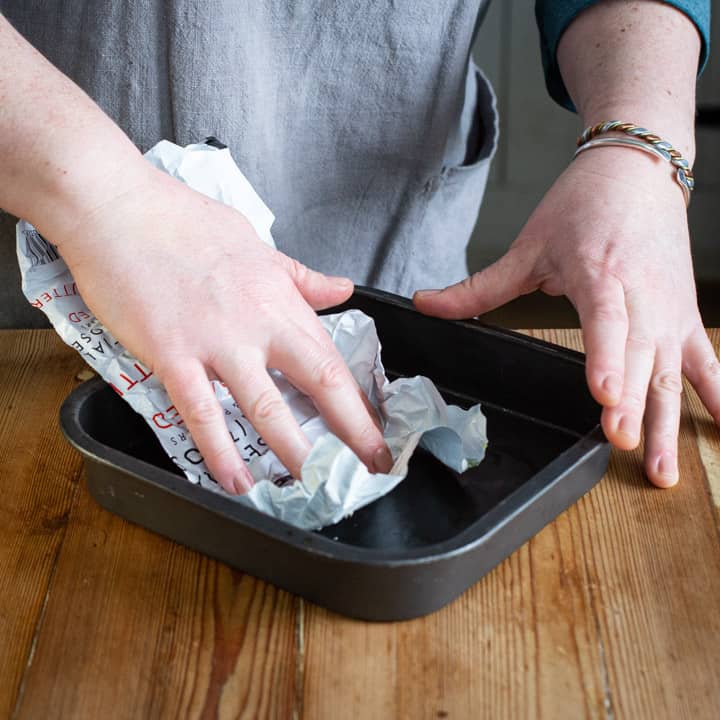 My baking tin is non stick. But I still greased it with a little butter first to ensure it popped right out of that pan.
You could also line it with baking paper at this point to make clean up even easier.
Creaming the butter and sugar
Then simply cream together the butter and sugar.
Ideally, you're going to need an electric mixer to cream together the butter and sugar.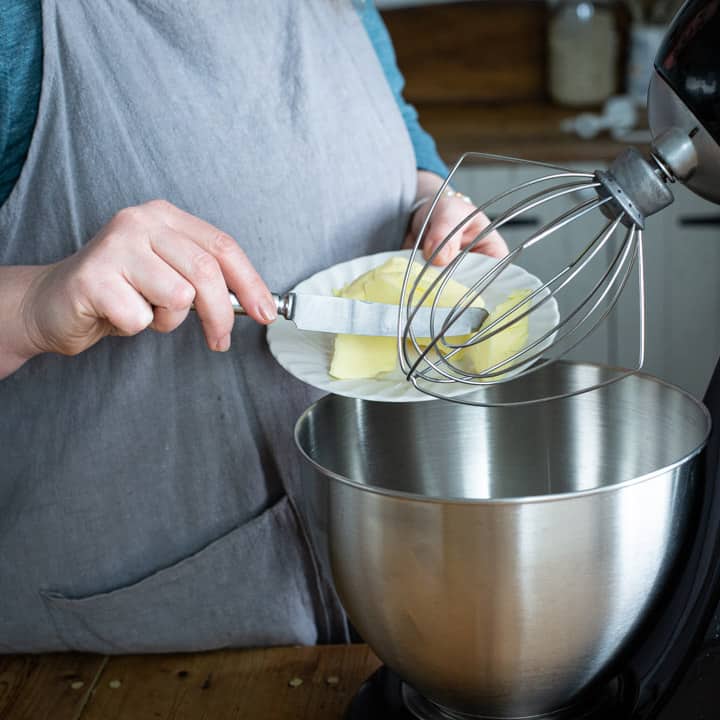 But if you don't have one, a whisk and a little bit of elbow grease will get the job done.
Make it a little easier on yourself by using butter that us at room temperature.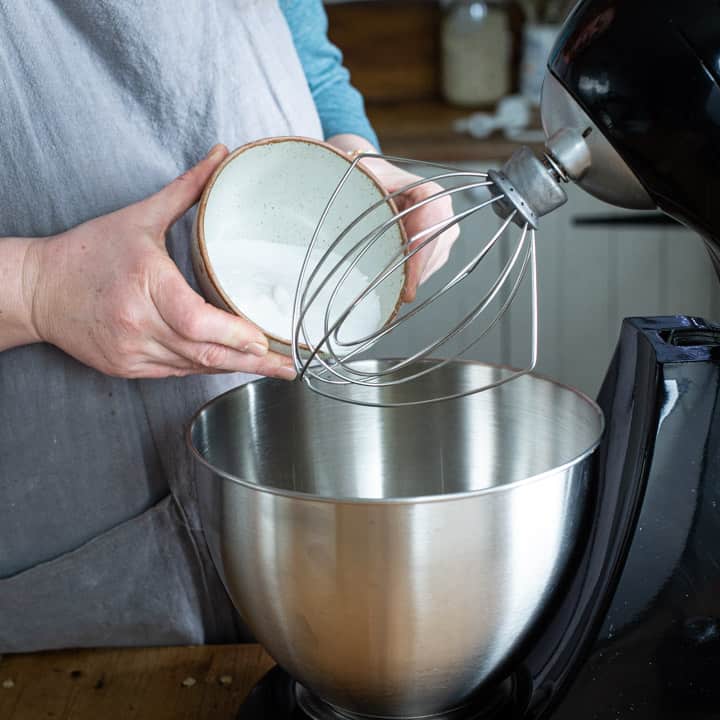 Keep beating until it is pale in colour and very soft.
The purpose of this step is to dissolve the sugar into the butter, and get more air into the batter.
More air = a lighter bake.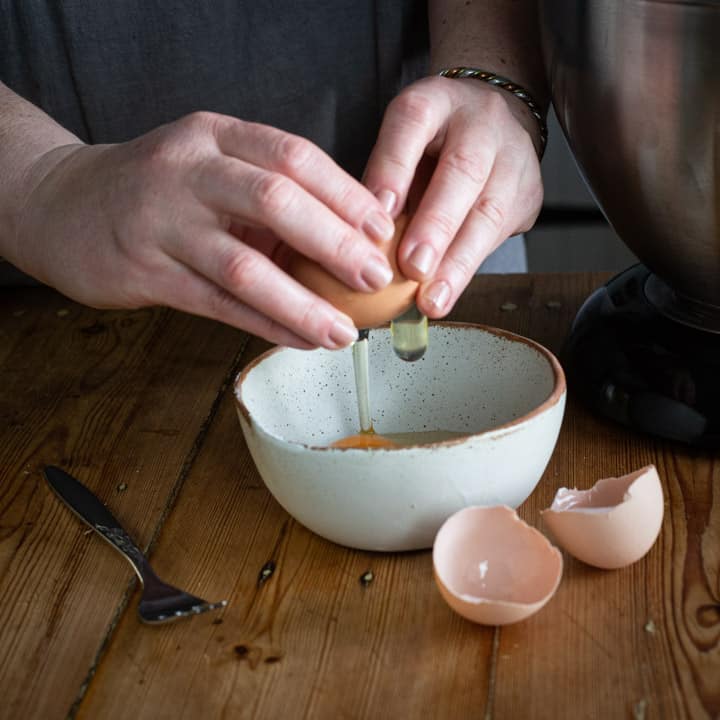 Beating and adding the eggs
Next, crack the eggs into a small bowl or mug.
Beat them very well with a fork until the white and yolk are combined.
Pour half of the beaten eggs into the mixing bowl, along with half of the flour.
Mix well.
Adding the ground almonds
Finally, add the rest of the egg, the rest of the flour and the baking powder.
Tip in the ground almonds and a splash of milk to soften the mixture.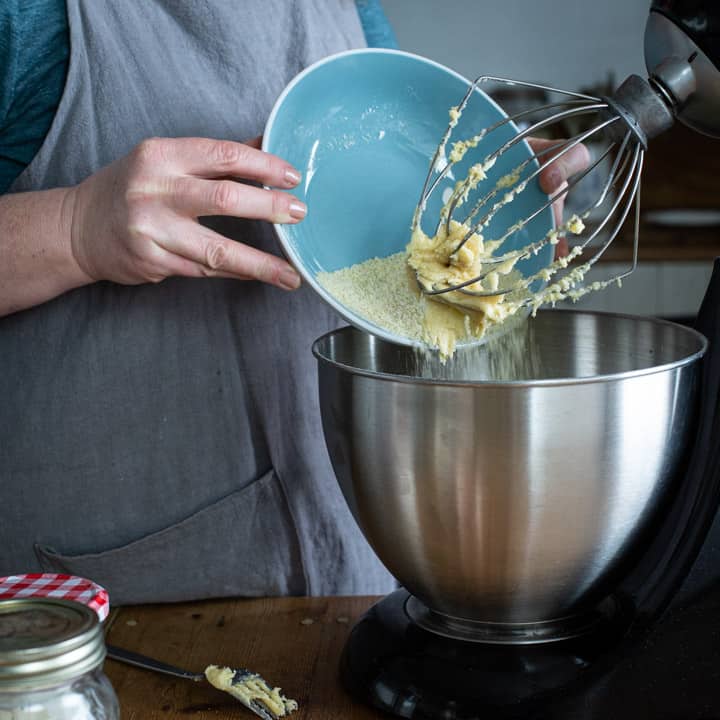 Gently mix together until everything is well combined.
But be careful not to overwork the batter.
You just want to get to a point where no dry ingredients are left in the bowl.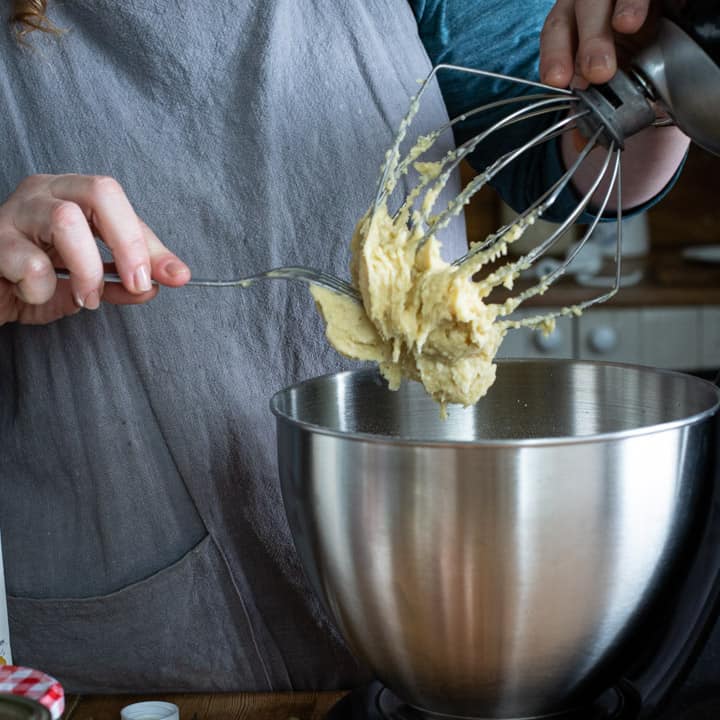 Pouring the cake batter into the baking tin
Scrape as much batter as you can from the whisk back into the mixing bowl.
Then spoon the batter into your greased baking tin.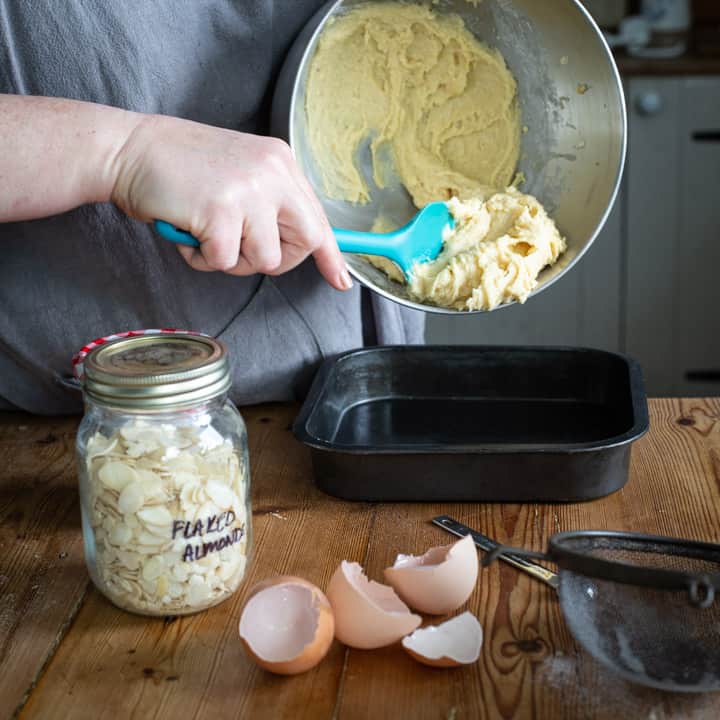 Smooth over the surface of the batter with a fork or spoon to flatten it.
This will help it to bake evenly.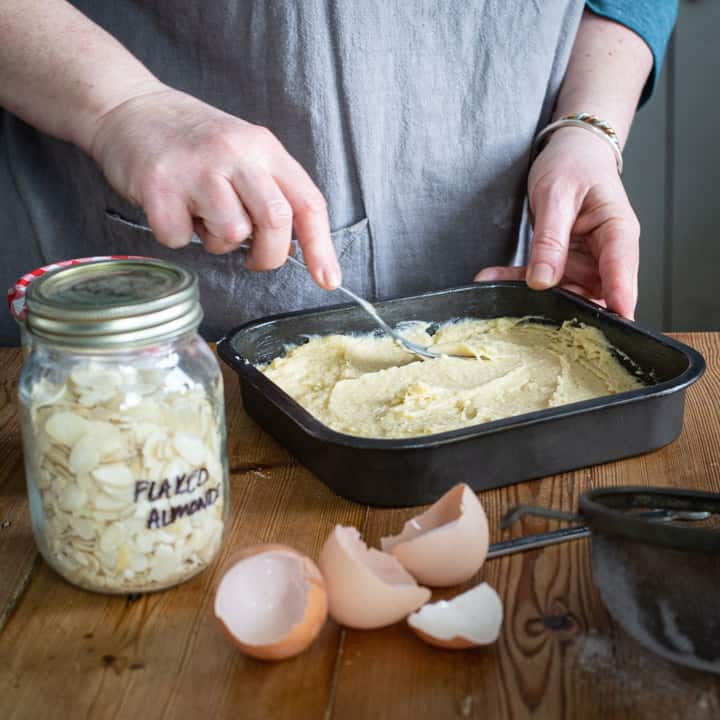 Top with flaked almonds
Then scatter the surface evenly with the flaked almonds.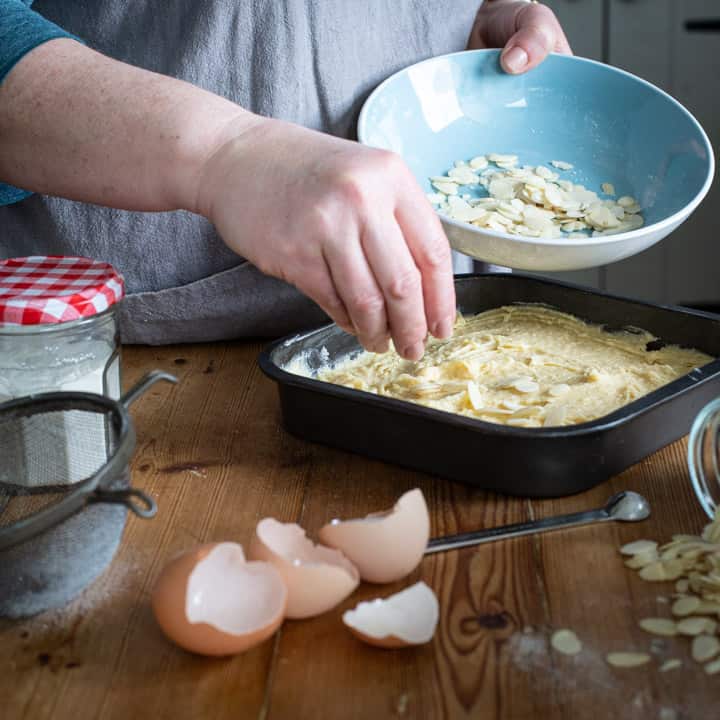 And gently press them down with the back of a clean fork so that they stay put during baking.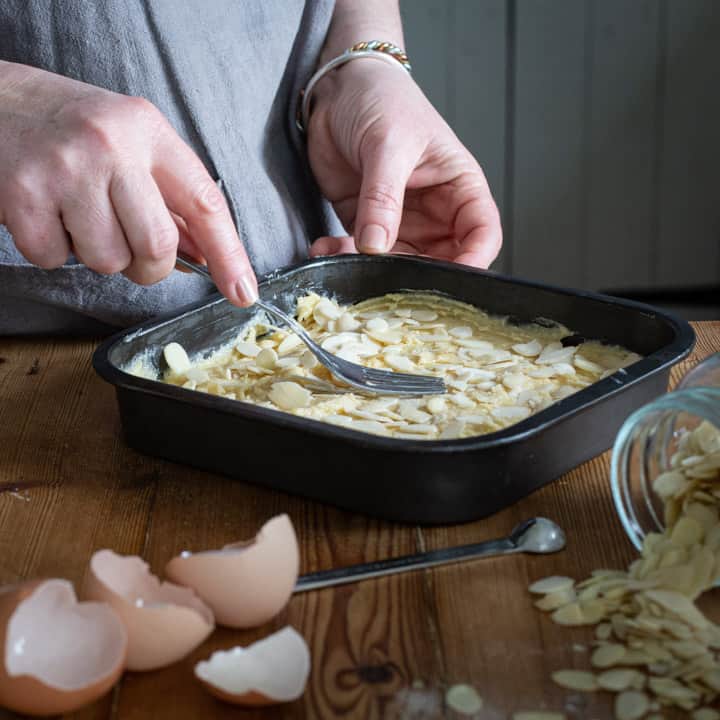 Finally, bake in a preheated oven for 15 minutes, or until the sponge is cooked through and the top is golden brown.
Doesn't it look beautiful?!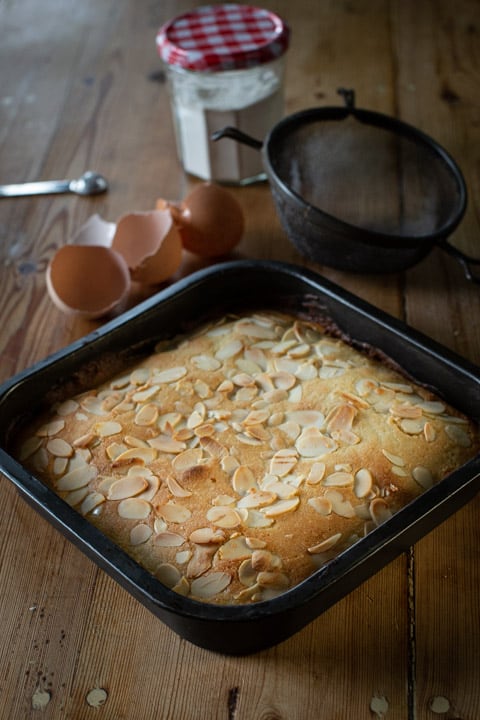 Is my almond slice cooked?
To test if it is cooked through insert a clean skewer or knife tip into the centre of the almond slice.
If it comes out clean, it is cooked.
If it shows some cake batter on the tip, it needs a little longer.
You can also press the centre of the bake with your clean finger tip.
If the sponge springs back up, it is cooked.
If however it stays dented, it needs a little longer in the oven.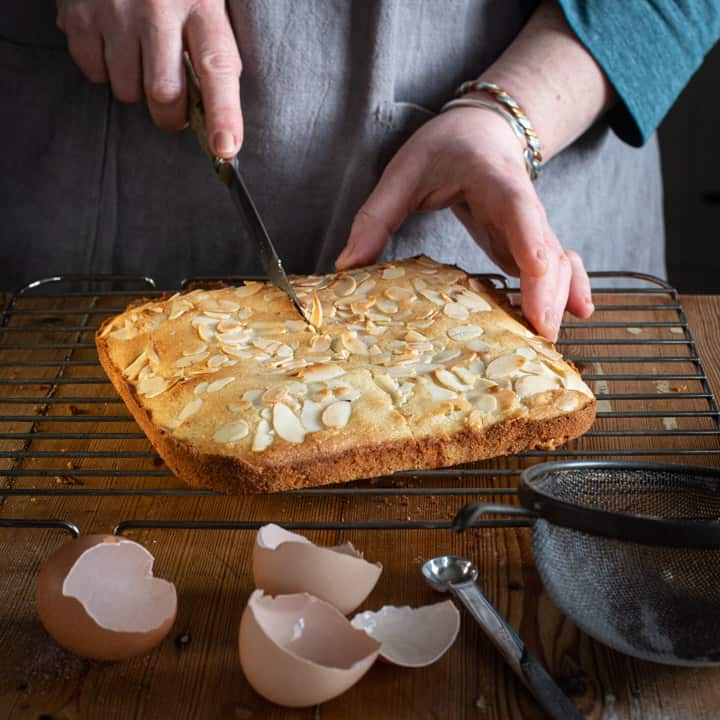 How (and why) to cool a cake
Carefully remove the bake from the pan.
Because my pan is non-stick, I like to use a wooden spatula to slide underneath and lever it up. Using a metal metal knfe to remove it may result in scratching off the non-stick coating.
Place the cake onto a wire cooling rack. If you don't have one, you can use the rack from your oven.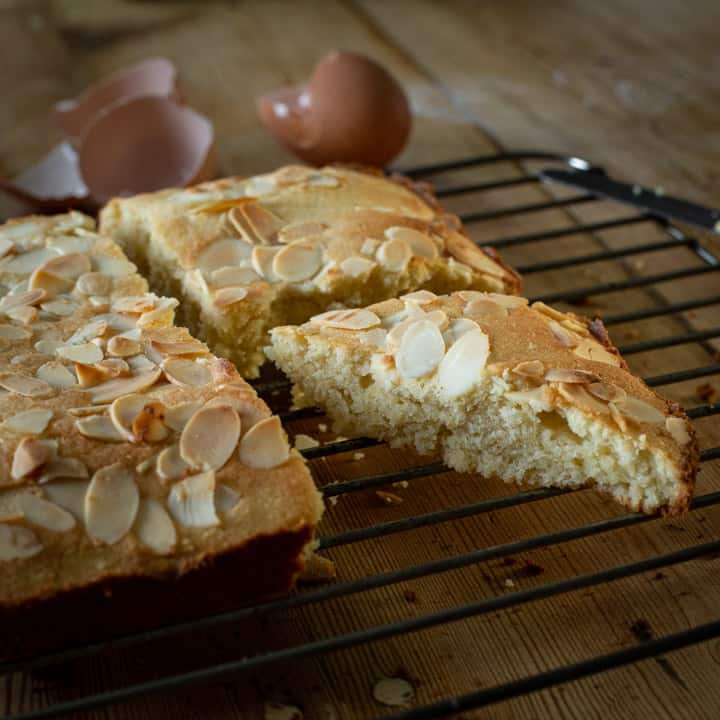 Lay the cake on the wire rack and leave it out until it has completely cooled.
This is really important as if you place a cake into a cake tin whilst there is any warmth still in it, the cake will sweat. Moisture and condensation will collect on the inside of the tin. This will cause your cake to go soggy, or even worse, to go mouldy very quickly.
If you're worried about flies you can use a food tent to place over it as it cools.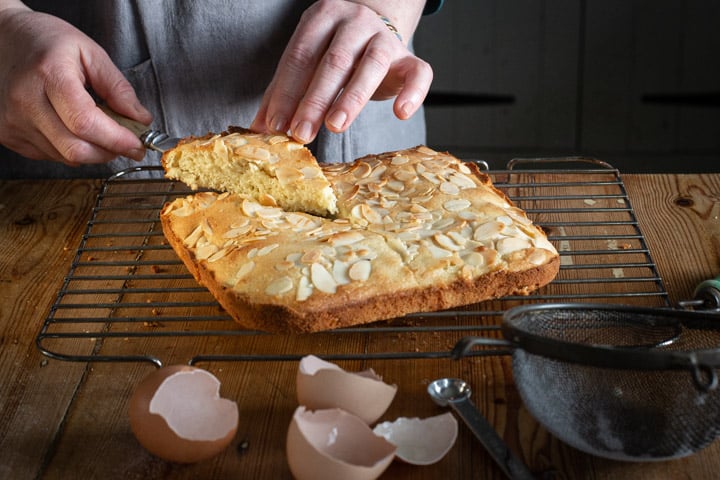 Packed lunch recipes
If you're always on the hunt for fun things to fill up a packed lunch box with, I hope you'll be adding this quick bake to the rotation!
If you'd like more packed lunch inspiration, take a peep at my packed lunch ideas and recipes archive. One of my readers favourites is the Best Flapjack Recipe. It's a got layer of sweet, sticky dates in the middle so uses a little less sugar than regular flapjacks but tastes just divine!
If you do give this quick almond slice recipe a go, please do share pics with me on social. You can find me pretty much everywhere as @hedgecomber :)
Jane x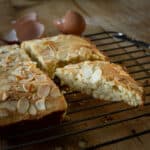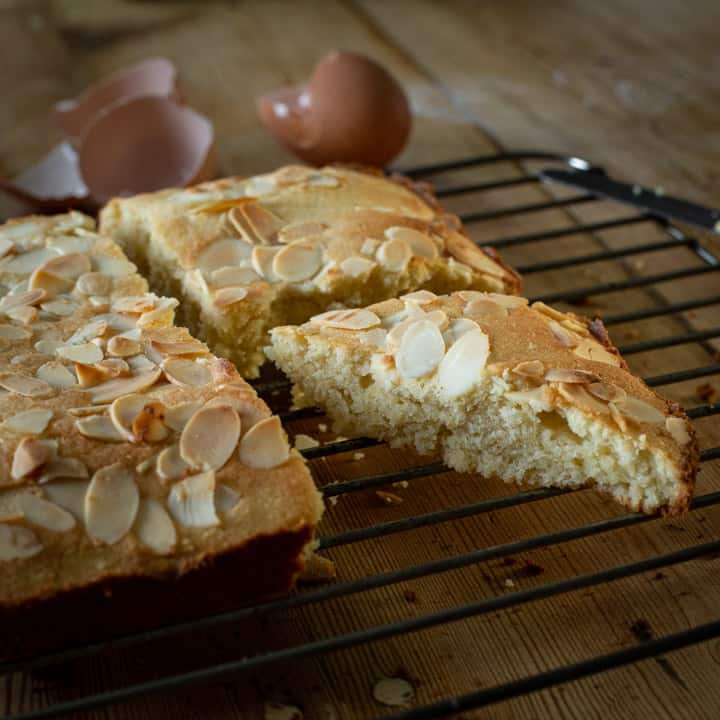 Easy Almond Slice
Keyword:
almond bake, almond slice, lunchbox recipes
Ingredients
110

g

butter

150

g

caster sugar

2

eggs

- beaten

150

g

plain flour

1/4

tsp

baking powder

50

g

ground almonds

25

g

flaked almonds

splash

milk or water

- I used 1 tablespoon
Instructions
Preheat the oven to 200/220 fan/425/gas 7.

Grease a baking tin that measures roughly 8" or 20cm squared.

Cream the butter and sugar together.

Stir in half the beaten eggs and half the flour.

Mix well.

Add the remaining egg, flour and the baking powder.

Lastly, add the ground almonds and a splash of milk to make the mixture soft.

Spread out evenly in the greased tin and top with the flaked almonds.

Press them down gently with the back of a fork.

Pop in the oven and bake for 15 minutes.
Nutrition Facts
Easy Almond Slice
Amount Per Serving
Calories 206
Calories from Fat 99
% Daily Value*
Fat 11g17%
Cholesterol 47mg16%
Sodium 76mg3%
Potassium 49mg1%
Carbohydrates 23g8%
Protein 4g8%
Vitamin A 269IU5%
Calcium 26mg3%
Iron 1mg6%
* Percent Daily Values are based on a 2000 calorie diet.