My One Pot Campervan Egg Fried Rice is the first of many camping recipes I have lined up to put my sweet little VW T4 campervan to work!

This one-pot campervan egg fried rice recipe has been a looooooong time coming!
When I first started looking for my perfect van, it was with the goal of making regular youtube campervan recipe videos.
I love camping and cooking over a campfire but the weather in Cornwall doesn't always make that an easy task.
Especially when deadlines are looming, and I need to get decent photos of the recipe.
With a campervan kitchen, who cares what the weather throws at us!
I bought Myrtle (my 1995 VW T4) a little over a year ago.
In that time have had her completely restored and (mostly) converted into my dream kitchen/office/bedroom on wheels.
This is how she looked when I first bought her…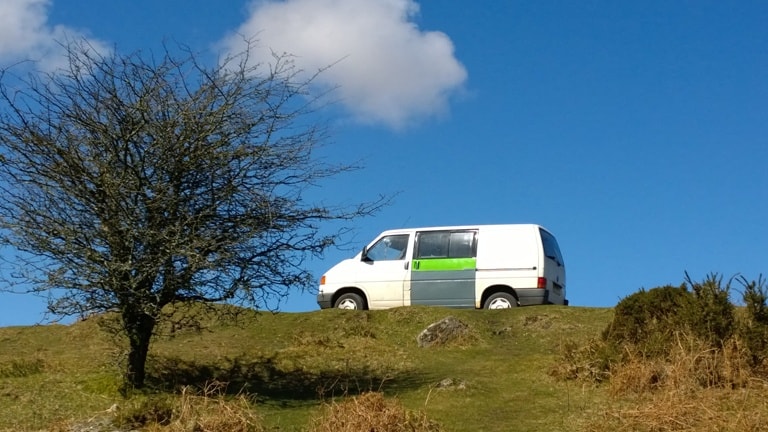 Yep.
Even that beautiful Dartmoor sky can't hide the fact that she looked a wee bit rough.
However, after six whole weeks in the body shop, she was replaced with this beauty…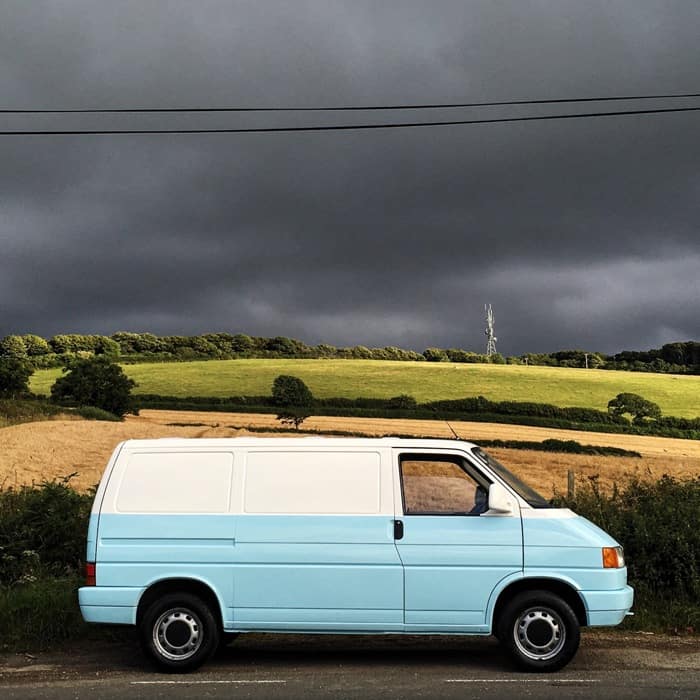 Sigh :)
She still causes a HUGE smile whenever I catch a glimpse of her.
Never having given a hoot about what I drove, so long as it got me to where I needed to be, I find this bizarre but lovely all at the same time.
And I especially love when I pass another VW on the road and get the wave and a beaming smile from the other driver.
Love it!
Anyway, now she has been formally introduced, I can skip ahead to the recipe!
One Pot Campervan Egg Fried Rice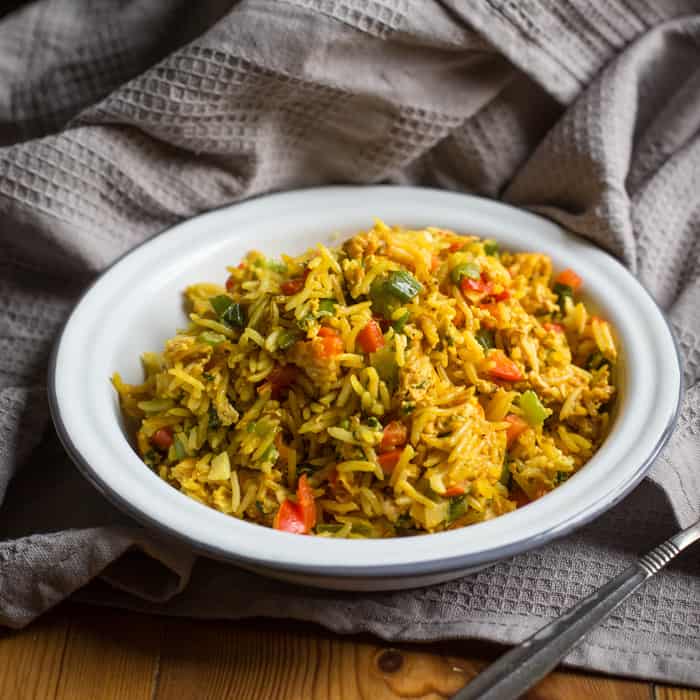 This is the first of many campervan/camping friendly recipes that I shall be bringing you from Myrtle.
Most will be one pot to make light work of the washing up.
Some will be healthy, and some will be family-friendly.
But I promise that all will be ridiculously tasty.
If you have any interest in eating decent food when camping or campervanning, then please subscribe to my youtube channel so you don't miss a thing.
And if there are any recipes you'd like me to have a go at making for a specific diet, ingredient or situation then please let me know below or in the youtube comments.
Big love friends. Here's my very first recipe in Myrtle the camper van & the written recipe is below :)
Jane x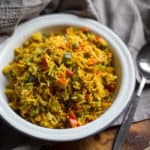 One Pot Campervan Egg Fried Rice
Keyword:
Healthy Egg Fried Rice, one pot camping meals
Ingredients
1

tablespoon

oil

1/2

onion

or bunch of spring onions, finely chopped

1/2

red pepper

finely chopped

2

cloves

garlic

finely chopped

1

pouch

microwavable rice

1/2

teaspoon

turmeric

1/2

teaspoon

paprika

1/2

tsp

chilli flakes

or to taste

1/2

teaspoon

black pepper

3

eggs

1

tbsp

soy sauce
Instructions
Heat the fat and fry the onion until softened.

Add in the pepper and garlic and fry for a couple of minutes

Before you open the pouch of rice, massage it well between your hands to break up any clumps of rice.

Tip in the rice and spices and stir well. Cook for a few minutes until the rice starts turning golden and smelling toasty.

Push the rice to the sides of the pan and crack in the eggs. Pour the soy suace over the eggs, then mix them together until well scrambled, before mixing through with the rice.
Nutrition Facts
One Pot Campervan Egg Fried Rice
Amount Per Serving
Calories 194
Calories from Fat 126
% Daily Value*
Fat 14g22%
Cholesterol 246mg82%
Sodium 608mg26%
Potassium 213mg6%
Carbohydrates 8g3%
Protein 10g20%
Vitamin A 1682IU34%
Vitamin C 41mg50%
Calcium 49mg5%
Iron 2mg11%
* Percent Daily Values are based on a 2000 calorie diet.