Oatcakes are a staple in our kitchen, and are perfect when you've run out of fresh bread and other basic supplies. But have you ever made your own? They're cheap, tasty and a doddle to throw together, even when camping!
I love oatcakes, however I'm not so keen on the price tag. When you figure how cheap the ingredients are, I'm not quite sure how the price is justified.
Also, freshly made oatcakes are a cut above the ones you buy in the supermarket. Still ever so slightly warm from the pan, they are delicious with butter, cheese or pate. If you need a sweet fix, try them instead with peanut butter, honey, jam or marmalade. Just scrummy.
How to Make Oatcakes When Camping
These are great to make when camping too. Pre-mix all the dry ingredients in a ziploc bag before you go and bury the bag at the bottom of your food supplies box. When all your fresh breads and wraps have run out, simply add the water & fat to the bag and mix well. Gently fry in a clean, dry frying pan over the fire. They taste even better this way than cooked at home.
When it comes to the oats, they ideally need to be medium or fine oatmeal. All this means is that the oats have been ground. It's much cheaper to buy porridge oats (or whatever is cheapest where you live) and use the food processor to grind them however you want them. I prefer slightly rough oatcakes, so I left mine with a fair bit of texture.
Simple isn't it? Real food, simply made that tastes great. What's not to love?!
Basic Oatcakes Recipe
Here's my basic oatcakes recipe. You can flavour your basic oatcake up any way you like. Try a little chopped rosemary, garlic powder or grate some fresh Parmesan cheese in to the dough.
Be sure to let your oatcakes cool fully before packing them away in an airtight bag or tub where they'll stay fresh for a few days. If you find they go a bit soft, just reheat before serving.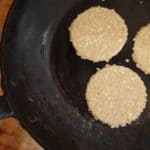 Tasty Oatcakes Recipe
Keyword:
oatcake recipes, recipe for oatcakes
Ingredients
250

g

medium or fine oatmeal

1

pinch

bicarb of soda

baking soda

1/2

tsp

salt

1

tablespoon

melted lard or bacon fat

4-5

tablespoons

hot water
Instructions
Mix all the dry ingredients in a bowl.

Add the fat and enough hot water to mix it all into a stiff dough (if you're doing this for the campfire, mix it all in the ziploc bag and you won't have to get your hands dirty)

Knead it into a smoothish ball, then roll out until about 3 or 4mm thick. Dusting the board with more oatmeal will help it not stick.

Cut up into pieces, I used a glass to get mine round, but let your imagination take over.

Pick each one up by sliding a palette knife underneath, and pop on a preheated, lightly greased griddle or heavy frying pan.

Cook for about 5 minutes, until the edges just start to curl up and the bottom is lightly golden.

Flip over and repeat for 5 minutes on the other side. Let cool on a cooling rack.
Nutrition Facts
Tasty Oatcakes Recipe
Amount Per Serving
Calories 25
Calories from Fat 9
% Daily Value*
Fat 1g2%
Cholesterol 1mg0%
Sodium 122mg5%
Potassium 14mg0%
Carbohydrates 2g1%
Protein 0g0%
Calcium 2mg0%
Iron 0.2mg1%
* Percent Daily Values are based on a 2000 calorie diet.