This savoury Oatcakes Recipe is so handy to rely on when you've run out of fresh bread, or just fancy a change.
Making your own oatcakes is fun, super cheap, and a doddle to throw together, even when camping!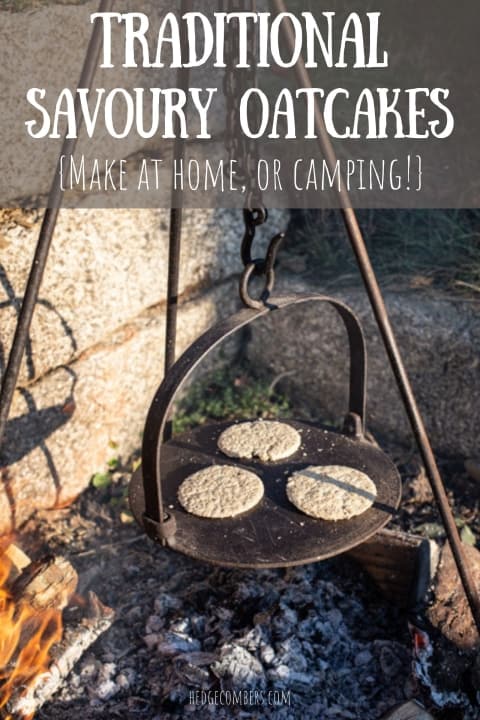 I love oatcakes. However, I'm not so keen on the price tag.
When you figure how cheap the ingredients are. I'm not quite sure how the price is justified.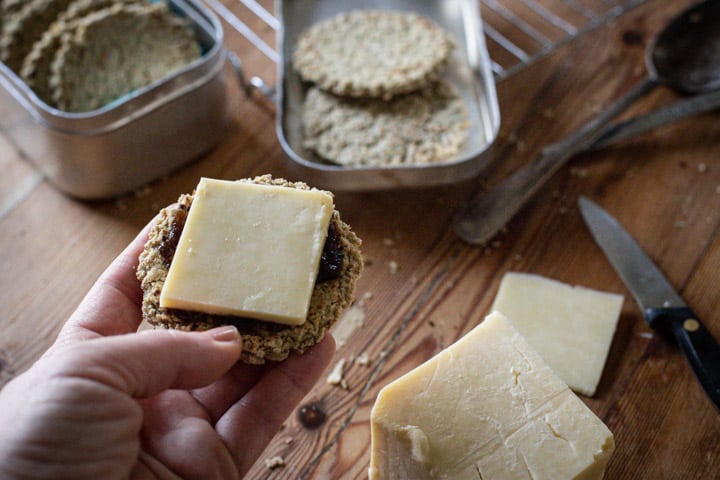 Also, freshly made oatcakes are a cut above the ones you buy in the supermarket.
Still ever so slightly warm from the pan, they are delicious with butter, cheese or pate.
And if you need a sweet fix, try them instead with peanut butter, honey, jam or marmalade.
Just scrummy.
What kind of oats do I need to make oatcakes?
Oatcakes are usually made of oats that have been ground to a medium or a fine oatmeal.
You can buy these ready ground, or you can pulse regular porridge oats in a food processor until you reach the same texture.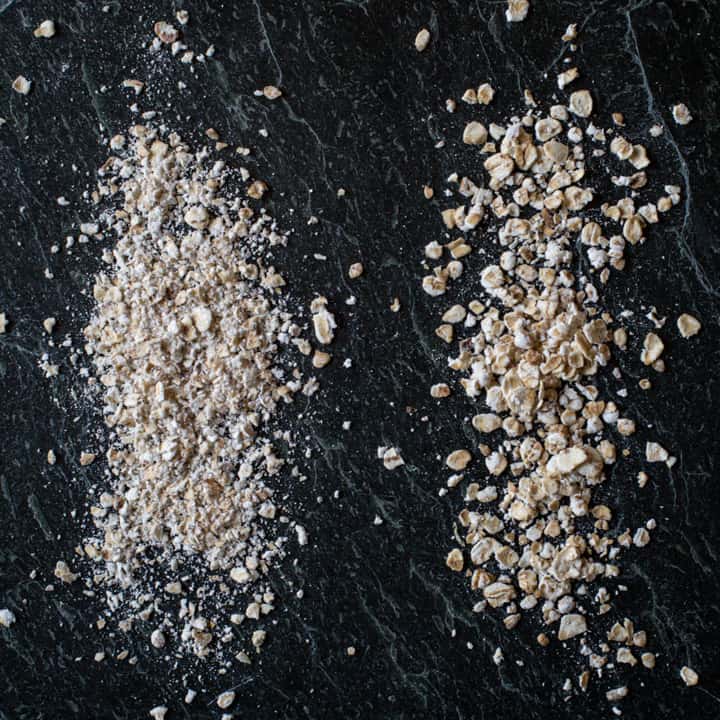 The oats on the right are how we buy porridge oats. The oats on the left are those that I've pulsed a few times.
I prefer slightly rough oatcakes, so I like a little bit of texture.
But you can certainly blitz yours even finer if you prefer.
Grinding your own tends to work out cheaper. And as you are always working from one bag of oats for various recipes, they will stay fresher than having various bags of different grinds hanging around for long periods of time.

How do I make Gluten Free Oatcakes?
The only thing you would need to ensure is that the oats you buy are guaranteed to be *gluten-free.
All of the other ingredients in this recipe are naturally free of gluten.
*Oats are also naturally free of gluten. However, they are generally milled in machines that also mill wheat. When you buy 'gluten-free oats', this just means that the oats have been milled in premises where wheat is not also ground, so there is no risk of cross-contamination.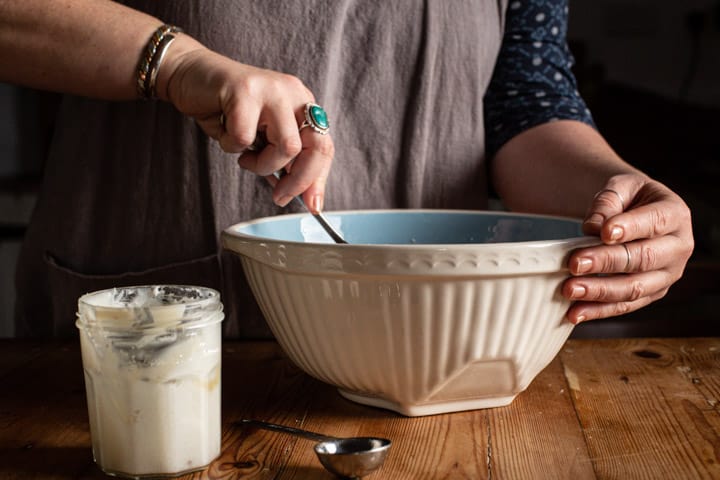 What ingredients are in Oatcakes?
Along with the oats, you also need hot water, salt, and a fat.
I've also always added 'a pinch of bicarb' (also known as bicarbonate of soda or baking soda).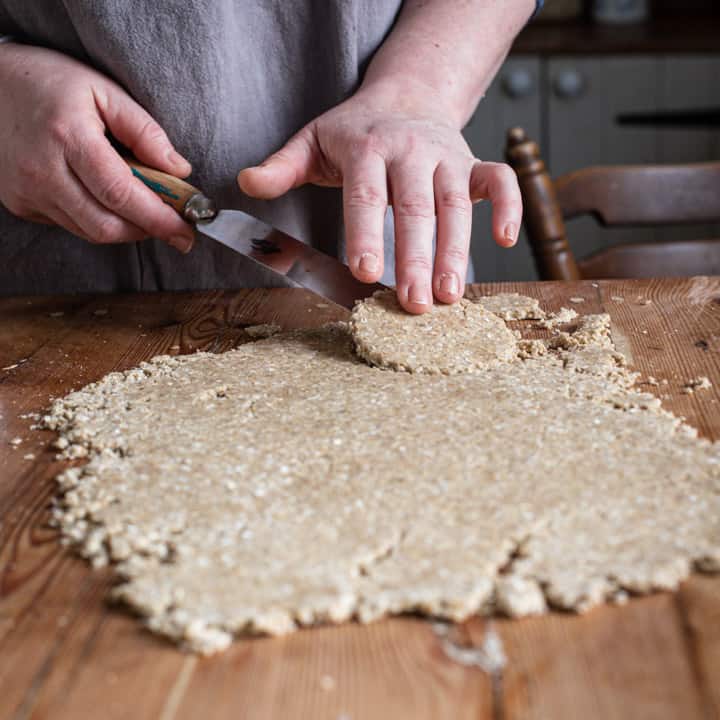 But having just fallen down a very scientific rabbit hole, I have learnt that with no acidic ingredients to activate the bicarb, it serves no purpose in this recipe.
You could swap it out for 'baking powder' which contains bicarb as an ingredient, along with the acids that will activate the bicarb once it comes into contact with a liquid.
However, modern-day oatcake makers don't seem to bother with either.
So, in conclusion: add a pinch of baking powder. Or don't bother!
What fat is best in an oatcake recipe?
I recommend using bacon fat or butter. Lard is also acceptable but doesn't carry the great flavour of the other two.
Bacon fat is literally the drippings from cooking bacon in a frying pan. As I cook bacon I pour it into a glass jar that lives in the fridge.
I save this wonderful savoury umami fat for special occasions (and oatcakes!)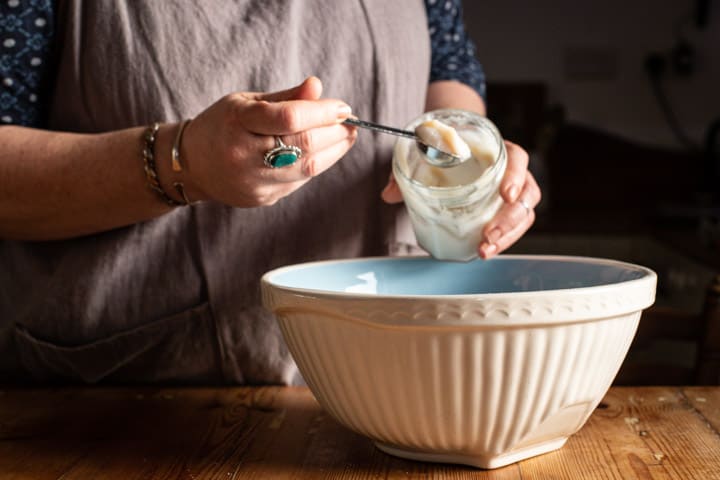 I have also seen that many people use 'vegetable shortening' to make oatcakes. However, I'm very old fashioned with my choice of fats and avoid eating these.
Shop-bought oatcakes mostly use palm oil, because it's cheap and has a long shelf life. Unless palm oil can be guaranteed to be from a sustainable source, it has major negative environmental consequences. I try to avoid it entirely.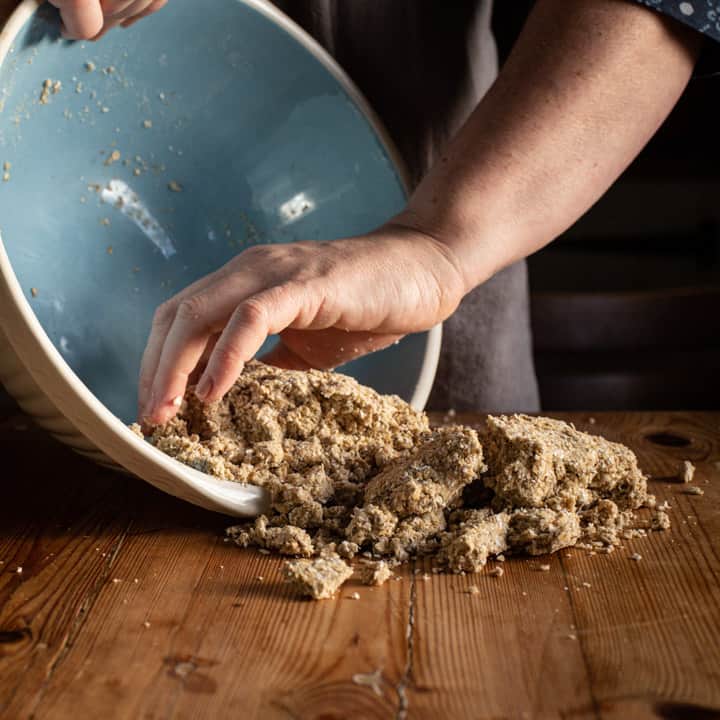 What Equipment do I need to make oatcakes?
Once you've mixed up your oatcake dough in a large bowl, you'll need to roll it out to about 3 or 4mm thick.
You can, of course, use a rolling pin for this.
Although I have quite successfully rolled the stiff oatcake dough out using a wine bottle when camping!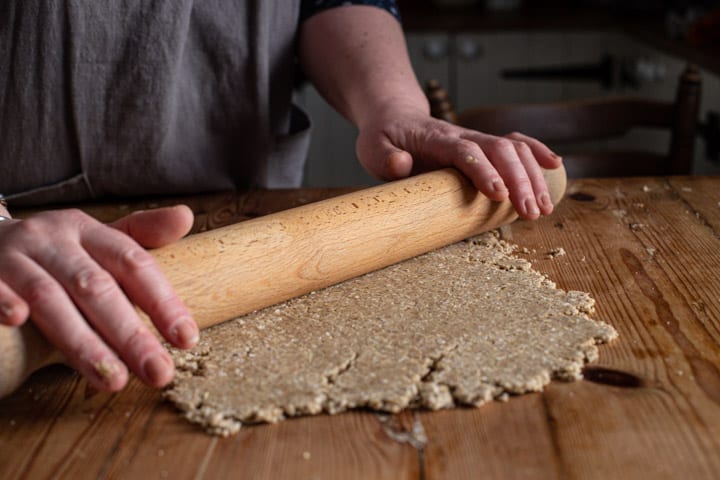 The oatcakes are cooked dry (this just means that no oil is added to the pan when you cook them).
I like to use cast iron for this job when camping, as the heat remains very stable due to the weight and thickness of the cast iron.
And at home, I use this large steel teppanyaki flat griddle pan. But a large frying pan will be perfect too.

How to Make Oatcakes When Camping
You can make the mix from scratch at camp, or prep it at home before you head off.
If choosing the latter, pre-mix all the dry ingredients in a large ziploc bag.
Bury this at the bottom of your food supplies box.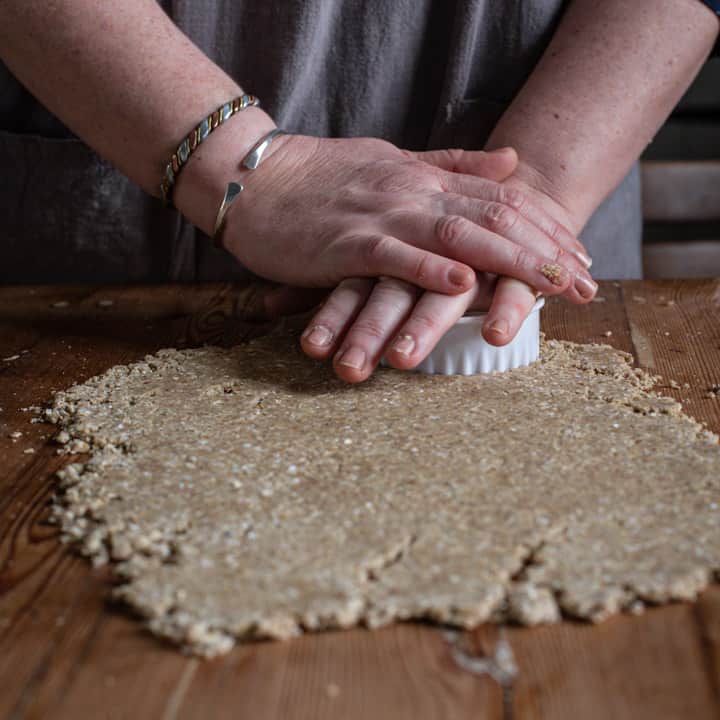 When all your fresh bread and wraps have run out, simply add the water & fat to the bag and mix well. You can do all the mixing in the bag thereby saving your hands getting messy too!
Then roll out and cut the dough. If you manage to cook them on the embers of a campfire, they'll taste even better than when cooked at home.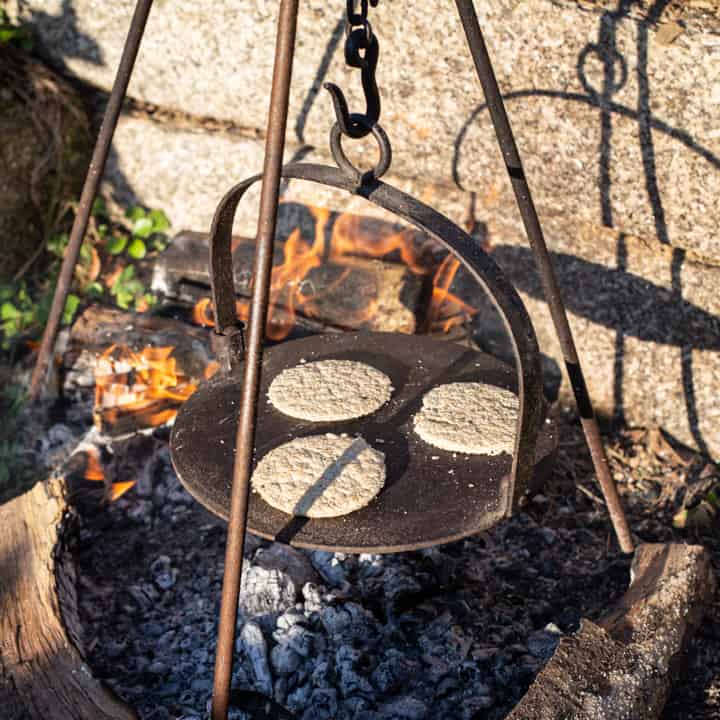 When I'm camping I like to use this cast iron hanging griddle.
The handle folds flat making it quite easy to pack up, and it's not as heavy as a lot of my cast iron pieces.
I picked this one up second hand, and I believe it to be quite old. They are pretty hard to find new, but you can occasionally find them on eBay.
And to prove how easy it is to make this recipe outdoors, here's a teaser of my latest video…
Click here to watch the entire video: Campfire Oatcakes Recipe.
And if you'd like more camping food inspiration, here's my full library of camping recipes.
Basic Oatcakes Recipe
Here follows my basic oatcakes recipe which will deliver traditional plain oatcakes.
When you've mastered these, why not branch out and flavour the basic recipe with various flavours.
Maybe try a little chopped rosemary, garlic powder or grate some fresh Parmesan cheese into the dough?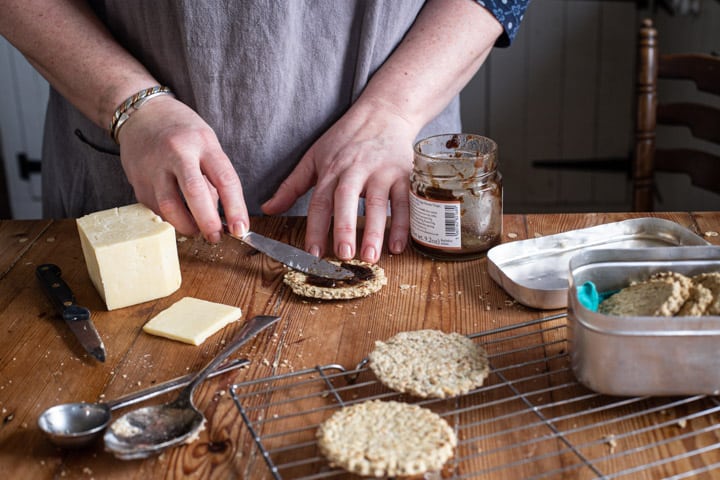 Be sure to let your oatcakes cool fully before packing them away in an airtight bag or tub where they'll stay fresh for a few days.
If you find they go a bit soft, just reheat before serving.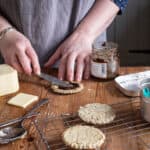 Savoury Oatcakes Recipe
Keyword:
campfire cooking, oatcakes recipe, Scottish oatcakes recipe
Ingredients
250

g

oatmeal

- fine or medium ground

1/2

tsp

salt

1

tbsp

bacon fat

- or butter

4-5

tbsp

hot water

- you may need more to make a dough
Instructions
Mix all the oatmeal and salt in a mixing bowl.

Add the fat and enough hot water to mix it all into a stiff dough.

Knead it into a smoothish ball, then roll out until about 3 or 4mm thick.

Dusting the board with more oatmeal will help it not stick.

Cut up into pieces. You can use a cookie cutter or glass to get them round, or use a knife to cut any shape you fancy.

Pick each one up by sliding a palette knife underneath, and pop on a preheated griddle or heavy frying pan.

Cook for about 5 minutes, until the edges just start to curl up and the bottom is lightly golden.

Flip over and repeat for 5 minutes on the other side. Let cool on a cooling rack.
Nutrition Facts
Savoury Oatcakes Recipe
Amount Per Serving
Calories 25
Calories from Fat 9
% Daily Value*
Fat 1g2%
Cholesterol 1mg0%
Sodium 100mg4%
Potassium 15mg0%
Carbohydrates 3g1%
Protein 1g2%
Calcium 2mg0%
Iron 1mg6%
* Percent Daily Values are based on a 2000 calorie diet.