This New York Bagel Recipe (with UK Measurements) will fly your tastebuds over the pond, bringing you an authentic taste of the humble New York bagel.

I was recently asked to create a recipe inspired by New York.
Well, that got me thinking.
Having never been to the Big Apple, it was quite a surprise that I could think of so many New York inspired foods: Hot dogs, obviously. Pretzels. Pastrami on rye. Pizza.
Eventually, and with a growling tummy, I settled on creating a New York bagel recipe.
Bagels have always fascinated me, ever since I learnt that the little dough hoops were boiled before being moved into a hot oven and baked.
Whilst that may sound kinda weird, it does explain that deliciously dense, chewy texture that makes the perfect bagel.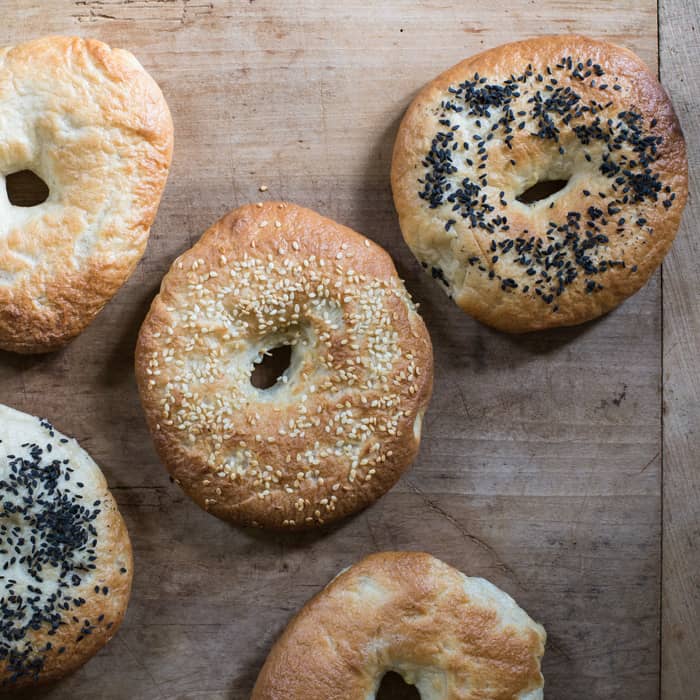 Supermarket bagels are great for keeping in the freezer on standby for when you run out of bread.
But as with most things, it's always worth making them from scratch when you have time.
And whilst mine aren't going to win any beauty contest, I think they look all the tastier for their homemade rustic wonkiness!
Don't you?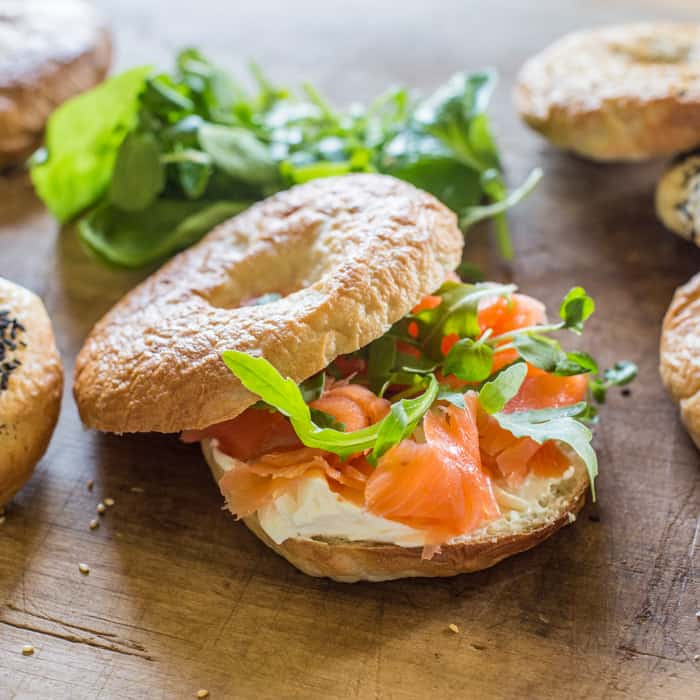 So what do you top your New York Bagel with?
Traditional Smoked salmon and cream cheese gets my vote. These were delicious!
However, Jonny won't eat anything that's been within half a mile of the sea.
So his got spread with sweet chilli sauce and thick slices of a mature cheddar cheese.
Houmous and sundried tomatoes would make a great veggie version.
And I'm pretty sure a BLT version will be knocked up in my kitchen before the week is out!
New York Bagel Recipe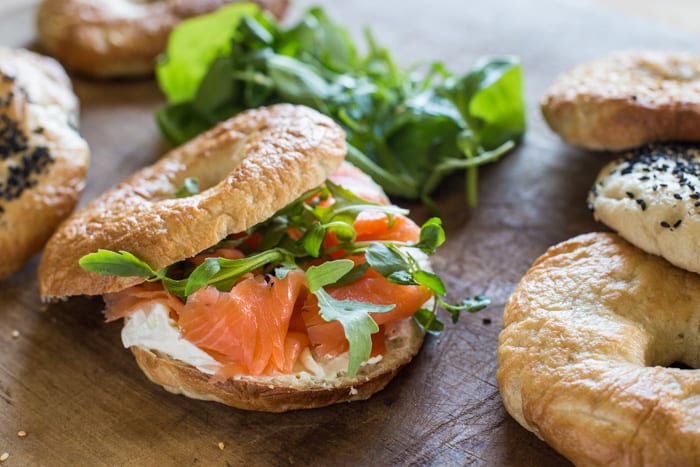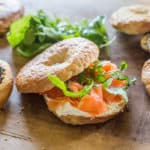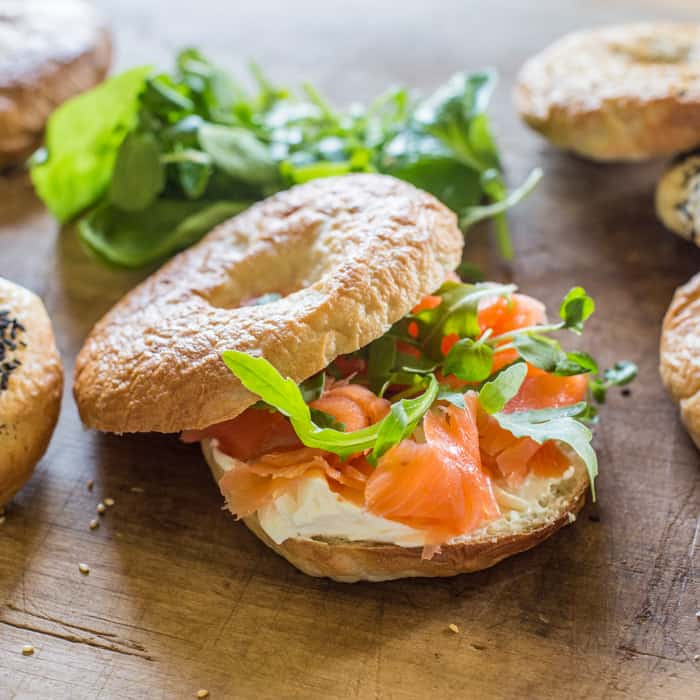 New York Bagel Recipe (UK Measurements)
Ingredients
300

ml

Warm water

1/2

teaspoon

Instant yeast

620

grams

Bread Flour

2

teaspoons

Salt

4

teaspoons

Runny honey
Instructions
In a jug mix together the warm water and yeast. Leave for 15 minutes or until a light foam lays across the top of the water. If the foam doesn't appear your yeast may be too old, or your water too hot or cold. Tip away and try again.

In an electric mixer, fitted with a dough hook, mix the flour, salt and honey together.

Whisk the yeasted water together one last time and pour into the mixer. Mix on low for 4 or 5 minutes, until the dough has come together into one lump.

Turn up the mixer and knead for another 10 minutes or until the dough is stiff and smooth. This is a much firmer dough than say bread dough. If you're kneading by hand, good luck!

Scrape out of the bowl onto a surface lightly dusted with flour. Divide into eight equal portions and roll each piece into a ball.

Dust a couple of baking sheets with cornmeal (polenta). Next take each ball of dough and stick the handle of a wooden spoon through the centre. Carefully swing the dough around the handle to stretch the hole, and make the bagel shape. If one side is a little lumpier than the other, you can even them out with your fingers.

Stand each bagel on the cornmeal with an of inch or two of room around for them to spread.

Cover with cling film, and let sit on the kitchen counter for 2-3 hours, or overnight in the fridge.

Bring a pan of water to the boil. The water needs to be 3-4 inches deep and the wider the pan the better (I could only poach one bagel at a time, with a bigger pan you could do 3 or 4 at a time).

Pop as many bagels into the boiling water that will for without crowding them. Poach for 90 seconds on one side, flip and cook 90 seconds on the second side.

Take out of the water with a draining spoon and let sit on a cooling rack until all the bagels are poached. Sprinkle with seeds at this point if you fancy.

Preheat the oven to 240/473/gas 9.

Sprinkle 1 or 2 baking sheets with a little more cornmeal, pop the sticky bagels on top then straight into the oven.

Bake for 13-14 minutes or until they are evenly browned. Remove from the oven, and cool on a baking rack
Nutrition Facts
New York Bagel Recipe (UK Measurements)
Amount Per Serving
Calories 292
Calories from Fat 9
% Daily Value*
Fat 1g2%
Cholesterol 0mg0%
Sodium 585mg25%
Potassium 84mg2%
Carbohydrates 59g20%
Protein 9g18%
Calcium 12mg1%
Iron 0.7mg4%
* Percent Daily Values are based on a 2000 calorie diet.