This Mutton Stew is slow cooked to ensure the meat is tender and flavoursome. Towards the end of the cooking time minted dumplings are added to cook in the rich, meaty gravy.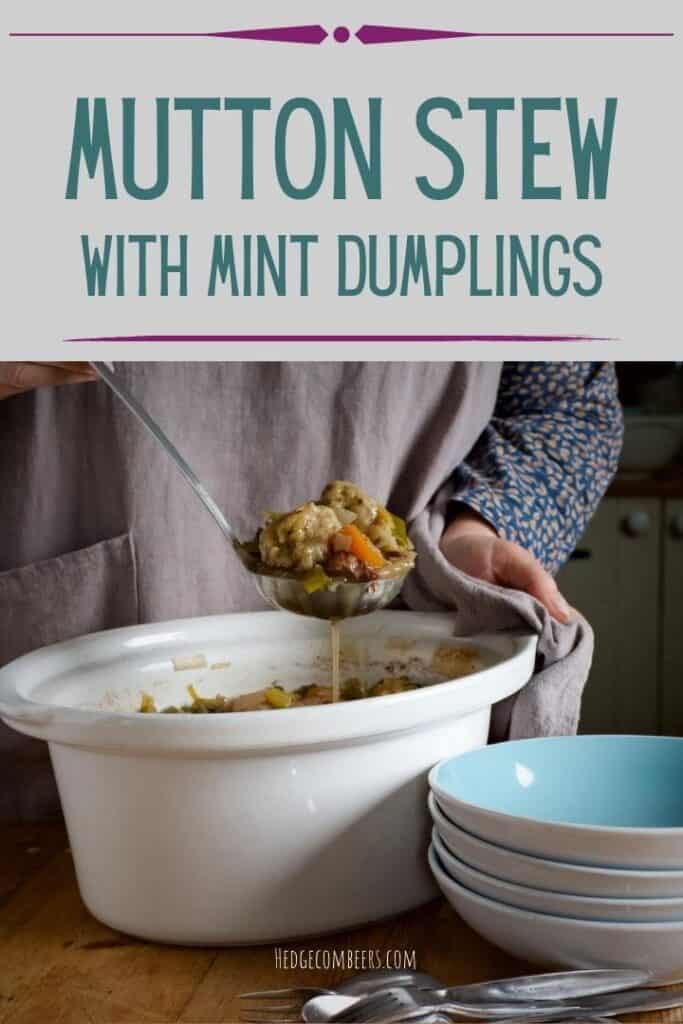 This dish is a little beauty, and brings all the best elements of a good stew together.
Not only do you have the softest, tenderest meat drenched in a rich red wine based gravy. You also have these little dumplings which are flavoured with fresh mint leaves and complement the mutton a treat.
OK, sales pitch over :)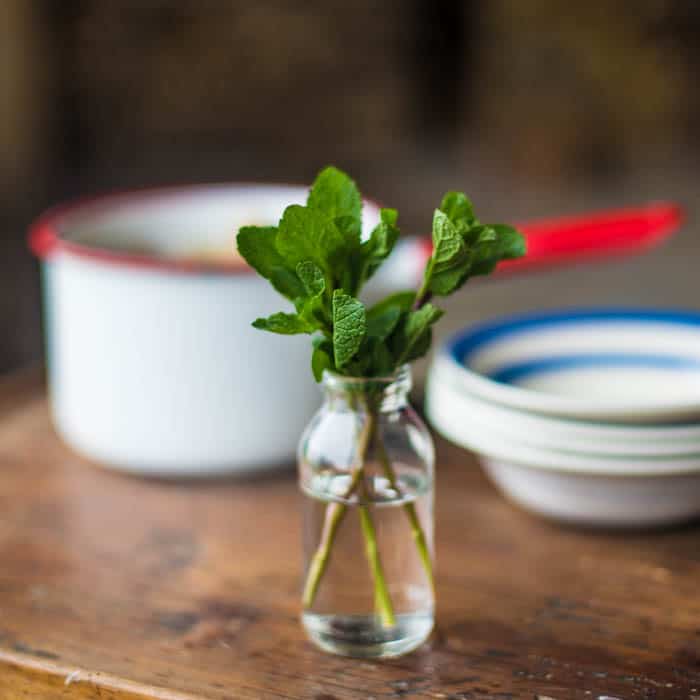 What is mutton?
Mutton is the name given to meat from an older sheep, generally over the age of two.
And to put it in perspective with the other types of meat from sheep, here's what mutton, hogget and lamb mean:
Lamb is from a sheep up to the age of one.
Hogget is from a sheep aged between one and two.
Mutton is a sheep older than two.
Where can I buy mutton?
If you live in a sheep rearing area, your butcher may be able to source hogget or mutton.
However, I'm surrounded by several sheep farms and my local butcher doesn't sell it as there's not much call for it.
So instead, I order a whole 'cull ewe' from my neighbouring farmer. This will be an older female sheep that will no longer produce lambs. She'll likely not be bred next year so he's happy to arrange for me to take her.
My neighbour gets the sheep butchered to my requirements and I then have a very happy freezer!
Visit your local farmers markets to find a sheep farmer that may be able to help.
Isn't mutton tough?
Yes, if cooked badly, it will be. But when mutton is slow cooked, all the tough fibres and any gristle melts down into the most delicious and nutritious of stews.
And as with most meat from older animals, it will also carry much more flavour too.
The following recipe can be slow cooked in your oven. But with the rise in energy prices, it will be much more economical to make this recipe in an electric slow cooker.
How to Make Mutton Stew and Mint Dumplings
You'll find the full written recipe at the bottom of this blog post, where you'll be able to toggle between metric and US measurements.
However, in case you've not made stew with homemade dumplings before, I'll first walk you through the recipe with step-by-step photos.
1/ prep your mutton for the slow cooker
Dice your mutton into bite sized pieces with a sharp knife. Mutton is naturally quite fatty and this will add to the flavour of the stew. However if there are extremely large lumps of fat you may wish to remove them.
If you are wishing to stretch the stew to feed more people, cut the meat into smaller pieces. You can also add more veggies than the recipe states in this case too.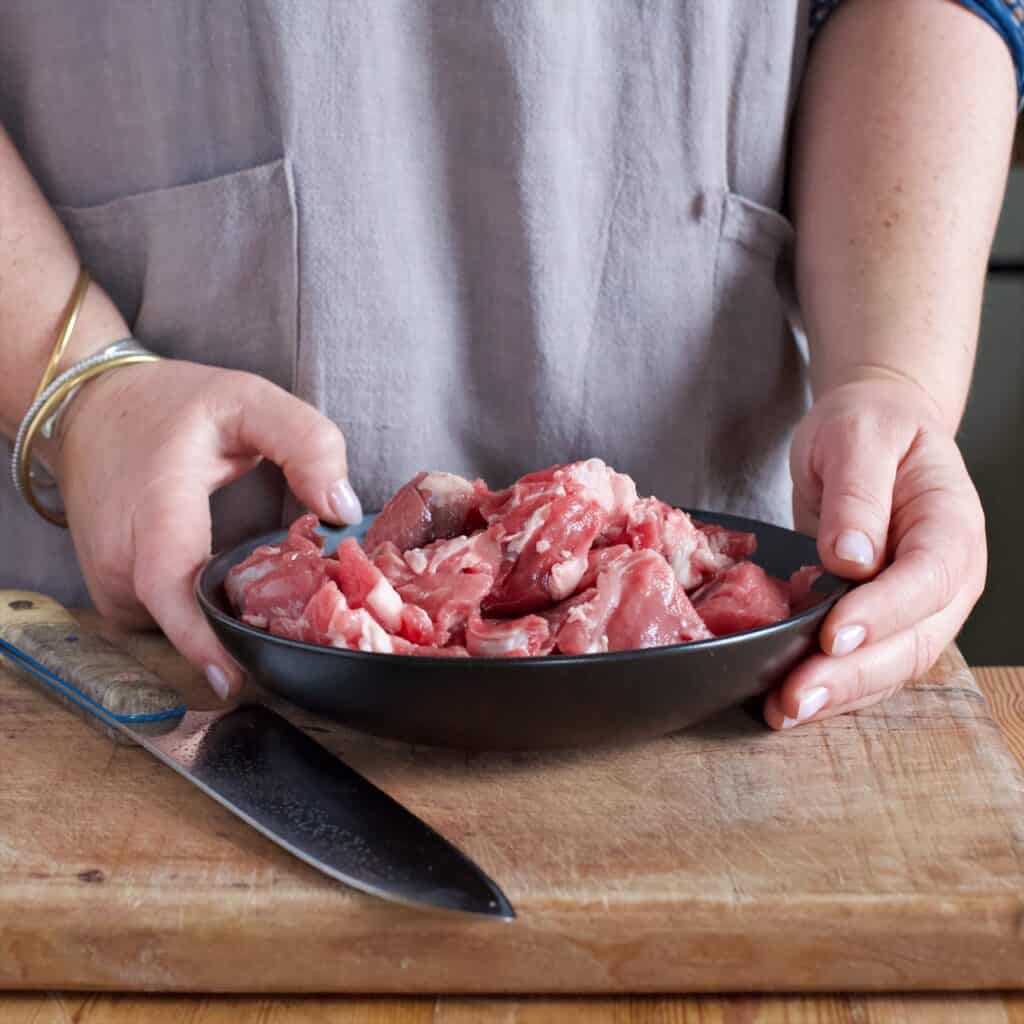 Preheat a frying pan or skillet over a medium hot heat.
Add the oil, then sear the meat until at least two sides of each piece is dark golden brown.
Don't over fill the pan as you do this or the meat will be forced to steam instead of sear. Work in batches if necessary, ensuring the meat is in a single layer in the pan.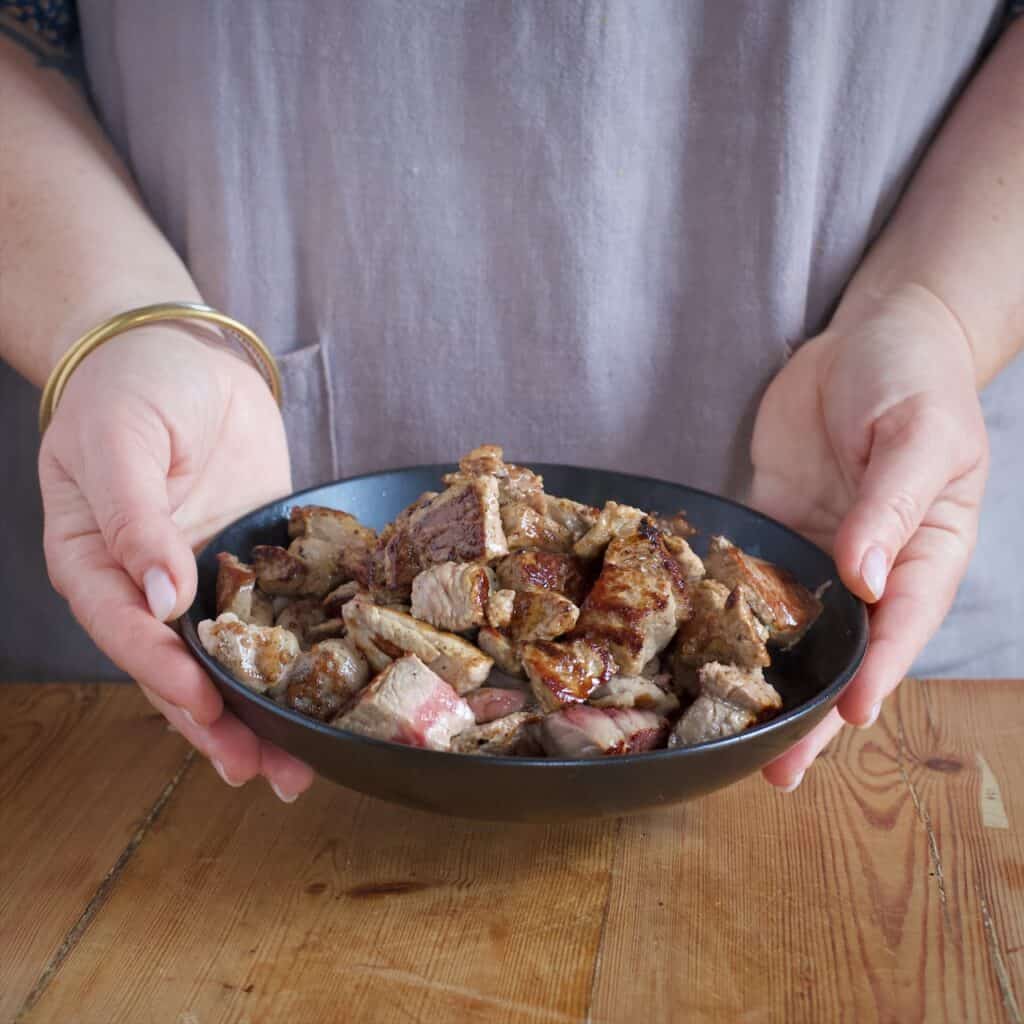 Place the seared mutton into the slow cooker.
2/ prep the stew veg
Next, chop up the vegetables into bite sized pieces and add them to the slow cooker too.
I love carrots in a stew, but you may wish to swap them out for another root veg if you prefer. Or you can add a mix of different root veggies instead.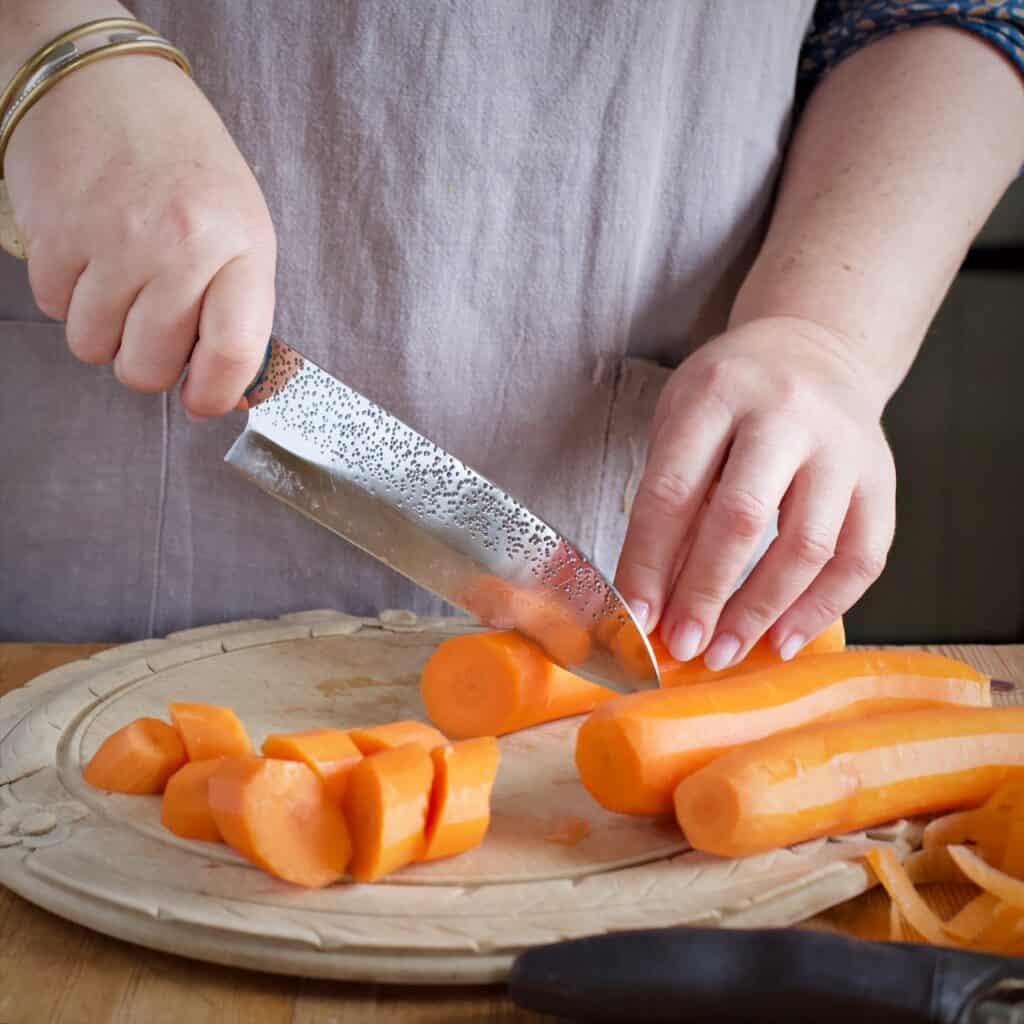 I'm also adding leek, onions and garlic to my stew. But feel free to add any other vegetables you have in need of using up.
Leafy greens like kale, cabbage or Swiss chard would be delicious.
I would chop them up quite finely and perhaps add them in the second half of the cooking time.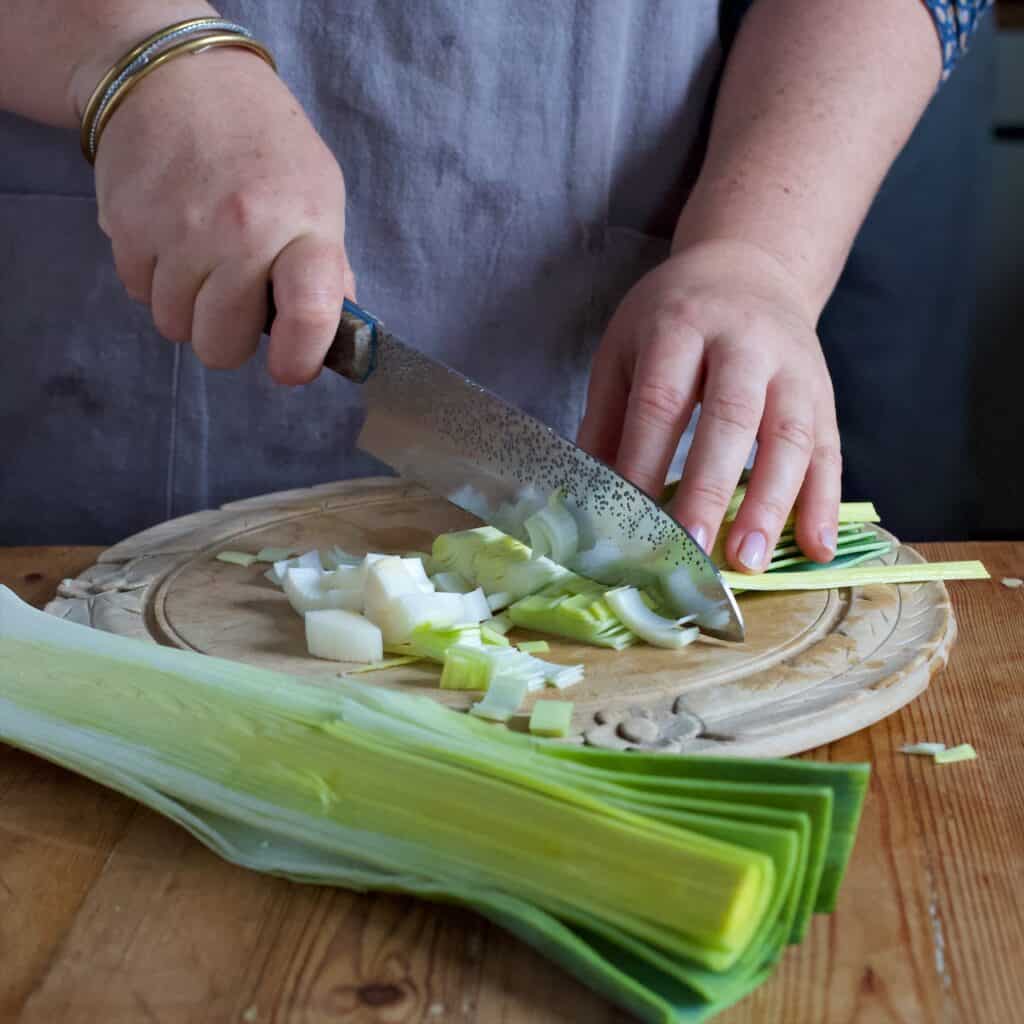 Once your veggies are all prepped and added to the pot, pour in the red wine.
Red wine isn't essential for this recipe if you're trying to stick to a budget. Instead you could use some homemade chicken stock if you have some in the freezer?
Or simply use water and a couple of stock cubes. (In this case, omit the salt we're about to add!)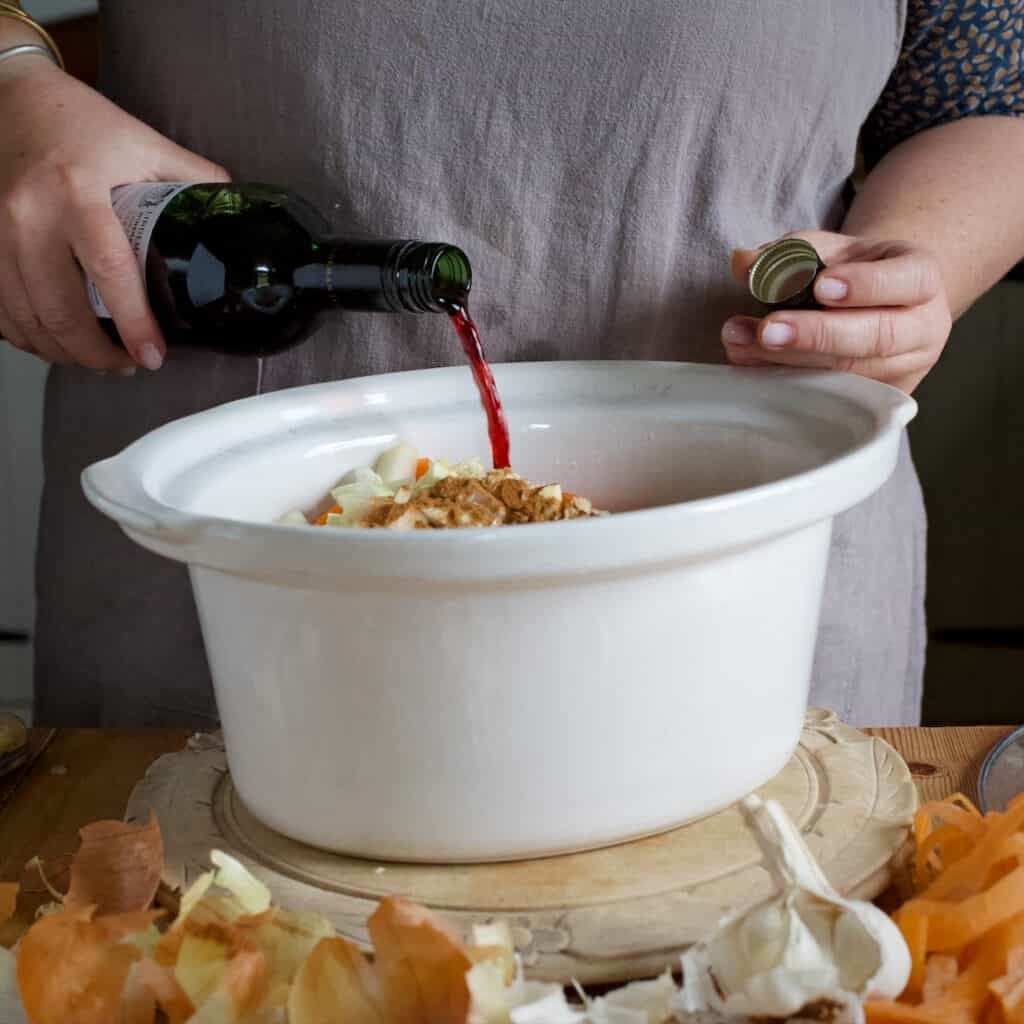 And finally we're adding the salt, pepper and cinnamon for seasonings.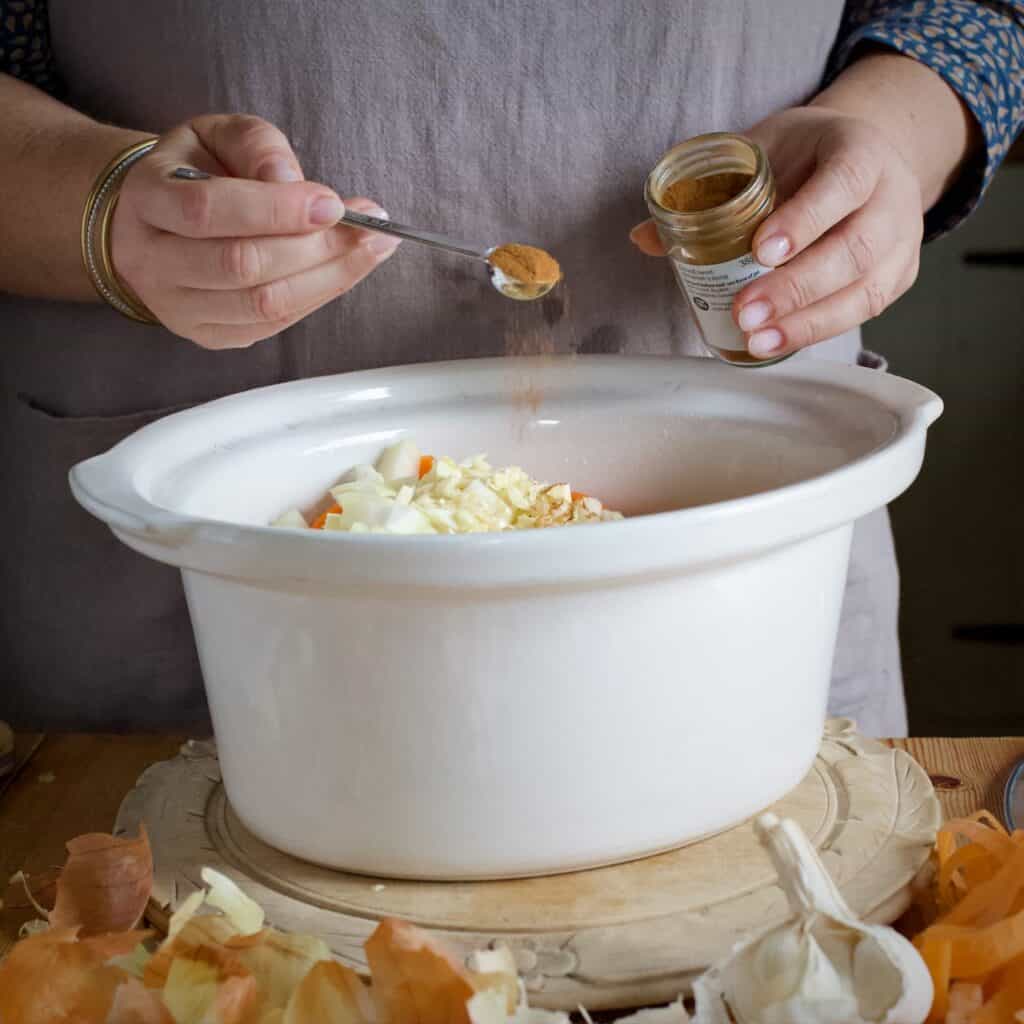 Give it all a good stir, pop on the lid, and switch the slow cooker on.
You have two choices as to how long it will take to cook, depending on when you want to eat:
On 'High' it will take 4 hours to cook.
On 'Low' it'll take 8 hours to cook.
How to Make Mint Dumplings
These old fashioned beef suet dumplings are a real treat nestled in this mutton stew. They're soft and stodgy and turn this meal into a big bowl of comfort food :)
1/ make the dumpling dough
In a large mixing bowl, measure out all the dry ingredients.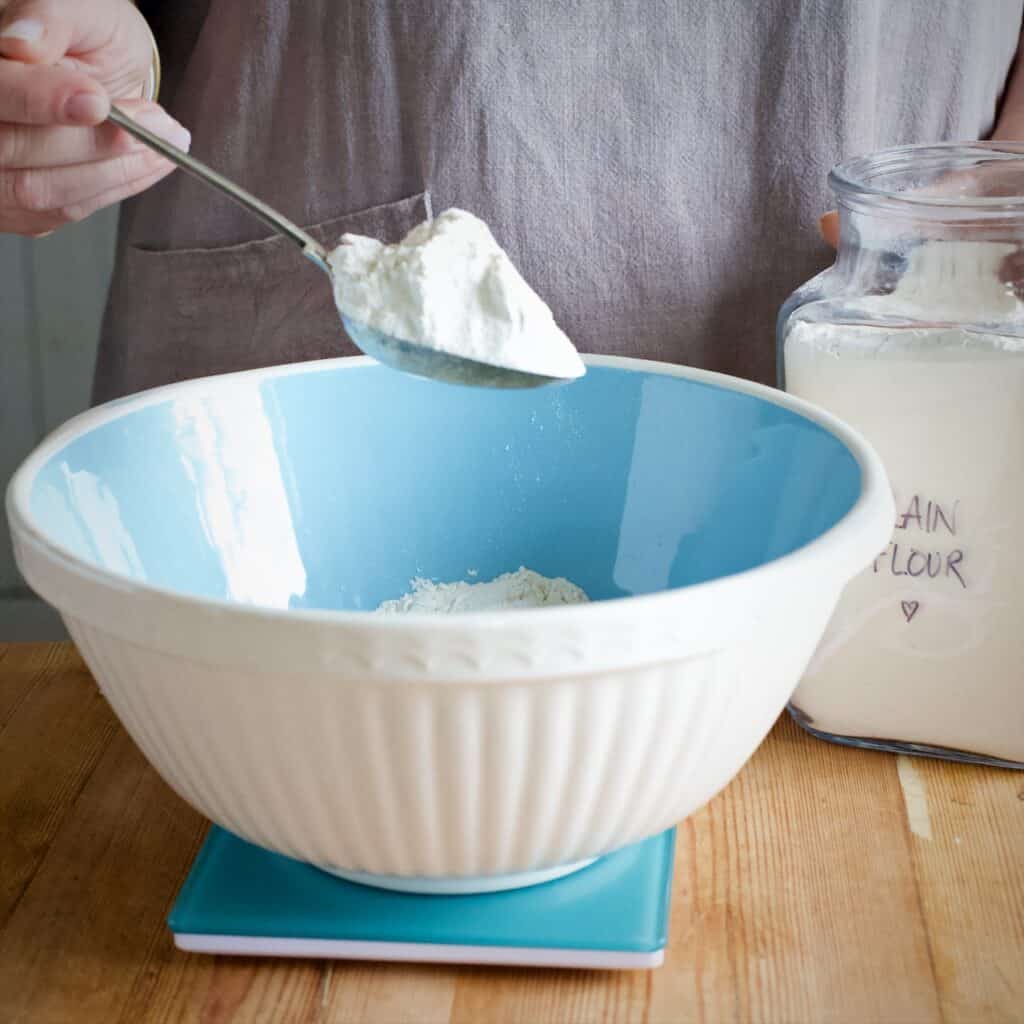 I'm using plain flour and adding baking powder to make the dumplings puff up. But if you have self raising flour you could use this instead and just leave out the baking powder.
I'm also adding suet for my fat. I always use beef suet, but vegetable suet would work just as well I'm sure.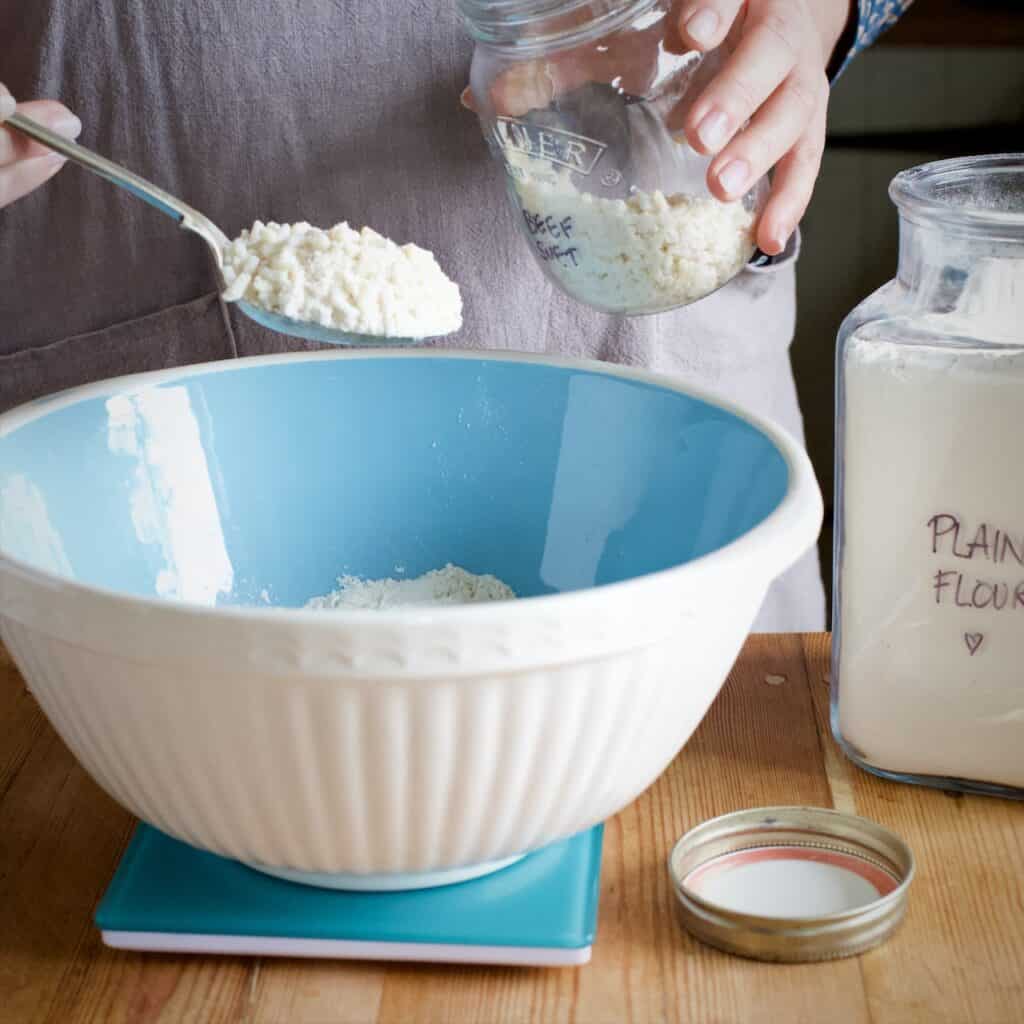 Finely chop up the fresh mint leaves and add these to the bowl too.
The stalks from my mint plant were a bit woody so I didn't add these in.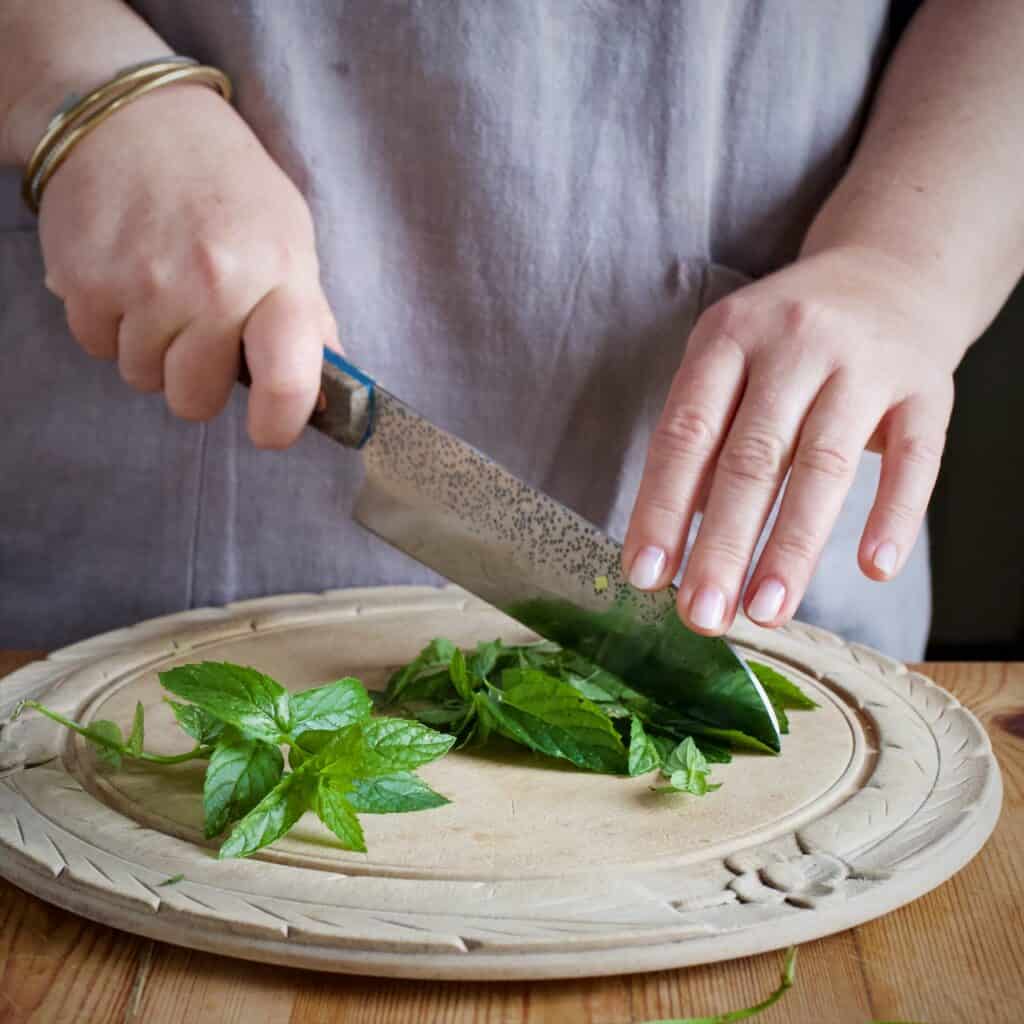 Next mix everything together well so the baking powder is well distributed.
Then pour in the cold water and start bringing the dough together with a spoon.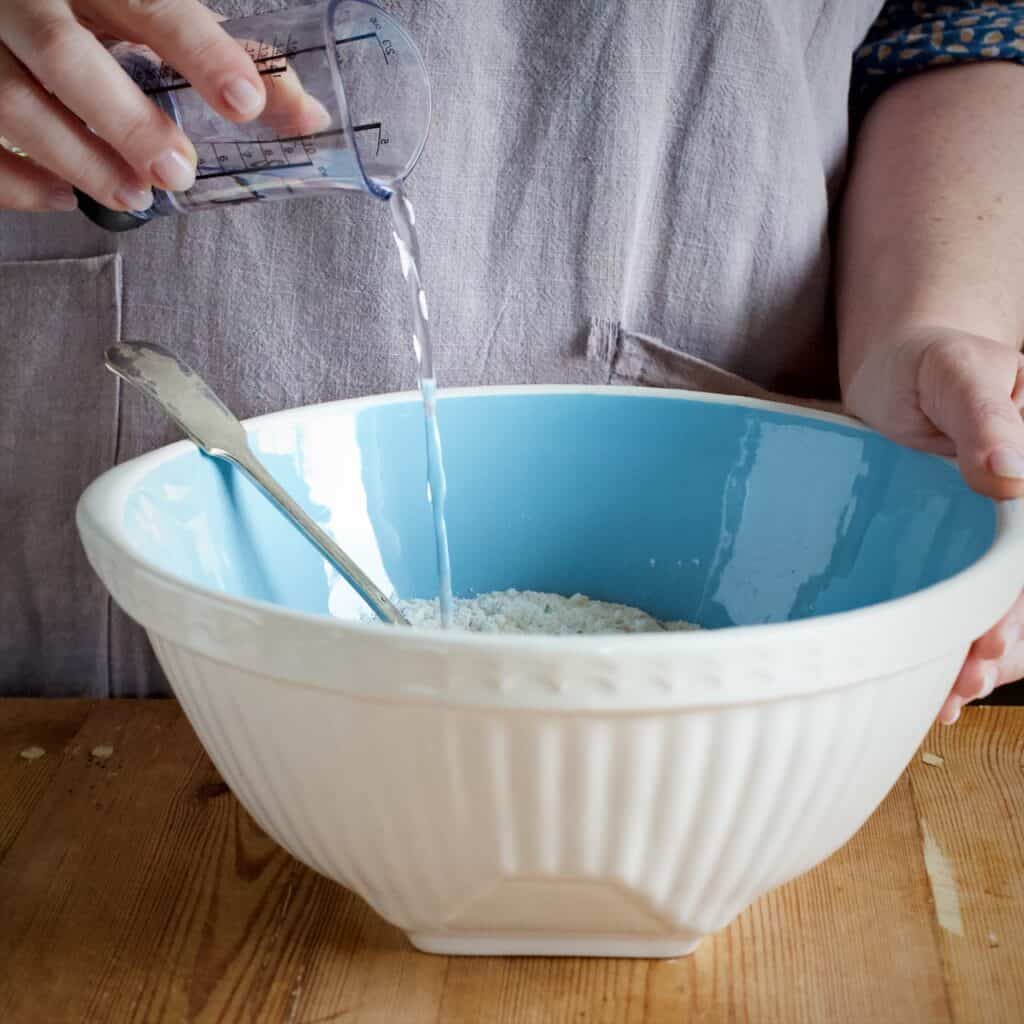 Once all the dry ingredients have been amalgamated into the dough, you'll be left with a ball of stodgy, soft dough.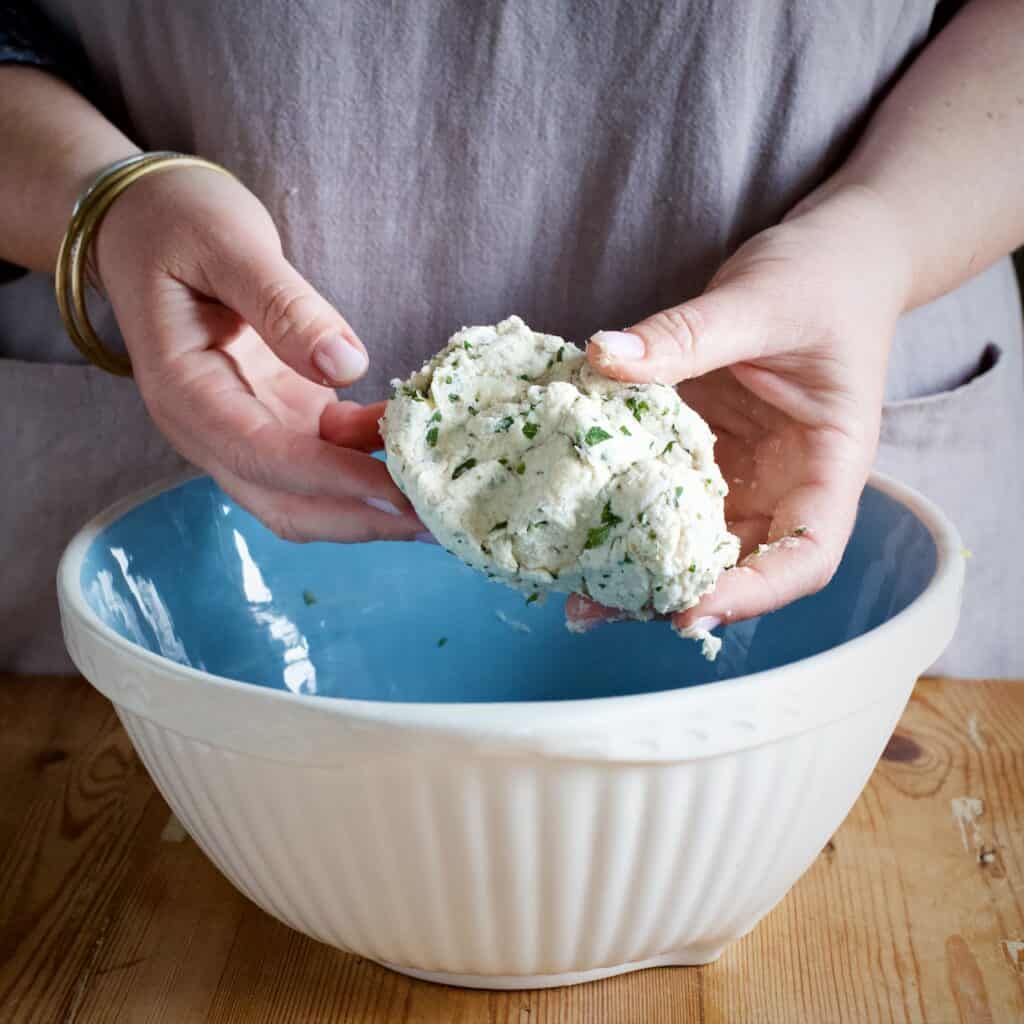 Divide this into eight roughly equal sized pieces, and roll each one into a little ball.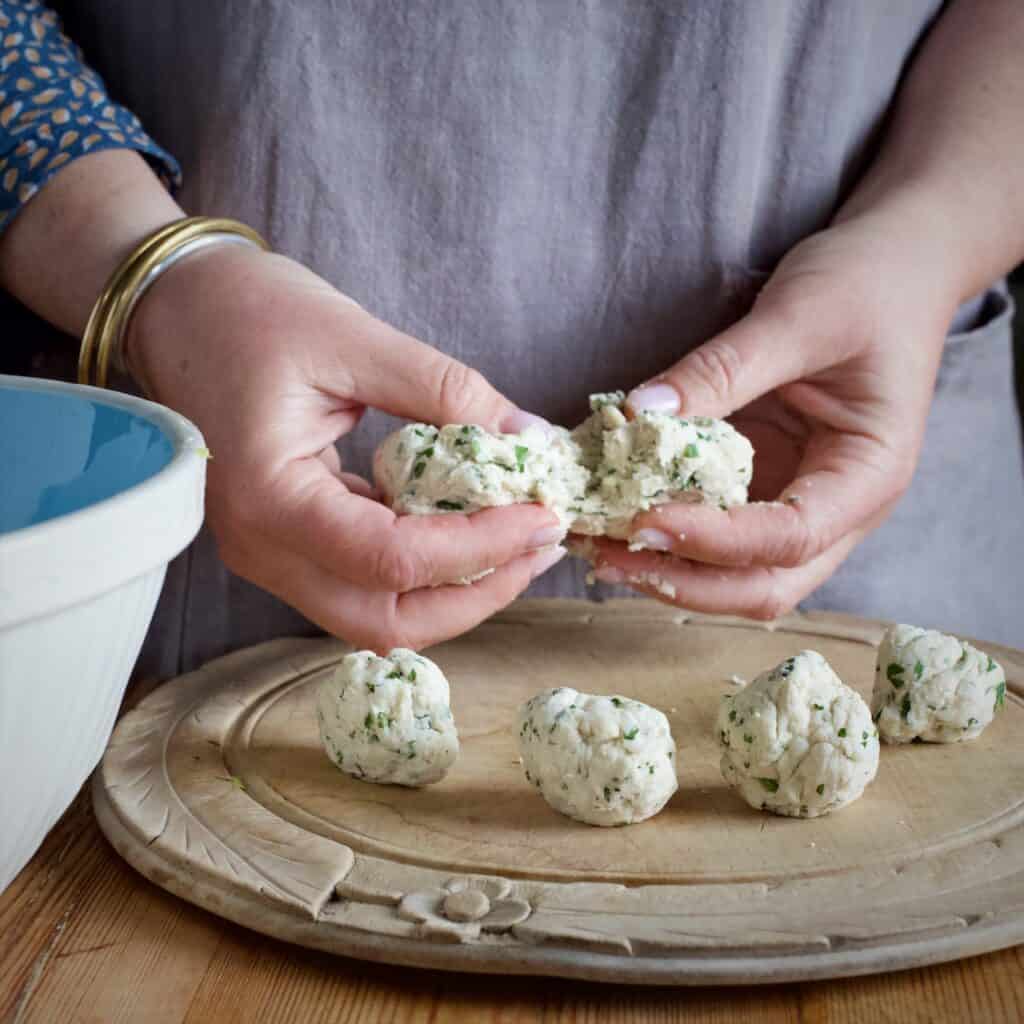 They're now ready for cooking. But before you add them to the pot, you'll want to add some thickener to the stew gravy.
To do this, spoon the cornflour into a glass or small bowl. Pour in two or three tablespoons of cold water and stir until smooth.
Remove the slow cooker lid, pour in the cornflour slurry and give it all a good stir.
Then it's time to top your stew with your little dumpling balls.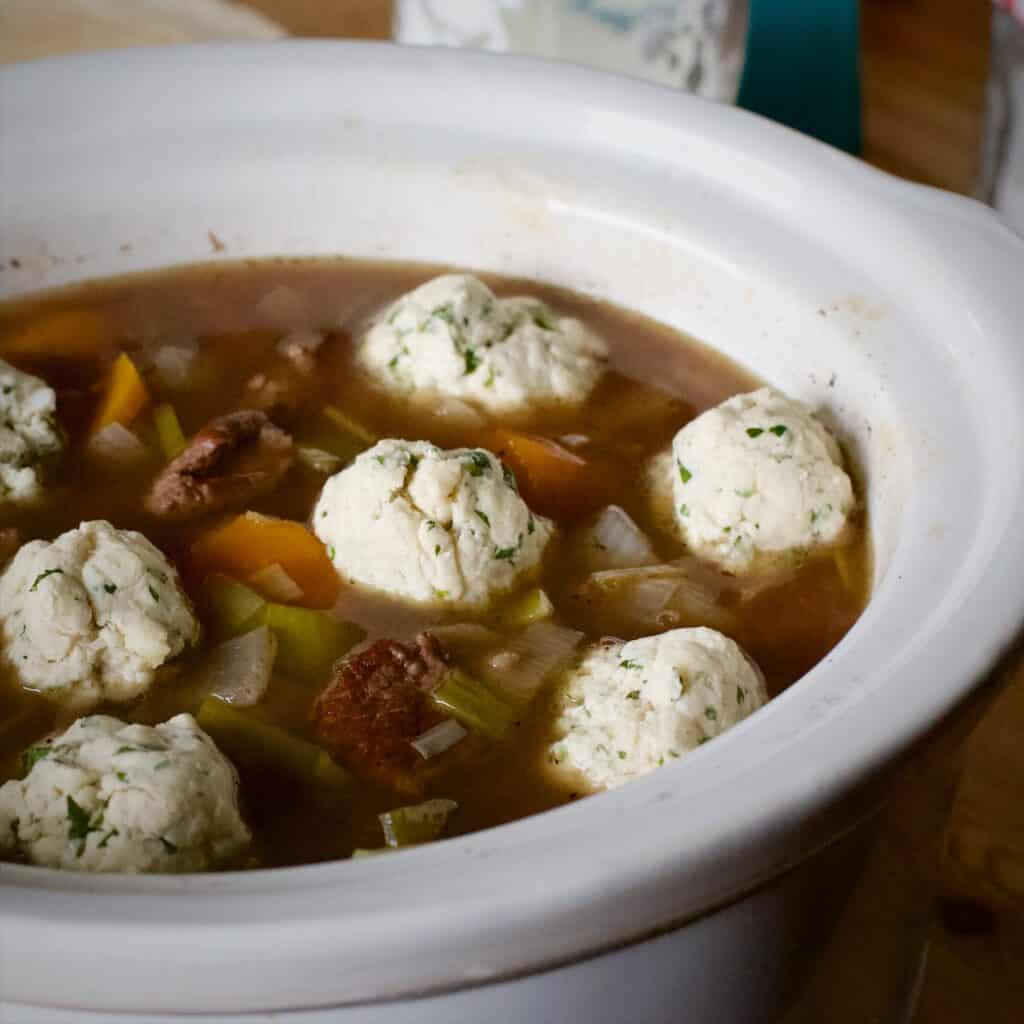 Replace the lid and continue with the rest of the cooking time.
Once the cooking time is up, your dumplings will have puffed up and become stick-to-your-ribs tasty!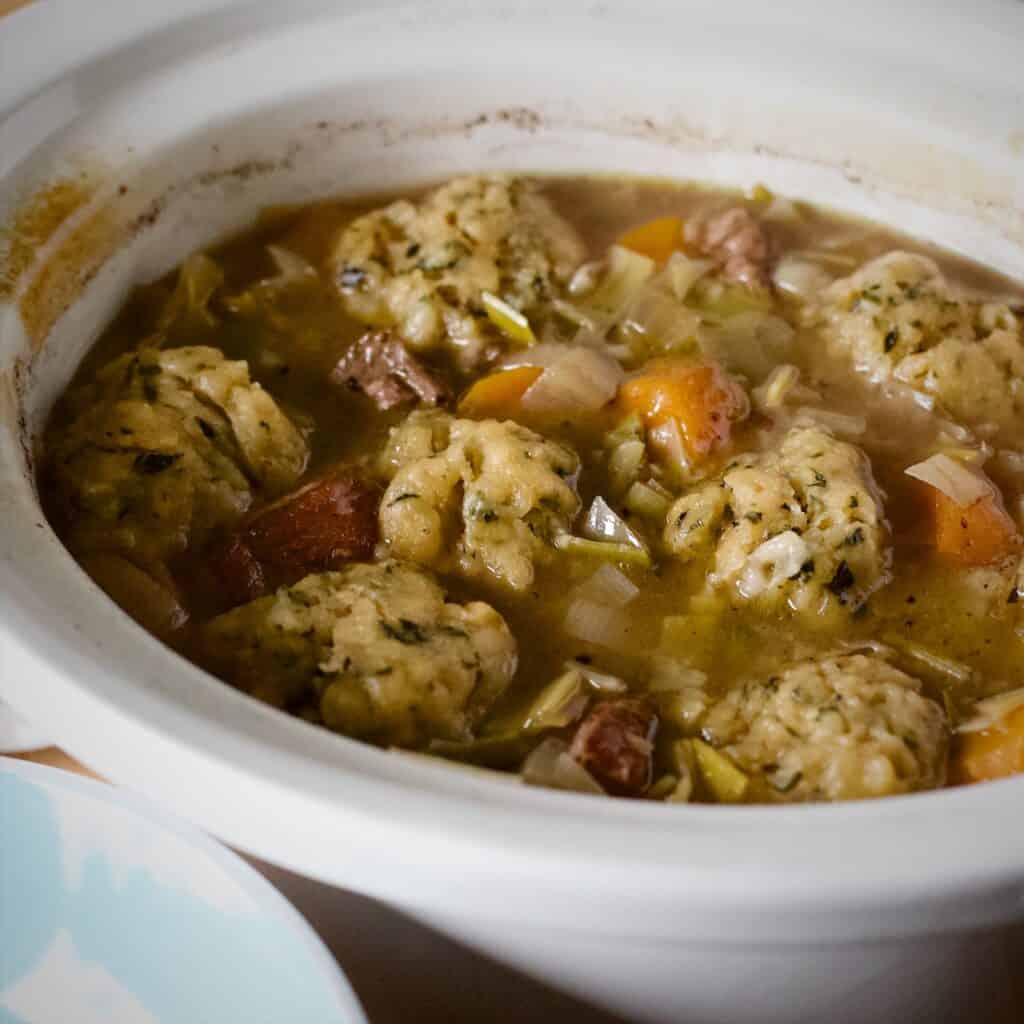 All that's left to do now is serve and enjoy!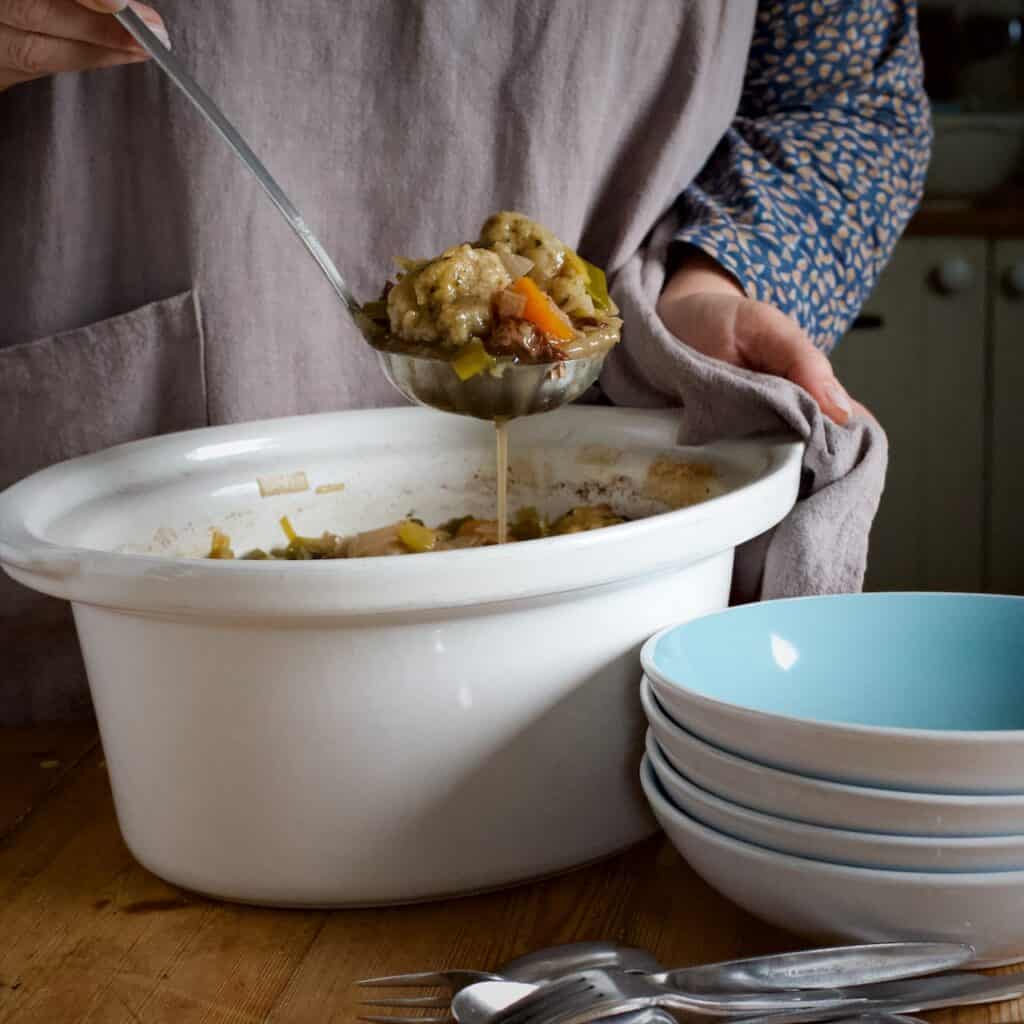 And here's the full written recipe. I do hop you love it as much as we do!
Feel free to tag me in any pics of this, or any of my recipes you share online. I try to share all that I see.
You can find me on social as @hedgecomber.
Janie x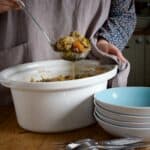 Mutton Stew with Minted Dumplings
Keyword:
mint dumplings, mutton stew
Ingredients
Mutton Stew
1

tbsp

oil

600

g

mutton

500

g

carrots

- or the equivalent amount of any other root veg of choice, chopped

2

onions

- chopped

1

leek

- washed and thinly sliced

4

cloves

garlic

- chopped

400

ml

red wine

1

tsp

salt

1

tsp

black pepper

½

tsp

cinnamon

hot water

- enough to cover vegetables

1

tbsp

cornflour

2

tbsp

cold water
Minted Dumplings
100

g

plain flour

1

tsp

baking powder

50

g

suet

¼

tsp

salt

5

g

fresh mint leaves

- about 30 fresh mint leaves. Finely chopped

5

tbsp

cold water
Instructions
How to make mutton stew
Pre-heat a frying pan or skillet over a medium high heat.

Add the oil, then sear the meat in batches until each piece has some dark brown sear marks on.

Place the seared meat into a slow cooker.

To the slow cooker add in the carrots, onions, leek, garlic and red wine.

Next measure out and add the salt, pepper and cinnamon.

Using the back of a wooden spoon, level out all the ingredients in the slow cooker.

Boil a kettle, then pour boiling water into the slow cooker just up to the level of the ingredients.

Place on the lid and switch on the slow cooker.

The stew will take a total cooking time of 4 hours on high, or 8 hours on low.
how to make mint dumplings
Half way through the cooking time add the cornflour to thicken the gravy, and top the stew with your dumplings.

Measure the cornflour into a glass or small bowl. Add two or three tablespoons of cold water and stir.

Pour this into the slow cooker and stir well. The gravy will now thicken as the stew finishes cooking.

In a large mixing bowl measure out the flour, baking powder, suet and salt.

Chop the mint leaves and add to the dry mix. Stir well to combine all the ingredients.

Pour in the water and combine into a thick dough.

Bring the dough together with your hands into a ball and divide into eight.

Gently roll each piece into a ball and carefully place the dumplings on top of the stew.

Replace the lid and continue for the remainder of the cooking time. 
Nutrition Facts
Mutton Stew with Minted Dumplings
Amount Per Serving
Calories 561
Calories from Fat 306
% Daily Value*
Fat 34g52%
Cholesterol 79mg26%
Sodium 612mg27%
Potassium 783mg22%
Carbohydrates 31g10%
Protein 20g40%
Vitamin A 14386IU288%
Vitamin C 12mg15%
Calcium 117mg12%
Iron 4mg22%
* Percent Daily Values are based on a 2000 calorie diet.