This Muscovy Duck and Porcini Ravioli recipe made the perfect main course for my recent #ShineForShelterbox candlelit supper. The filling is deeply rich and full of beautiful umami flavours whilst being light enough to sit comfortably among many other courses.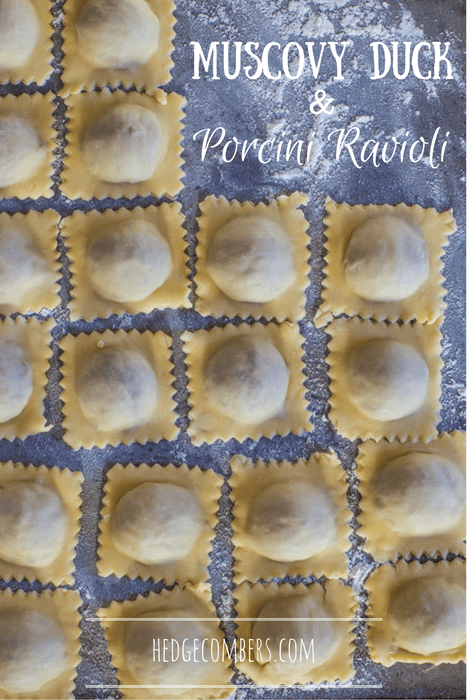 Have you heard about the annual Shelterbox campaign called #ShineForShelterbox? It's a fun way to get together with your friends and family whilst supporting the work that this fantastic charity does.
Not only does candlelight bring a beautiful flicker and glow to a dining table, it's a gentle way of reminding people about the simple things we all take for granted. Such as a flicking on a switch when it gets dark.
For many families, after losing their homes during disasters, the solar lighting found within a shelterbox is one of the simplest tools to bring back a sense of normality and routine.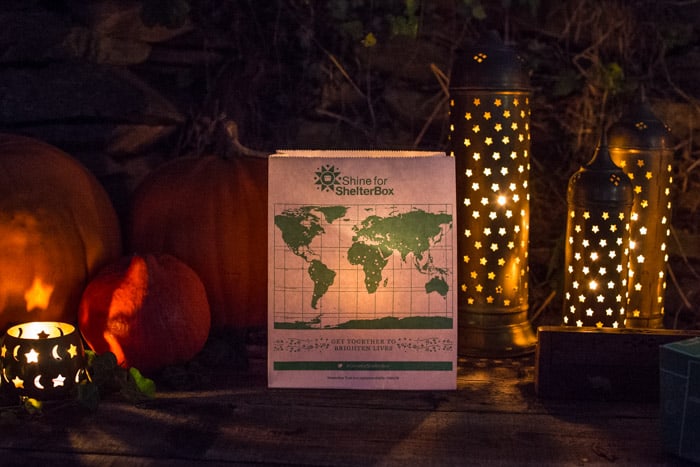 After being fully inspired by the work that Shelterbox does, I invited a bunch of rufty toughty bushcrafters to dine with us under the stars.
In November.
Brrr.

By campfire and candlelight, with a biting north wind, we felt even closer to the families that live at the mercy of the elements.
Although we had the sanctuary of my warm kitchen to escape to when it all got a bit too cold.
My #ShineForShelterbox Menu
I made Duck Liver Pate for starter, with retro melba toast. The Musocvy Duck and Porcini Ravioli took centre stage as the main course. And this stunning Chocolate Marquise wowed everyone for dessert. If you're after a new recipe for Christmas day dessert and love chocolate, be sure to give it a go!
We also had a Cornish cheese selection with port and strong black coffee to wash it all down with.
I'm really pleased that the meal went so well, and that we managed to raise £125 by asking for donations.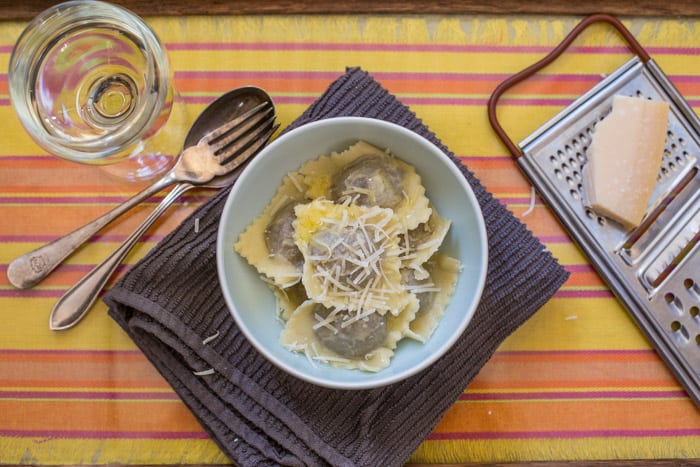 Do you fancy hosting your own #ShineForShelterbox candlelit supper this winter? Just follow the link to the charity website and sign up for your free Shelter Shine Kit which will help you organise an event that truly brightens lives. And please be sure to tag me in any pics you share on social media!
And if you make this Muscovy Duck and Porcini Ravioli recipe, please do let me know what you think of it. I was really pleased with the reaction I got from my guests. They all loved it! :)
Jane x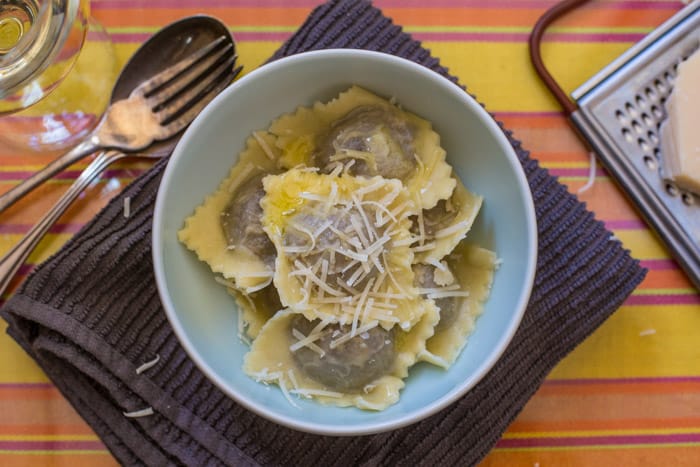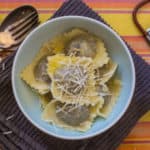 Muscovy Duck and Porcini Ravioli
Ingredients
Making the ravioli pasta
600

g

'OO' pasta flour

or strong bread flour

6

large chicken eggs
Muscovy duck and porcini ravioli filling
1

Muscovy duck

mine was a male and weighed 1600g after cleaning, but a smaller female would be fine too, cleaned and skinned

300

ml

hot water

50

g

dried porcini and 500ml boiling water
To serve
50

g

butter

melted

Pinch of salt

Parmesan cheese

finely grated
Instructions
Making the ravioli pasta
The easiest way to make the pasta dough is by combining the flour and eggs in a stand mixer using the flat beater attachment. When the machine starts struggling, swap for the dough hook to finish off before tipping out onto the work surface on and kneading well. If you don't have a stand mixer, tip the flour onto the work surface, break the eggs into a large well in the middle and bring together with you hands. It will initially looks like messy breadcrumbs, and eventually like a smooth ball of dough.

Wrap tightly in cling film and pop in the fridge for an hour.
Making the duck filling
Place the duck and hot water into a slow cooker. If the bird won't fit, remove legs & pop inside the body cavity to ensure the slow cooker lid fits perfectly.

Set to high and cook for 5 hours. When the meat shreds easily with a fork, remove the bird from the stock and let cool. Reserve the stock.

In a jug pour 500ml of boiling hot water. Add in the poricini mushrooms, stir a little and let steep for 30 minutes. When the time is up and the water is cool enough to handle, squeeze the mushrooms over the jug to extract all the 'juice'. Finely chop the mushrooms with a sharp knife and reserve the soaking liquid.

When the duck is cool enough to handle, shred the meat from the bones and mix with the mushrooms.

In a saucepan, carefully pour 90% of the porcini stock. The bottom dregs will likely contain some grit that has fallen out of the mushrooms during soaking, so pour that away.

Add the red wine and duck stock and bring to the boil. Boil hard until the mixture reduces to around 250ml.

Pour the reduced stock through a sieve into a food processor. Add the shredded duck meat and porcini mushrooms, and whizz until it becomes a paste. Cool then chill until needed.
Making the ravioli
Ideally, you're going to use a pasta maker for this stage. If you don't have one you can use a rolling pin, but man that is going to be haaaard work!

Cut the ball of dough into 4 pieces. Rewrap 3 of them to stop them drying out. Flatten the forth a little and put through the widest setting on the pasta maker. Reduce the settings until you have cranked the sheet out at thinnest setting, then lay the pasta sheet over your ravioli maker. Again, if you don't have a ravioli maker take a peep on youtube as it is possible to make ravioli with a rolling pin and a cookie cutter.

Press a teaspoon of filling into each dimple on the ravioli board, making sure there is no air trapped in with it. Top with another sheet of pasta and use a rolling pin to cut and separate each little ravioli dumpling.

Pop onto a floured board and continue with the rest of the filling.

You will probably have a little filling left at the end of play which can be used in another batch of pasta or used up on a jacket potato or similar.
To cook the ravioli
Bring a large pan of water to the boil. Add 6 or 7 pieces of ravioli pr person and boil for 3 minutes. Drain, and serve with melted butter, a sprinkle of salt and a grating of parmesan.