Jonny & I hit up the Ashburton Food Festival over the weekend (has anyone been? It's a great annual gathering for foodies in the South West) and I picked up some smoked mackerel. Dang I love that stuff.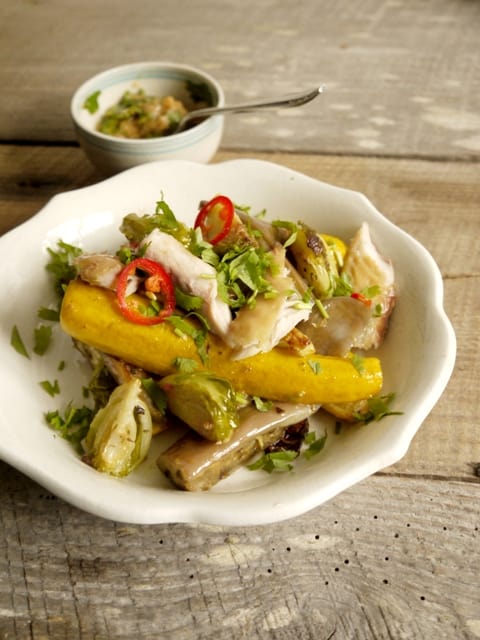 I also bought some sunny yellow courgettes, some fresh Brussels sprouts (Yay, new season!) and a really pretty long, lilac aubergine. Of course I forgot to take photos of the prettiness before cooking and the colour leaked out of the aubergine and it turned kinda brown :(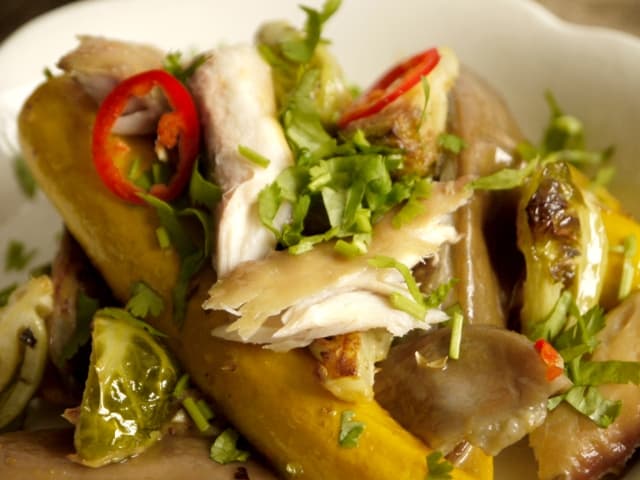 However, prettiness aside, my haul came together to form this lovely light lunch. A real autumnal dish that leaves you feeling content and well nourished. Oh, and that miso dressing is a keeper, in fact I think I need to make another batch to keep in the fridge.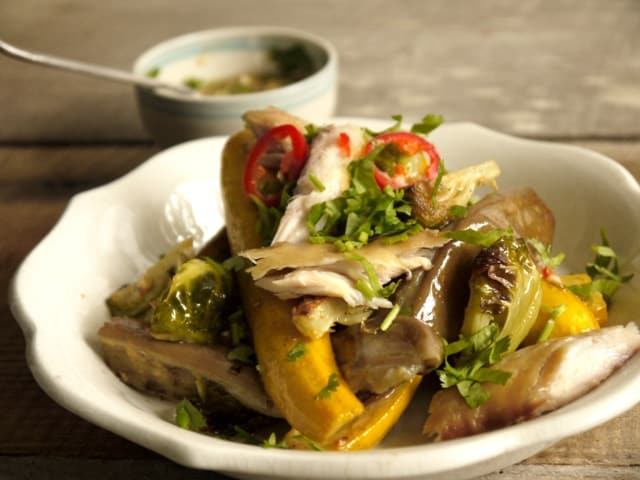 Anyone else seeing the weird face in that last pic? Once I saw it, I couldn't 'unsee' it!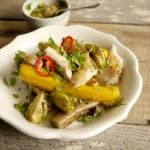 Hot Miso Mackerel Salad
Ingredients
2

smoked mackerel fillets

skin & bones removed.
Roast Veggies
2

tablespoons

oil

3

or 4 young courgettes

1

small aubergine

5

or 6 Brussels sprouts
Miso Dressing
4

teaspoons

oil

1

heaped teaspoon miso

3

teaspoons

lime juice

1

clove

garlic

minced

1

level teaspoon sugar

Fresh coriander

chopped

Enough fresh red chilli to please your taste-buds

chopped

Extra coriander and red chilli to sprinkle on top of the finished dish.
Instructions
Slice the courgettes and aubergine into long fingers, about 3/4-1 inch thick. Quarter the sprouts lengthways and pop them all into a baking tray along with the oil, making sure they are well coated.

Roast for around 20 minutes, or until they are cooked through and the sprouts are starting to brown on the edges.

Meanwhile mix all the dressing ingredients together. It will be quite thick, if you want it thinner to drizzle on a regular salad add more oil until it is as thin as you like.

When the veggies are ready, pour the miso dressing into the hot pan and toss the veggies in it to get them all covered.

Divide the veggies between 2 plates, top with the mackerel that you've flaked into bite size chunks, then pour over any of the dressing left in the pan.