The final review from our weekend trip to Falmouth is for Merchants Manor, a charming hotel perched above the town that is perfectly situated for exploring all that Falmouth has to offer.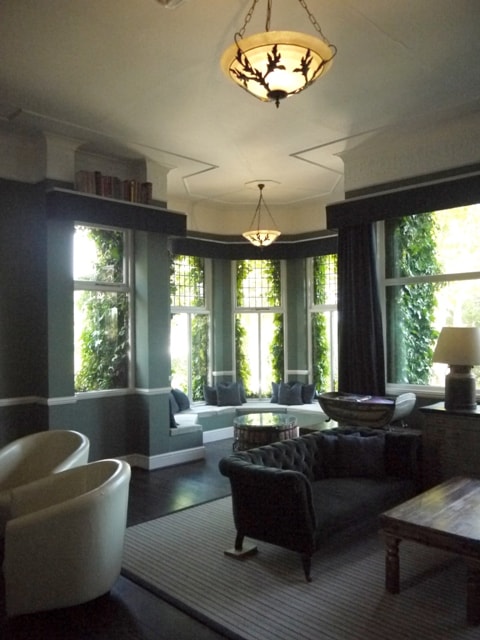 Gloriously elegant, the original house dates back to 1913.
With high ceilings and large windows the communal areas of the hotel are flooded with light and even the restaurant, whose walls are a deep slate grey, feels airy and relaxed.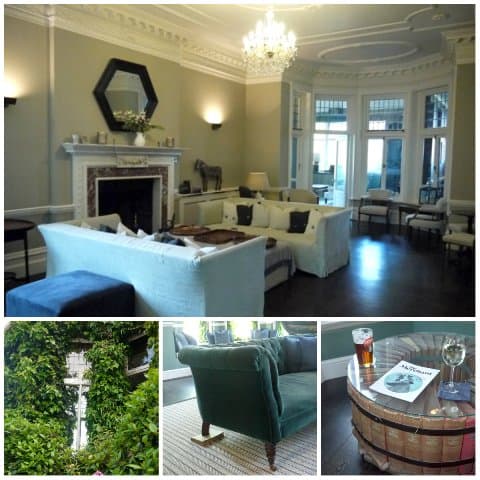 There were lots of quirks around the hotel, with little design features that made you smile.
Such a simple thing as a hardback novel holding up a Chesterfield sofa leg, or large antique books bound together with leather straps to serve as a coffee table in the library.
These clever little touches added to the relaxed atmosphere perfectly.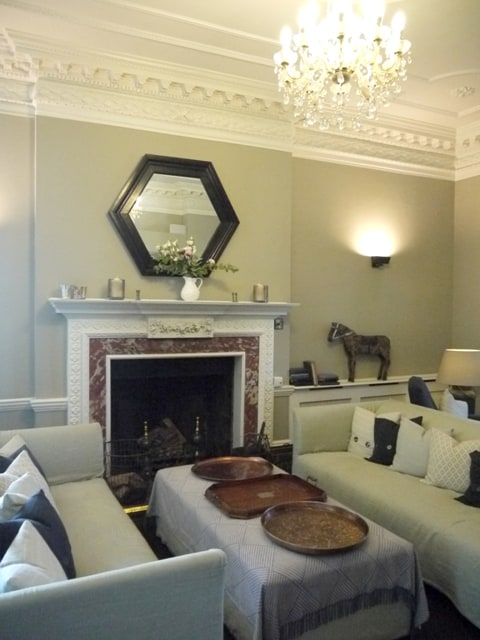 There was a wedding on in the hotel the day following our visit, and as the wedding party settled down to the their meal, the Red Arrows did a fly by the Ballroom windows for Fal River Festival.
Just imagine that in your wedding pics!
It sure beats fireworks :)
Our room was on the ground floor and was a really good size.
Again lots of light flooded in from the large windows and the room was well equipped with all that you'd expect in a good hotel.
The bed was huge and supremely comfortable.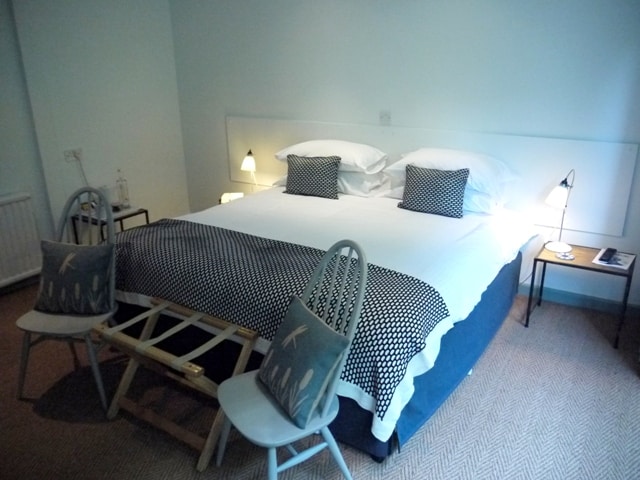 The bathroom was gorgeous and well stocked with bee friendly toiletries.
There was also a state of the art gym & heated indoor swimming pool, but I must admit my lazy gene took full control of me and I only ventured that far to take a picture.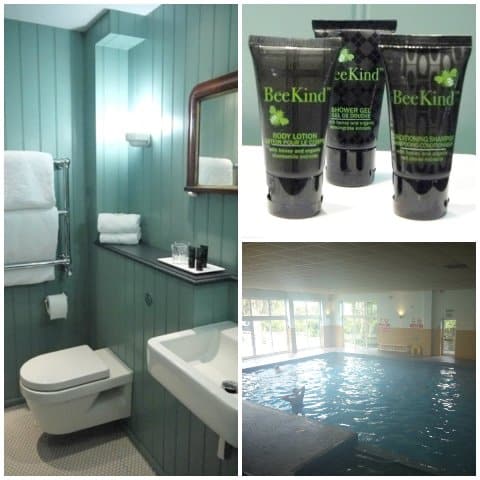 And then there was the brasserie. Both Jonny & I were both blown away by how good the food was.
Our waiter, Damon, came and sat with us whilst he took our order.
He talked us through the menu, answering our many questions along the way, and was able to name the producers that supplied the various meats, fish & vegetables.
It was wonderful to see so much care taken about the goods used in a restaurant kitchen, if only this was the norm.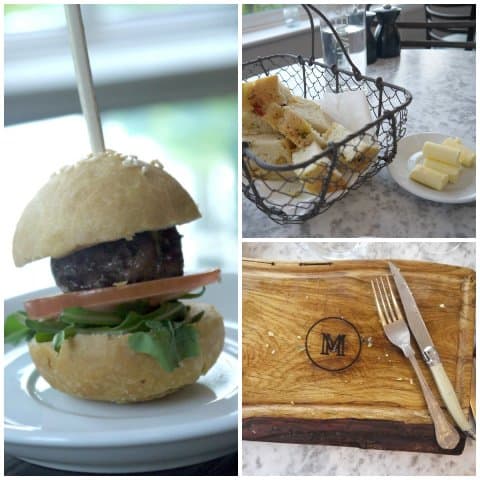 Damon asked if we'd like a bottle of wine with the meal or if we'd prefer for him to match various wines to the dishes we'd chosen.
As he clearly knew his stuff, we happily left him in charge & I have to say he got it spot on.
He arrived a little later with an amuse bouche, a mini Venison Slider which was a great intro to a gorgeous meal.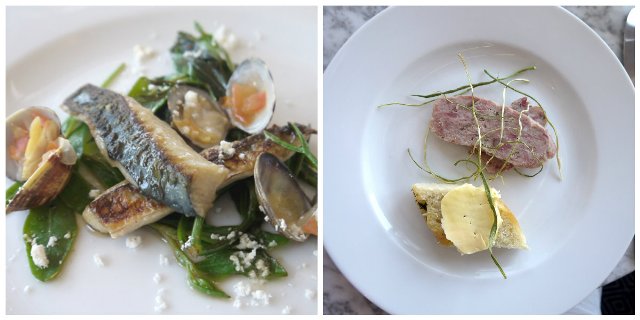 I ordered Pan Seared Mackerel for starters.
It arrived atop a warm salad of sea spinach, rock samphire, seaweed with clams and horseradish sand.
Those delicate little fillets of mackerel were just perfect, moist and so so sweet.
Jonny ordered the Ham Knuckle which came with onion bread and delicate strips of air dried leeks.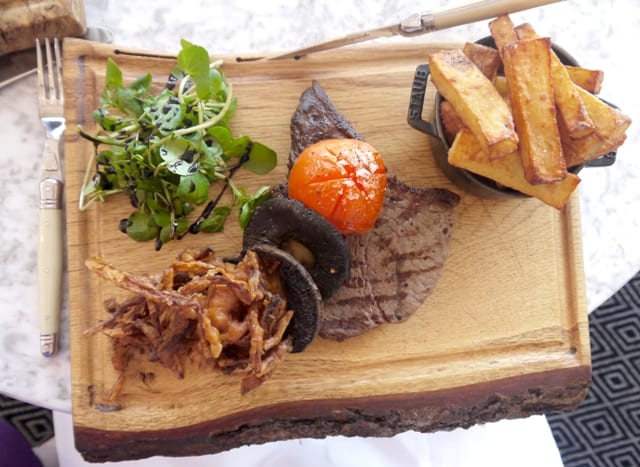 For main Jonny moved onto a rump steak, which was cooked perfectly.
Oh, and those little crispy onions on the bottom left of the plate were delicious.
I ordered the Cornish Chicken Stuffed Breast.
This dish was really impressive as it brought together so many different elements that you wouldn't normally find together.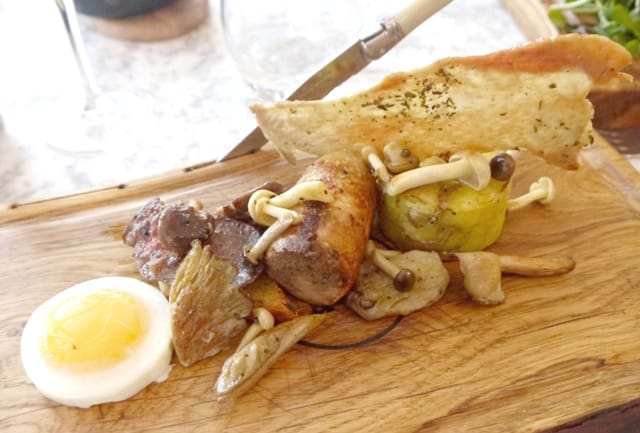 There was there a rolled, stuffed chicken breast sat alongside a confit leg, chicken livers on toast, a shard of crispy chicken skin (YUM!) and an egg yolk all served up with braised potato and foraged mushrooms.
There were also various vegetables for us to share.
After a good rest we indulged in dessert, with me ordering the sorbet and Jonny the Cornish Cheese Board with house made chutney, frozen grapes and crackers.
Again, the attention to detail for each course was amazing although sadly my photos really don't do the dishes justice.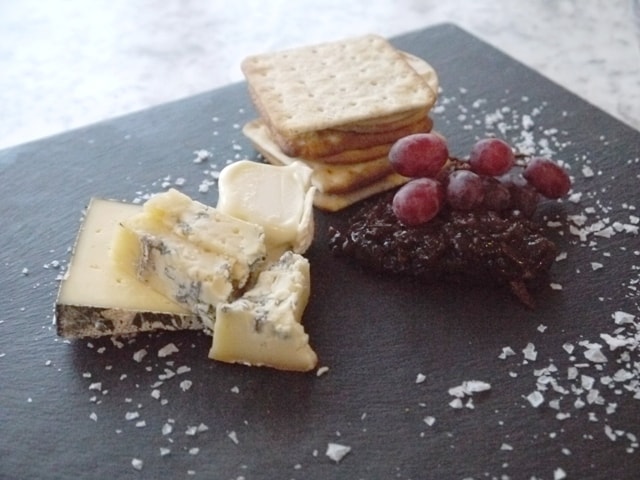 We spent a relaxed evening in the bar and then drifted off to our room for a fabulous nights sleep.
Next morning we found a fantastic breakfast lay out with Continental & cooked choices.
The house made granola was incredible and if you are visiting please be sure to try it!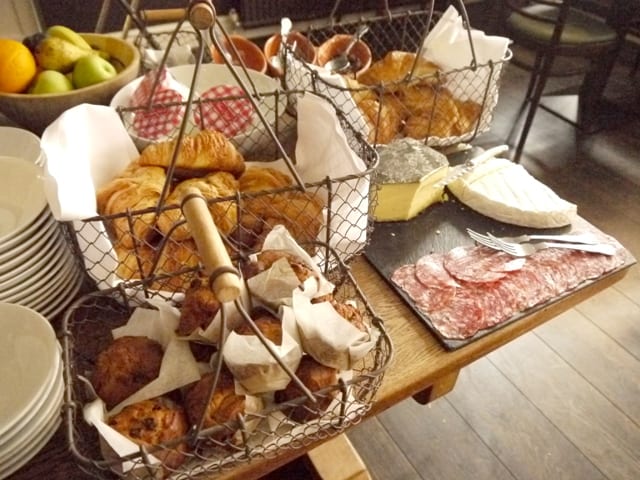 The following day we spent the full day in town enjoying the various festivities of Fal River Festival and the hotel kindly let us leave our car in their large car park.
With parking being at a premium on such a busy weekend we were truly grateful.
Overall, Merchants Manor comes highly recommended.
Wonderful location, staff, atmosphere and excellent food.
Big thanks go to all at Merchants Manor for inviting us to enjoy their hotel & brasserie, with special thanks to Damon our waiter who went out of his way to make our meal perfect. As always all views are my own.