Anyone else melting today? Just walking up from the pond this morning after feeding the ducks had me breaking out in a sweat. And it was only 7am.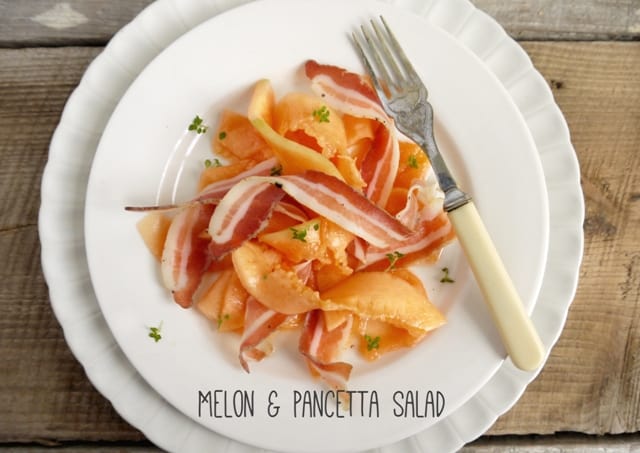 For muggy or scorching days alike, this Melon and Pancetta Salad is just perfect. It's light, juicy and fragrant and surprisingly filling without causing you to need an afternoon nap.
I had it as a simple lunch but it would make a great starter for a dinner party too.
Do make sure you ask the deli counter if their Pancetta is OK to eat uncooked, and ask them to slice it as thin as they can. If you can only find the cubes of Pancetta (which really need frying first) try a Prosciutto or Bavarian ham instead. Mm Mmmm.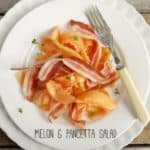 Melon and Pancetta Salad
Servings
:
2
as a main course, 4 as a starter
Ingredients
1

ripe melon. I prefer the fragrant orange fleshed cantaloupe

but I imagine any sweet, perfectly ripe melon would work.

8

super thin slices of pancetta from the deli counter.

A sprinkling of fresh thyme leaves. Baby basil leaves would also taste great

or possibly finely chopped chives.
Instructions
Skin and de-seed the melon. Using a potato peeler, slice the melon into long ribbons.

Layer them on a plate with the slices of pancetta, curling them a little.

Sprinkle with the thyme leaves.

Sit down and enjoy, preferably with a glass of something chilled!