This Portuguese marinated carrot salad is a flavour explosion ready to level up every meal.
It's a fantastic side dish & so quick to make.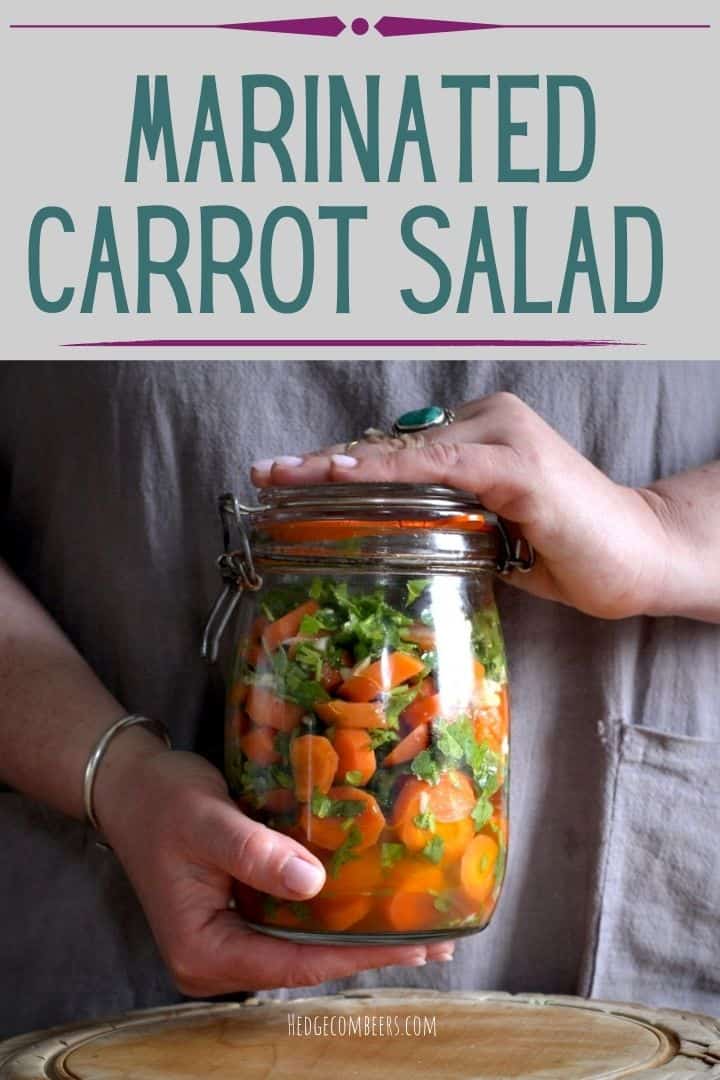 The quick and easy recipe hails from sunny Portugal.
It's fresh, summery and very very garlicky! (Feel free to reduce, or even remove the garlic completely if you're not a fan).
Try serving it alongside cheese, a green salad, fresh breads and cured meats.
It's a lovely flavourful salad that keeps for several days in the fridge.
How to make a Portuguese Marinated Carrot Salad
1/ prep the carrots
Top and tail the carrots with a sharp knife.
Then use a potato peeler to peel them.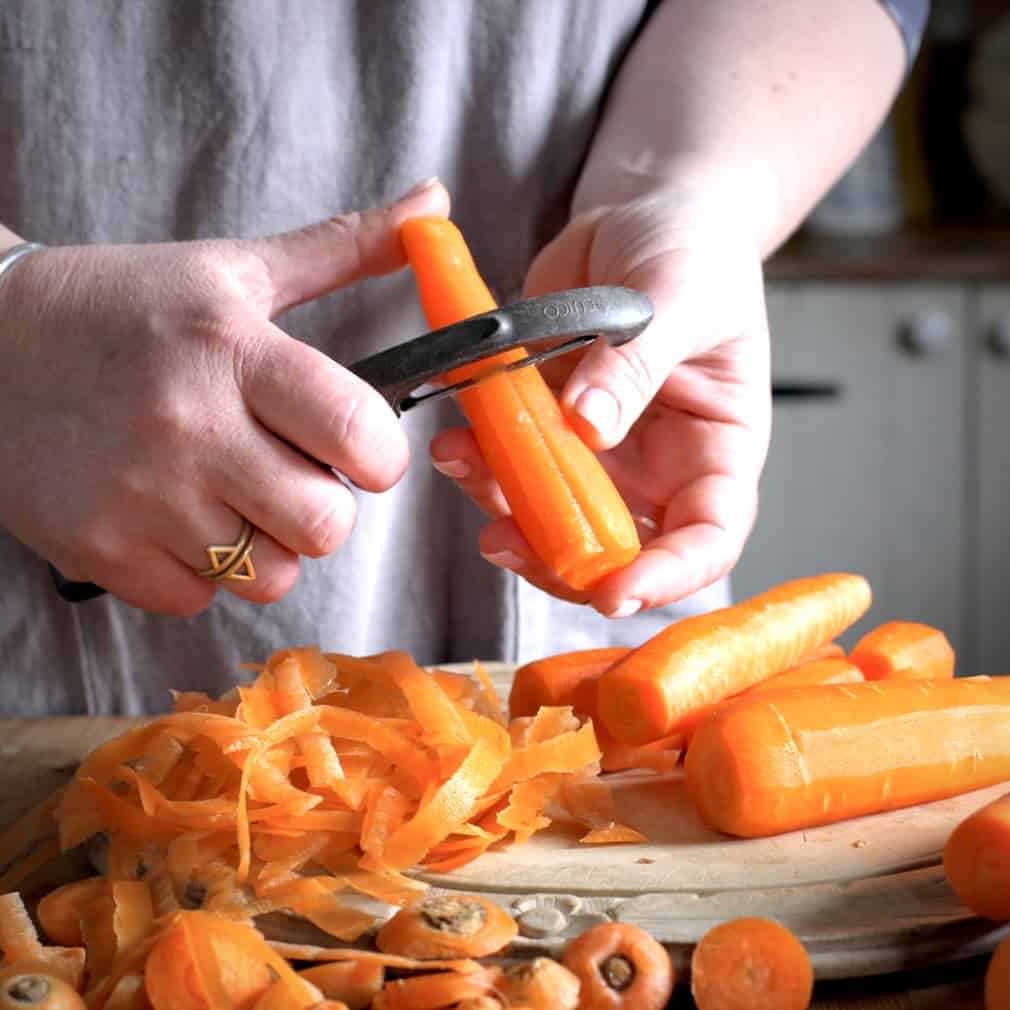 Keeping them whole, place then into a saucepan and cover them in cold water.
Bring them to a boil, and boil them for 8- 10 minutes. The outsides should be starting to soften, but not be cooked through.
Remove from the cooking water and place on a chopping board.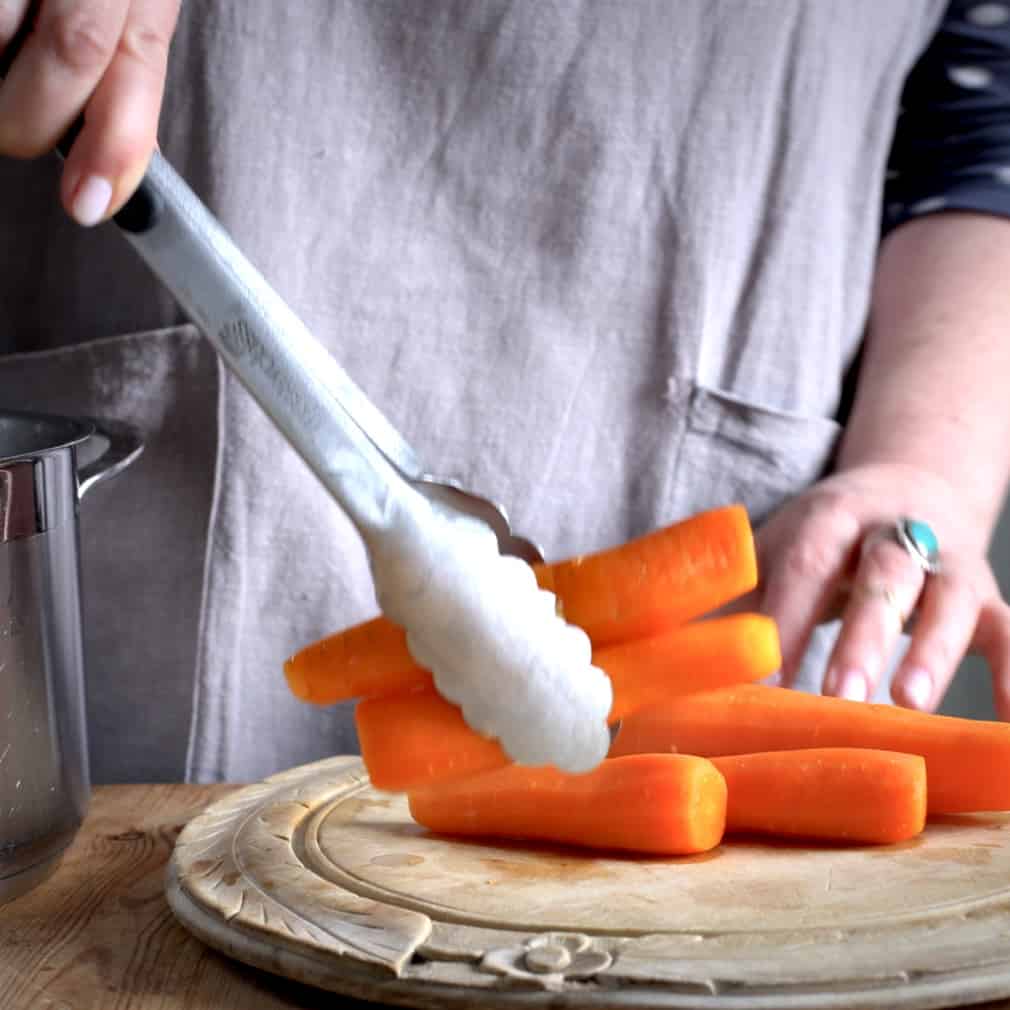 Slice each carrot into discs, and place them into a watertight glass jar.
Work quickly as we need to dress them with the marinade whilst they are still hot.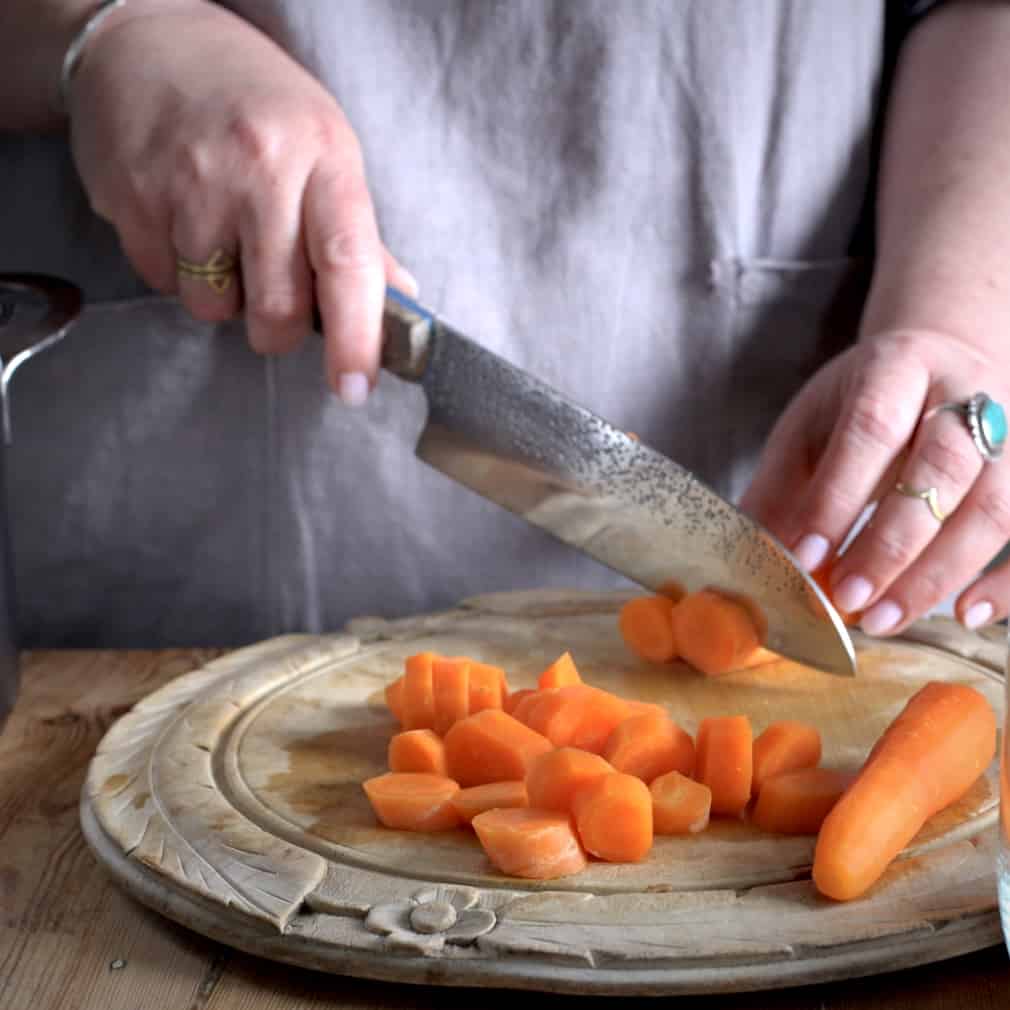 2/ make the marinade
Chop the coriander (cilantro) and add to the jar.
You can use the stems as well as the leaves, all parts are edible and full of flavour.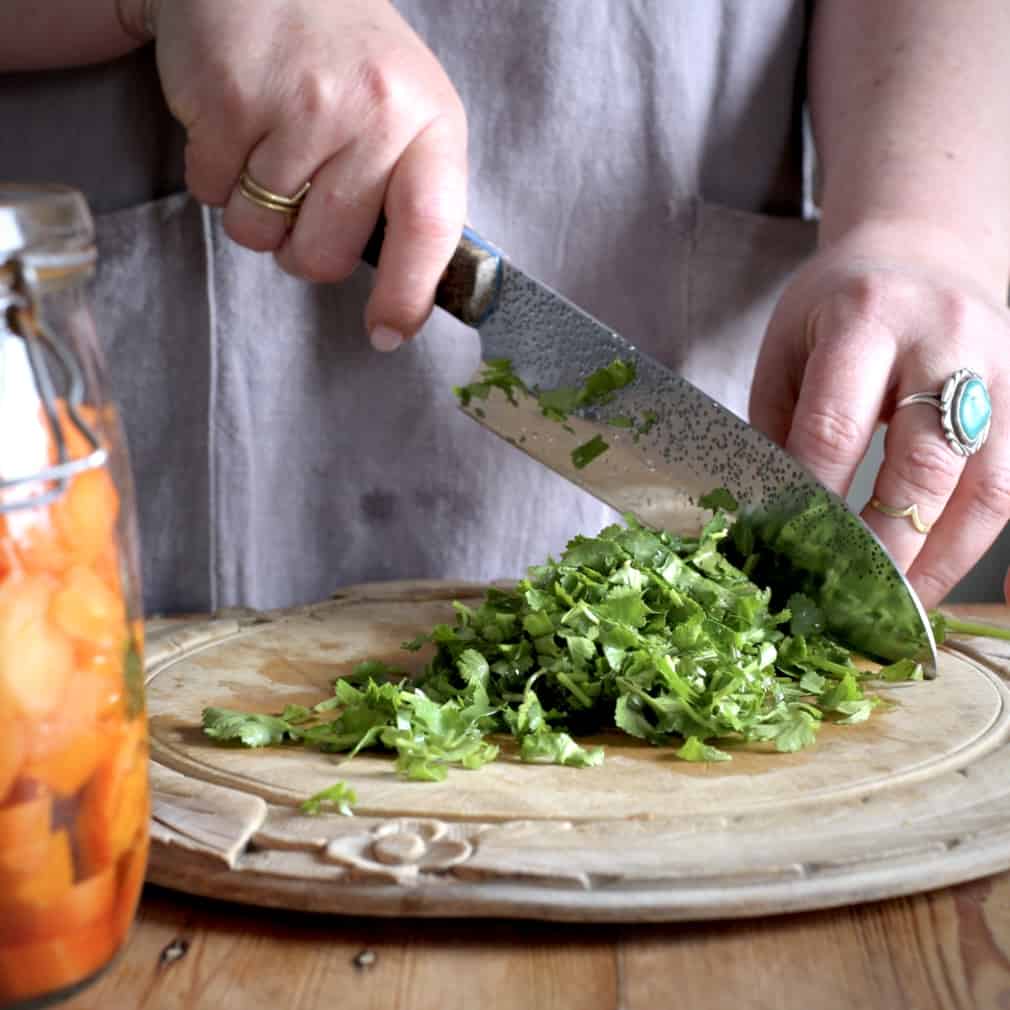 Next finely chop the garlic and add that too.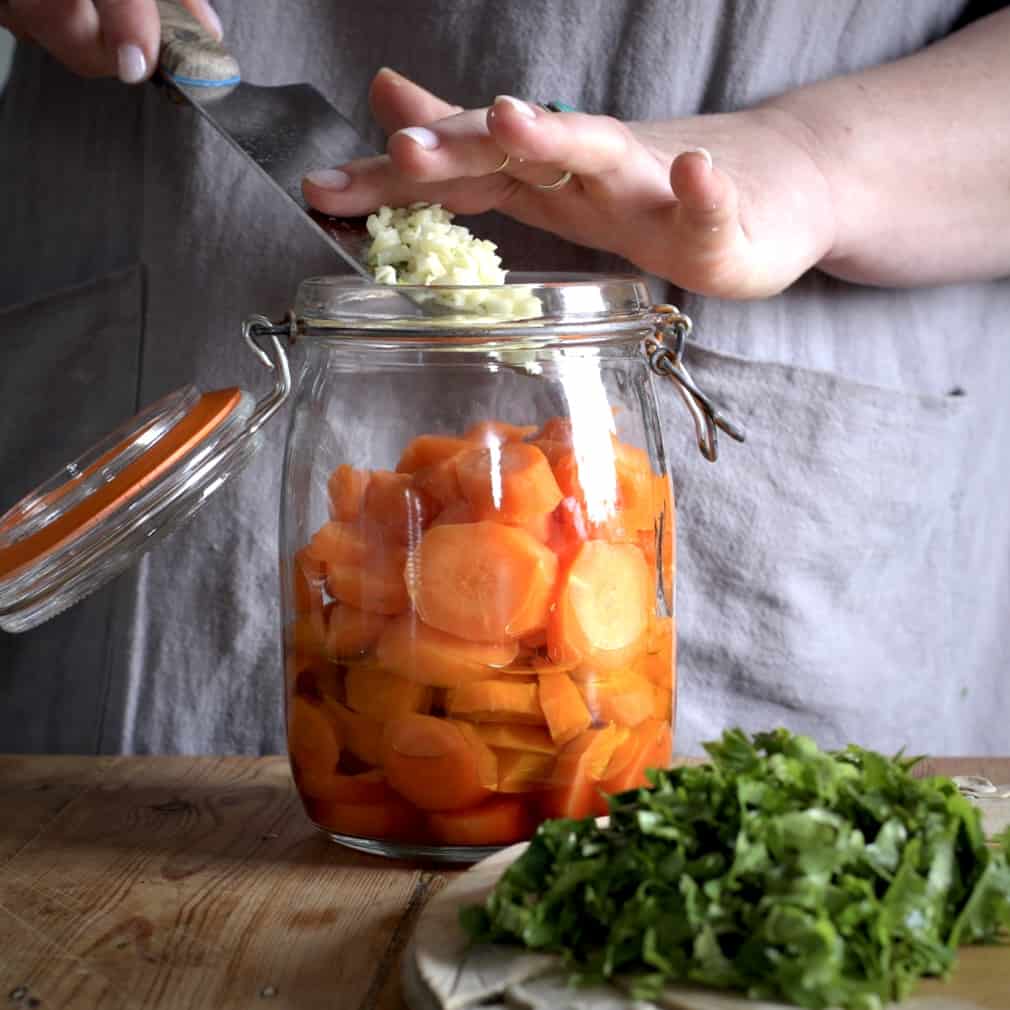 Pour over the red wine vinegar.
Whilst traditionally it would be a red wine vinegar, you may wish to try other vinegars too. Avoid heavy vinegars such as malt, but lighter flavoured vinegars should work out well.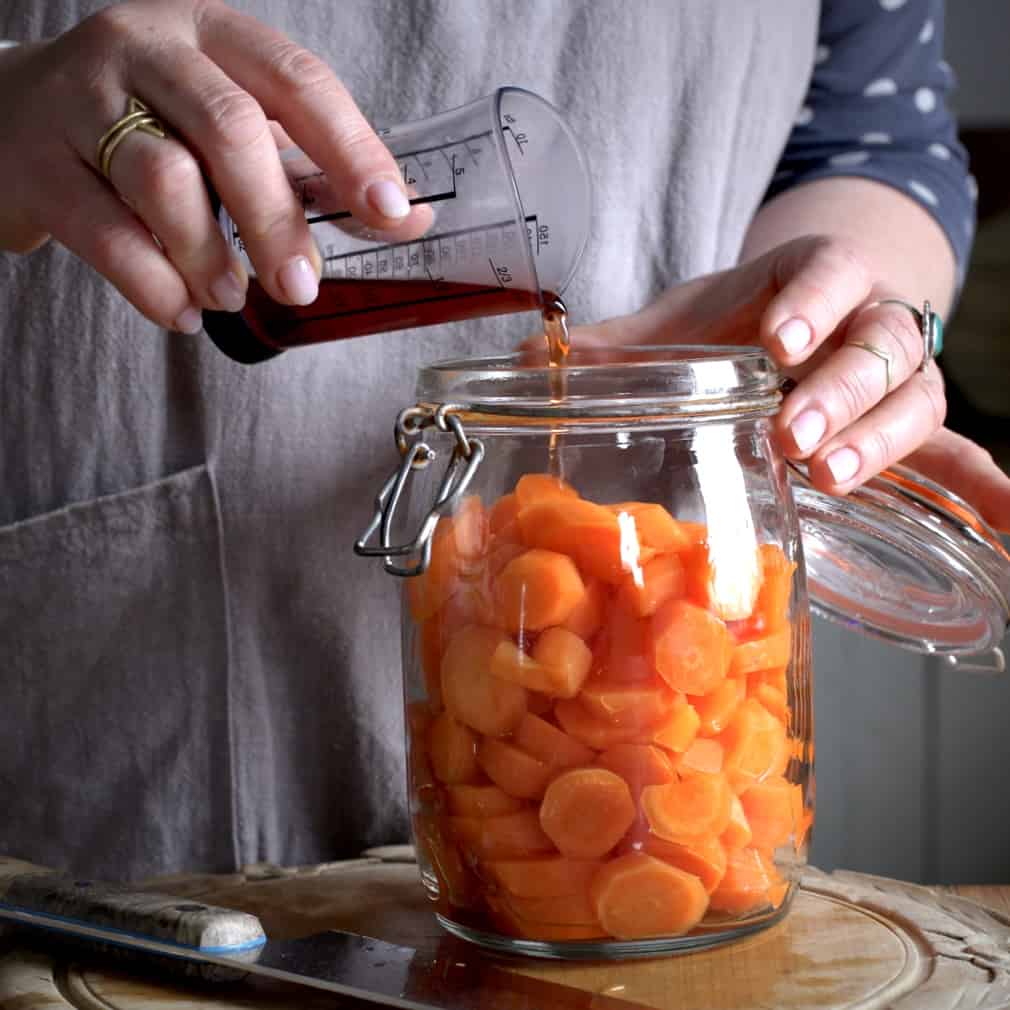 Measure out the olives oil and pout that into the glass jar as well.
I used a good quality extra virgin olive oil, but a light olive oil would work too.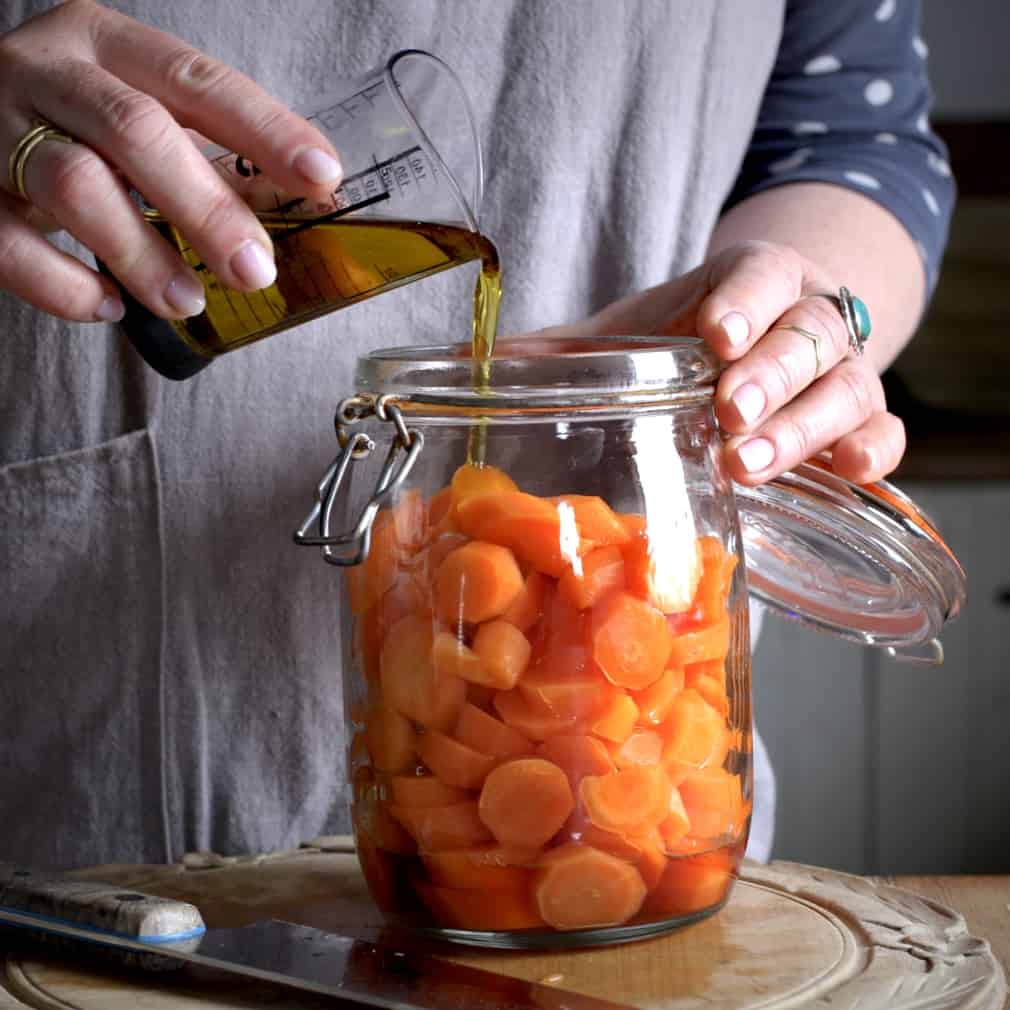 3/ mix!
Finally, place on the lid and shake the jar firmly to mix the ingredients together.
(I find putting some music and dancing round the kitchen shaking is the most efficient way to mix it all up!)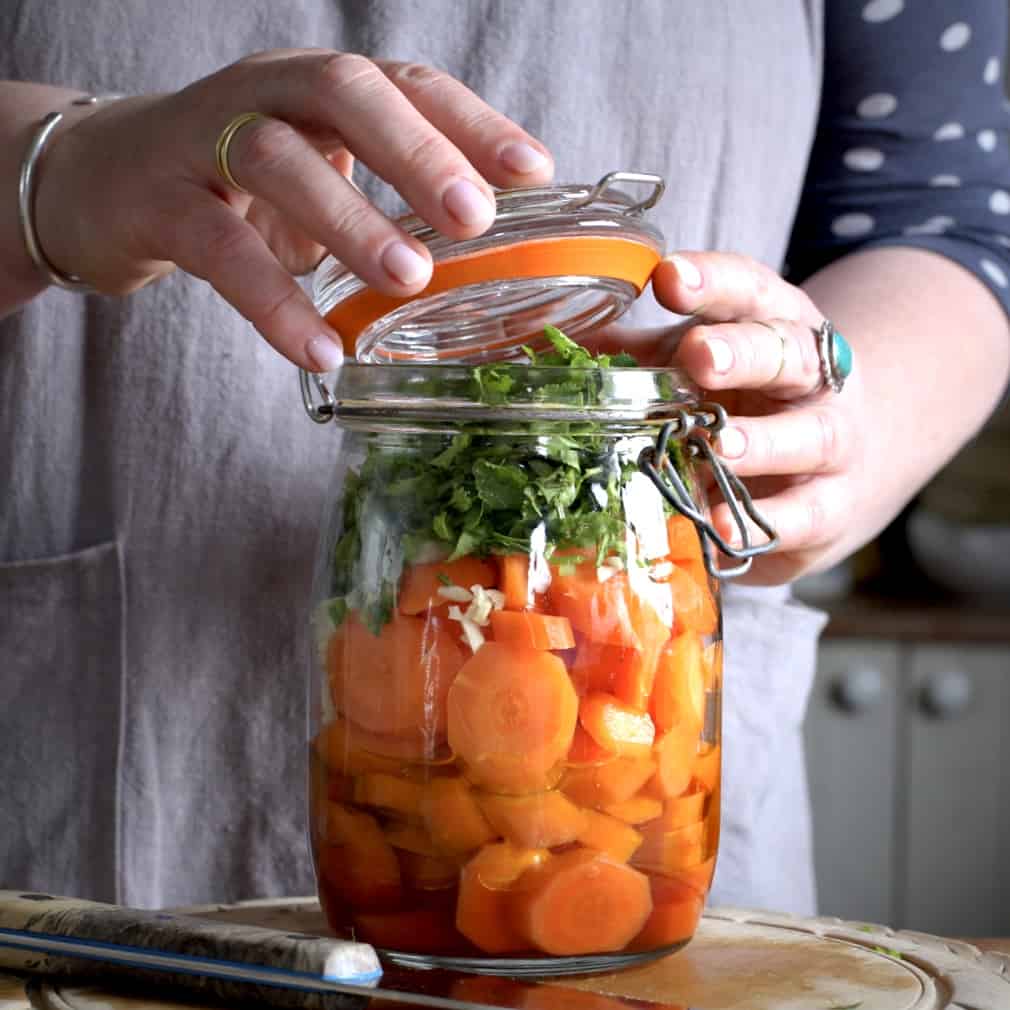 4/ how to store your marinated carrot salad
Store your jar of marinated carrot salad in the fridge, and aim to use within a week.
The olive oil will likely coagulate due to the cold. This won't affect the flavour, but it'll look nicer if you remove the jar from the fridge an hour or so before eating to bring the marinade back to a liquid state.
When you come to eat it, simply shake the jar again to distribute the marinade evenly throughout.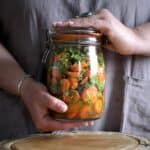 Portuguese Marinated Carrot Salad
Keyword:
marinated carrot salad
Ingredients
500

g

carrots

- about 8-10 medium sized carrots

30

g

coriander

- also known as cilantro

50

ml

red wine vinegar

100

ml

olive oil

2

cloves

garlic

- you can actually use up to six cloves of garlic in this marinade! Why not start off with two and then feel free to add more. Don't forget that as the garlic stays raw, it is quite intense (but delicious) if you use the full six.
Instructions
Bring a large pan of water to the boil.

Peel the carrots But keep them whole.

Add them to the boiling water and cook for 8-10 minutes.

When they are ready they should be a little soft on the outside, but still crunchy in the centre.

Meanwhile, chop the coriander and pop in a large jar with a tight fitting lid. The jar needs to be watertight as you'll be shaking the contents regularly.

Add the vinegar, oil and garlic and shake well to mix.

When the carrots are ready, take them out of the hot water with tongs, and slice them about 5mm thick.

Add them to the jar and shake well in the marinade.

The heat from the carrots will help them to soak up the flavours beautifully.

When cool keep in the fridge.

The oil may coagulate when cold so remove from the fridge about 30-60 minutes before you want to serve them.
Nutrition Facts
Portuguese Marinated Carrot Salad
Amount Per Serving
Calories 119
Calories from Fat 90
% Daily Value*
Fat 10g15%
Sodium 42mg2%
Potassium 298mg9%
Carbohydrates 7g2%
Protein 1g2%
Vitamin A 8529IU171%
Vitamin C 20mg24%
Calcium 55mg6%
Iron 2mg11%
* Percent Daily Values are based on a 2000 calorie diet.