This Portuguese marinated carrot salad is a flavour explosion ready to pimp every meal. It's a fantastic side dish that you'll make again and again.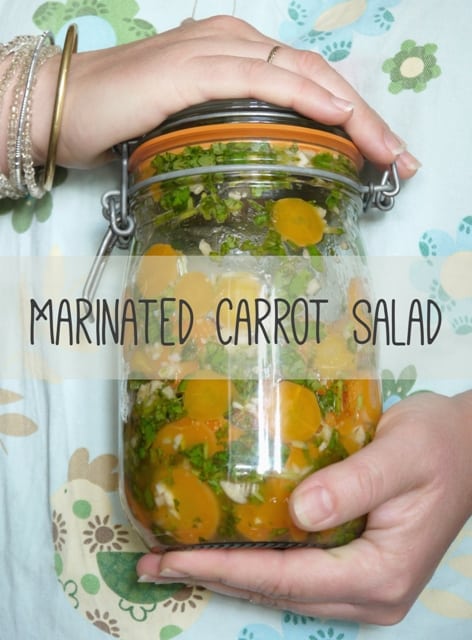 Jonny should be the one writing this recipe as he appears to be totally addicted to this Marinated Carrot Salad. So far he's had it with every meal, bar his morning porridge.
It's showed up as a side to bangers & mash, his lunch time pasty, cheese on toast and even his weekend fry up.
Now whilst I don't personally recommend pairing it with your Sunday Roast, if it floats your boat as much as it does his, then who am I to stop you.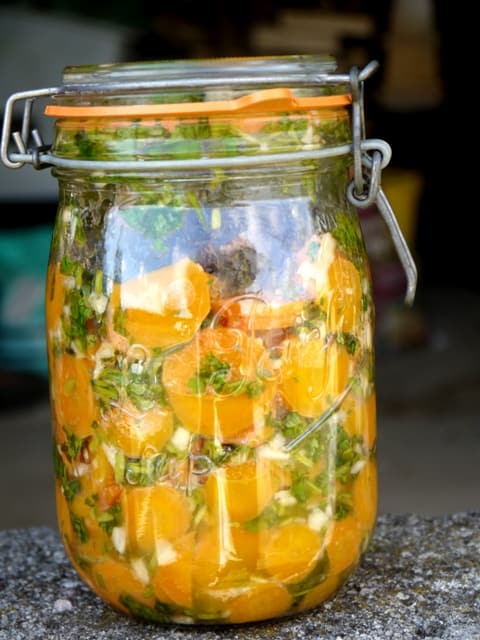 The recipe itself hails from sunny Portugal, where our good friends Lenny & Jane live. It's fresh, summery and very very garlicky. Perfect served alongside cheeses, breads and meats it's a lovely salad that keeps for several days in the fridge.
And if you have a tonne of carrots left over, it's worth checking out Kate's awesome recipe for carrot jam. It looks just like marmalade but boy does it taste good! Great job Kate :)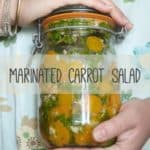 Marinated Carrot Salad
Ingredients
6-8

large carrots

A bunch of fresh coriander

50

ml

red wine vinegar

100

ml

olive oil

2-6

cloves

garlic depending on the size of the cloves and your tastebuds!
Instructions
Bring a large pan of water to the boil. Peel the carrots and, keeping them whole, boil them for 8-10 minutes so that they are a little soft on the outside but still crunchy in the centre.

Meanwhile, chop the coriander and pop in a large jar with a tight fitting lid. Add the vinegar, oil and garlic and shake well to mix.

When the carrots are ready, take them out of the hot water with tongs, and slice them about 5mm thick. Add them to the jar and shake well in the marinade. The heat from the carrots will help them to soak up the flavours beautifully.

When cool keep in the fridge. The oil may coagulate when cold so remove from the fridge about 30 minutes before you want to serve them.