This is the perfect time of year to get some fertilising teas made for your veggie garden. You can of course buy a seaweed fertiliser, but if you're planning a trip to the coast anytime soon, why not bring a bucket or two of it home to make your own Organic Seaweed Plant Feed ?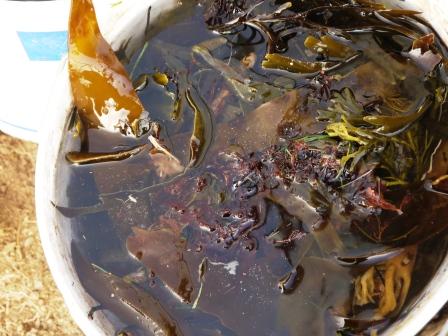 We only live a mile from the beach, and with the strong winds we've had of late, I knew there would be lots of fresh kelp washed up from the depths.
First collect your seaweed. You want the fresh stuff, that's ideally been washed up on the shore line. If you have to cut seaweed from rocks (not ideal) please make sure you leave at least a 3 inch stump for the plant to grow back.
If you pick up the stuff that's already starting rotting on the beach, your veggie plants will be missing out on an extra little bit of nutrients. However, half rotted seaweed tea is far better than no seaweed tea!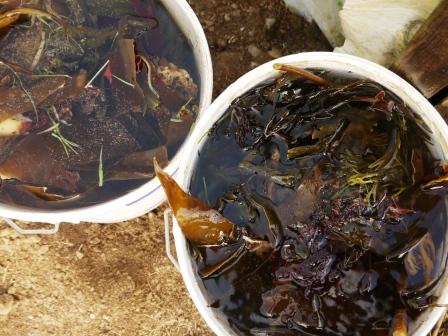 Hot to Make Seaweed Plant Food
When you get it home, tip it out onto the grass and using a hose or watering can, rinse the sand and salt off the weed. You'll probably never get it all off, but do as best you can.
Pop it all back into another bucket or two, fill to the top with water and leave to soak. If they are going outside, you'll need a lid of sorts to stop rainwater diluting your tea. Mine are currently resting in the poly tunnel, although they will soon become too smelly to have in such an enclosed space – you have been warned!
Give it a good stir with a big stick every now and then. You can start using it within a couple of weeks, although the beauty of starting it so early in the season is that it becomes more potent after leaving it for a good couple of months.
It will be too strong to use neat, so make sure you dilute it 10:1 (10 parts water to 1 part tea) in a watering can before feeding plants.
When you have used all of the tea from a bucket, you can sue the same seaweed for a second batch of tea. However, as the nutrients won't be so dense second time around, I'd be inclined to use it as a great excuse to chuck it on the compost heap & head back down to the beach for some more :)