This baked mackerel salad with hot ginger dressing makes the perfect extra special lunch!
The piggies went off yesterday and in preparation for their return, we have been eating out of the freezers for what feels like months. Among the weird and wonderful contents found (pigs trotters, dead rabbits for the ferrets still in their furry coats, and about 6 gigantic sacks of home grown tomatoes dating as far back as 2009) was a huge bag of mackerel fillets that either Jonny or I have caught over the past year or two.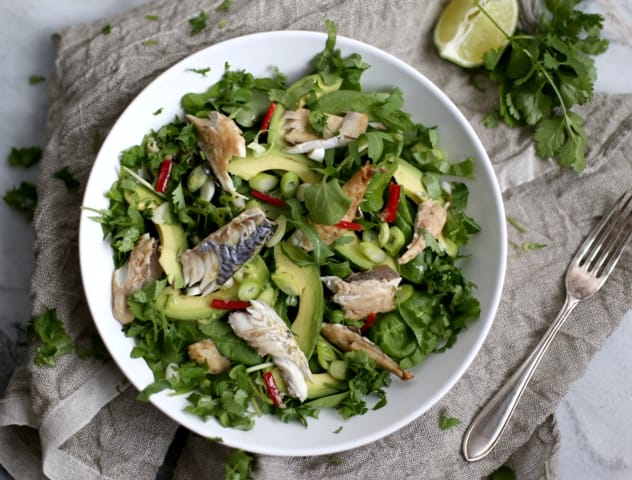 In fairness we do have 5 freezers on the farm , but it still astounds me that I can lose an entire bag of mackerel.
Anyway, whether your mackerel are fresh or frozen (and defrosted) you want them filleted and all bones removed. This is the kind of salad that you just want to dive into without wondering if you're about to choke to death on a pesky bone.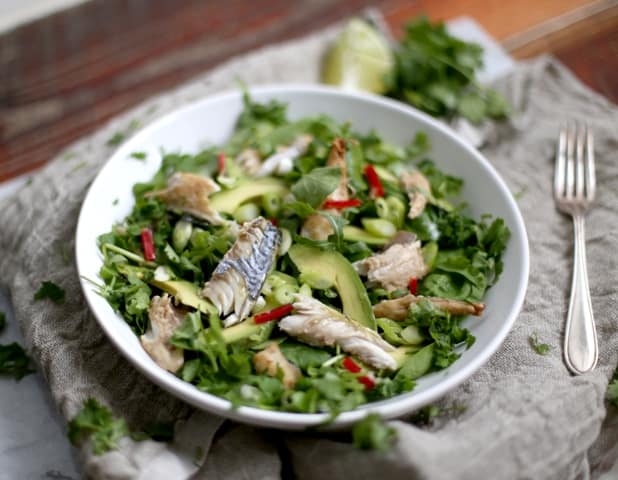 The zingy ginger dressing means that this is one salad you can indulge in however cold it is outside.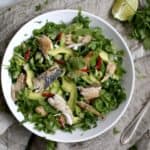 Mackerel Salad with Hot Ginger Dressing
Ingredients
Baked Mackerel
Splash soy sauce

Splash fish sauce

Juice from 1/4 of a lime

4

mackerel fillets

de-boned
Salad
Handful of salad leaves

1

avocado

sliced

Coriander leaves
Dressing
1

" fresh ginger

peeled and grated

1

garlic clove

crushed

1/2

teaspoon

brown sugar

Juice of 3/4 of a lime

3

spring onions

chopped

1

red chilli

finely chopped

3

tablespoons

sesame oil
Instructions
Preheat the oven to 180/350/gas4

Place the fish into a baking dish, skin side down. Mix the soy sauce, fish and lime juice together in a glass and brush it onto the fish liberally. Bake in the oven for 8-10 minutes.

Pile up your choice of salad leaves in two bowls, top with the avocado, coriander and spring onions.

When the fish is cooked flake it into large chunks and tip over the salad leaves.

In a clean glass mix the dressing ingredients together and drizzle over everything.

If you're planning to have this dish as a packed lunch, let the fish cool fully before mixing with the salad bits and store the dressing in a small leak proof pot, and drizzle it over when you're ready to eat. You may want to omit the raw garlic from the dressing if you have to share office space with anyone after eating ;)