Lobster Eggs Benedict is the most decadent treat on the brunch menu. For special occasions, nothing will come close to this luxurious breakfast.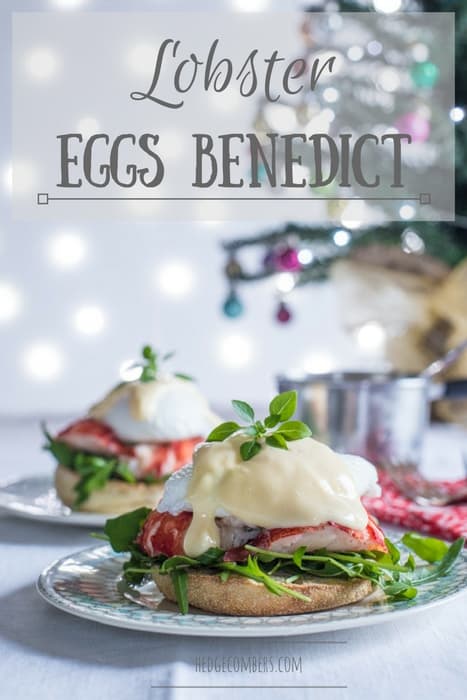 I absolutely adore eggs benedict (my go-to breakfast in one of my favourite little cafes on the beach very near to home).
Lobster eggs benedict, on the other hand, is a whole other level of decadence! My recent foodie trip to Chester was, quite simply, my idea of luxury. It was also the inspiration behind this lobster eggs benedict recipe. This recipe post is my way of sharing the experience with you!
Journey to my lobster eggs benedict recipe!
Last weekend I was invited to attend an industry-related Christmas party in Chester. It was a mammoth journey up from Cornwall (involving one tow truck north & three tow trucks to get us back home, #sigh) but so well worth it!
I got to meet up with friends old and new and to taste test some delicious menu items. There was a cocktail bar (Bacon Vodka Bloody Mary anyone?!), a foodie graffiti artist, food styling expert, an array of delicious festive desserts and more.
And can I tell you a secret? I also met this guy…

I had a TOTAL fangirl moment, as this is one of my favourite YouTubers. For those not in the know, he is John Quilter aka the Food Busker. He has a great weekly show where he shares his tasty street food creations with the Great British public, and they pay him what they think it's worth! It's a brilliant concept and he's a lot of fun to watch, you have to go check it out!
We also got treated to a monster spread of festive desserts. It really was a treat and I do feel very lucky to be able to take part in events like these as a direct result of my day-job!

Lobster Love means Lobster Benedict!
One of the dishes cooked up for us was for Lobster Tacos. In my mad rush to stuff them into my face, I only got one really dodgy shot of them so please excuse me! But rest assured, they were sooooooo good. The lobster was meaty and sweet and so pretty to boot!
This was all the inspiration I needed! I decided right then and there that a lobster benedict recipe just had to go onto the menu for my readers! This post then is the direct result of all that delicious indulgence I experienced in Chester! Thanks to everyone involved in the trip for making it special and for giving me the idea!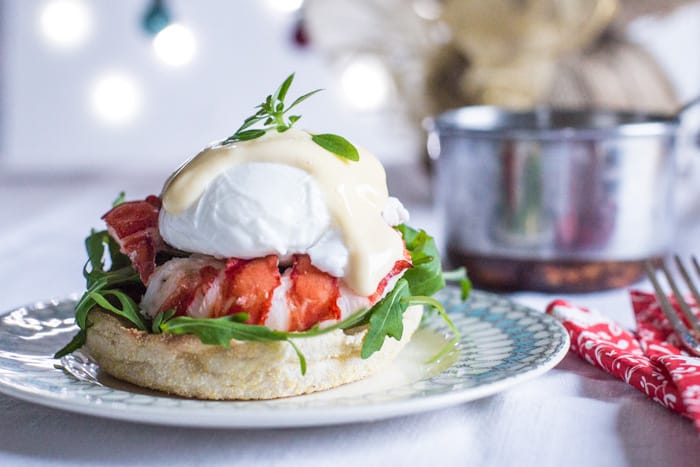 How to Cook Lobster Tails
Don't be intimidated if you don't know how to cook lobster tails and will be doing this for the first time. It seriously couldn't be easier. I chose to boil mine, but use whichever process you prefer. Please note: The following cooking times are for cooking shell on lobster tails that weigh around 110g each. If your tails are larger or smaller, please adjust the timings appropriately.
How to Boil Lobster Tails
Bring a large pan of water to the boil and pop in the tails. Cook for 8-9 minutes, then simply remove from the water and let stand on some kitchen roll to drain. Then use a pair of scissors to cut up the shell and the meat will pop out.
How to Pan Fry Lobster Tails
Cut down the back of each tail with your kitchen scissors, crack the shell open and remove the meat. Heat a little oil in the pan over a medium heat and fry the tail for 5-6 minutes turning occasionally to ensure an even cook. You can also add a knob of butter to the pan towards the end of the cooking to add an extra burst of flavour.
How to Oven Roast Lobster Tails
Preheat the oven to 180c/350f/ Gas 5. Cut the lobster tails down the back with your kitchen scissors. Prise the shell open and pop a knob of butter in the centre of the tail. Pop on a baking tray and in the centre of the oven and bake for 25 – 28 minutes.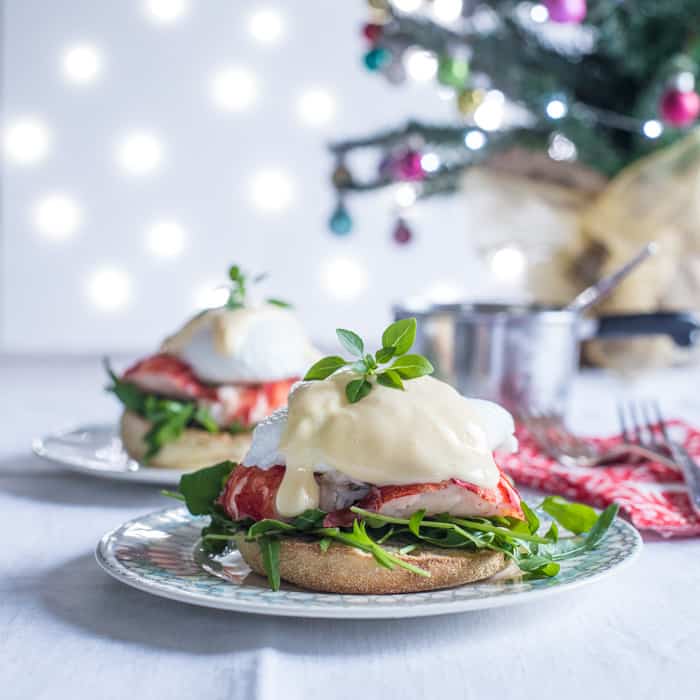 Lobster Eggs Benedict
I couldn't wait to come up with my own lobster superstar dish. As regular readers will know, I have a real soft spot for all things brunch, and played around with how to incorporate lobsters into my weekend breakfast. This lobster eggs benedict recipe is the perfect dish to knock up over the Christmas period. Hang on a minute! Who wants to wait for Christmas?! This lobster eggs benedict will make any lazy morning extra special. :)
How to serve lobster benedict
Traditionally, lobster eggs Benedict is served on a toasted English muffin, but you could use a crumpet or a toasted slice of sourdough.
Lobster eggs benedict and hollandaise sauce
The Hollandaise sauce for eggs benedict is easy to make, with just 4 ingredients – egg yolk, butter, white wine vinegar and lemon juice. You will need to create a bain-marie and I do this by placing a mixing bowl over a saucepan, half-filled with water.
However, if you don't want to be in the kitchen too long, you could always grab yourself a jar of hollandaise sauce from the supermarket. No one will notice, and I definitely won't tell.
And if you need any help poaching the perfect egg, go take a read of that article I wrote many years ago (just ignore the dodgy photos, OK?!)
So my friends, for an extra level of indulgence in the mornings (or let's face it, any time of day!) go bookmark/pin/print the recipe below and save it for a day that you want to make extra specially special.
And don't forget to tag me in your shares across social media. You can find me pretty much everywhere as @hedgecomber :)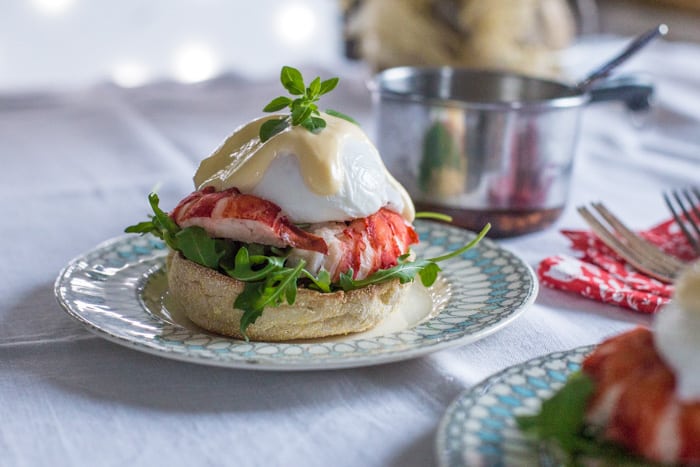 Easy Lobster Eggs Benedict Recipe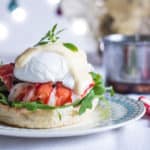 Lobster Eggs Benedict
Keyword:
lobster benedict, Lobster Eggs benedict
Ingredients
2

lobster tails

uncooked and defrosted if frozen

1

English muffin

halved and toasted

1

handful

rocket

(arugula)

2

eggs
Hollandaise Sauce
75

g

butter

melted

1

egg yolk

1

tsp

white wine vinegar

1/4

lemon

juiced
Instructions
Hollandaise Sauce
Create a bain marie by placing a mixing bowl over a large saucepan half filled with water. Bring to a simmer then take the heat down as far as you can whilst still having a gentle simmer.

Pop the egg yolks into the mixing bowl and whisk them.

Add the vinegar, still whisking, then the liquified butter. Add it slowly, in a thin drizzle, and keep whisking. When it has come together into a thick, unctuous sauce, add the lemon juice and whisk that through.

Season with a little salt and pepper and serve warm. Any leftovers can be popped in the fridge and served cold the next day.
Lobster Eggs Benedict
Bring a pan of water to the boil. Add in the uncooked lobster tails and gently boil for 8-9 minutes. Remove with a slotted spoon and allow to drain on a coupe of sheets of kitchen paper.

Bring the pan of lobster water down to a simmer and crack in two very fresh eggs, or use a silicone poaching pod if you only have shop bought eggs available. Poach until cooked through. Remove with a slotted spoon and pat the underneath of the spoon with kitchen paper to remove all excess water.

Toast the English muffin and pop half on each plate.

Add a little rocket/arugula to each muffin half. You could substitute with avocado or just a little spread of salted butter.

Take a lobster tail and cut up the back with a pair of strong kitchen scissors. Pull the shell apart and remove the lobster tail. Pop in onto a chopping board and, using a sharp knife cut down the centre lengthways. Pop the two halves on one muffin.

Top the lobster tails with the poached eggs, then dollop on a tablespoon or so of the Hollandaise sauce. Serve immediately & enjoy!
Nutrition Facts
Lobster Eggs Benedict
Amount Per Serving
Calories 483
Calories from Fat 342
% Daily Value*
Fat 38g58%
Cholesterol 422mg141%
Sodium 737mg32%
Potassium 280mg8%
Carbohydrates 15g5%
Protein 20g40%
Vitamin A 1540IU31%
Vitamin C 8.7mg11%
Calcium 129mg13%
Iron 1.6mg9%
* Percent Daily Values are based on a 2000 calorie diet.