Now's a good time to run through the basics of food hygiene to ensure that you know how to safely cook turkey & keep everyone healthy this Christmas.
Nail the turkey, and you've nailed the whole dinner!

Lining up all the elements of a Christmas dinner can be intimidating enough.
But ensuring it's done safely, so no one gets food poisoning, is imperative.
This article on how to safely cook a turkey isn't meant to scare you, just give you the basic food hygiene tips that will see you and your family happy and healthy long into the New Year!
How to Safely Defrost Turkey
Did you know that an average Christmas turkey takes a full 2 days to defrost?
With all the other yummy food that needs fridge space, that can drive some people to defrost them in the bathtub, garage or even the garden shed!
In an ideal world, your turkey will defrost in the bottom of the fridge.
Keep it inside its wrapper, and place it in a large baking dish that is deep enough to contain any juices that leak out of the packaging.
Failing that, defrost it somewhere cool, where no animals or vermin can reach it.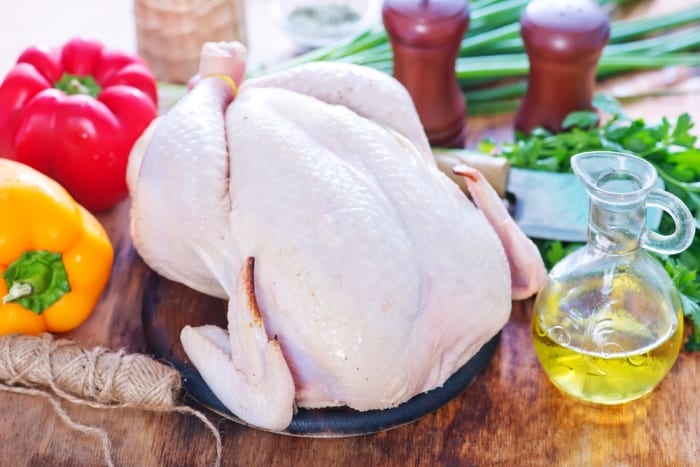 Image credit: Shutterstock
How to Safely Store a Raw Turkey
Whether you're buying fresh, or have just defrosted your turkey, it must now be kept in the bottom of the fridge (or somewhere just as cold). Also, ensure hands are washed in warm soapy water after touching the packaging or meat itself.
When you take it out of the packaging, do not wash it.
Washing splashes raw juice (and therefore bacteria) around the kitchen which can easily contaminate other food, utensils or hands.
The bacteria we're worried about is all killed by cooking so there's really no need to wash it first.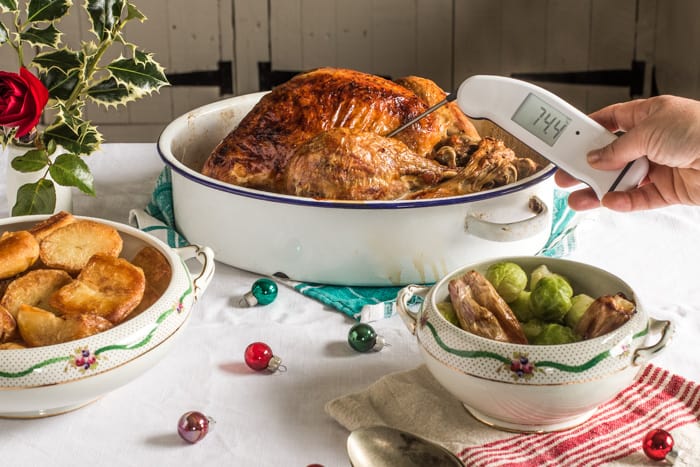 How to Safely Cook Turkey
To work out how long to cook your turkey for first, you need to weigh it.
For every kilo of meat, you need to allow 45 minutes in the oven, with an extra 20 minutes added on.
Also factor in resting time (this will make the meat more tender, juicier and easier to carve so please don't skip it!) of 30-60 minutes.
So, for a 7kg turkey it would be:
7(kg) x 45(mins) = 315(mins)
+ 20(mins) = 335
+ 30(mins) = 365(mins), or at least 6 hours and 5 minutes.
When it comes to cooking a turkey, remember that it is essential it is cooked through properly.
There are lots of ways of telling if it's cooked (such as piercing the flesh at the thickest past and seeing if the juice runs clear. Or if the leg falls away from the body when gently pulled).
However, the only way to absolutely, without doubt know that the turkey is safe to eat, is by ensuring the internal temperature reaches and/or exceeds 74°C (165°F).
Invest in a digital thermometer (I have a white one from Thermapen, but they have lots of fun colours and patterns to choose from) and you'll never be left wondering if the roast is ready to serve again.
This is even more important if you are cooking for a child, pregnant or elderly person, as food poisoning can be fatal.
Push the tip of the thermometer into the thickest part of the meat, between the breast and thigh.
Stop just before you touch the bone and hold still for just 3 seconds.
Thermapens are so highly sensitive that you'll see the temperature dance around a little as the meat continues cooking after being removed from the oven.
It's also worth noting that if you've hit that temperature, it's OK if there's still some pinkness in the meat close to the bone.
According to the FAQ page on the Thermapen site: "the bone marrow in chicken (and turkey) bones can release blood when cooking."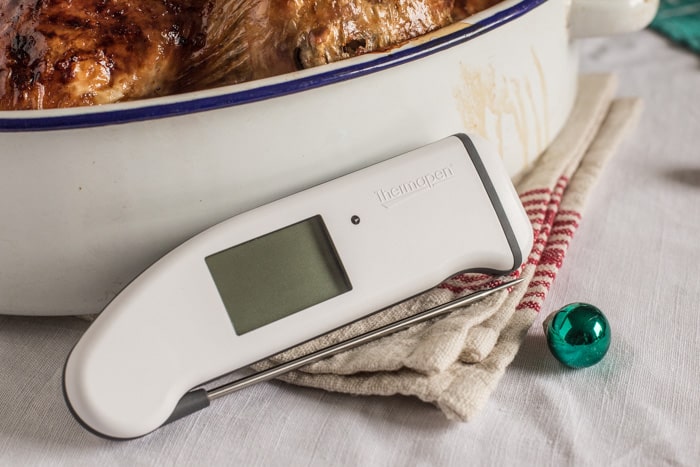 How to Safely Serve Turkey
Thankfully, this is the easiest stage of Christmas dinner to control!
Whilst the turkey is in the oven, clean the kitchen and wipe all surfaces down with hot soapy water.
This will eliminate any chance of cross contamination and make clear up after the big meal so much easier!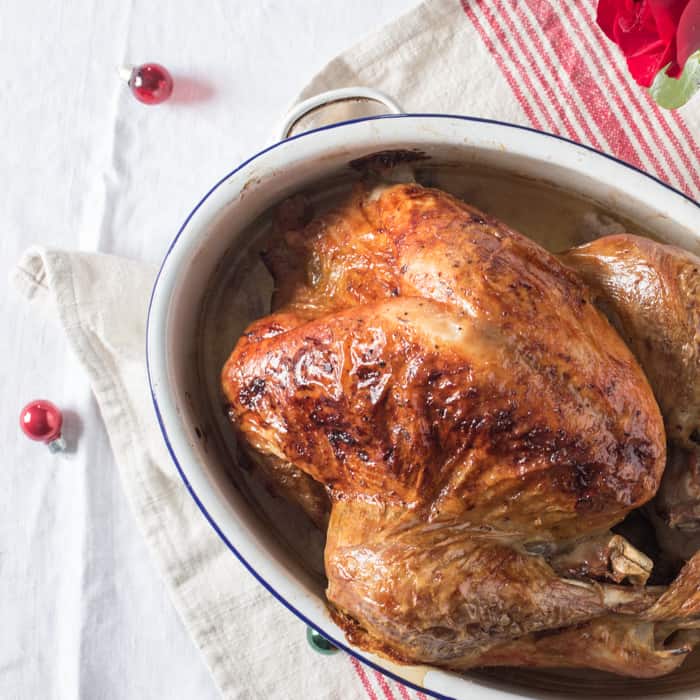 How to Safely Store Turkey Leftovers
Once the meat is carved, the rest of the turkey needs to be cooled down as quickly as possible before being chilled properly in the fridge.
I always aim to carve the rest of the meat off the bone soon after my dinner.
A tub of cooked turkey goes into the fridge for sandwiches.
And the rest goes straight into the freezer.
Never put hot, or even warm meat directly into the fridge or freezer.
Always cool it to room temperature first, then preferably chill in the fridge before popping into the freezer.
Skipping the fridge stage won't cause you any problems if you are short of time/fridge space.
To freeze, I lay the slices of turkey out on a piece of baking paper on a tray, and freeze the whole tray.
When frozen I tip the slices into a freezer bag.
You'll then be able to take out just as much turkey as you need for any future meals without having to defrost the whole bag.
This is known as 'dry freezing' and is really useful when freezing berries in the summer months too.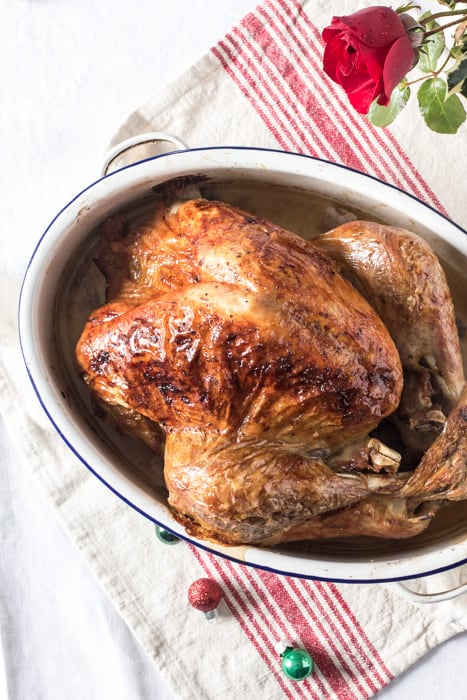 I hope this article on how to safely cook turkey helped you understand how to work safely with raw poultry.
All the above tips are good basic kitchen hygiene and aren't just for Christmas!
How to safely cook Turkey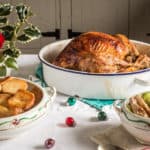 My Easy Roast Turkey Recipe
Keyword:
easy cook roast turkey
Ingredients
1

whole turkey

removed from the fridge an hour before to bring up to room temperature.

Butter

softened
Instructions
Preheat the oven to its maximum setting (don't worry, you're going to drop this as soon as the bird goes in!)

Check the cavity both ends for a pack of giblets, and remove if you find any.

Weigh the bird, and work out the timings. Calculate 45 minutes of cooking time per kg, plus 20 minutes extra, plus 30 minutes of resting time.

Slip your hand in the back end of the turkey, between the skin and the meat. With your palm down, gently work your way around the breast of the bird loosening the skin.

Take a large knob of softened butter underneath the skin and spread it evenly over the breast meat. Repeat until it is well coated and wipe a little more butter over the skin.

Feel free to stuff your bird at this point, although we cook our stuffing separately. Take a large sheet of tin foil and tent it over the bird, tucking in tightly.

Pop the bird into the preheated oven and drop that temperature to 180C/350F/gas 4

Every 30 or 40 minutes scoop the juices from around the pan over the bird to baste it. This will stop it drying out. 3/4 of the way through its cooking time, remove the tin foil to allow the skin to brown. Keep the sheet of foil as when you remove the roast, and have ensured it's safely cooked through, you need to cover it back up with the foil. Top the foil with a clean hand towel and let it rest for at least 30 minutes before carving.
Nutrition Facts
My Easy Roast Turkey Recipe
Amount Per Serving
Calories 363
Calories from Fat 126
% Daily Value*
Fat 14g22%
Cholesterol 185mg62%
Sodium 288mg13%
Potassium 576mg16%
Carbohydrates 0g0%
Protein 55g110%
Vitamin A 145IU3%
Calcium 28mg3%
Iron 2.2mg12%
* Percent Daily Values are based on a 2000 calorie diet.
Huge thanks to Thermapen for sponsoring this content, allowing me to keep bringing you tasty content, for free. As always all thoughts (and leftovers!) are my own.
Janie x
Sources: British Turkey, Food Standards Agency, NHS Live Well.