This How to Make Fresh Coconut Milk tutorial will have you milking coconuts like a pro in no time!

Being dairy-free I use a lot of coconut milk in my kitchen. I use it a lot in curries, baking and sauces, but once it is chilled the solid part can be whisked like regular whipping cream for baking and desserts.
So first things first, you need to open your coconut.
Hammer a large clean nail into two of the three 'eyes' and drain the water out.
Next I hold it in my left hand (I'm right handed) and whack it along the belly with the back (NOT the blade!) of a heavy kitchen knife. Don't try this with a flimsy bread knife or similar, it'll only work if you have a monster of a knife.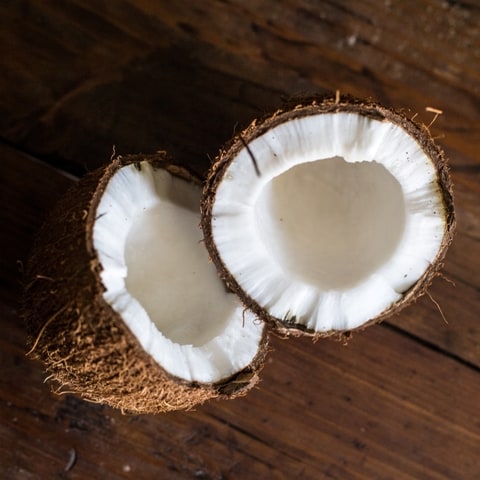 If you are monster-knife-less, hold as above and instead whack it with the hammer all around the centre. Keep going and I promise it will split although I don't find this method as quick or as accurate as with monster knife.
Next to extract the flesh from the shell, I cut down into the flesh with a sharp vegetable knife, then use a blunt table knife to prise out the meat.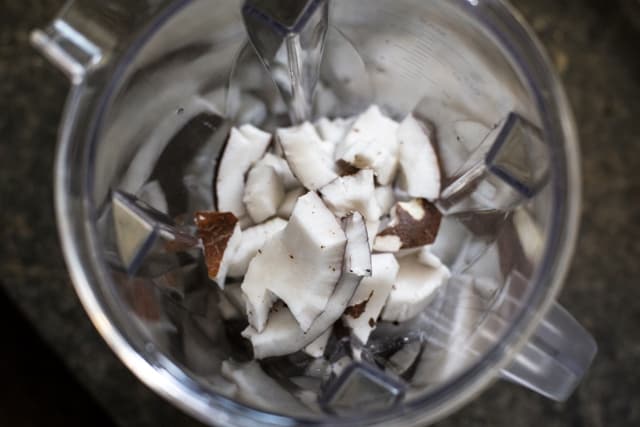 Woohoo! That's the tough bit over!
Throw the flesh and the juice into your blender. Now, I must make a point here that I am lucky enough to have a Froothie Optimum 9400 which is a high power blender capable of grinding paving slabs up into dust. Not sure how my old hand-me-down blender would have coped with this job so please don't shout at me if it causes yours to conk out. Just take as a sign from the gods to go and invest in a Froothie :)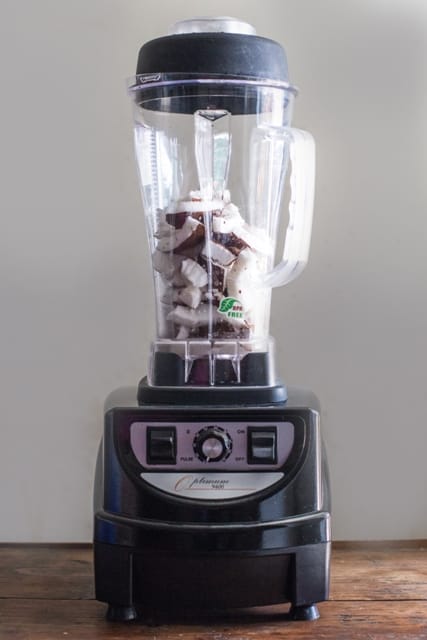 Pour 200ml of warm water on top of the coconut and give it a darn good blitz. The Froothie power blender took about 1 minute to turn it into a puree, if you are using a regular blender it may take longer.
Pour the yummy smelling sludge into a nut milk bag or muslin, and squidge and squeeze until every last tasty drop of milk is extracted. Pop in the fridge until needed.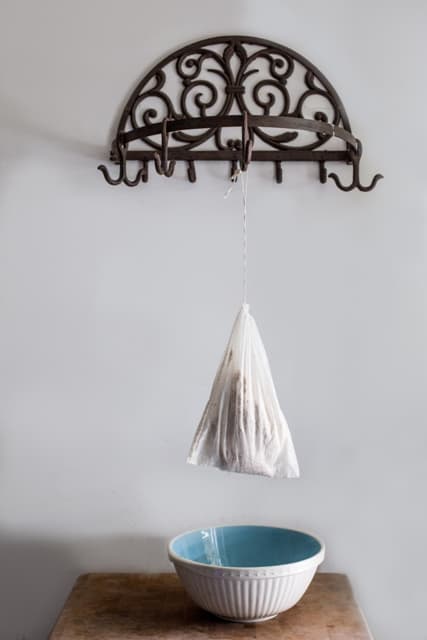 And what to do with the leftover bit? Well, mine is currently spread out in a very low oven and once it's dry I shall pop it back in the Froothie and make coconut flour which is perfect for baking with.