Whether you've struck gold at the supermarket, or out foraging, let me show you how to dry mushrooms so that they last for months in the pantry.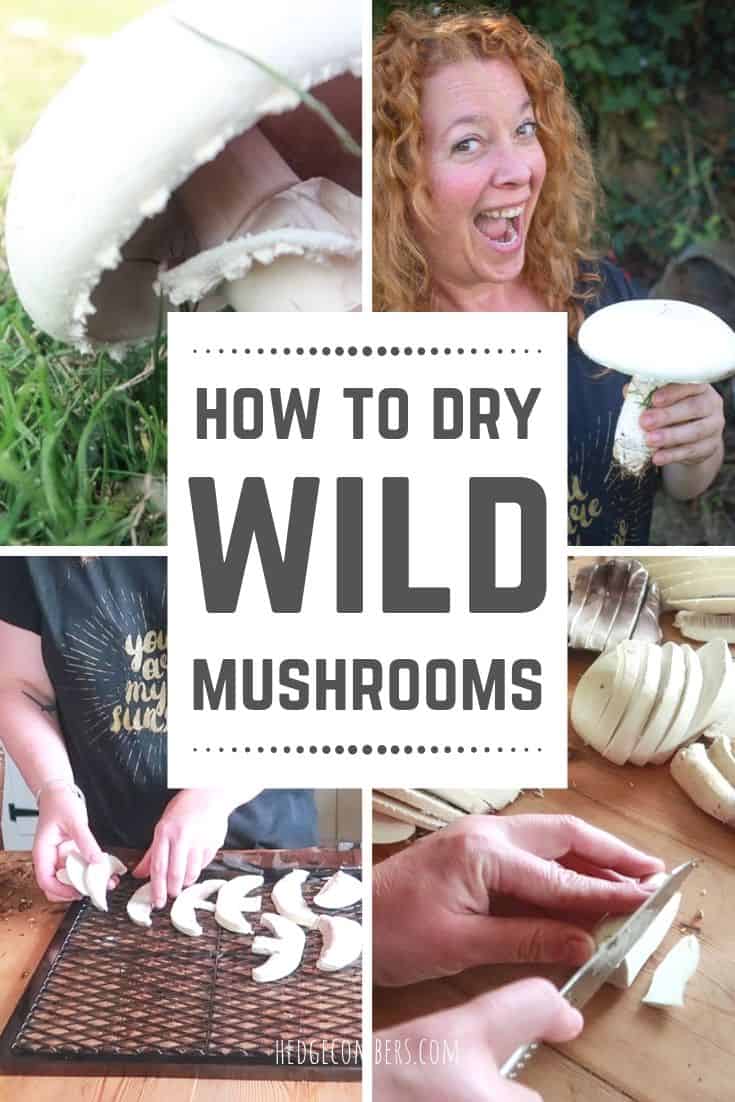 Cornwall is renowned for its mizzle, that heavy dense blend of mist & drizzle.
Whilst prolonged periods of it can certainly get you down, at this time of year it makes me happy as it creates the most perfect, hair-frizzlingly good weather for finding wild mushrooms!
How to Dry Mushrooms: A Friendly Warning!
So, before I begin to tell you my version of how to dry mushrooms, I need to start with a warning!
My own wild mushroom knowledge is limited.
I am very familiar with these large white horse mushrooms.
I grew up watching my Dad pick them from the same fields that I still look out over in search for that telling white dot on the landscape, and watching my Mum fry them atop of our Aga in the farm kitchen.
Although I am aware of other mushrooms which are edible, I would never ever pick them, cook them or eat them without dragging an expert out with me.
And never in a million years would I feed them to anyone else.
My recommendation is DON'T do a lookup using the internet, don't even reference a book.
The only way to guarantee you've got yourself an edible mushroom is to get it straight from a reliable foraging expert.
Every year there are reports in the UK of people dying after getting their ID wrong.
This is a subject that all novice foragers (like myself) must take seriously.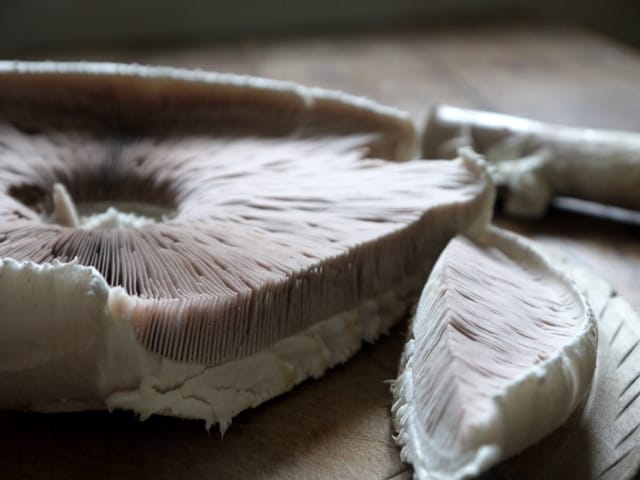 Foraging Wild Mushrooms
Now there's a lot of meat in just one of these beasts, and chances are if you find one, you will be lucky enough to find half a dozen!
Drying them out in a dehydrator is the perfect way to preserve a fungi overload, whether you forage wild mushrooms for yourself, or just happen to strike a great deal at the local greengrocers.
I could not believe my luck one morning last week when I looked over at the other side of the field and spotted, to my delight, what looked like a mushroom growing amongst the grass.
Within 10 minutes I'd collected mushrooms than I could eat in a month!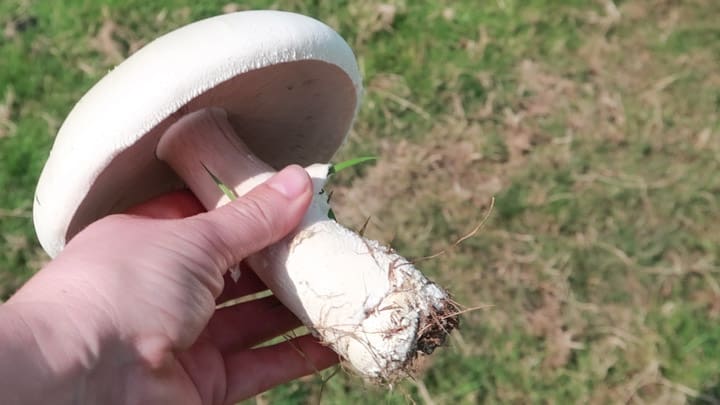 If you have the luxury of being able to return to the same growing site over the space of a couple of days, the time to forage wild mushrooms depends partly on their size and is partly weather-dependent.
I like to grab horse mushrooms when they are just big enough.
And because I live next door to the field these beauties grow in, I will happily wait for them to get to the point where the tops are similar to the size of my hand.
Look at that grin! That's a very happy forager's face, that is!).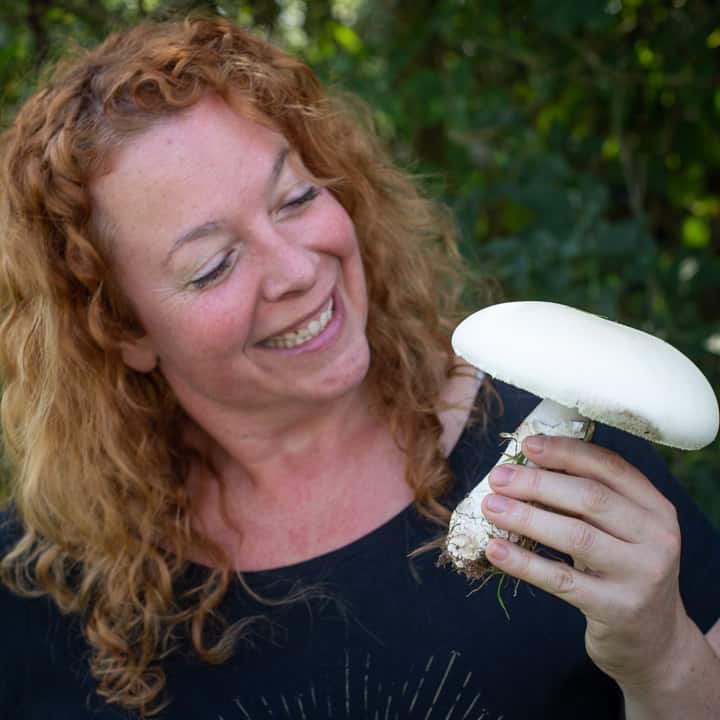 If they aren't quite big enough, but are still a good size, my next step is to check the weather report.
If the forecast is looking like there will be a lot of rain, I will often make a decision to pick the mushrooms there and then.
The slugs come out and do their worst in wet weather, so I don't want to give them a chance to beat me to it!
If the forecast is clear, I will give some of the smaller mushrooms a chance to get a little bigger.
That might even mean leaving them for another 10 hours or so from morning to evening.
Believe it or not, it can make all the difference!
Grab the mushroom as low down the stalk as possible and snap that baby off!
Drying Mushrooms
Why is drying mushrooms a good idea?
Being full of water, fresh mushrooms typically don't last very long. Once dried you can store mushrooms for much, much longer.
How long do dried mushrooms last?
If you remove all the water from the mushroom, and if you store them in an air-tight jar or bag, they can last between 6 and 12 months.
How great is that?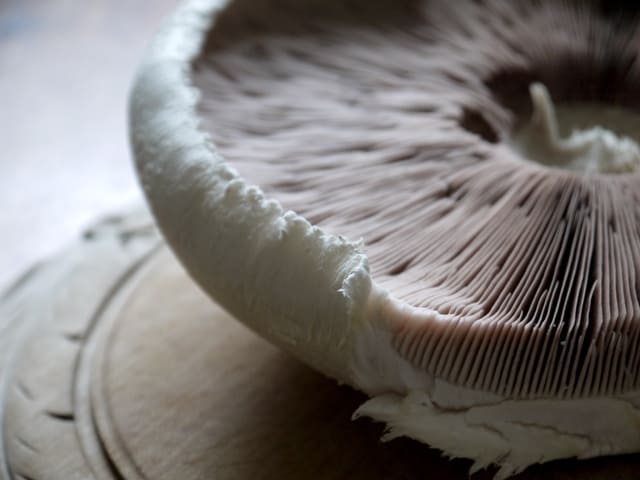 How to Dry Mushrooms: A Step by Step Guide
The following is a step by step guide on how to dry mushrooms in a dehydrator:
Clean any visible grass, twigs or bugs off the mushrooms (in older, wild mushrooms you can find teeny little white bugs in them. You'll need to bin these mushrooms if you're vegan, but if you can handle the thought of consuming them, they won't do you any harm).
Pull off the stalk and examine the underside. I am in the camp where I don't wash my mushrooms. The water tends to sit in the gills which soak it up like a sponge. This then impedes attempts to dry or fry up a mushroom so that it's crispy.
Brush off the top of the mushroom. You can buy mushroom knives which have brushes which means you can do this outdoors. The advantage of that is that any spores are dropped back onto the ground for what will hopefully be a bigger haul next time!
Peel or scrape off any dirt from the stalk (I use a pairing knife for this).
Cut up the tops and the stalks into slices about half an inch thick (depending on your dehydrator).
Place the slices into the dehydrator. Lay them out on the shelves, leaving plenty of space around each slice for the air to circulate.
Pop them into the dehydrator at around 55°C/130°F for 6 hours. I like them to dry slowly so they don't burn. In reality they probably won't need the full 6 hours, but there are many variables when it comes to drying mushrooms, so simply check on them now and then.
You will know when the mushrooms have dried as they will become crispy and crack when you break them.
Take the dried mushrooms out of the dehydrator and let them cool for about 20 minutes, until they reach room temperature. They should still crack and be 'snappy' if you break them after cooling.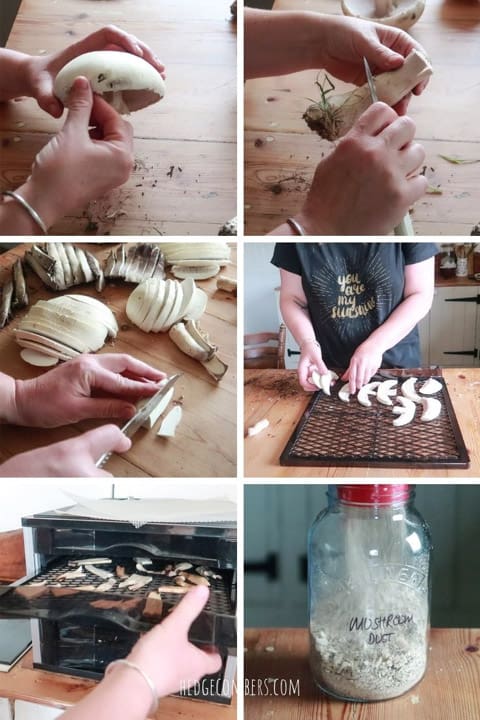 How to Dry Mushrooms: Video Guide
Check out the video I filmed last week where I find and dry mushrooms on the farm!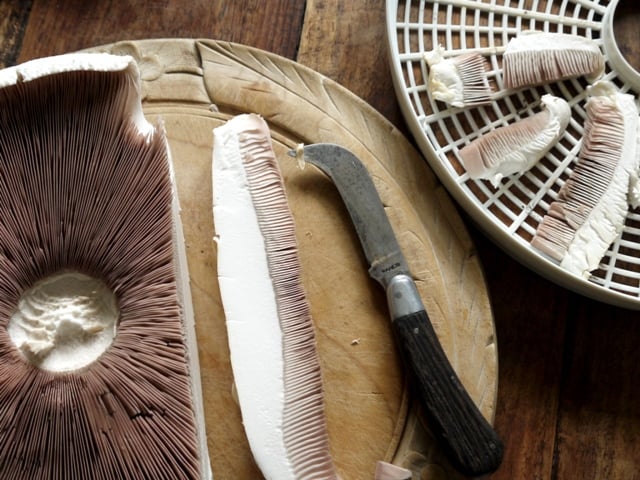 You need to be a bit vigilant when you leave the mushrooms to cool from the dehydrator.
They may reabsorb moisture from the air if you leave them too long before storing them.
However, if this is the case, just pop them back in the dehydrator for an hour or so to fully dry out again.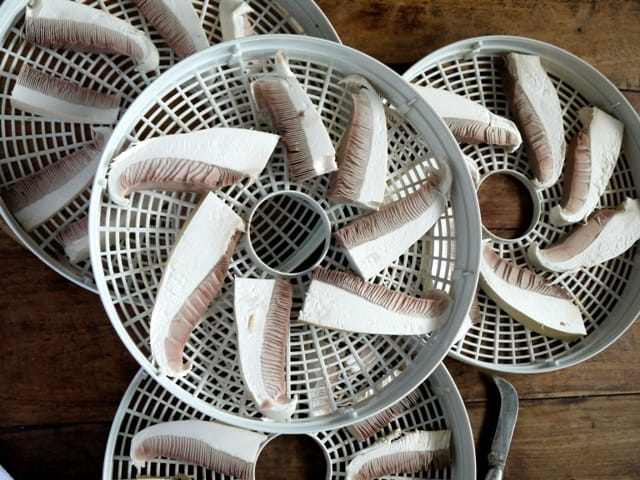 How to Store Dried Mushrooms
If you'd like to know how to store dried mushrooms, I recommend that if you want to keep them 'whole', keep them in slices or chunks and store them in an airtight bag or tub.
They will last for up to 12 months and can be rehydrated in hot water or added to any (moist) dish whilst it cooks.
However, I prefer to store my dried mushrooms as a powder.
I simply whizz them up in a food processor, then store them in an air tight jar.
They are a great way to thicken gravies and stews with minimal carbs or calories.
And you can sneak that lovely earthy flavour into all sorts of savoury dishes.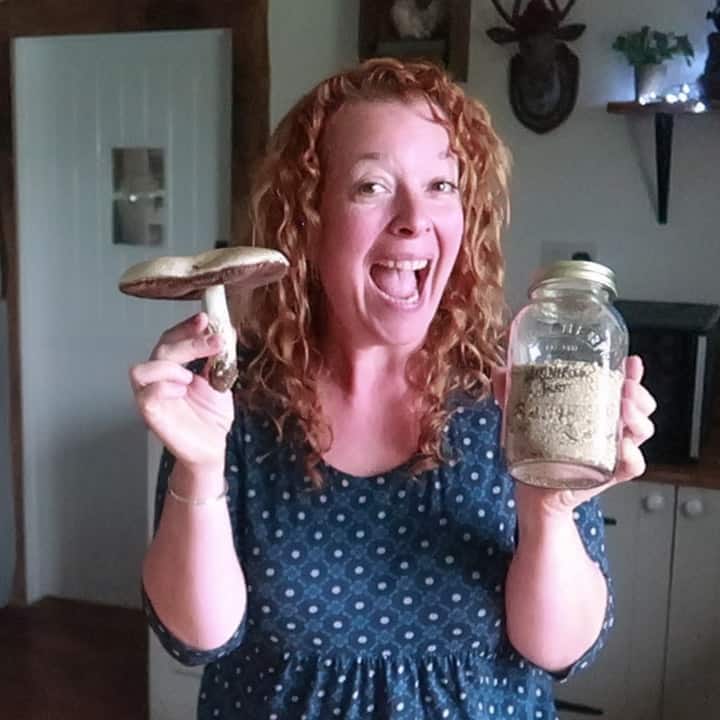 The Dehydrator I Use…
This post was originally posted way back in 2013.
Back then, I owned a cheap and cheerful dehydrator similar to this one.
It was basic, but great and I got a lot of use out of it.
That said, happily I got to upgrade to the Optimum P200 Dehydrator more recently and I LOVE IT!
It's a MONSTER in comparison, fits a tonne more food in, whilst costing no more to run.
If you also deal with allotment and/or foraging gluts, it is worth every single penny. (In fact, grab this code: AMB201767 to save £20 at the checkout 😉
The knife used in the pics and video is similar to this one: Global NI Santoku Knife. Global knives are totally the biz!
Please note, links may be affiliate links. Thank you for supporting the work we do here at no extra cost to yourself :)
Janie x