These Slow Cooker Venison Shanks are a wonderfully easy way to turn an otherwise chewy cut of meat into the tenderest and most lip smacking meal!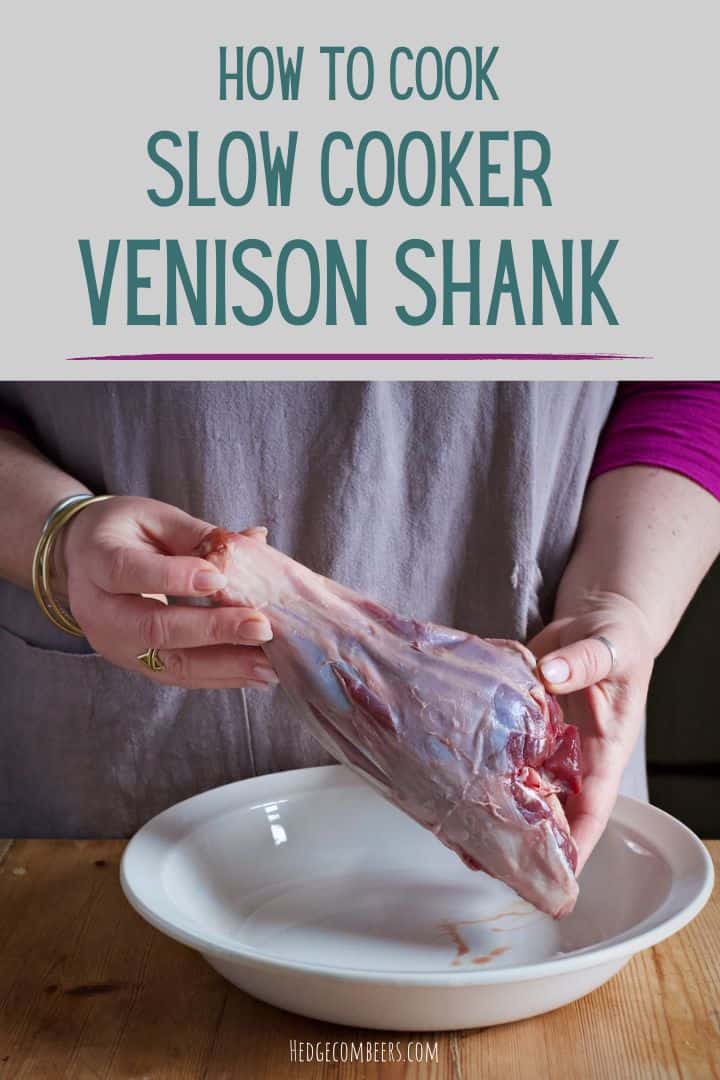 Hot off the heels of my last venison recipe (for this tasty venison pie in case you missed it), today I'm cooking with a deer shank.
The shank is the shin or calf joint of an animal. And if you imagine all the running around a wild deer does, this cut of meat has a high proportion of tendon and sinew among the muscle meat and bone.
But rather than being put off, when cooked correctly (ie low and slow), this will be one of the most tender and delicious cuts of meat possible.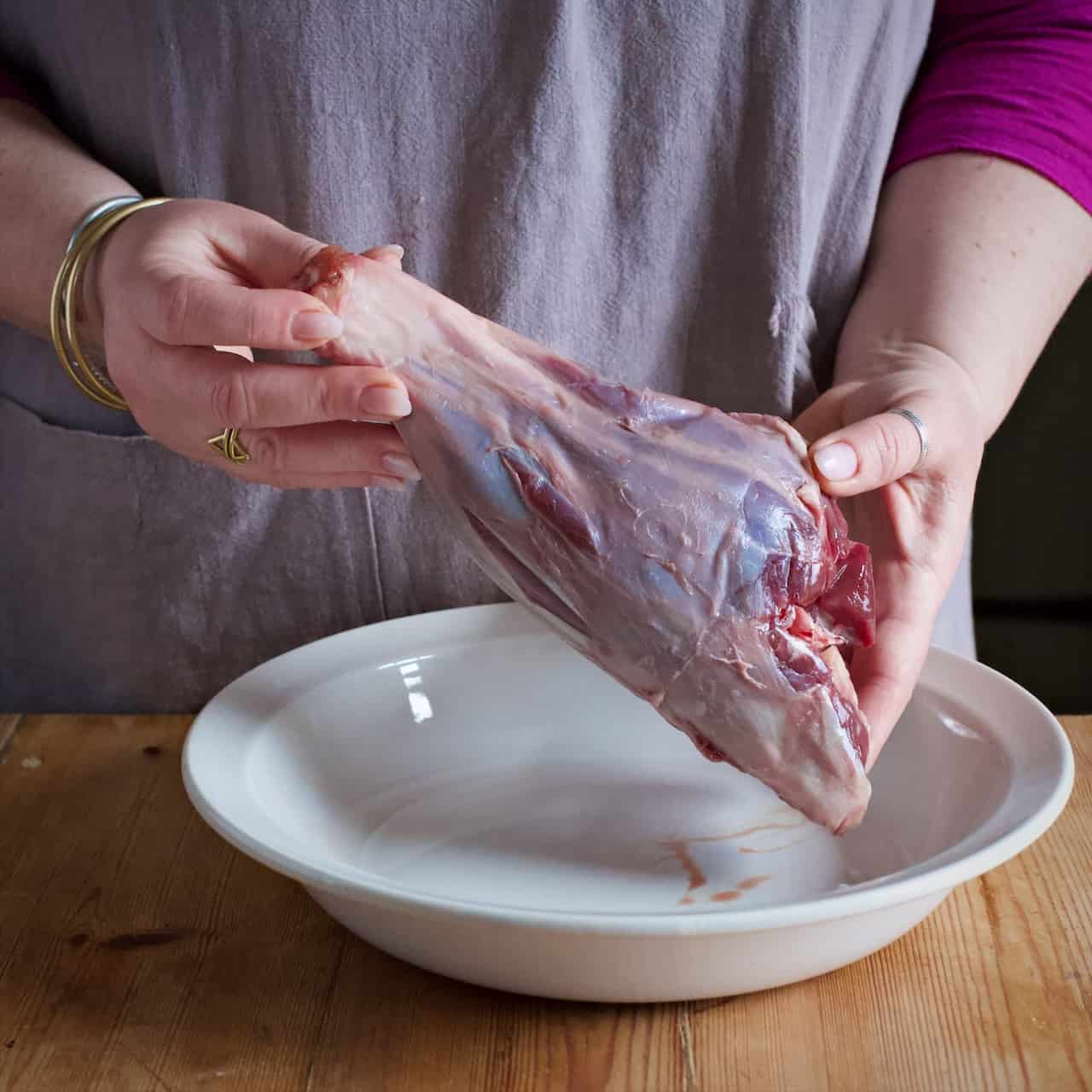 This shank is from a Sika deer, gifted by my good friend Duncan at Creech Hill Venison.
To find out more about them, and whether buying Sika deer meat is an ethical choice for you, please read this accompanying article that goes with the venison pie recipe mentioned above.
How to Cook Venison Shanks in a Slow Cooker
The first thing to think about is whether your shanks will fit in your slow cooker! It doesn't have to lie flat in the slow cooker bowl, but you do need to be able to close the lid properly, otherwise it won't cook in the time specified below.
I had one shank and it did fit (just!) in my regular 3.5 litre slow cooker, but I wouldn't have been able to squeeze in a second one.
I also own a large 6.5 litre slow cooker and I would likely have fitted more than 2 shanks in there.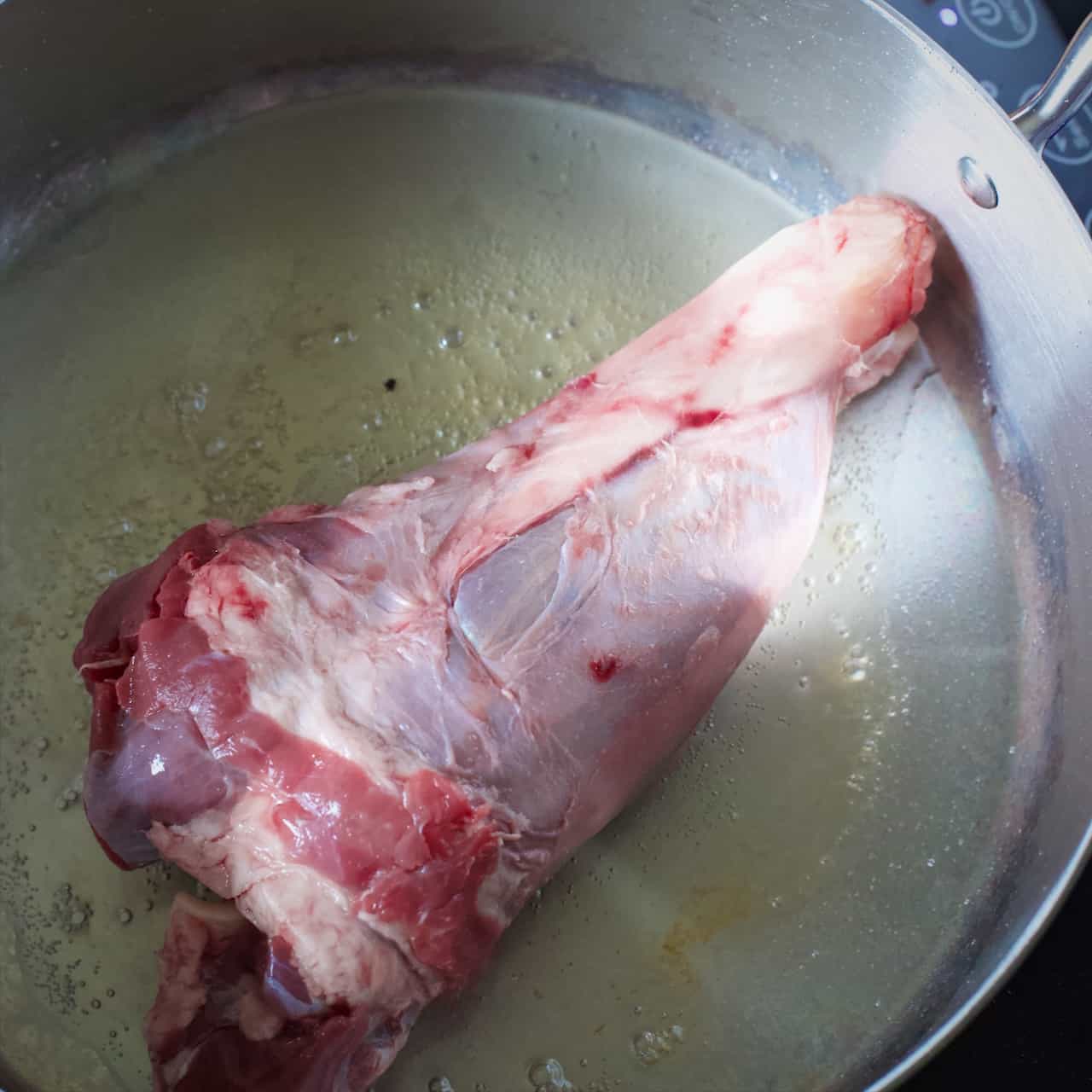 1/ sear the venison shank
Heat the oil in a large skillet or frying pan. When hot, place the shank in and sear all sides.
This will give you an extra level of flavour to the meat, and give you more flavour in the pan that you can use to enrich the gravy.
However if you're short on time you can skip this step and still have a delicious joint of meat to enjoy.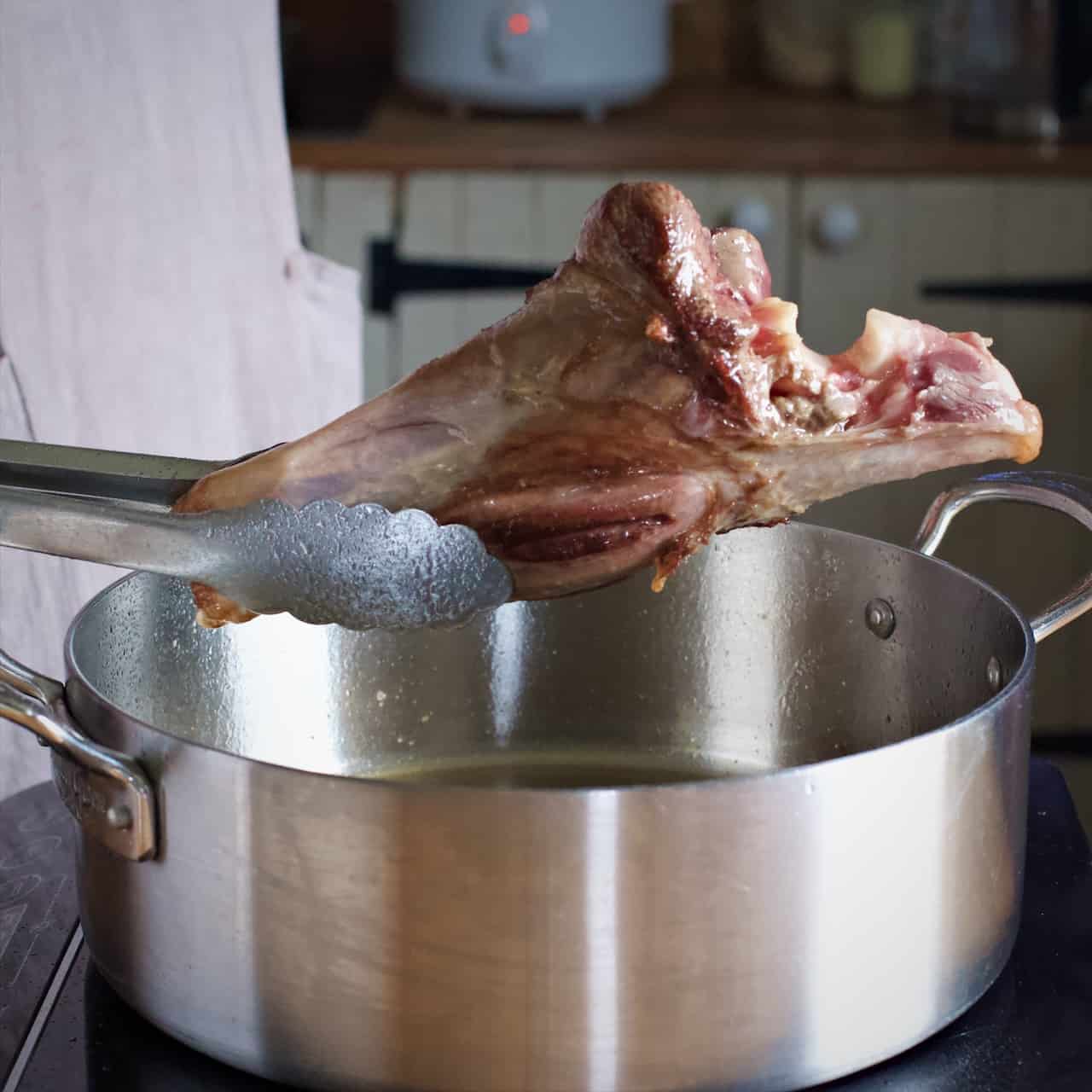 Remove the meat from the pan and place into the slow cooker.
2/ prep the veggies
Peel and chop the garlic, mushrooms and onions.
Add these to the pan you seared the meat in and fry until lightly golden.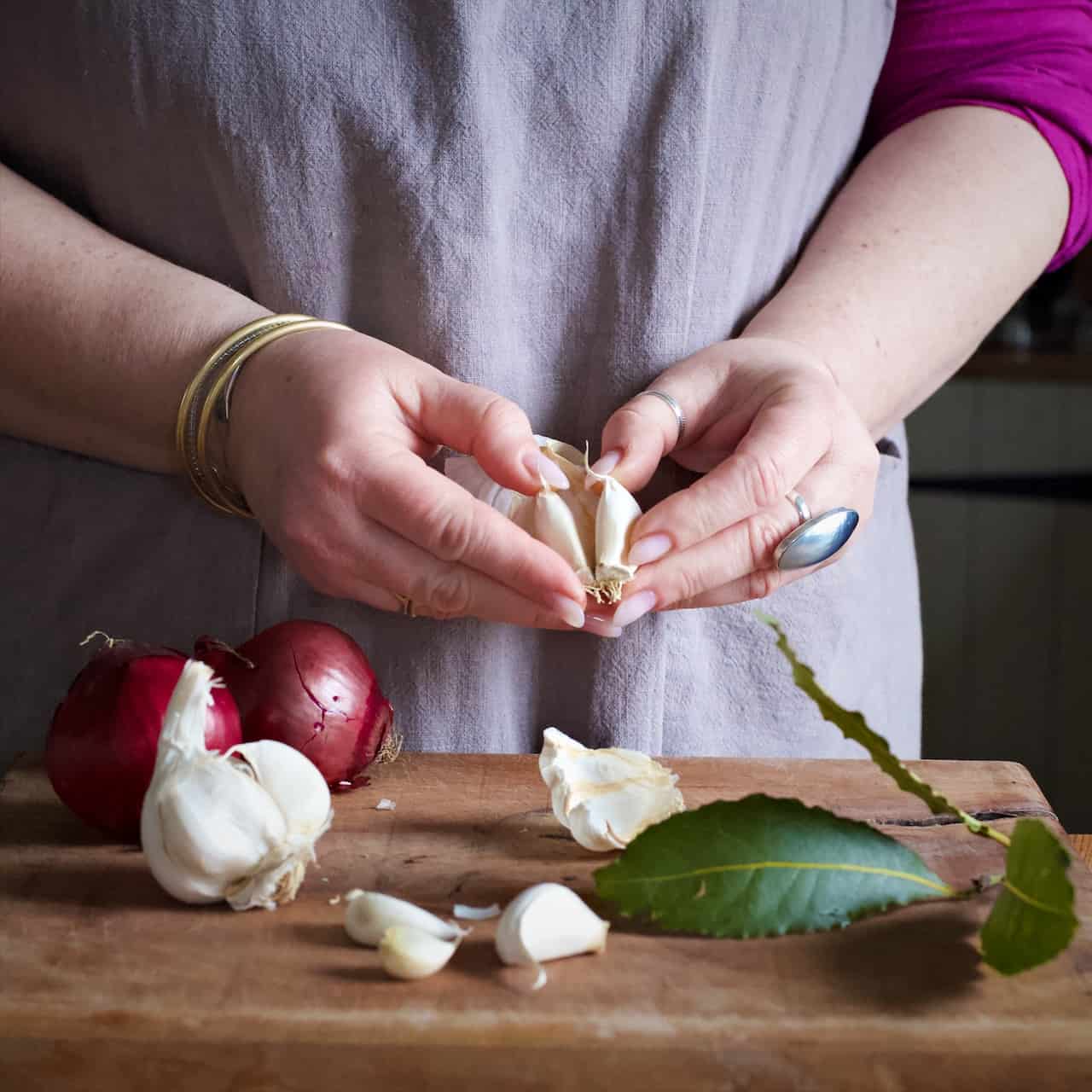 Pour in the stock and use a spatula to scrape up any brown bits that are stuck on the bottom of the pan from searing the meat.
I recommend using a beef or venison stock. However I had some turkey stock in the freezer from Christmas that I wanted to use up which worked just fine.
If you don't have any homemade stock on hand, feel free to use a stock cube dissolved in hot water instead.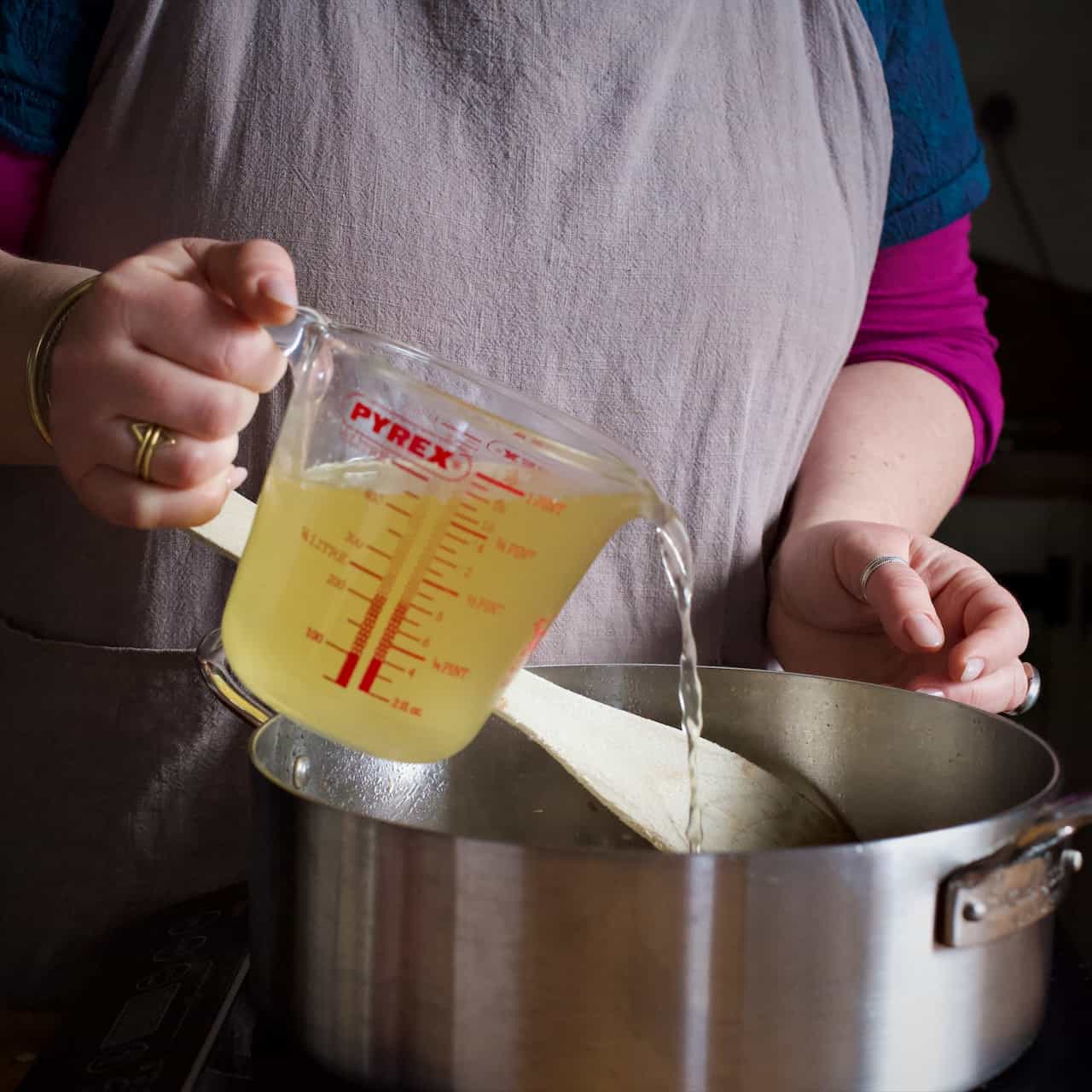 3/ prep the slow cooker
Pour the stock and veggies into the slow cooker on top of the venison.
The liquid won't cover the meat, but that's fine. The meat above the liquid will still cook beautifully.
Switch the slow cooker on. You can cook this on High or Low, it's entirely your choice and depends on when you want the meal to be ready.
Low: cook for 8-10 hours
High: cook for 4-6 hours
If you're new to cooking with a slow cooker, it's worth knowing that these cooking times are very relaxed. I think that's why I love using them so much!
For example, if you choose to cook it on High because you want it ready for lunchtime, it will be ready to eat in 4 hours time. However, it doesn't matter if you leave it switched on High for up to 6 hours. The food won't burn, dry out or explode! It'll just sit there slowly bubbling away until you're ready to serve.
Likewise with the 8-10 hours on low. That's why slow cookers are a great tool if you get cheaper electricity overnight, as you can just set it and forget it whilst you go off to bed. Then simply reheat on the stove when your family is ready to eat.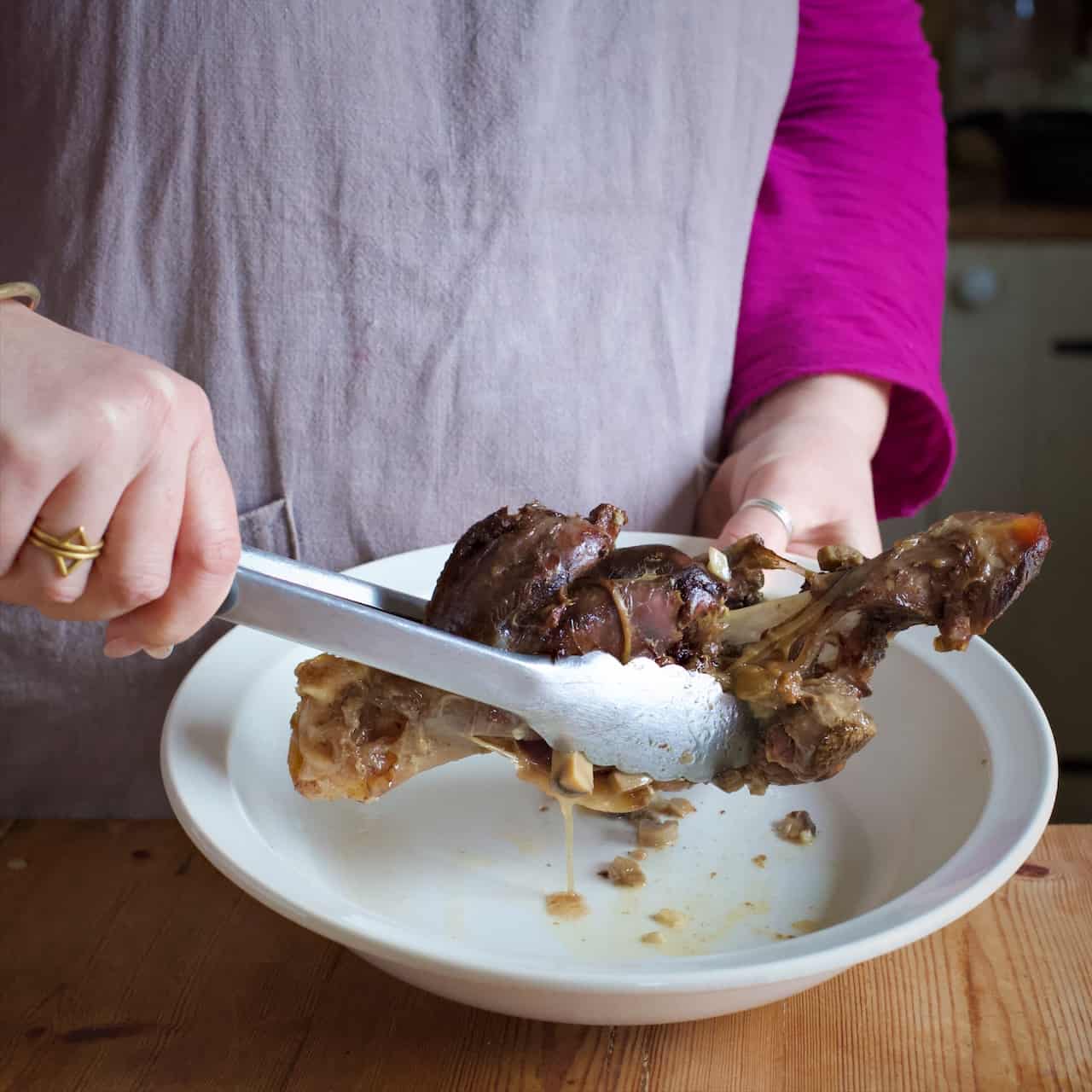 4/ shred the meat
When your deer shank is cooked, the meat will have pulled back from the bone and honestly, it won't look terribly pretty.
So at this point I like to remove the meat with two forks, and just serve that.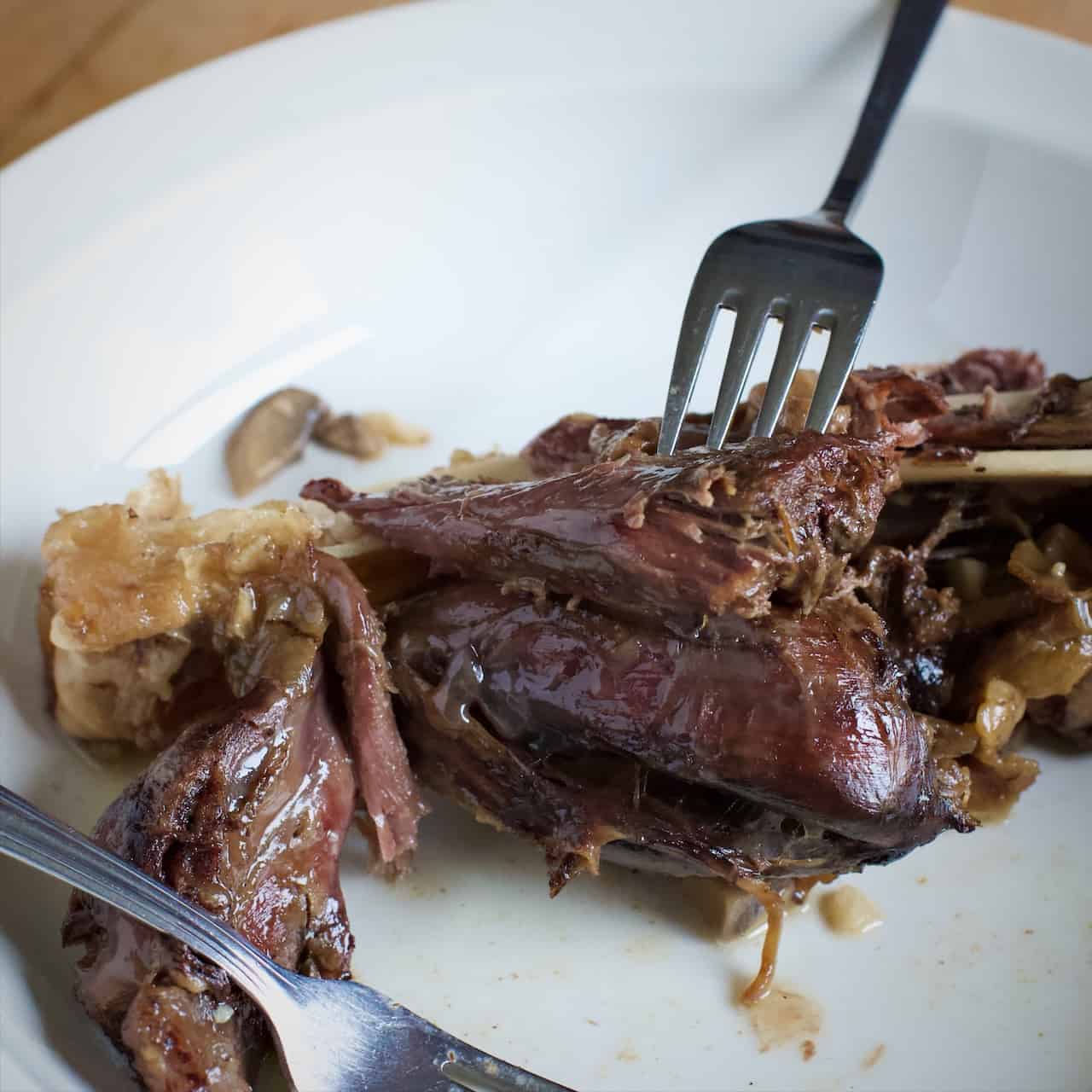 As you can see, that meat is tender!
5/ make a gravy
With all the juices and veggies left in the slow cooker, you've got the start of a gorgeous gravy.
As I was serving this as a quick lunch time meal on a work day (quick because the slow cooker did all the work for me!), I simply added some beef gravy powder to the juices right there in the slow cooker bowl which made an instant gravy.
However, you could definitely use it to make a proper homemade gravy if you prefer. Here's a great article on how to make gravy from scratch if you've never done it before.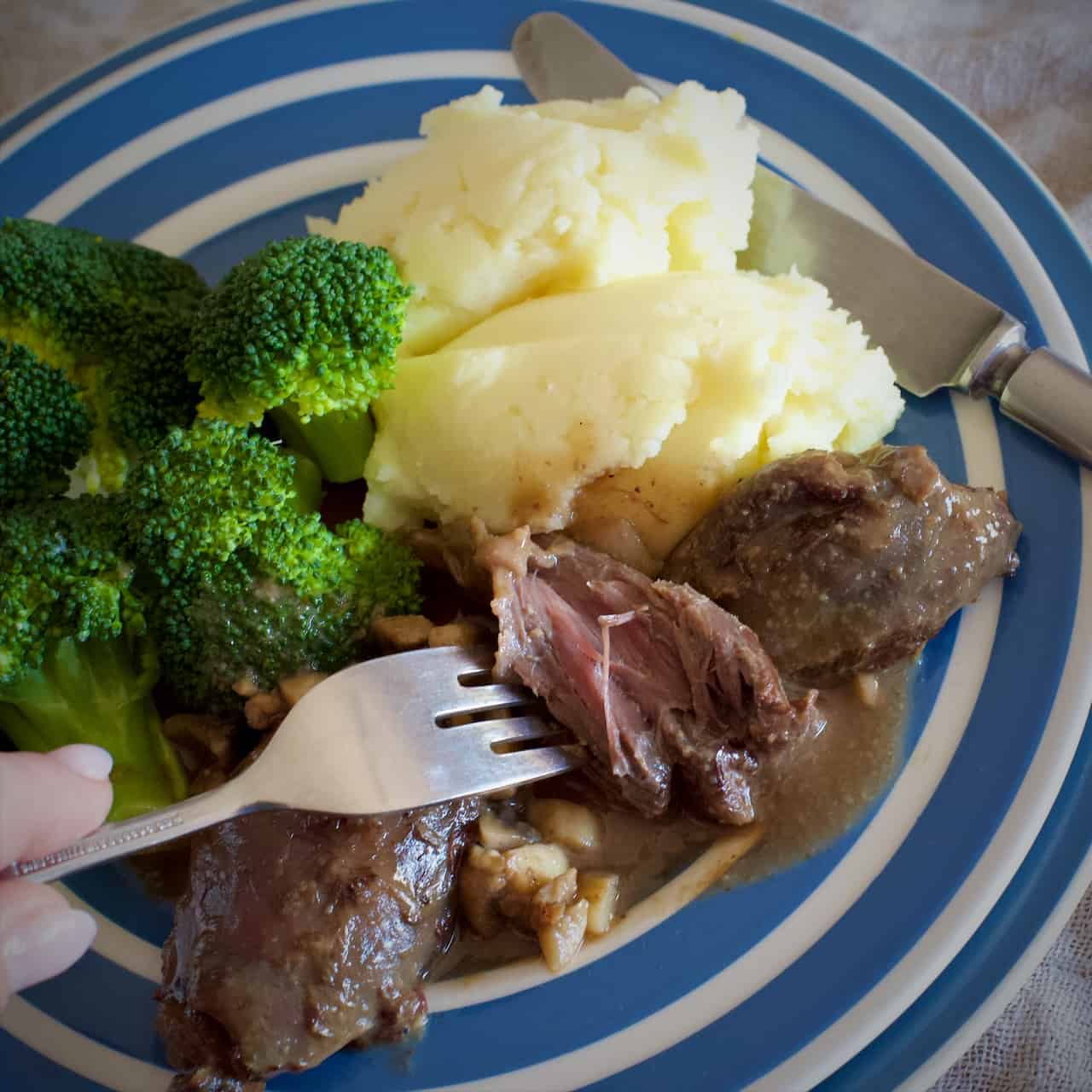 This was such a yummy meal. The meat was surprisingly mild and buttery and not at all 'gamey'.
Huge thanks to the fellas at Creech Hill Venison for yet another delicious meal. If you'd like to find out more about them and take a peek at their online shop, please visit their website here: Creech Hill Venison.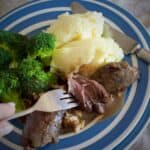 Slow Cooker Venison Shanks
Keyword:
slow cooker venison shanks, venison shanks
Ingredients
1

tbsp

oil

1

shank

venison

- ask your butcher how many shanks you'll need for the number of people you're feeding. I used a front leg shank from a sika deer which weighed 500g (inc the bone) and fed two of us happily.

2

onions

- finely diced

200

g

mushrooms

- finely diced

4

cloves

garlic

- minced

2

bay leaves

300

ml

stock

- or water

4

heaped tsp

Bisto gravy powder

- I used beef flavour, onion would also be delicious
Instructions
Preheat a large skillet or frying pan.

Pour in the oil, spreading it around the pan, then carefully add the shanks.

Let them sit still for a minute or two to gain some colour, then turn and repeat until they are golden all over.

Remove from the pan and put into the slow cooker.

In the same skillet add the onions, mushrooms and garlic to the oil.

Fry gently until they have picked up a little colour, then tip them into the slow cooker too.

Finally, pour the stock into the skillet, bring to a boil, then use a spatula to scrape any dark, meaty bits up that are stuck on the base of the pan.

Pour all of this into the slow cooker too, along with the bay leaves.

Switch the slow cooker on, choosing the temperature based on when you want the meal to be ready to eat.

Low for 4-6 hours

High for 8-10 hours

When the cooking time is up, remove the shanks from the slow cooker with a pair of kitchen tongs.

Place on a chopping board and use two forks to remove the meat.

Add the gravy powder to the slow cooker bowl and stir well for a minute or two whilst it thickens.

Serve the meat with the gravy, mashed potatoes and veggies.
Nutrition Facts
Slow Cooker Venison Shanks
Amount Per Serving
Calories 290
Calories from Fat 135
% Daily Value*
Fat 15g23%
Cholesterol 1mg0%
Sodium 1213mg53%
Potassium 1010mg29%
Carbohydrates 35g12%
Protein 10g20%
Vitamin A 653IU13%
Vitamin C 24mg29%
Calcium 80mg8%
Iron 2mg11%
* Percent Daily Values are based on a 2000 calorie diet.